Celebrate spring with these 15 Fiddlehead recipes! Fiddleheads only come around once a year, and for a short time, so make the most of them! In light of this, I have put together 15 recipes from my own collection and from my fellow food bloggers. Recipes include a cheesy fiddlehead soup, sautéed fiddleheads, pickled fiddleheads, a fiddlehead tart, a vegan potato salad with fiddleheads and more!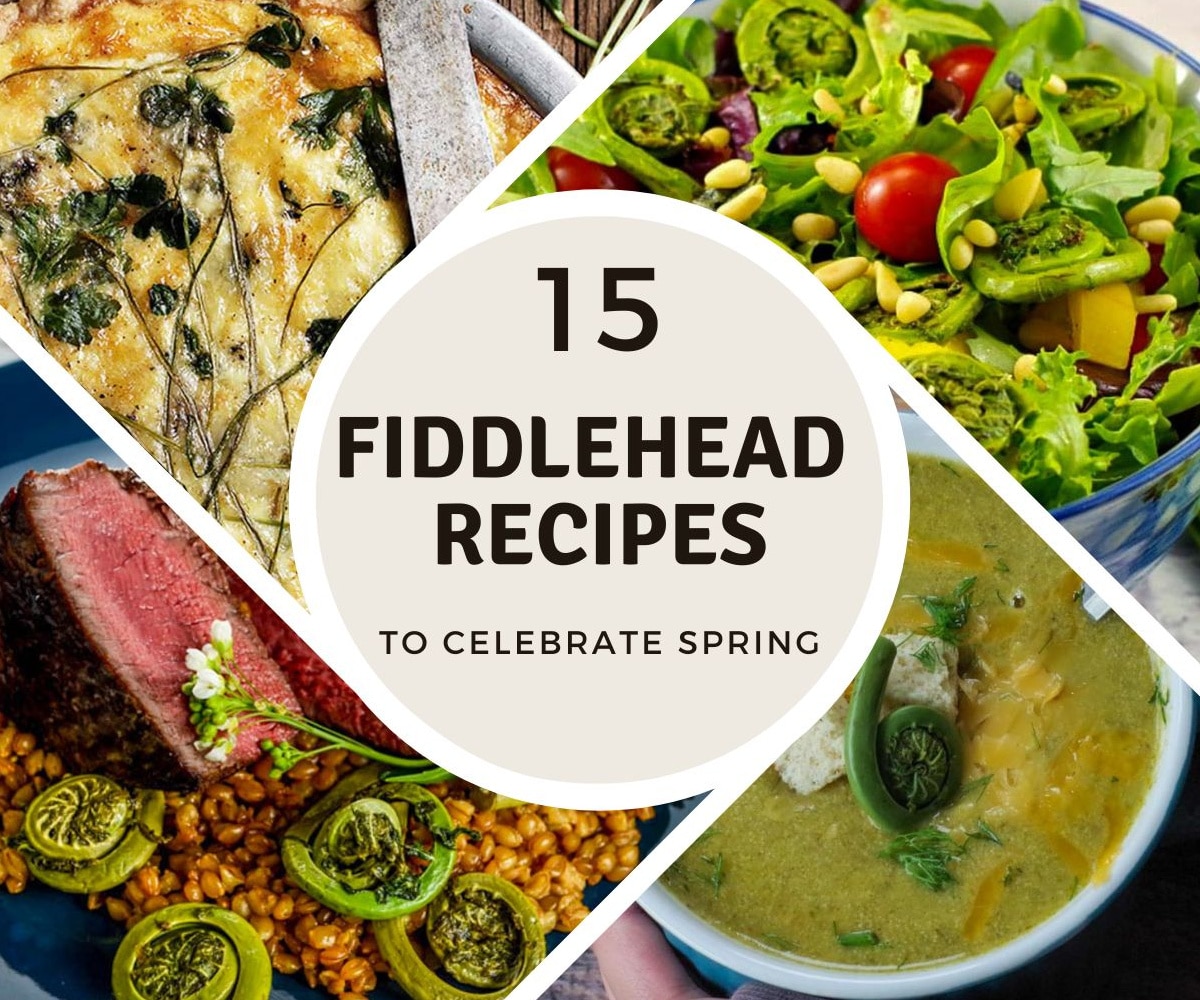 Fiddlehead season is a very short season, usually from late April to early June, depending on where you live. So you'll definitely want to take advantage of this short window by eating as many fiddleheads as possible! And since they also freeze well, I have included directions on freezing fiddleheads. That way, you can set some aside to enjoy throughout the entire year!
Jump to:
💭What is a Fiddlehead?
In essence, fiddleheads are edible ferns. Specifically, a fiddlehead is the emerging sprout of ostrich ferns – just as the fronds come out of the ground. They're rolled up in a coil and look like the tuning end of a violin or fiddle. They are one of the coolest-looking plants around! And they have a delicate flavor and taste amazing- "sort of like fresh asparagus, but better," according to my daughter.
Like crocuses on the prairies, ostrich fern fiddleheads are one of the first signs of spring and personally, my favorite part. In North America, they are commonly found in forested areas in Eastern parts of Canada and the Pacific Northwest in the U.S. and parts of the western prairies, as well. Many areas also sell them in grocery stores or at the local farmers market.

🥘How to Cook Fiddleheads
STEPS FOR COOKING FIDDLEHEADS (DO NOT EAT THEM RAW!)
Rinse the and clean fiddleheads, removing any brown paper skin from the tops, and then slice off as much of the brown parts on their ends as you can. Put the fiddleheads in a large bowl of water for a few minutes, swishing them around with your hands to remove any dirt. * I rub the coils to loosen any dirt as well. Discard the water and repeat this process.
Add to pot of cold salted water and bring to a boil. *If you plan to freeze them, see below, as you'll only need to boil them for 2 minutes.
Boil on a rolling boil for at least 12 minutes (*make sure you time it from the time the water is at a full boil) but no longer than 15 minutes.
Drain and pat dry. * They will be a little darker green in color (like green beans). They are now ready to cook with.

🌡️How to Freeze Fiddleheads
Because Ostrich fern fiddleheads only come around once a year and the season is short, I like to buy a lot and freeze them. However, they require blanching (quick cooking, then plunging into cold water prior to freezing).
TO PREPARE FIDDLEHEADS FOR FREEZING:
Follow the above steps 1 and 2,
When you get to step 3, only boil for 2 minutes (not 12-15).
Immediately put into a bowl of ice cold water.
Remove with a slotted spoon onto paper towel and pat dry with more paper towel.
Freeze in freezer bags for up to 6 months.
*IMPORTANT: When you remove them from the freezer you MUST BOIL FOR at least 10 MINUTES BEFORE EATING (OTHERWISE THEY ARE NOT SAFE TO EAT)
📋Fiddlehead Recipes
📋 Cheesy Fiddlehead Soup Recipe
This Fiddlehead soup turns your fiddleheads into creamy deliciousness! Made with chicken stock and non-fat Greek yogurt, this soup is easy to make, healthy, low- fat, meatless and WW friendly!
Check out this Fiddlehead Soup recipe!
📋 Cheesy Sautéed Fiddleheads Recipe
This unique and delicious Cheesy Sautéed Fiddlehead recipe is simple and easy side dish with parmesan cheese, feta cheese, garlic and dill. And it's both gluten-free and Weight Watchers friendly @ only 3 WW points on the blue plan.
Check out this Sautéed Fiddleheads Recipe!
📋 Spring Salad with Fiddleheads Recipe
This Spring Salad with fiddleheads and blackberry vinaigrette is a great side or make it a meal with grilled chicken. It can also be vegan with pine nuts. And it's an easy fiddlehead recipe to prepare in under 30 minutes.
Check out this Fiddlehead Salad recipe!
Small-Batch Pickled Fiddlehead Ferns
Fiddleheads are one of spring's most unique seasonal treats. These tangy pickled fiddleheads let you preserve the season - they're a delicious addition to a charcuterie board, and also make a pretty garnish for Caesars and Bloody Marys.
Check out this Pickled Fiddleheads recipe!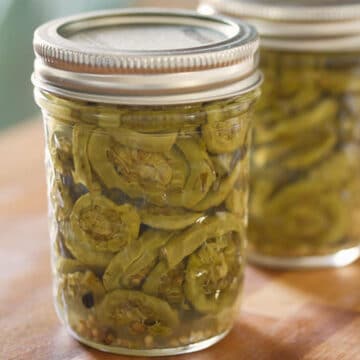 Wild Food Fiddlehead Tart
Easy and delicious, this can be made ahead and served warm or cold making it ideal for a picnic or potluck. Serves 4 and is lovely as a lunch with a salad of fresh spring greens and edible flowers or up to 8 as an appetizer.

Check out this Fiddlehead Tart recipe!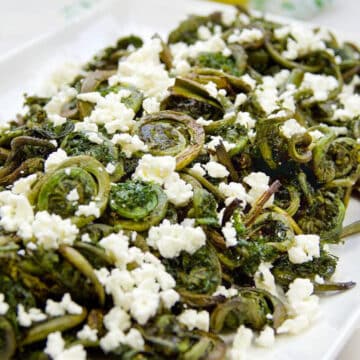 Vegan Dill Potato Salad with Fiddleheads (No Mayo)
This vegan dill potato salad is made with a tasty olive oil vinaigrette. Adding fiddleheads (or asparagus) makes it perfect for spring!
Check out this Fiddlehead Potato Salad recipe!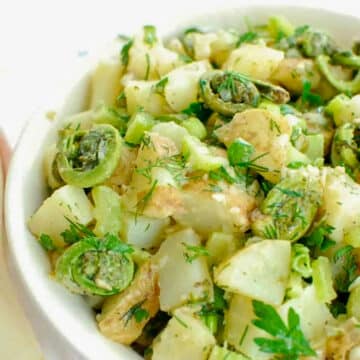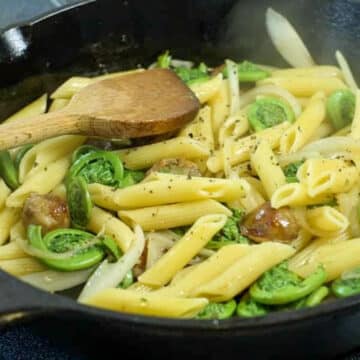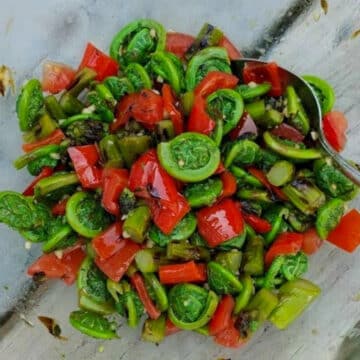 Fiddlehead Shrimp Scampi
This Fiddlehead Shrimp Scampi is a delicious and nutritious pasta dish with fiddleheads, shrimp, and preserved lemon. This recipe is not only delicious but also easy to make, and it's a great way to enjoy fiddleheads while they are in season. It can also be made gluten-free by using gluten-free pasta.
Check out this Fiddlehead Shrimp Scamp recipe!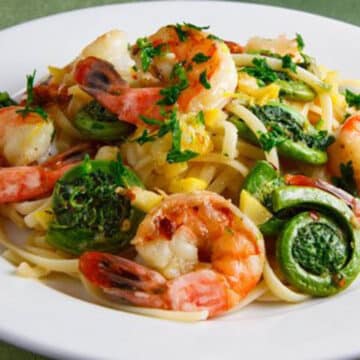 Spring Onion Fiddlehead Risotto
Creamy, warm and filled with sweet earthiness, this Spring Onion Fiddlehead Risotto is a seasonal treat perfect for enjoying with a crisp salad and bread.
Check out this Fiddlehead Risotto recipe!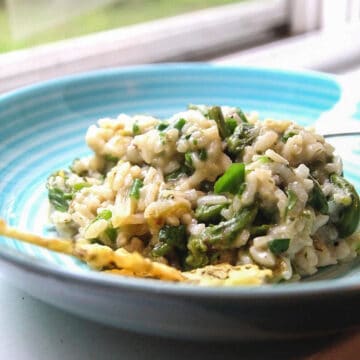 Fiddlehead Salad with Sesame Dressing
This is a tried and true, super easy fiddlehead salad that will be LOVED by many. Nothing like most recipes that's available online, this recipe is crisp, flavorful, nutty yet refreshing. It truly celebrates the flavor and texture of fiddlehead and spring!
Check out this Fiddlehead Salad with Sesame Dressing recipe!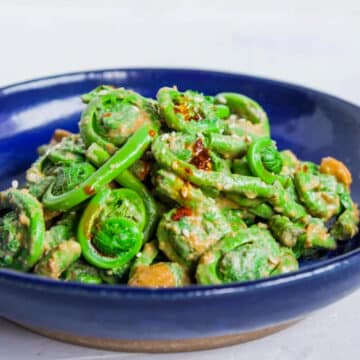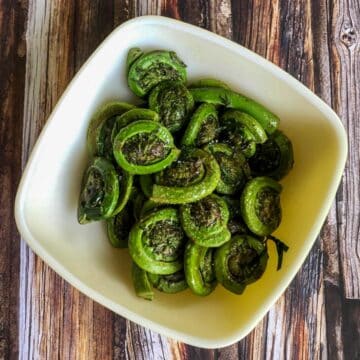 🍽Equipment
For many of these recipes, you will need a large skillet, a large pot, a food processor (affiliate links) mixing bowls, and spoons.
🦺Food Safety
Cook fiddleheads in boiling water for at least 15 minutes before consuming.
Do not use the same utensils on cooked food, that previously touched raw meat
Wash hands after touching raw meat
Don't leave food sitting out at room temperature for extended periods
Always have good ventilation when using a gas stove
Never leave cooking food unattended
❔ Frequently Asked Questions
Where to buy fiddleheads?
Fiddleheads can be purchased at farmer's markets and some grocery stores.
What do fiddleheads taste like?
Fiddleheads have a very fresh taste that's similar to asparagus.
Can you eat fiddleheads raw?
NO - you cannot eat fiddleheads raw, as they can make you very sick. They need to be boiled for 12-15 minutes before consumption.
If fiddleheads are also one of your favorite things about spring and you're looking for interesting and delicious ways to enjoy them, give some of these fiddlehead recipes a try!
⭐ Reviews