This post contains some affiliate links (SEE DISCLOSURE POLICY)
I cried the first time it snowed on Easter. I was 7 years old. I cried because Easter was in April that year and it's not supposed to snow in April. Although I grew up in Winnipeg, also known as "Winterpeg", and was no stranger to snow, it just seemed wrong. It was supposed to be spring. I would be in for a nasty surprise when I eventually moved to Alberta.
What is a Fiddlehead?
A fiddlehead is a spring thing. I ate my first fiddlehead a few years back and was hooked!  I had heard the word, but had no idea it was a food.  Then I made a salad with fiddleheads …
You know it's spring in Western Canada when the fiddleheads are out!
A fiddlehead is the emerging sprout of the ostrich fern – just as the fronds come out of the ground. They're rolled up in a coil, and look like the tuning end of a violin or fiddle. They are one of the coolest looking plants around! And they taste amazing- sort of like fresh asparagus, but better, according to my daughter.
Where to get Fiddleheads:
You can even pick them yourself! They're one of the first greens to emerge in the forests and along the river banks in the spring, but you have to know what you're looking for. At this time of year, there are different kinds of ferns emerging and not all of them are edible. The ostrich fern is the one you're looking for. But unless you have an experienced forager with you, picking and eating them is not recommended.
Fiddleheads make an excellent addition to salads. This salad recipe can be eaten as a meal, both vegan (with the pine nuts) or with chicken breast.  The light blackberry vinaigrette is a perfect complement to the fiddleheads. *However, if you don't have fiddleheads, you can always substitute asparagus.
Then throw some of the extra blackberries in your freezer for "ice cubes",  if you haven't had a chance to chill your white wine (or even if you have). I love to do this all summer. Any berry will do, but blackberries are the best!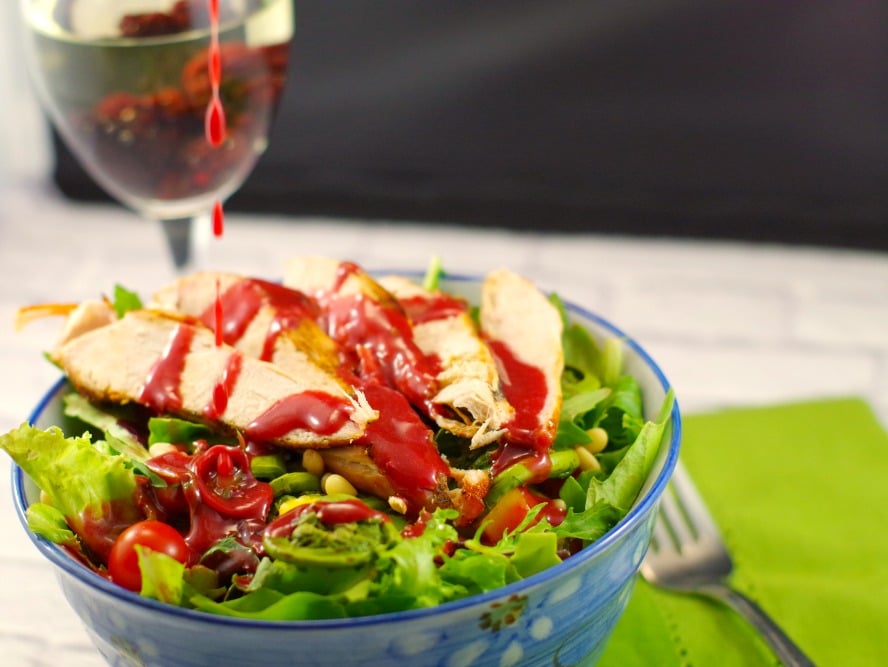 I have never foraged for my own fiddleheads, but this year I was beyond tempted, as I waited and waited for fiddleheads to come to my local grocery store. So when I finally got them, I froze them so I can eat them all year round **(see Recipe NOTES for instructions on freezing)
The first summer I lived in Alberta (1992) it snowed in August. I cried again, but harder. When you live near the mountains, you come to expect some wonky weather patterns and any form of precipitation is fair game. In Calgary you are wise to wait until the May long weekend to plant your flowers. And even then there is no guarantee.
It snowed here 2 days AFTER the May long weekend this year. 
I tried to save all my flowers.
It even snowed on my wedding day (July 27, 2002). I'm just grateful we decided to get married in BC, where it was a balmy 25 degrees C.
I am happy to report I successfully saved my flowers and a day later it felt like spring again. This is Alberta.  In the 2+ decades I have lived here, I have witnessed snow in every single month of the year. I'm not kidding. Nor am I saying I'm not bummed by it, but I no longer cry. I have just lowered my expectations.
So, enjoy spring because it could literally be winter again tomorrow! And enjoy some fiddleheads, as they only come around once a year.
You may also like:
5 Minute Easy Bean Salad (vegan)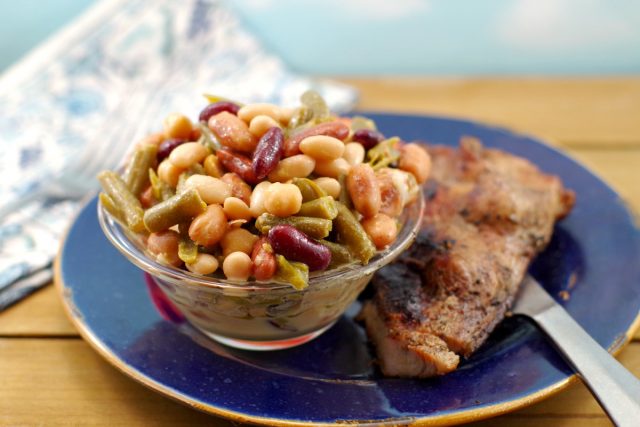 This post is part of the Weekend Potluck Linkup Party
Print
Spring Salad with Fiddleheads & Blackberry Vinaigrette
Spring Salad with fiddleheads and blackberry vinaigrette. Make this a meal with grilled chicken or make it vegan with pine nuts. Easy to prepare in under 30 minutes
Ingredients
3

cups

spring mix

( 5 oz bag)

4

breasts

chicken breast

*for vegan, skip the chicken and only use pine nuts

1

297 g

container of cherry tomatoes

1/3

cup

yellow pepper

finely chopped

2/3

cup

pine nuts

1 1/2

cups

fiddleheads

**asparagus can be substituted

2-3

Tbsp

Dijon mustard

(for chicken)

2

tsp

garlic powder

(for chicken)
Instructions
If using chicken: brush on dijon mustard, and cook in grill for about 7 minutes on each side or until chicken is no longer pink in the middle. Slice and set aside.
Blackberry Vinaigrette:
Place the black berries in blender with water and process for 3 minutes , strain pureed berries through fine sieve and discard seeds, setting aside the blackberry puree.

Rinse seeds from blender then place blackberry mixture back into blender and add remaining vinaigrette ingredients.

Cover, and blend until smooth, about 1 minute. Refrigerate until ready to use. Stir or shake before using.

Fiddleheads:
Cooking fiddleheads: Rinse and clean fiddleheads, then add to boiling water and boil for 10 minutes. Drain and pat dry with paper towel.

* (see instructions on cooking/blanching to freeze in notes)
Salad:
Mix spring mix, yellow peppers, cherry tomatoes, pine nuts and fiddleheads. Add as much blackberry vinaigrette as you prefer and top with sliced grilled chicken (if using).
Notes
** Because fiddleheads only come around once a year, I like to buy a lot and freeze them. 
To prepare fiddleheads for freezing:
Bring a pot of cold water to a boil, add the fiddleheads, then bring up to a boil again.
Boil for 2 minutes, then drain. Immediately put into a bowl of ice cold water. 
Remove with a slotted spoon onto paper towel and pat dry with more paper towel. 
Freeze in freezer bags for up to a year. 
When you remove them from the freezer you MUST BOIL FOR 10 MINUTES BEFORE EATING (OTHERWISE THEY ARE NOT SAFE TO EAT)
Nutrition Facts
Spring Salad with Fiddleheads & Blackberry Vinaigrette
Amount Per Serving
Calories 387
Calories from Fat 333
% Daily Value*
Fat 37g57%
Sodium 65mg3%
Potassium 278mg8%
Carbohydrates 11g4%
Protein 4g8%
Vitamin A 940IU19%
Vitamin C 27.3mg33%
Calcium 39mg4%
Iron 1.7mg9%
* Percent Daily Values are based on a 2000 calorie diet.
This nutritional analysis INCLUDES the CHICKEN
Pine nuts are very high in good (unsaturated) fat
Nutrition
Calories:
387
kcal
|
Carbohydrates:
11
g
|
Protein:
4
g
|
Fat:
37
g
|
Saturated Fat:
4
g
|
Sodium:
65
mg
|
Potassium:
278
mg
|
Fiber:
2
g
|
Sugar:
5
g
|
Vitamin A:
940
IU
|
Vitamin C:
27.3
mg
|
Calcium:
39
mg
|
Iron:
1.7
mg