I spent my summer vacation of '97 in the hospital. I had only quit smoking a few weeks earlier, making it all the more painful.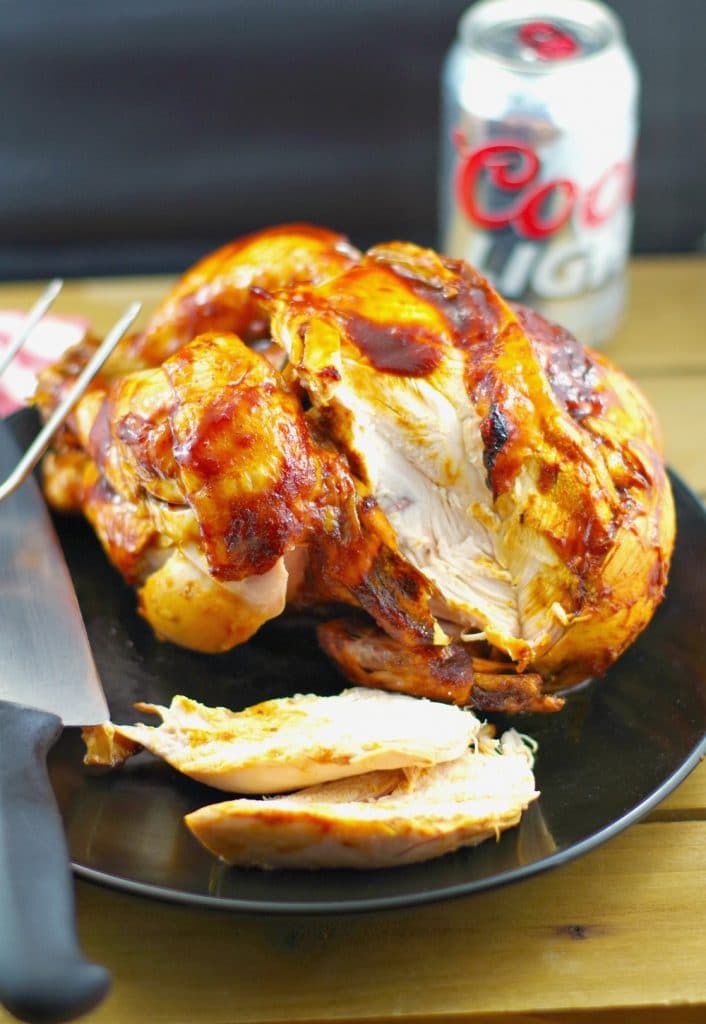 THIS POST
My Dad is 71, I think.... I actually have to do the math now, as I have trouble even remembering my own age these days. My Dad is also a great BBQ'er - not sure if that's even a word. Either way, he makes the best BBQ chicken I have ever tasted. Mom says his secret is lots of BBQ sauce. BBQ chicken is obviously one of my faves and this easy, Weight Watchers Friendly Barbecue beer can chicken, also known as beer butt chicken, is no exception and the perfect meal for your Father's Day BBQ dinner @ 5 WW fsp per serving.

For reasons I cannot explain, sticking a ½ can of beer up the butt of a chicken makes it super tender and juicy and totally awesome!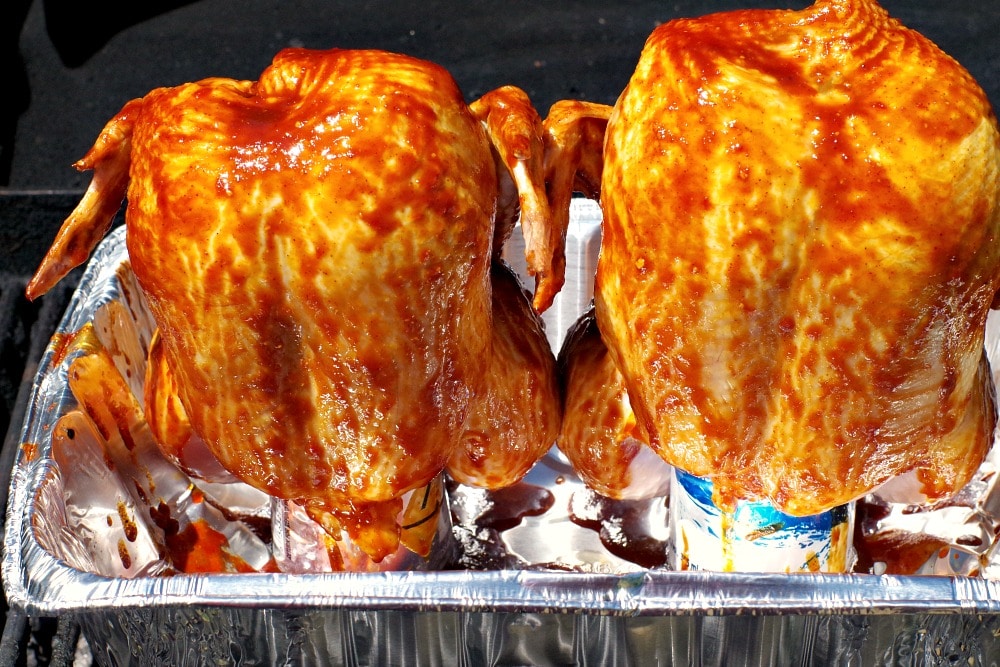 I found the recipe back in 2003 when it went through a surge of popularity and I haven't seen it around for a while, until I decided to make it again. There seems to be a resurrection. It's also a really healthy beer can chicken, as all the fat drips off the chicken into the pan. If you are looking for easy and healthy chicken dinner recipes for Father's Day, this is the one!
I use a large aluminum roasting pan and balance the chicken on top of the beer can. It's make-shift and can get a bit wobbly, but I make it work. However, you can buy beer can chicken holders like these ones:
When you spend a lot of time alone with your parents, you really get to know them:
And that summer I spent a lot of time in the hospital with my parents because my dad had just had his first back surgery. And in order to fill the long hours, I came up with some little games. One in particular was a version of the "the newlywed game, " although they had already been married for 27 years by then.
Hey, we were bored.
He had spinal stenosis and they needed to operate. Then there was the long recovery that happened to fall on my visit home/summer holiday. So, we killed time; lots of it. During our newlywed game, one question that stands out was one that was posed to my Dad:
"What's Mom's favorite car?" I asked him
I had my Mom whisper her answer to me in advance. Well, if you know anything about my Mom, you know that she knows nothing about cars. Where as my Dad, well, he knows everything about cars. In fact, he knows cars inside and out. He was a hobby mechanic and even fixed cars as a side job for years.
"Red" he croaked weakly from his hospital bed. "Her favorite car is red." I burst into laughter because I couldn't believe his answer - it was bang on and exactly what she had whispered to me! And this was coming from the man who could tell you the make, model and engine size of any car, not to mention that he could also rebuild the tranny of any make or model, without even batting an eyelash. "Red" isn't even a type of car! Now my Mom definitely couldn't claim that he never listened to her.
I saw my Dad in a new light that day.
Beer Butt Chicken
Although I really missed Dad's BBQ'd chicken that summer...
I went back home to university that fall comforted by the fact that everything was okay; he was on the mend. Unfortunately, that was not actually the case.
Watching your parents age is the epitome of helplessness:
It's like being in a dream where you try to run and scream, but you're frozen in time, with no ability to make sound. As a kid, around the same time I was having those dreams, I remember going through parental death anxiety. I must have been about 6 or 7 years old.
"Are you going to die?" I'd ask. "Oh, don't you worry about that, " they'd say, "not for a very, very long time." That was good enough for me. When you're 7, a long time really is a long time. I know this well because it's the very thing I have said to my own kids when they popped that question. As parents, it's our job to ease their pain and to protect them from the cruelties of nature.
But then we all eventually grow up....
I got a call from my Mom not too long after I got back to university. Dad was scheduled for another surgery - apparently the the first surgery didn't work. Then there were complications with that surgery. He was leaking spinal fluid. He was very sick and it was a pretty scary time. And they had to go back in again to try to fix that. I felt so far away and so helpless. Again, trying to scream and run, but nothing was happening.
It's now been exactly 20 yrs since that summer and I have come and gone on many vacations. Each time I leave home, I remember the red car and it gives me an odd sense of comfort. I guess it's simply the comfort in knowing that they have each others' backs.
I am grateful beyond words to be going home to visit my parents again this summer, celebrating 20 years smoke-free and praying, as I always do, that no one is in the hospital. And looking forward, as I always do, to my Dad's BBQ chicken! In the meantime, I'll make this beer butt chicken!
HERE ARE A COUPLE OF EASY SIDE SALAD RECIPES TO GO WITH YOUR CHICKEN: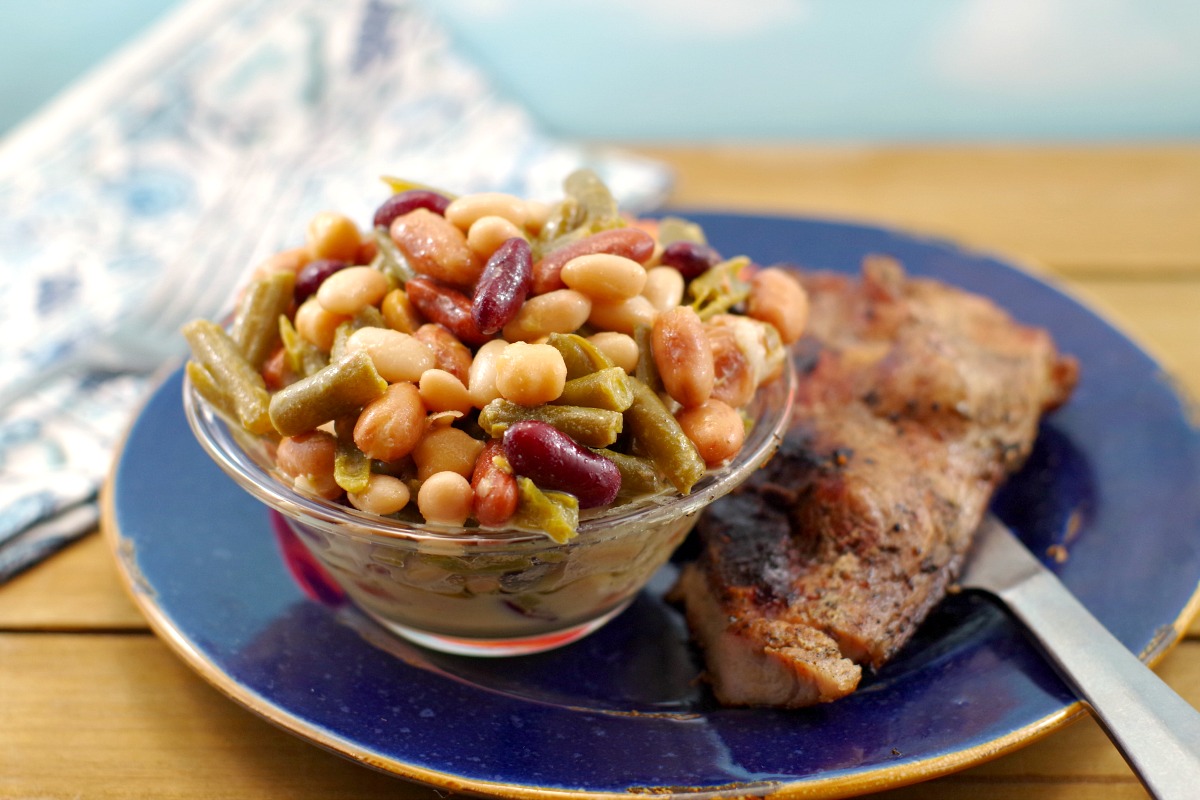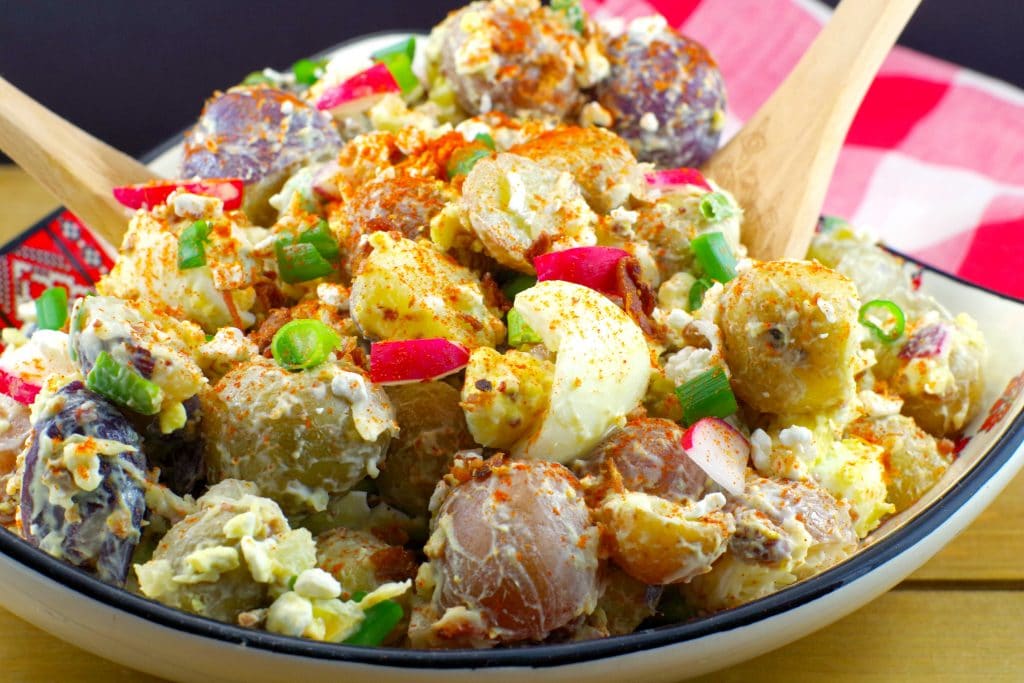 Print
BBQ Beer Can Chicken
This BBQ Beer Can Chicken (also known as beer butt chicken) with Molasses Beer BBQ sauce is moist and juicy, making it the perfect Father's Day dinner. It's also Weight Watchers friendly!

Ingredients
1

can beer

I use light beer

1

roaster chicken

Molasses & Beer BQQ sauce

(see recipe below)
Molasses & Beer BBQ sauce:
Instructions
Open can of beer with can opener, pour half the beer into a container and reserve. Then place can into cavity of chicken as shown.

Place chicken in a deep aluminum roaster pan and place onto grill. Close BBQ lid and cook for 45 minutes

Combine all BBQ sauce ingredients in sauce pan, the baste generously on chicken.


Allow chicken to cook for remaining 45 minutes.

Meanwhile, simmer the remaining BBQ sauce for 20 minutes, until reduced by half the volume.

Remove chicken from BBQ and slice. Serve chicken with remaining BBQ sauce, as desired.
Notes
Note: You'll need to keep the grill going for up to 1.5 hrs so make sure you have extra propane or are filled up
Note: Your grill will need to be high enough that it can close over an upright chicken and test it before you light it
Nutrition Facts
BBQ Beer Can Chicken
Amount Per Serving
Calories 470
Calories from Fat 144
% Daily Value*
Fat 16g25%
Cholesterol 80mg27%
Sodium 723mg31%
Potassium 857mg24%
Carbohydrates 57g19%
Protein 20g40%
Vitamin A 545IU11%
Vitamin C 4.5mg5%
Calcium 105mg11%
Iron 3.3mg18%
* Percent Daily Values are based on a 2000 calorie diet.
*** It is very difficult to get a nutritional analysis with this recipe.This nutritional analysis was assumes that you use ALL the BBQ sauce and that it stays on the chicken. (My family only used about ⅓ of it for 4 of us and much bakes off in a 1.5 hr cooking period) The calorie count and fat content per portion is reduced by using less BBQ sauce as well. I would prefer not to use a nutritional analysis on this recipe, but google requires it if you want to show up in searches.
***** In terms of smart points, I calculate it like a regular BBQ sauce (most seem to be 3 smart points for 2 tbsp) depending on how much you use, as chicken is 0 points on the freestyle program, so I count 5 WW fsp 's per serving
Nutrition
Calories:
470
kcal
|
Carbohydrates:
57
g
|
Protein:
20
g
|
Fat:
16
g
|
Saturated Fat:
4
g
|
Cholesterol:
80
mg
|
Sodium:
723
mg
|
Potassium:
857
mg
|
Sugar:
55
g
|
Vitamin A:
545
IU
|
Vitamin C:
4.5
mg
|
Calcium:
105
mg
|
Iron:
3.3
mg
Save
Saved!
This post is part of The Country Cook's Weekend
Potluck!