Winter and cold weather have arrived and that means it's time for cozy comfort foods, with chili being the ultimate comfort food! If you're looking for Award-winning Chili Recipes, you've come to the right place. I've rounded up these 11 best chili recipes from my fellow food bloggers and included a variety of chili recipes, such as stovetop chili, instant-pot chili, crock-pot chili, award-winning Texas chili, steak chili and turkey chili. All of these chilis have won awards and competitions of some kind, including local and family cook-offs, online chili contests and national competitions!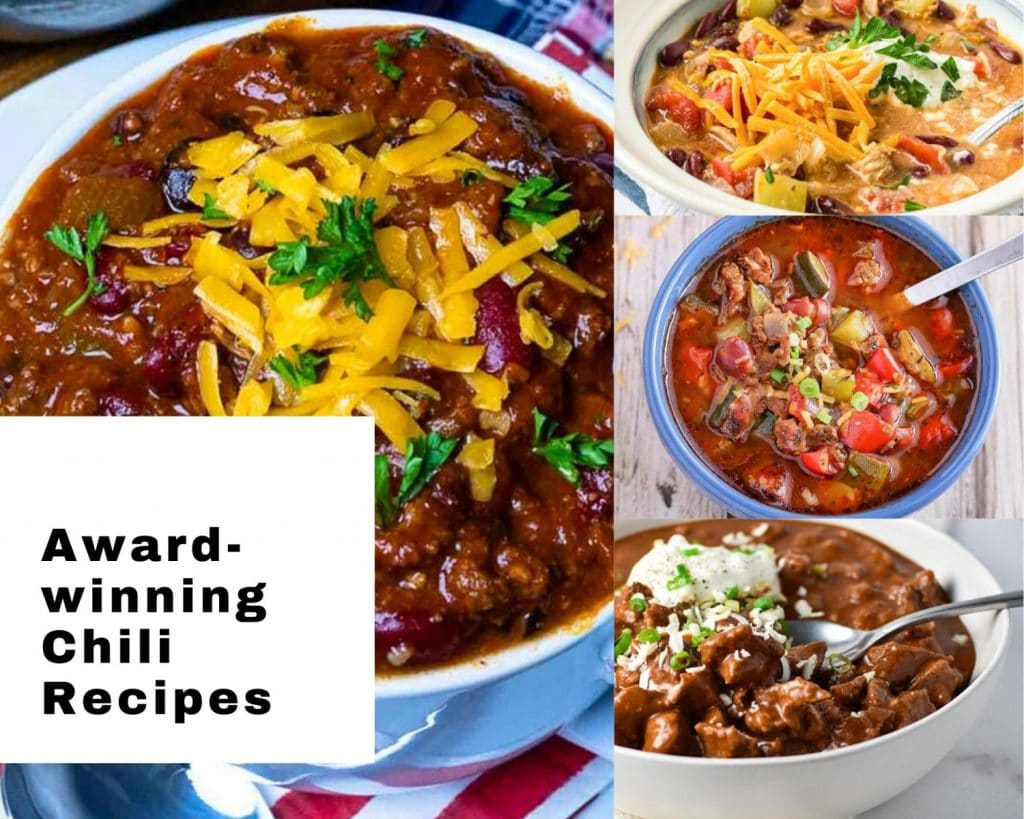 Chili is also the perfect game day or tailgating food and it's ideal for whipping up for a large group or a simple family dinner. There's nothing like a hearty bowl of hearty chili to warm you up on a cold day, so get cozy and cook up these tried and true recipes!
Southern Soul Chili
This Award-winning Southern Chili is made with beef, kidney beans and black beans in a rich sauce and is loaded with amazing flavor! Perfect for tailgating, game day, or when you're feeding a crowd. Simmered for hours, its comfort food at it's BEST. It won a local Farmer Market Chili Challenge and has won many competitions since then.
Check out this recipe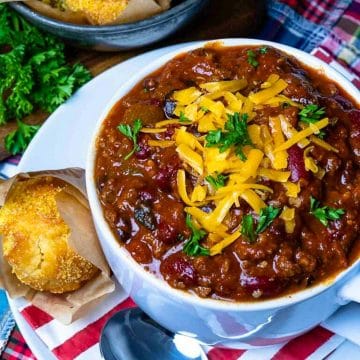 Healthy Ground Turkey chili
This award-winning Healthy Ground Turkey Chili recipe has won several family cookoffs, is kid-friendly and makes a great weeknight dinner. Packed with savory ground turkey, beans, veggies and tomato in every spoonful, this is a delicious and comforting dinner that cooks in 30 minutes.
Check out this recipe
Award-Winning Texas Chili
This 1st place Texas Chili Cookoff winner is sure to please for a hearty fall or winter meal. Made without tomatoes or beans, this chili focuses on the tender meat and spices.
Check out this recipe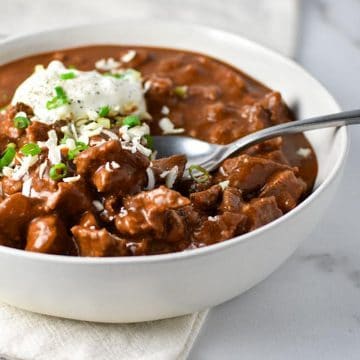 Tailgate Chili
This multiple award-winning Tailgate Chili is filled with meat, beans, diced veggies, tomatoes, and spices. It's perfect for making ahead and it freezes well!
Check out this recipe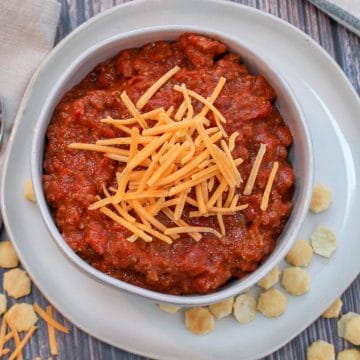 Award Winning Chili with Ground Beef and Pinto Beans
This Award-winning Beef Chili Recipe with Pinto Beans won several cooking contests, including an exclusive contest for the  University of Georgia parents. It's a classic one-bowl dinner idea that the whole family will love!
Check out this recipe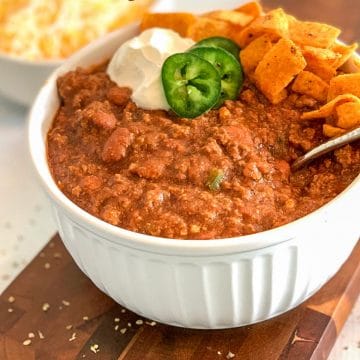 Instant Pot Chili
This Easy Instant Pot Chili (Pressure Cooker Chili) is loaded with layers of umami flavors. It's a rich, flavorful, & tasty beef and beans chili that will satisfy your hearty comfort food cravings. Many readers have won chili competitions & cook-offs with this best instant pot chili!
Check out this recipe
Crock-pot Crazy Pineapple Chili
A contest-winning chili with an amazing flavor twist that people go crazy over! It's quick and easy to make in the slow cooker – and healthy, too!
Check out this recipe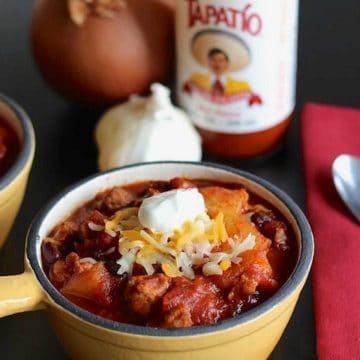 Dad's Secret Ingredient Chili
Dad's award winning secret ingredient chili is a hearty chili full of big flavors and a couple of unexpected secret ingredients. This one pot chili takes only 15 minutes of active prep time before simmering away on the stove top to create a satisfying bowl of coziness!
Check out this recipe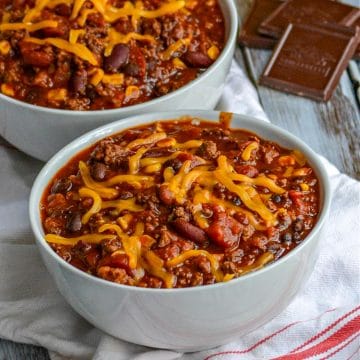 Pickleball Chili
This classic chili has won or at least placed in more than one chili cook-off. Tried and true over the years for good reason!
Check out this recipe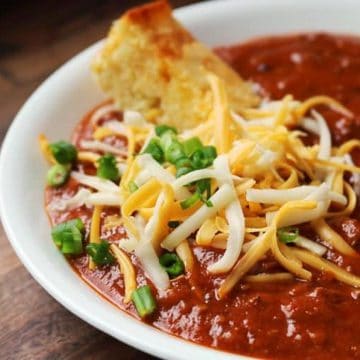 Tri-Tip Steak Chili
You will love how easy it is to make this thick, hearty steak chili with a generous amount of tri-tip steak, three types of beans, fire-roasted tomatoes, and green chiles. It's perfect for feeding a crowd!
Check out this recipe
Indian Spice Turkey Chili
This Indian-Spiced Turkey Chili recipe will rock your world – and it just might be the most unique chili recipe you've ever tasted! It's an amazing (yet easy!) chili recipe that wins cook-offs … and passes from friend to friend to friend, as everyone asks for the recipe!
Check out this recipe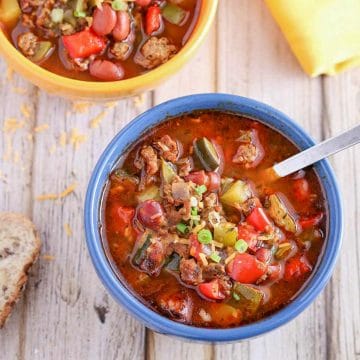 The Ultimate Chili
I am very fussy when it comes to chili and have attended many chili contests and cook-offs in my life (which is just too much fun :)), as well as tasted many-a-chili recipe (although I've only ever had the opportunity to compete in one friendly contest). But as far as my taste buds are concerned, this Pork and Beef Stovetop Chili Recipe has never been beat!
Made with both pork and beef and topped with a dollop of sour cream, it's the best chili recipe I have ever had (with the best secret ingredient) and by far, my favorite chili recipe! And if I ever have the opportunity to compete in another chili contest or chili cook-off, I will definitely be using this recipe!
Here's what others are saying about this Stovetop Pork and Beef Chili recipe: "This is BY FAR the best chili I have ever made and tasted!! So easy, so yummy and the fresh dill is the deal breaker. I would give it 6 stars if I could! Thank you for sharing Terri!!" ⭐⭐⭐⭐⭐
Pork and Beef Stovetop Chili
This quick and easy homemade stove top chili uses both pork and beef for an incredible depth of flavor. But fresh dill is the magic ingredient! Seasoning mix and canned tomatoes and dark red kidney beans, make for a fast dinner and the perfect chili for feeding a crowd in a hurry! It's also Weight Watchers friendly. Double, triple or quadruple this recipe if you are feeding a larger group!
Check out this recipe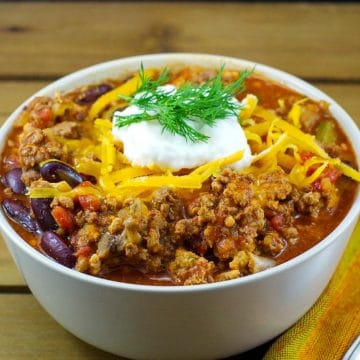 💭Top Tips
🍲What to do with leftover Chili:
Chili is amazing to eat straight up, but a great way to use leftover chili is as a topping. Use it on:
a baked potato
French fries
a hot dog (chili dog)
macaroni and cheese (chili mac)
🌶️Make it Spicy!
If you like your chili on the spicy side, spice up your chili with these add-ins:
hot sauce
crushed red chili peppers
jalapeño peppers
🍽Equipment
You will need a large pot and a skillet for making chili, but you could also use a large Dutch oven, as a Dutch oven (affiliate link) browns your meat and cooks the chili in one pot. It can also go in the oven (if you want to melt cheddar cheese on top). You will also need a cheese grater, a sharp knife and cutting board. For some of these recipes, you'll need a crock pot. (affiliate link)
🌡️Storage
It's best to let your chili cool (uncovered) before putting putting the lid on the container and putting it in the fridge. But do not leave it out at room temperature for more than 2 hours or bacteria will start to grow.
Each recipe will have specific storage instructions, but chili generally lasts 3-4 days in the fridge in an airtight container. Most of these recipes can be frozen, but check the storage instructions for each individual recipe.
So if you're looking for a classic chili recipe or traditional chili recipe or something new and unique, you can't go wrong with any of these award-winning chili recipes!
⭐ Reviews
Please RATE and leave a comment below if you liked this post!
Please SUBSCRIBE (get my FREE E-cookbook) and be sure to FOLLOW ME on FACEBOOK, TWITTER, INSTAGRAM and PINTEREST!
And if you're hungry for more award-winning recipes, check out this post: 40 Award-winning Recipes !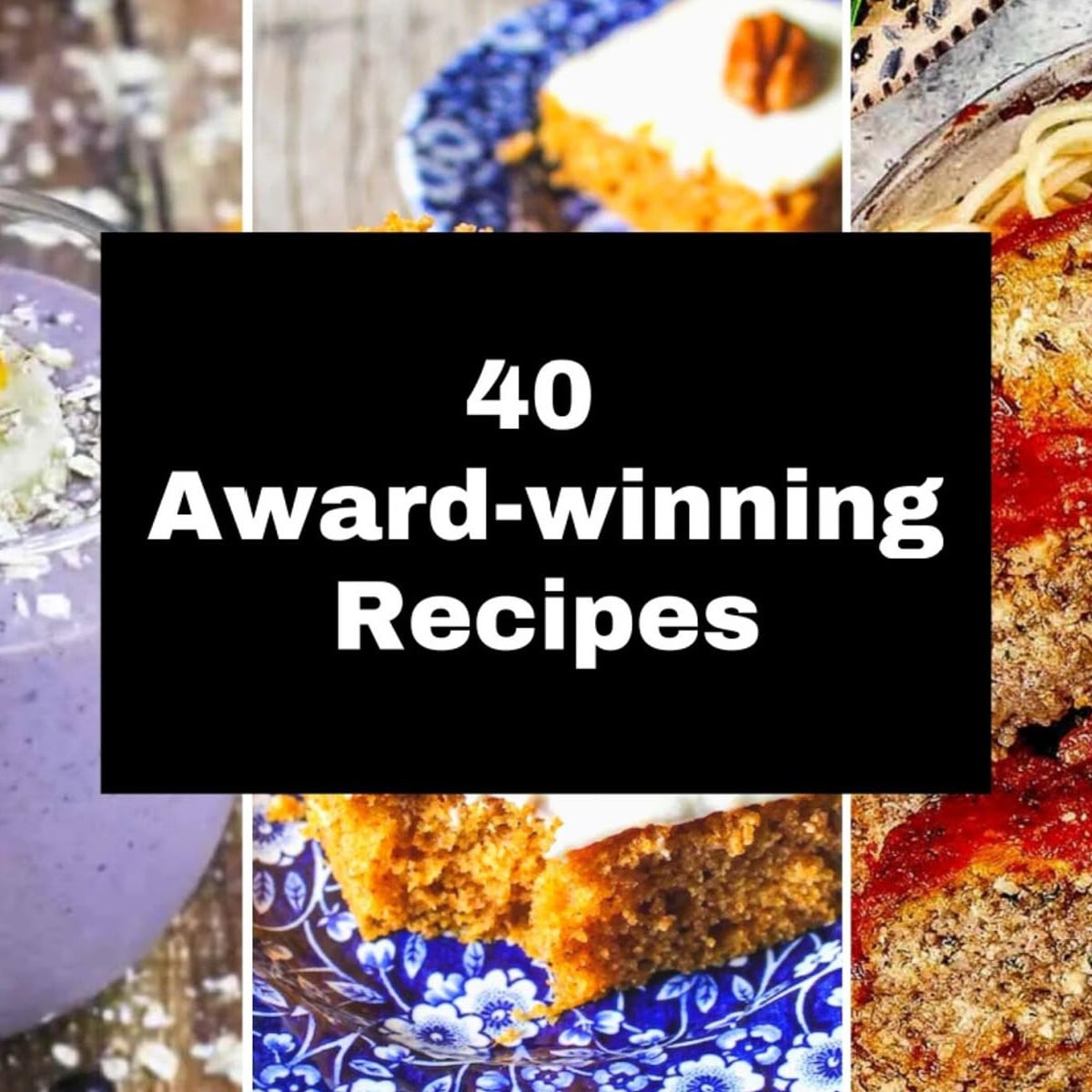 🦺FOOD SAFETY
Do not use the same utensils on cooked food, that previously touched raw meat
Wash hands after touching raw meat
Don't leave food sitting out at room temperature for extended periods
Never leave cooking food unattended
Use oils with high smoking point to avoid harmful compounds
Always have good ventilation when using a gas stove
See more guidelines at USDA.gov.
⭐ Reviews
Please leave a 5 star rating and a comment below if you liked this post!