I think that summer saw the most rain we had the entire time I lived in Winnipeg. And as I watched the rain pouring down yet another day, I was only filled with dread. At that point, more rain meant one thing -long hours of hard labour.
This post contains affiliate links (See Disclosure Policy)
When I had said, "YES, I'll do it!" naively, I thought it would be fun.....
I come from a long line of green thumbs and so badly wanted to be one myself. So, when my in-laws had mentioned they needed someone to look after their garden because they were going away for a month, I had jumped at the chance. It would be fun! I could finally be the gardener I'd always dreamed of becoming.
My Baba, Grandma and aunt all had beautiful gardens, where they always seemed so happy and content. My Mom wasn't really much a gardener, that is, until she retired. But she still grew rhubarb back in the day. They all did. In fact, pretty much everyone in Manitoba had a patch of rhubarb in the 1970's, whether they wanted one or not.
Rhubarb…what Canadian doesn't have many fond childhood memories of that simple summer day treat; pulling rhubarb from the garden, washing it off with the garden hose and dipping it in some sugar?!
Revive your rhubarb memory
...along with your taste buds!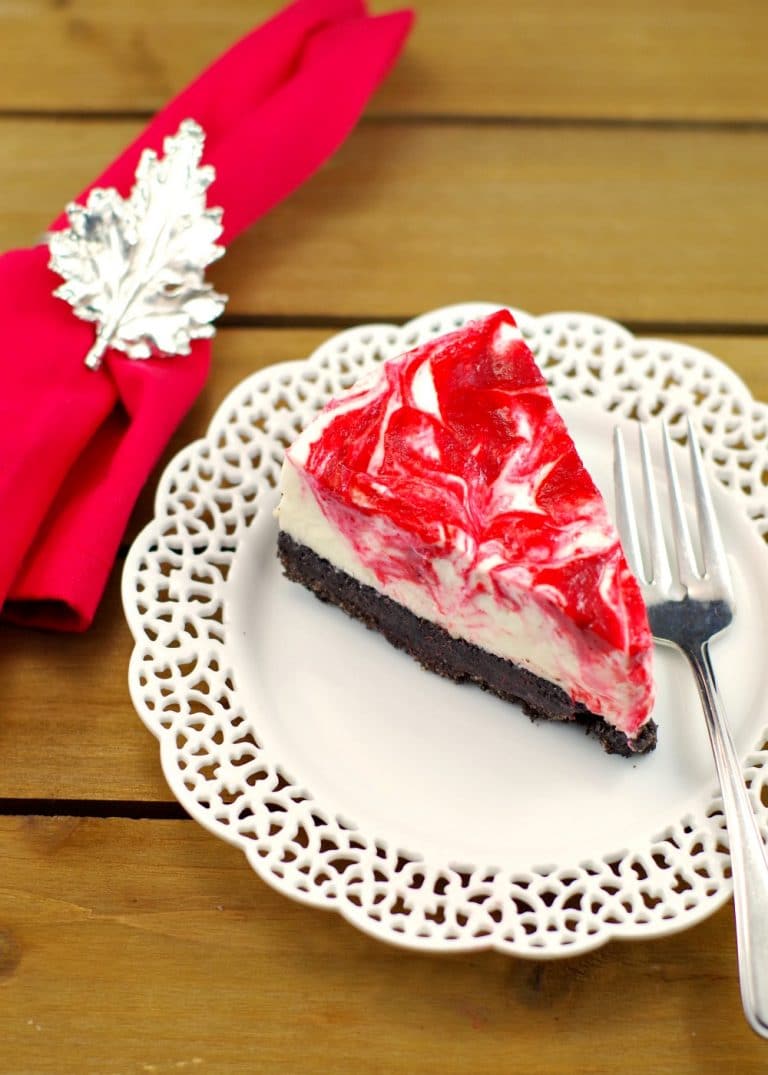 This quintessential Canadian no bake low-fat rhubarb cheesecake recipe is not only red & white, it's a lighter version, boasting a dark chocolate Oreo cookie crust with a red rhubarb and strawberry marble and creamy white chocolate filling. Fennel gives it a unique and delicious hint of licorice. And all of this without even turning on your oven!
But as the scorching Manitoba sun beat down upon me, while I spent a boiling hot and humid summer month doing endless hours of back-breaking field labour, hoeing and weeding and weeding some more, I seriously regretted my enthusiasm to become a gardener. So much so that I stayed away from gardens for a long time after that.
I dodged a gardening bullet
However, when we bought our own house many years later, I thought I'd give it another go. We had a small flower garden in the front and I planned to put more garden in the back. That was 14 years ago and I still haven't added more garden in the back of my house. And you know what? I'm glad I dodged that bullet. Kids came and life got insanely busy and I realized that even finding time to weed that little one in the front was more than enough for me. Now I see why my Mom waited until retirement.
And although I have toyed with the idea of planting some rhubarb (because it was so hard to get my hands on it for a long time) I still haven't been able to bring myself to do it. Gardening anything is hard work! Discovering I could buy frozen rhubarb at Co-op made growing my own rhubarb even less attractive. And now I have a friend that lives nearby, has a big rhubarb patch and wants to part with it. Talk about a win-win situation!
Frozen Rhubarb
This no bake rhubarb cheesecake can be made with fresh or frozen rhubarb so it doesn't matter whether you grow rhubarb. And it is the perfect Canadian dessert for your Canada Day celebration or your next summer potluck!
I have never felt the same level of dread that I felt all those years ago as I watched that rain pour down, acutely aware that weeds were growing at a super sonic rate and it would be my job to dispose of them. And I hope to never have that feeling again.
So, for me, I think gardening is best left to retirement or at least until my rhubarb supply dries up. In the meantime, I will stick with taking rhubarb off the hands of my friends that are willing to part with it.
Do you grow Rhubarb? LEAVE A COMMENT BELOW!
If you love Cheesecake, then give my Light Pumpkin Cheesecake a try!

Rhubarb Red & White Chocolate Light NO BAKE Cheesecake
This quintessential Canadian no bake light rhubarb cheesecake is not only red & white and low-fat, it boasts a dark chocolate Oreo cookie crust, coupled with a rich, creamy white chocolate and red rhubarb strawberry marble filling Fennel gives it a unique and subtle hint of licorice. And all of this in 30 minutes and without even turning on your oven!
Ingredients
Cheescake:
1

-7 gram

package of gelatin crystals

(Knox brand*)

½

cup

water

, divided into 2

2

- 8 oz

packages of light cream cheese

, room temperature (softened)

½

teaspoon

ground fennel

1 ½

cup

frozen rhubarb (or fresh)

1

cup

frozen strawberries (or fresh)

1

cup

light sour cream

3

ounces

melted white chocolate

¼

cup

whipping cream

1

cup

white granulated sugar

½

cup

non fat Greek yogurt

¼

teaspoon

super red gel paste food coloring

(I use Americolor)
Instructions
Spray the bottom of an 8-inch or 9 inch springform pan with non- stick cooking spray.

Cook frozen rhubarb and strawberries in microwave for 3 ½ minutes, drain excess liquid. Puree rhubarb/strawberries for approximately 1 minute in food processor. Add ground fennel and red gel paste. ** if you are using fresh, use the same process

Combine oreo cookie crumbs and 3 tablespoon white granulated sugar. Add ⅔ cup melted butter and mix until all the crumbs are moistened and a thick, crumbly paste forms. Press onto the greased springform pan. Level and press to the bottom of the pan using a rubber spatula and neatly taper at the edge. Cover the pan with plastic wrap and place in the fridge for 15 minutes.

Mix gelatin crystals and ¼ cup water in a small bowl and allow to bloom for 5 minutes. Heat ¼ cup water for 30 seconds in the microwave on high and pour into the gelatin bloom. Stir to dissolve, and allow to cool.

Place cream cheese, 1 cup white granulated sugar in the large bowl of a stand mixer fitted with a paddle attachment (you can use a hand mixer and a large bowl). Mix on low to break down the cream cheese for 30 seconds, and increase to medium speed for another 1 minute. Scrape the sides of the bowl and add sour cream, whipping cream, Greek yogurt and stir in white chocolate. Mix on medium for 30 seconds, scrape the sides, and on medium-high speed for 2 minutes, until smooth and fluffy.

Starting on low, pour gelatin into the cream cheese mixture. Continue to mix at medium speed for a minute, scraping the sides of the bowl after 30 seconds.

Pour into the springform pan with crust and level with a spatula. Drop several dollaps of rhubarb/strawberry mix onto the white cheesecake and swirl in with a butter knife. Repeat until all is gone. Try to cut into it to get it deeper and don't over-mix or it will lose the swirled effect.

Tap pan lightly against the counter to get rid of air bubbles. Cover with plastic wrap and refrigerate for at least 3 hours, preferably overnight.

Unhinge rim of springform pan and remove. If necessary, smooth edges of cake with a knife. Serve.
Notes
*The food coloring is optional, but it gives the cake a bright red colour. If you use the 'super red' you use less. If you buy regular red, be sure it's 'no taste' red
 

Nutrition Facts

Rhubarb Red & White Chocolate Light NO BAKE Cheesecake

Amount Per Serving (1 slice)

Calories 248

Calories from Fat 126

% Daily Value*

Fat 14g22%

Cholesterol 31mg10%

Sodium 59mg3%

Potassium 106mg3%

Carbohydrates 28g9%

Protein 2g4%

Vitamin A 350IU7%

Vitamin C 6.4mg8%

Calcium 54mg5%

Iron 0.1mg1%

* Percent Daily Values are based on a 2000 calorie diet.

 
Nutrition
Serving:
1
slice
|
Calories:
248
kcal
|
Carbohydrates:
28
g
|
Protein:
2
g
|
Fat:
14
g
|
Saturated Fat:
8
g
|
Cholesterol:
31
mg
|
Sodium:
59
mg
|
Potassium:
106
mg
|
Sugar:
22
g
|
Vitamin A:
350
IU
|
Vitamin C:
6.4
mg
|
Calcium:
54
mg
|
Iron:
0.1
mg
Save
Saved!
This recipe is part of The Country Cook's Weekend Potluck