"If I told you, I'd have to kill you," laughs Sue Silvester when I ask her if she'd be willing to share the secret ingredient in her beef stew; the same beef stew that won her and Kelly Schroeder, the 2013 Chuckwagon Stew cook-off at Alberta's Bar U Ranch.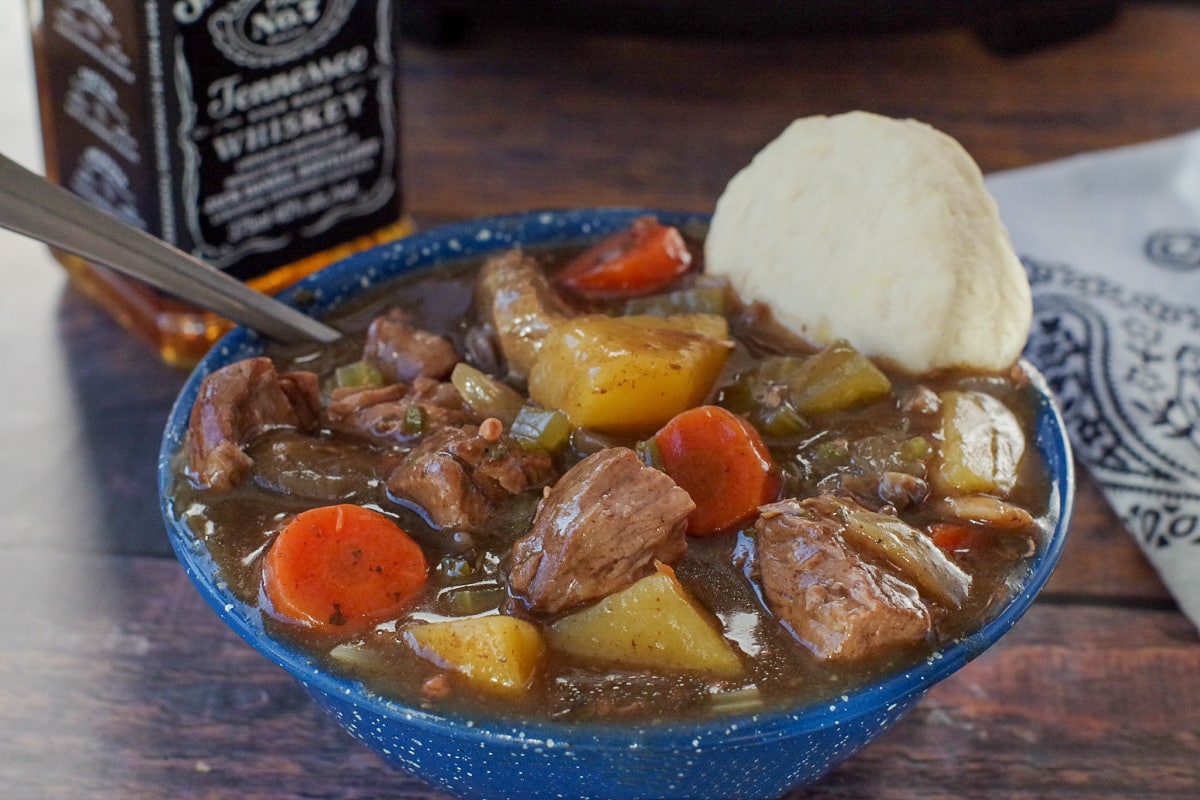 The very same stew I based this Gluten-free Slow Cooker Whiskey Beef Stew Recipe off of, except with the addition of the modern slow cooker. This stew is also Weight Watchers Friendly. So why not indulge a little and try it with my Baking Powder Biscuits (shown)- you won't regret it! OR keep it very WW friendly and enjoy this stew with my Everything Bagel Cloud Bread Recipe. This recipe is 6 WW points on my plan, but you can click HERE to find out how many it is on your plan!
Jump to:
As her stew simmers over the fire, Sue not only shares some of her tried and true ingredients, but she tells me what she thinks it takes to make a winning old-fashioned beef stew, "modern-style"!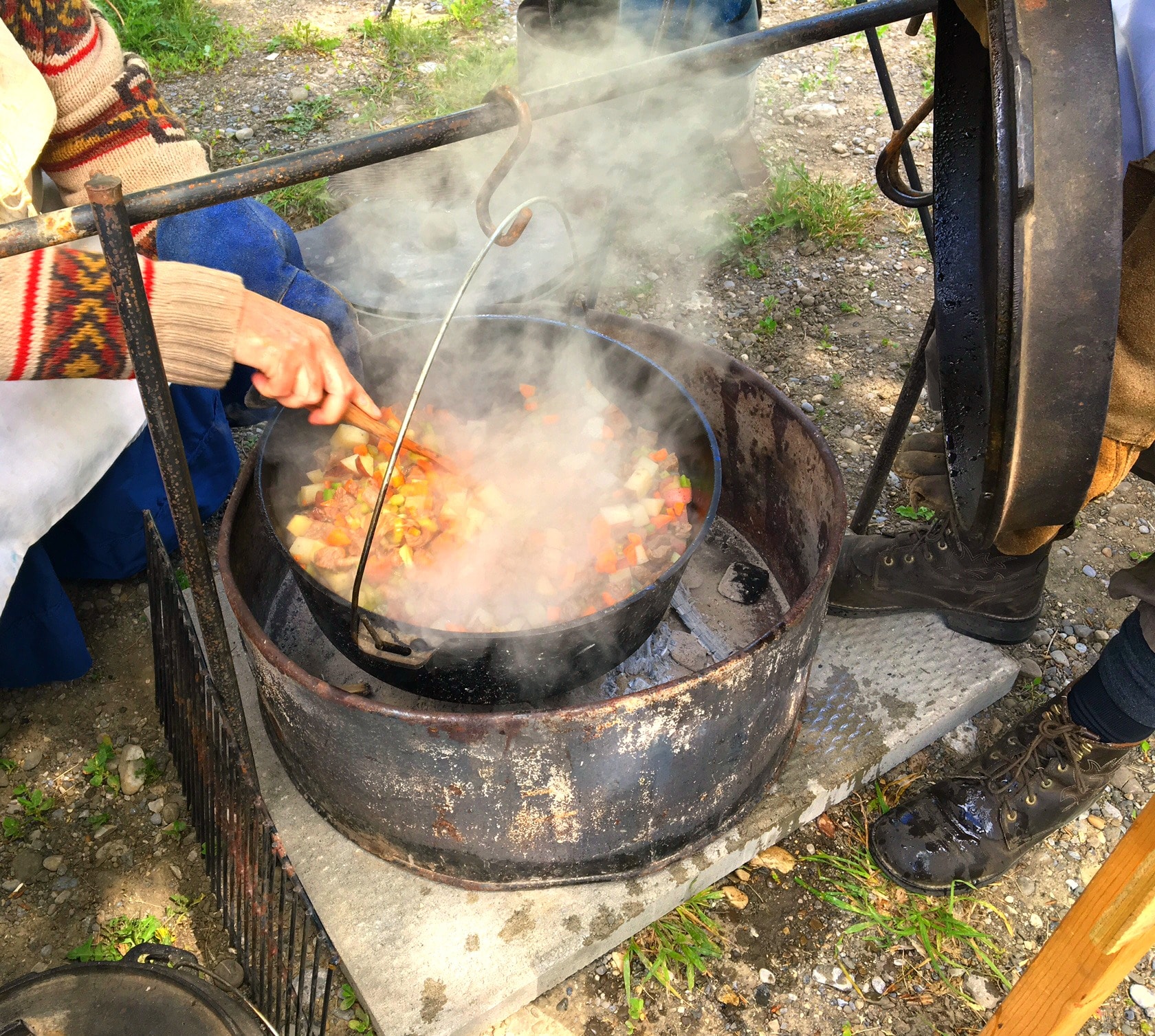 I had the pleasure of spending Father's Day with my family, out at the Bar U Ranch, south of Longview, Alberta. I discovered this glorious place a couple of years ago when we went to this very same event when my parents were in town visiting. But this year, entry was FREE because The Bar U Ranch is a national park (who knew?!) and it's Canada's 150th anniversary!
🍲Chuckwagon Beef Stew Cook-off
You start out with a wagon ride, with a gorgeous view heading west, toward the Rocky Mountains: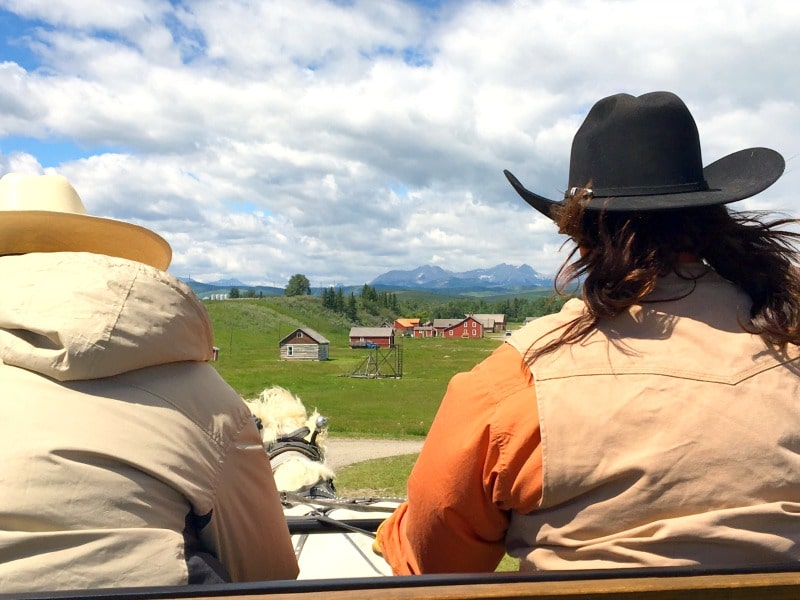 Then there's horse pack racing (I honestly didn't even know this was 'a thing' before I visited the Bar U Ranch.) Afterwards, we kicked back for a while, relaxed and listened to really great old-time country music played by none other than the father and son duo, Clayton and Lorne Moncrieff.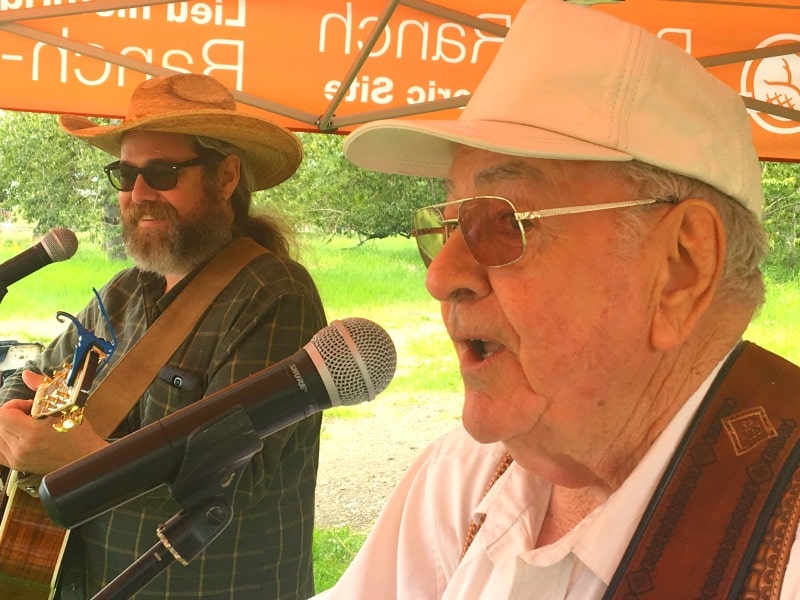 You can also indulge in some amazing 'cowboy coffee' while you're sitting around an open fire listening to music. I'm not even a strong coffee drinker and I tell you, this stuff was tasty!!
But being a true foodie, it's the stew cook-off that really won my heart!
💭Old recipes come to life: An inside look at a cowboy stew cook-off
After a 2 year hiatus, Sue and Kelly are back again to fight for the title of the best old-fashioned chuckwagon stew. There's not only a judges award, but a "People's choice," of which in they are the clear winners in the eyes of my son!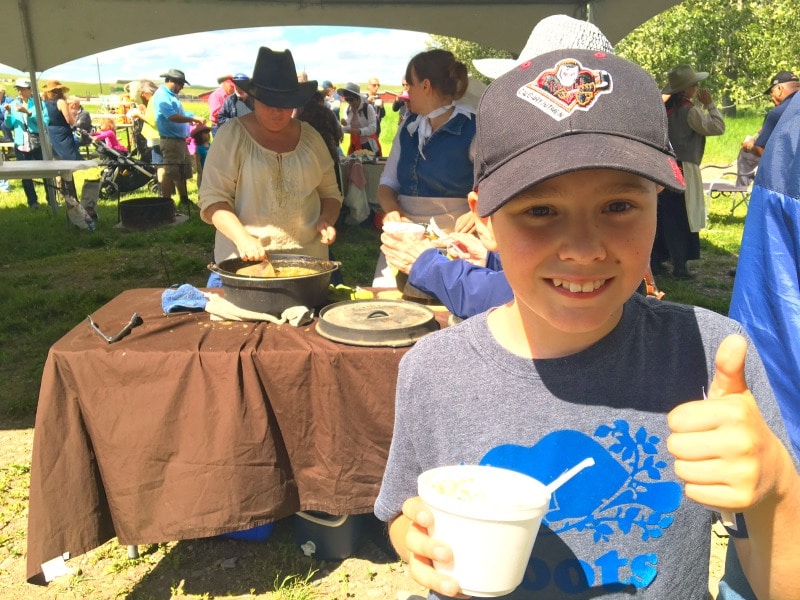 I personally don't envy the judges, given all the beef stews I tried were delicious! It would be very difficult to choose just one winner!
"It's a fun day," says, Kelly. The Alberta beef producers generously sponsor the event and provide everyone with 4 lbs of beef. Kelly and Sue also like to dress up in old-timey clothes because of course, it doesn't hurt to look the part when it comes to the judging. 🙂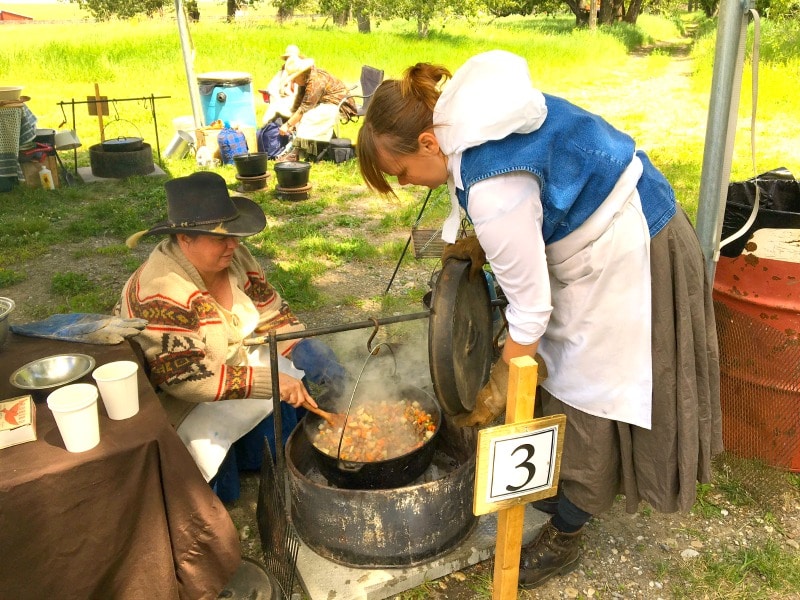 When I caught up with them just after lunch, Kelly and Sue had been nursing that baby since 9:00 AM. The tasting was scheduled for 3:00 PM. So I asked them how they make a great old-fashioned beef stew and they shared their secrets.
💭Tips for making the best old-fashioned beef stew
SLOW AND LOW
This is the #1 tip they gave me was to cook it slow on low for at least 6-8 hours. Regulating the heat is tricky when you're cooking over an open fire. But since cooking it on an open fire isn't necessarily a feasible (or even a desirable) option for most of us, Kelly agreed that the slow cooker/crock pot is the next best thing.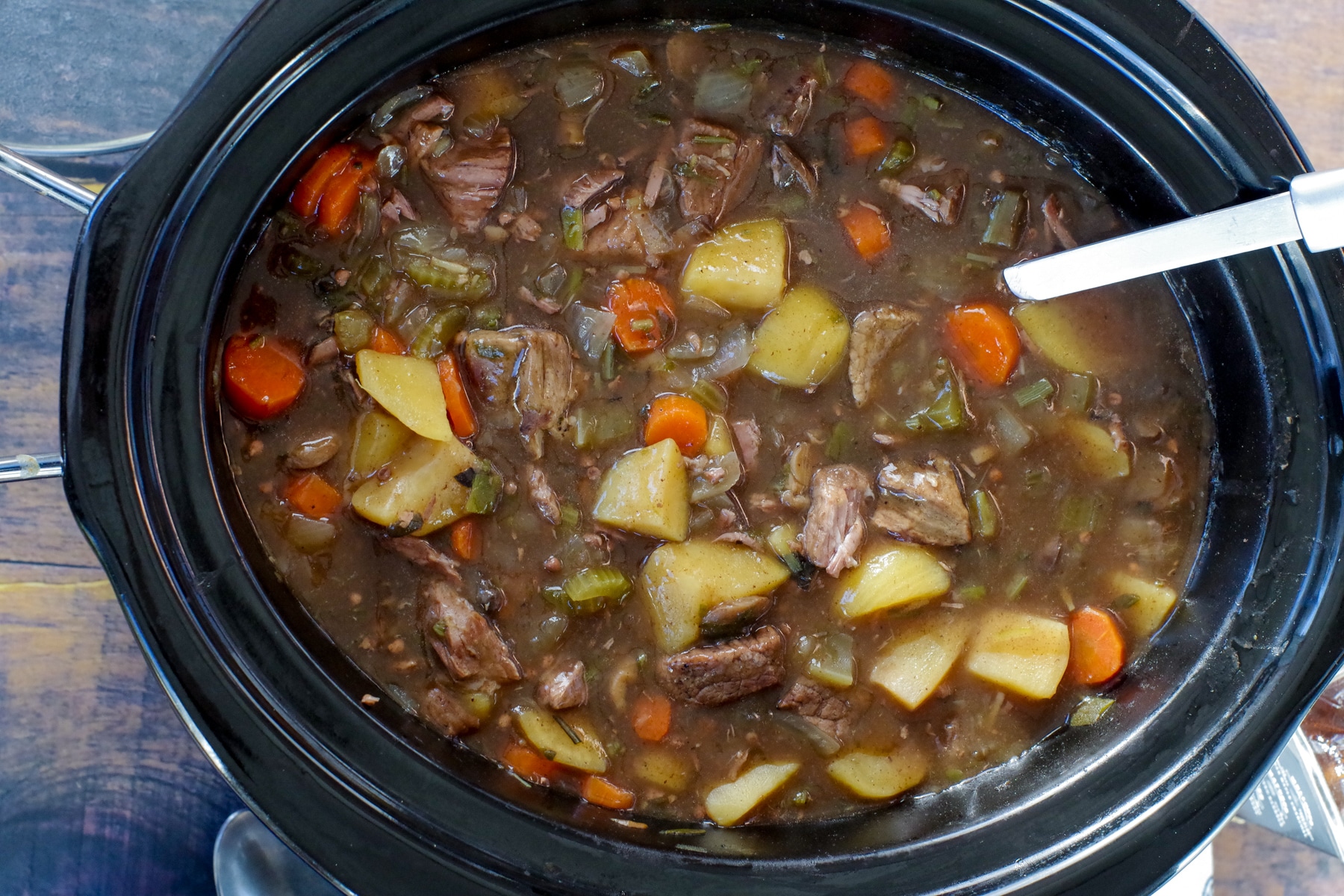 RENDERING YOUR BEEF
If you really want to make your stew old skool (like they do at this competition), you'd render your beef fat. In essence, that means that you would take the suet and make it into tallow. This is where much of the flavor comes from in old-fashioned beef stew.
But this also takes an enormous chunk of time that most of us don't have to dedicate to one meal, especially if you are working, have kids or even have some semblance of a life! So, in modern times, we use beef stock instead. I researched how to render beef for stew when I was writing this post and my thoughts were simply, "yay for modern food innovation!" There will be no rendering of beef happening in this kitchen...
SEARING YOUR MEAT IS KEY
Kelly and Sue don't use flour when they sear their meat it because they want it keep it gluten-free and I did the same. Anyway, using flour really isn't necessary. You can use a wok or frying pan on high heat to sear my meat, and season it with salt and pepper prior to sauteeing it, just long enough to brown it on all sides, but not cook it right through. This seals in the juices and flavor.
KEEP IT FRESH!
Kelly and Sue use as many fresh vegetables and herbs as possible. So that's what I did. I used fresh sage, rosemary, oregano, carrots, potatoes, mushrooms, celery and onion.
ADD SOME WHISKEY OR BEER
I used whisky, but don't worry - it's still family friendly! The alcohol evaporates during the cooking process. Sue and Kelly don't use beer for the same reason they don't use flour- they want to keep it gluten-free.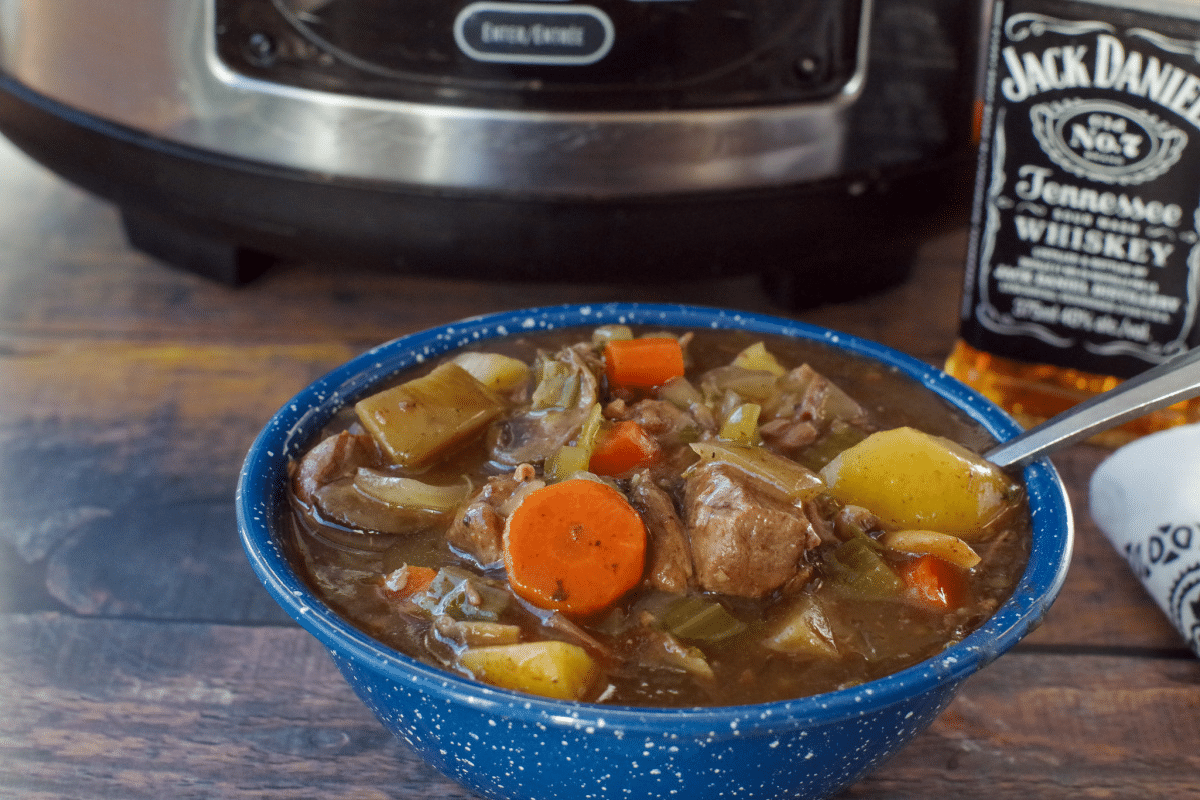 ADD COFFEE GROUNDS
I had to be sure I heard her right. I was surprised and instinctively thought that adding coffee grounds would make it too 'grainy,' give it a weird texture and likely be unpalatable. But according to Kelly, "no, that's not the case - it's really the thicker coffee at the bottom of the pot that you use, so you don't notice the little bits of coffee grounds in there because they give it such a nice flavour." They use the real 'cowboy coffee' that's cooked over the open fire. And since I drink vanilla brewed coffee, I didn't try using coffee grounds this time 'round.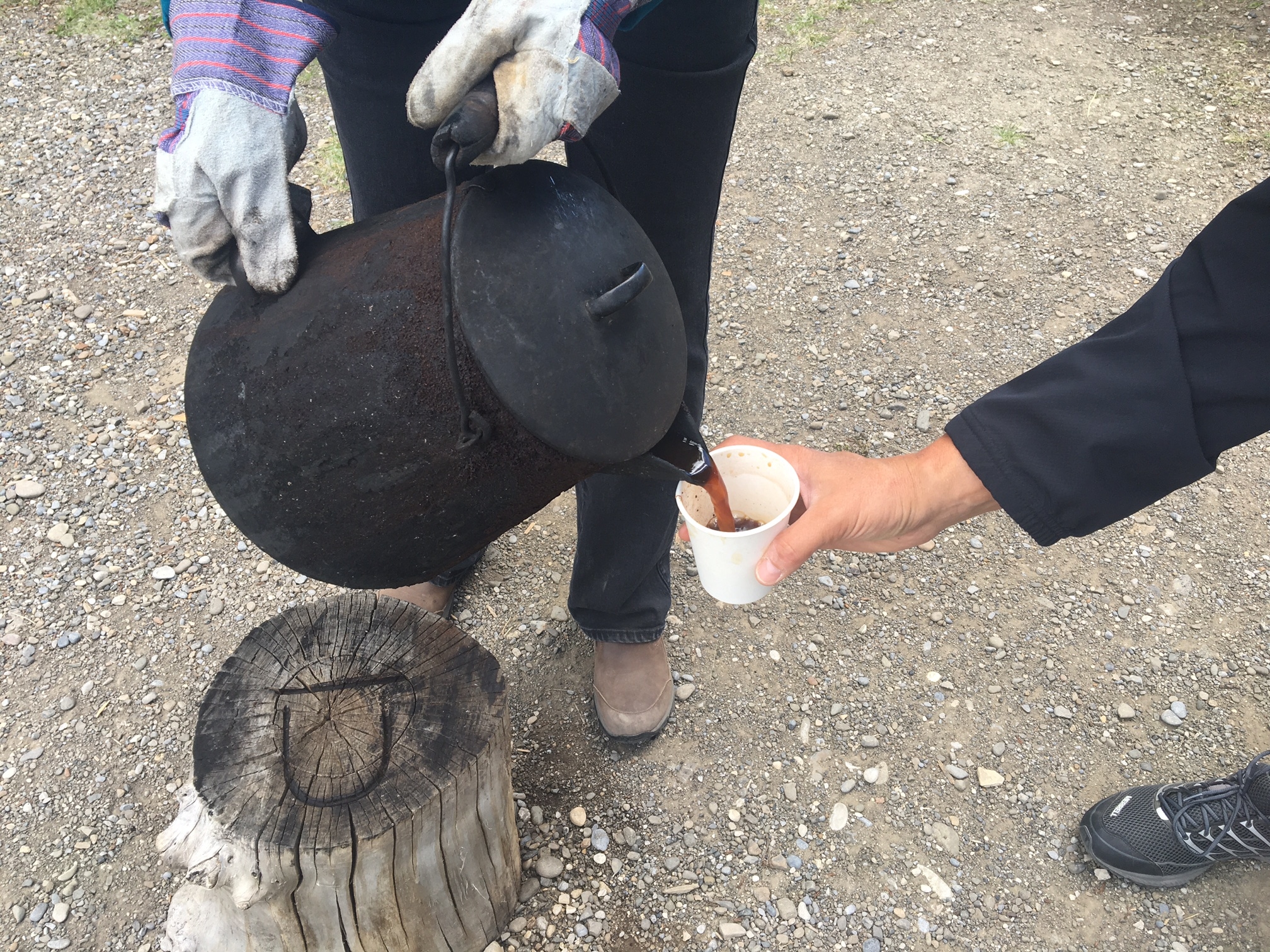 In my quest to create the best old-timey beef stew, I gathered all this advice from the pros at the cook-off, then did a lot of my own research. I have to admit that I am pretty fussy when it comes to stew and I can honestly say that this is the best one I ever had! My kids are also fussy and they loved this whiskey stew recipe as well.
🥘 Ingredients
Along with beef, carrots, celery, onion, potato and fresh herbs, I added Okra to my stew because I love the flavor and it also acts as a thickening agent (think gumbo). Although Okra is native to Africa, it was brought to North America in the 1600s. It quickly became popular in the Deep South both as a side dish and as a thickening for gumbo and stews. It can, however, thrive in any climate where corn will grow. Worcestershire sauce is another ingredient that been around a long time and seems to be common in a good stew, so I added that as well.
"It's not Rocket Science." I heard this from a couple of contestants during the cook-off. So, if you simply follow the tips above, you can create a fantastic modern day old-fashioned stew.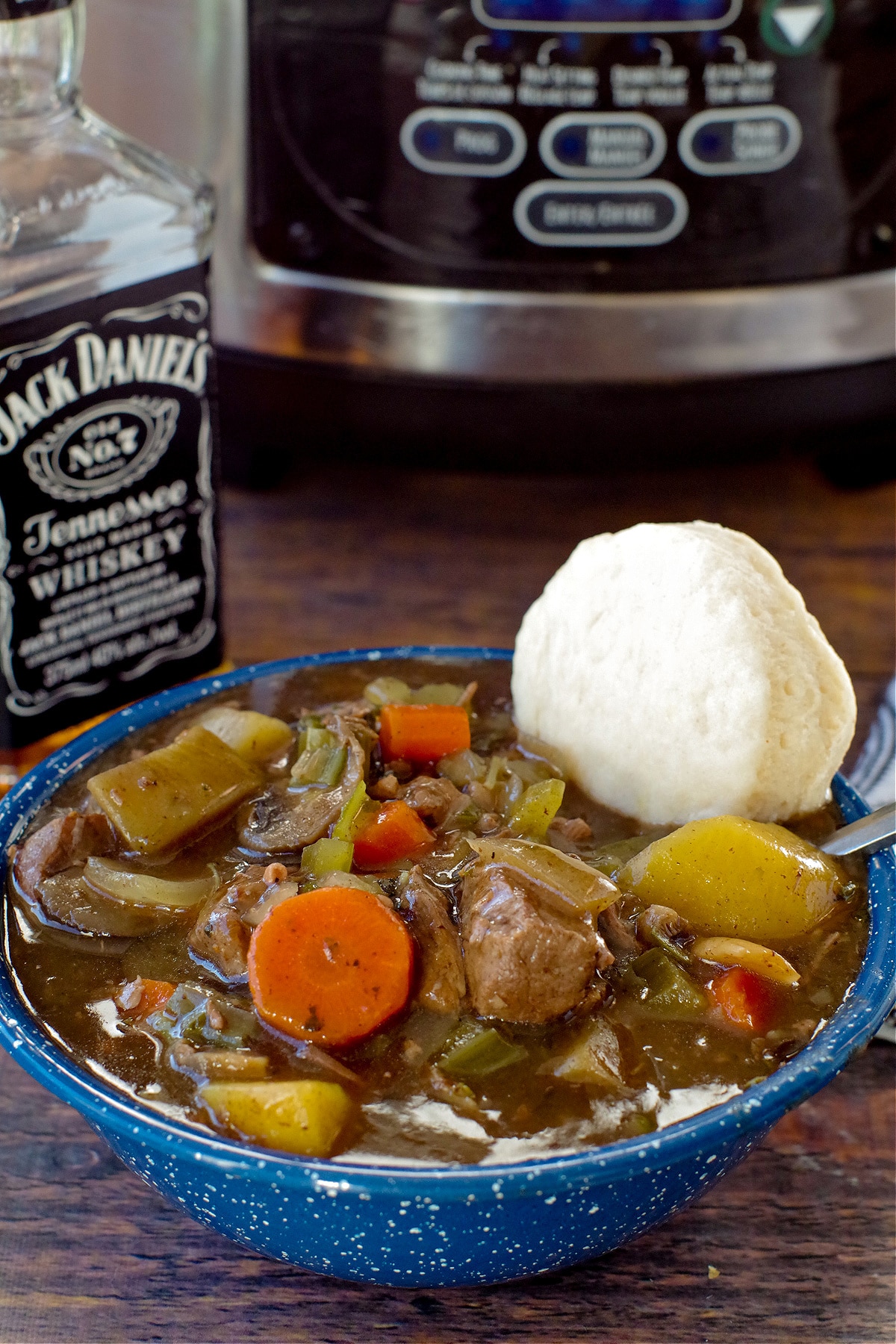 🔢 WW Points
This recipe is 6 WW points on my plan, but you can click HERE to find out how many it is on your plan!
I never did find out the secret ingredient in Sue and Kelly's Old-fashioned chuckwagon beef stew. But I am convinced it's one of the ingredients in my version because it's amazing and the best one I have ever tasted. Not to mention, that it is cooked in a slow cooker! This only means one thing- less work for yours truly and for YOU!
⭐ Reviews
Did you make this recipe? Please RATE THE RECIPE below!
Please SUBSCRIBE (get my FREE E-cookbook) and be sure to FOLLOW ME on FACEBOOK, TWITTER, INSTAGRAM and PINTEREST!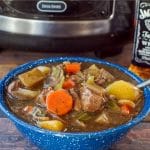 Print
📋 Slow Cooker Beef Stew Recipe
Make this amazing Slow Cooker Beef Stew with all the tips I gathered from the pros at the Bar U Ranch Chuckwagon Stew Cook-off! Made with whiskey, potatoes, carrots, celery, and fresh herbs, this stew is Weight Watchers friendly!
Ingredients
1 ½

pounds

beef stew meat

,cut into 1 inch cubes *Make sure you use stewing meat or the beef chunks will not stay together and you will end up with more of a shredded beef

1

teaspoon

each salt and pepper, as needed

approximately- add more or less as desired

1 ½

tablespoon

fresh sage

1 ½

tablespoon

fresh oregano

¾

tablespoon

fresh rosemary

2

bay leaves

6

fresh mushrooms

large, chopped- about 1 ½ cups

3

celery stalks

, chopped about ½ cup

1

onion

large, chopped

4

carrots

, chopped, about 2 cups

⅓

cup

okra

4

potatoes

large, chopped

½

cup

whiskey

Jack Daniels (gluten -free)

4.5

cups

beef stock

1 ½

tablespoon

gluten-free worcestershire sauce

4

tablespoon

cornstarch

5

teaspoon

water
Instructions
Sprinkle salt and pepper over meat, then sear beef on all sides in heated non-stick skillet/frying pan over high heat. *Do not cook through (this step is important to seal in the flavor of the beef and helps the hold the meat together).

Spray a 6 qt slow cooker/crock pot with non-stick cooking spray, then add meat, chopped vegetables and herbs. Stir together.

Add beef stock, whiskey and Worcestershire sauce together and pour mixture over beef, potatoes, vegetables and herb mixture. .

Cover, and cook on low setting for 8 hours. ** if you are in a hurry, you can cook on high setting for 4 to 6 hours. *However, the low and slow method is the very best!

When cooking time is almost complete (20-30 minutes left), mix the cornstarch and water into a paste (roux) and stir into the stew. *You can use equal amounts of flour and oil if you don't need the stew to be gluten-free.

Allow it to continue to cook for the remainder of the time or until desired thickness is reached. If the stew is not as thick as you could like, add more roux.

Serve warm with biscuits, buns (or 0 WW point Everything Bagel Cloud Bread (see NOTES)
Notes
WW Points
This recipe is 6 WW points on my plan, but you can click HERE to find out how many it is on your plan!
*NOTE: This recipe makes 12 cups. I have calculated each serving as 1.5 cups, which is a very substantial serving
**NOTE: Indulge a little and try it with my Baking Powder Biscuits (shown in photos)- you won't regret it! OR keep it super WW friendly and try it with my 0 (ZERO) point Everything Bagel Cloud Bread Recipe!
***NOTE: This recipe is for a minimum 6 Qt. crock pot/slow cooker
Need a slow cooker? Here are my Amazon recommendations (affiliate links)
Nutrition Facts
📋 Slow Cooker Beef Stew Recipe
Amount Per Serving (1.5 cups)
Calories 218
Calories from Fat 45
% Daily Value*
Fat 5g8%
Cholesterol 53mg18%
Sodium 350mg15%
Potassium 775mg22%
Carbohydrates 12g4%
Protein 23g46%
Vitamin A 5216IU104%
Vitamin C 5mg6%
Calcium 73mg7%
Iron 3mg17%
* Percent Daily Values are based on a 2000 calorie diet.
Nutrition
Serving:
1.5
cups
|
Calories:
218
kcal
|
Carbohydrates:
12
g
|
Protein:
23
g
|
Fat:
5
g
|
Saturated Fat:
2
g
|
Cholesterol:
53
mg
|
Sodium:
350
mg
|
Potassium:
775
mg
|
Fiber:
2
g
|
Sugar:
3
g
|
Vitamin A:
5216
IU
|
Vitamin C:
5
mg
|
Calcium:
73
mg
|
Iron:
3
mg
Save
Saved!
🍲More Slow Cooker Recipes!