I love the name "Granny buns" because these truly are my Granny's buns.
These dinner buns are the ones she made all the time when I was growing up. They would be at every family holiday dinner or gathering and they were highly coveted.
Jump to:
Recently, my Grandma and I were talking about great recipes and she told me I just had to make these dinner buns! I didn't even realize they were the buns she was talking about. Once in a while she tells me I just have to make a recipe and the last time my Grandma told me that, it was our family's Old Fashioned Date Nut Loaf she was referring too. And I was completely and unexpectedly blown away by how good it was! Was she ever right about that. So of course I couldn't resist making these dinner buns.
Aside from quick breads, I make most of my breads, buns and dough in my bread machine. Since I got a bread maker 25 ish years ago as a gift, I've naturally taken the path of least resistance. If you're interested, you can check out my Bread Machine Recipes HERE! Plus, I don't have a lot of time on my hands for making bread.
🥘 Ingredients
However, these Homemade Rolls are soo worth the time AND effort of making them by hand! And as far as I'm concerned, there is nothing in this world as divine as the smell of yeast and fresh buns baking in the oven. For me, it brings back some of the most wonderful baking (and eating) memories from my childhood. Yeast is the key ingredients but these dinner rolls have all the other usual suspects like water, oil, flour and eggs. but it's the additional sugar that makes them special. They are a little sweeter than your typical homemade roll.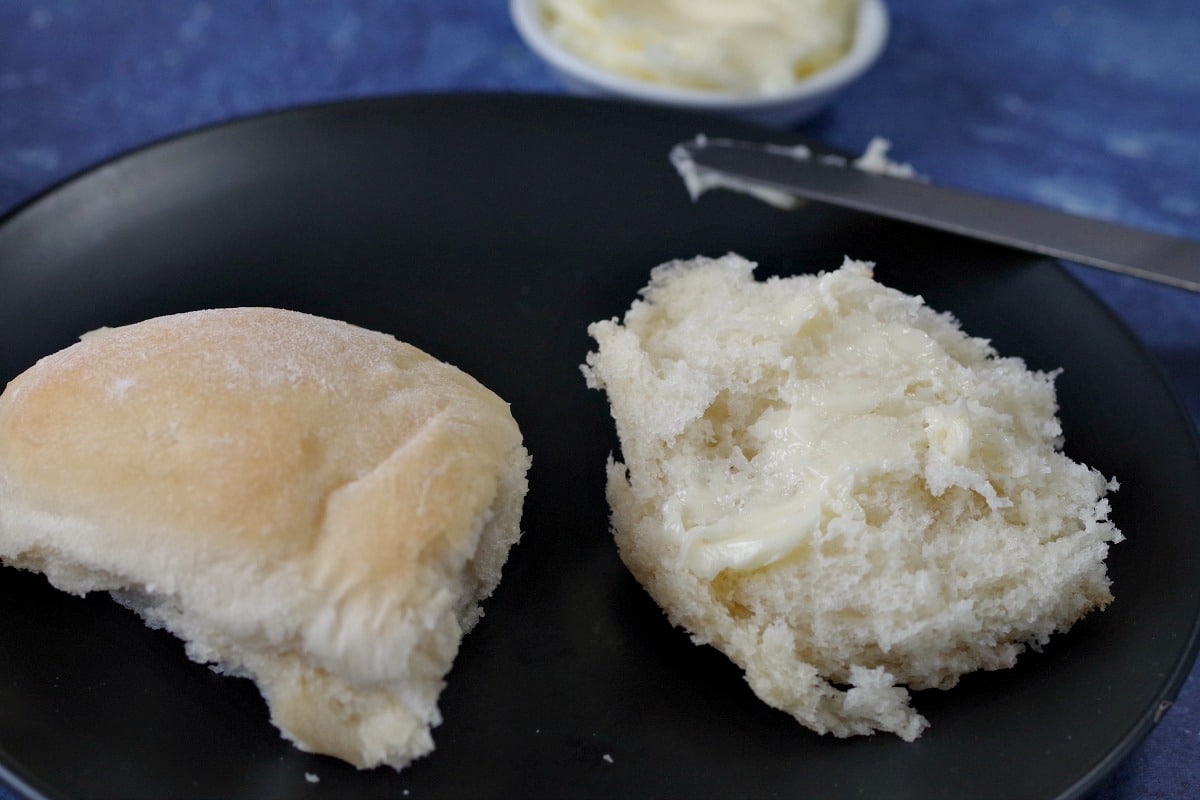 When I told my daughter I could officially be a granny now because I made these Granny buns, she laughed and said I didn't have to worry about that. Apparently I already make so much old fashioned foods I'm well on my way... haha! And when I think about it, I guess she's right. My Strawberry Jello Angel Food Cake, Pistachio Fluff and my Chocolate Mayonnaise Cake are all pretty retro. And I'm sure there are many more that I just can't recall right now.
💭 Top tip
When you are preparing these buns, have a look at the video I put in the NOTES, as it shows you how much you should "punch down" the dough. I'm not sure about you, but I have a tendency to 'overpunch'; it's a good way to release tension 🙂 Punching down is actually an antiquated term, as artisan bakers prefer to treat dough more gently, pressing and gently deflating it rather than punching it. To punch down dough, transfer it to a lightly floured surface, then use your fingertips to gently press and stretch it. Again, see video in NOTES. This "punching" helps remove some of the bubbles of gas that have formed thanks to the yeast during the rising period. Gently deflating them gives the bread a finer texture. It also redistributes the cells of yeast and moisture so that they can ferment and rise during the next rising period.
🌡️ Can they be frozen?
I do NOT recommend freezing these buns. I found that the texture changed- they got a little gooey. If this recipe is too much, split it in half. Just adjust the amounts by clicking on the servings in the recipe card
🥗 Side dishes
These buns go well with soup, chili, stew, as a sandwich or on their own (slathered with butter.) However, they are simply amazing as a side with holiday dinners. I'll be having them with my Thanksgiving, Christmas and Easter dinners this year and I would encourage you to do the same!
Although these soft dinner rolls may be old-fashioned, they are truly timeless... They have a fluffy cloud-like texture that a store-bought bun can't come close to!
Print
📋 Dinner Buns Recipe (Granny Buns)
These homemade dinner buns (aka Granny buns) are light, fluffy and soft. They are the perfect side to your Thanksgiving, Christmas or Easter holiday meal or any meal!
Ingredients
1

cup

warm water

1

teaspoon

sugar ( to mix with yeast)

1.5

tablespoon

instant yeast

3

eggs

1

cup

oil

1

cup

sugar

4.5

cups

warm water

10

cups

all- purpose flour, sifted + more as needed

(I used 11. 5 )
Instructions
Dissolve 1 teaspoon sugar in water, add yeast and stir well. Let stand for 5 minutes.

Meanwhile, in a large bowl, beat together: eggs, oil, 1 cup sugar, then add yeast mixture.

Add 4.5 cups warm water and 4 cups flour. Beat well with an electric mixer for about 2 minutes.

Add 6 more cups flour; mix well.

Then add more flour (1 cup at a time) until dough is soft and spongy **I added about 1.5 cups flour in addition

Grease the inside of a large bowl and place dough inside.

Allow dough to rise for 30 minutes, then punch down (See VIDEO in NOTES for how to punch down dough)

Let rise again until double in size.

Spray two to three 9X13 pans with non-stick cooking spray and make buns: Take the amount of a tennis ball and make it into a round(ish) shape and place in greased pan.

Set to rise for about 1 more hour.

Preheat oven to 350 degrees F

Bake at 350 degrees for 20 minutes or until lightly browned.
Notes
*NOTE: VIDEO: How to punch down dough
🌡️**NOTE: I do NOT recommend freezing these buns. I found that they got a little gooey.
My Amazon Recommendations
Nutrition Facts
📋 Dinner Buns Recipe (Granny Buns)
Amount Per Serving (1 bun)
Calories 160
Calories from Fat 72
% Daily Value*
Fat 8g12%
Cholesterol 16mg5%
Sodium 7mg0%
Potassium 26mg1%
Carbohydrates 20g7%
Protein 2g4%
Vitamin A 24IU0%
Calcium 5mg1%
Iron 1mg6%
* Percent Daily Values are based on a 2000 calorie diet.
Nutrition
Serving:
1
bun
|
Calories:
160
kcal
|
Carbohydrates:
20
g
|
Protein:
2
g
|
Fat:
8
g
|
Saturated Fat:
1
g
|
Cholesterol:
16
mg
|
Sodium:
7
mg
|
Potassium:
26
mg
|
Fiber:
1
g
|
Sugar:
7
g
|
Vitamin A:
24
IU
|
Calcium:
5
mg
|
Iron:
1
mg
Save
Saved!
🍲More Holiday/ Thanksgiving, Christmas or Easter Dinner Sides
Gluten-free Sausage & Apple Rice: An Easy Thanksgiving side recipe
Green beans and Mushrooms: A Holiday Side Dish
Easy Potatoes Romanoff (with slow cooker option): The Ultimate Potluck Dish!
This recipe is part of The Country Cook Weekend Potluck