As far as I'm concerned, Christmas brunch is the best brunch of the year! After an appetizer of stocking stuffer chocolate, it's time to sit down to a delicious, leisurely, and indulgent meal. I have put together my favorite recipes so they are conveniently all in one place. If you're looking for Christmas Brunch ideas, I've got you covered with everything from main dishes, eggs, baked goods to drinks, breakfast dessert (because you gotta have breakfast dessert at Christmas), and regular desserts! The whole family is sure to love these holiday brunch ideas!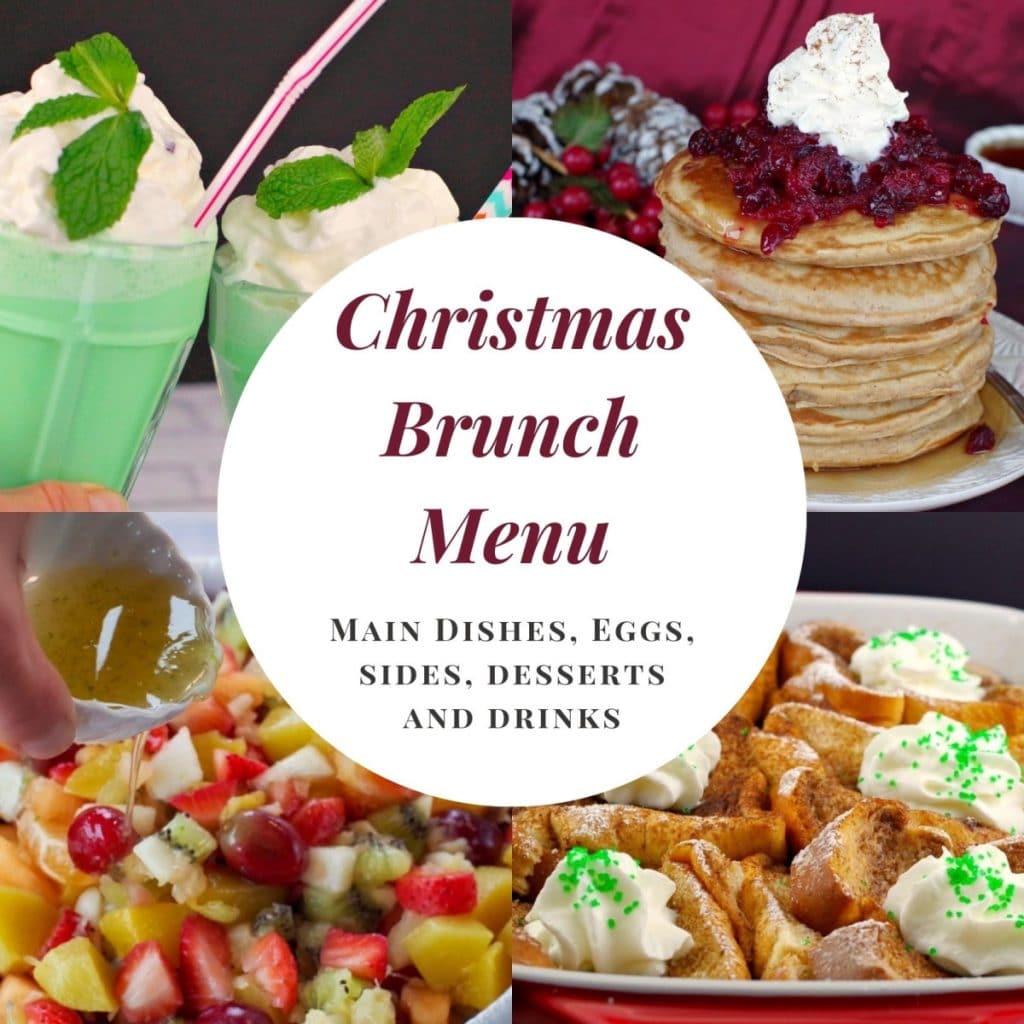 Although I have some healthy recipes, lighter and WW friendly Christmas brunch recipes, in my opinion, the holiday season is the time to indulge a little, and Christmas brunch is the perfect time to do that. Because remember the old Weight Watchers saying: "It's not what you eat between Christmas and New Year's that matters as much as what you eat between New Year's and Christmas!"
Main Dishes
Casseroles
Casseroles are a great Christmas brunch idea because they can be prepped, or even cooked, the night before (Christmas eve). Then on the big day, you simply pop these make-ahead Christmas casseroles in the oven to cook or warm them up!
French Toast, Waffles, and Pancakes
If you're looking for Christmas breakfast ideas, festive French toast, waffles, and pancakes are a great choice!
Finger Foods
Finger foods are great to have on your Christmas brunch menu, but they are even better for bringing along to a gathering. Kids can simply grab and go!
Eggs
Sides
Breads and Baked Goods
Dessert
Breakfast Dessert
More Dessert
Brunch is a time for Christmas cookies, pudding, and festive coffee cakes!
Drinks
These festive drinks are all family-friendly, but feel free to spike the punch for the grown-ups!
👪 Serving Size
All of these recipes have adjustable servings. You can half, double or triple the recipe by clicking on the blue serving number and selecting the number of servings you'd like. The ingredient quantities will automatically adjust.
🦺Food Safety
Do not use the same utensils on cooked food, that previously touched raw meat
Wash hands after touching raw meat
Don't leave food sitting out at room temperature for extended periods
Never leave cooking food unattended
Use oils with high smoking points to avoid harmful compounds
Always have good ventilation when using a gas stove
If you're looking for Christmas brunch recipes for your holiday menu, you'll love this collection because there's something for everyone.
Merry Christmas!
And if you're still looking for gifts, check out my Holiday Gift Guide (affiliate link)