I love biscotti because it's the ultimate breakfast dessert! And it's pretty much the only breakfast dessert I don't feel guilty about eating. And for a while I was only making my Cranberry Pistachio Biscotti Christmas Biscotti once a year (during the holidays). But then I started to really miss it the rest of the year. So I made an enormous batch, hoping that by freezing most of it, that biscotti would last me a very long time.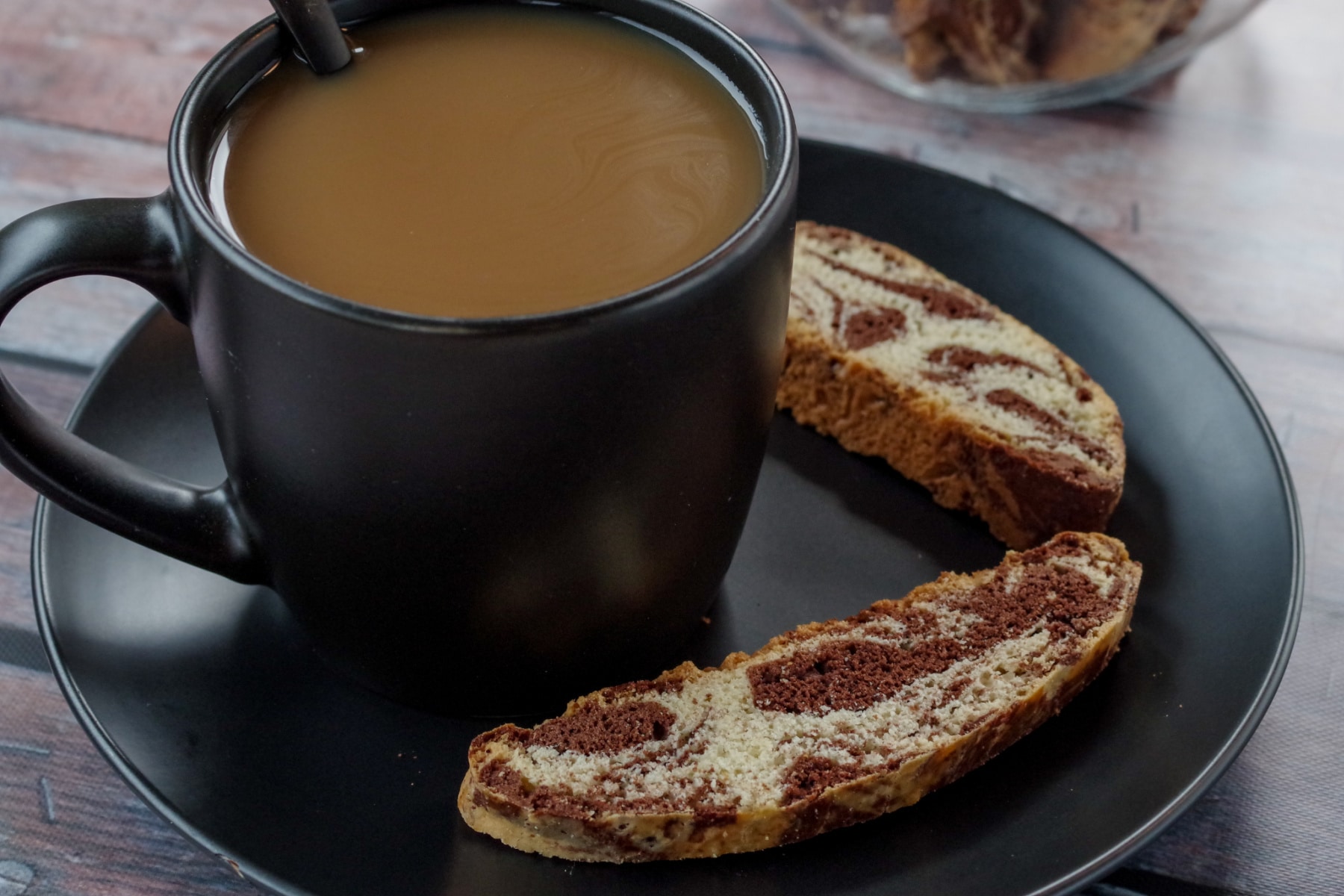 Turns out the rest of my family was missing it just as much, because that enormous batch didn't last very long. And since I have a need to make it regularly now, I decided I should mix it up a bit and create a new biscotti recipe. And what flavor makes the best dessert, especially breakfast dessert?! Well, chocolate of course! And that is how this Chocolate Marble Biscotti was born. It's not only looks really cool, it's also Weight Watchers friendly!
Jump to:
Before I started making my own homemade biscotti, I didn't get the hype. If you've ever had a stale, break-tooth piece of biscotti from a coffee shop, you'll know what I'm talking about - pure disappointment! But making it yourself is an entirely different thing all together. Homemade biscotti is crispy, yet soft and definitely not stale!
💭Biscotti is a Cookie
If you didn't already know this, biscotti is simply an Italian cookie, but the difference is that it's baked twice. But there is something magical in the double baking that gives biscotti this delicate texture, unlike no other cookie. In essence, these are chocolate marble cookies, but only better!
I always crave something sweet after breakfast and muffins and loaves are too heavy (especially after eating breakfast). But biscotti is the perfect size, it's not too fattening (this is a ww friendly biscotti that's 2 ww points on my plan) and totally satisfies that sweet tooth. This homemade biscotti is also ideal for dunking in coffee.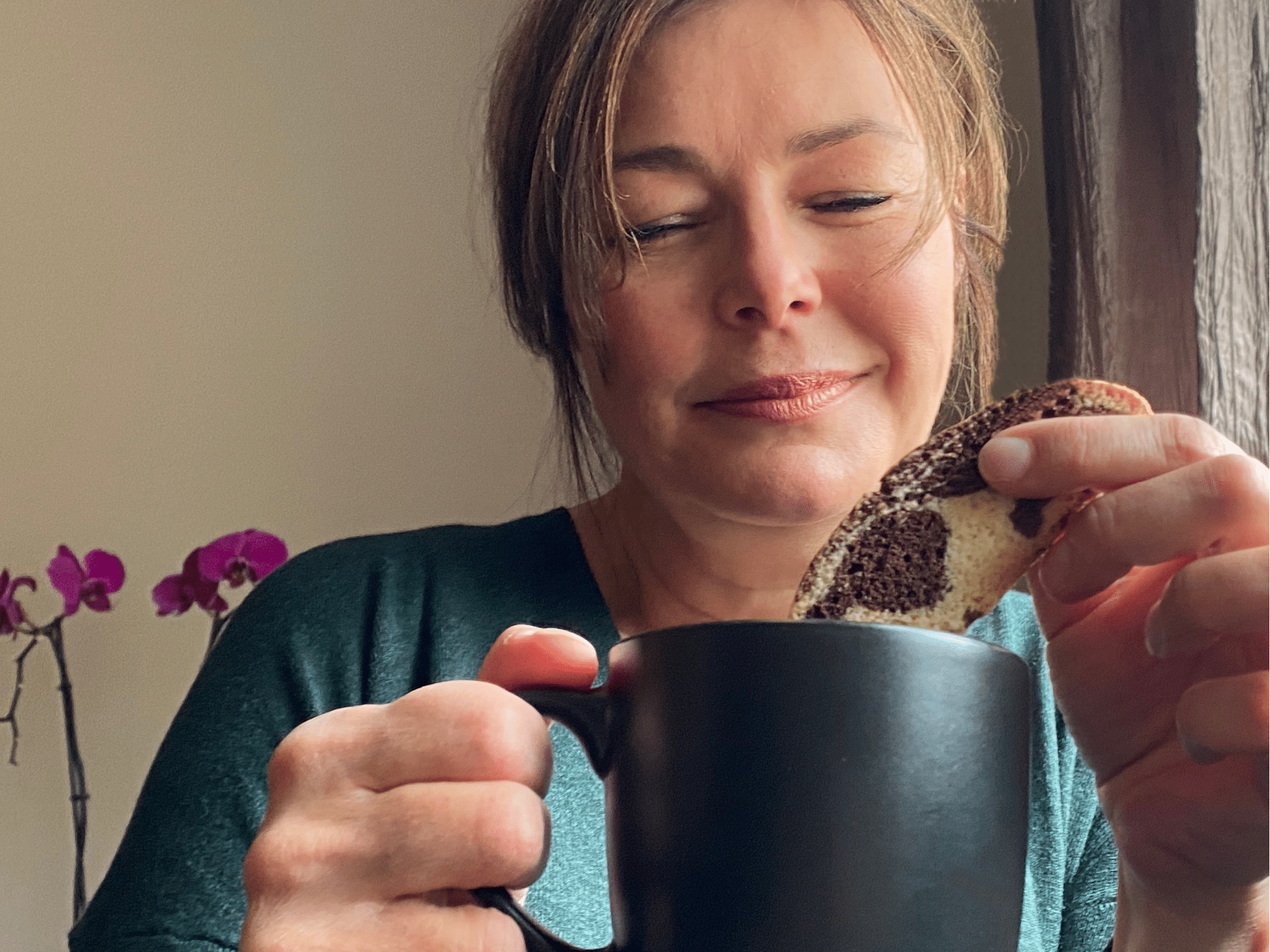 I guess you could say I've become a little 'entitled' when it comes to biscotti. I feel I need it and deserve it whenever I want it. But I guess that's not such a bad thing because life is short (and they are WW friendly). So now I make big batches and freeze it so I always have it around. And since it freezes so well, there's really no issue, besides it being so popular around here, I just can't seem to make enough!
🥘 Ingredients
This biscotti recipe with chocolate requires dividing two different doughs, a chocolate dough and a vanilla dough. You start out with a vanilla dough, divide it, mix cocoa into part of it, then mix them together to create a marbled effect. The end result is very cool looking cookie! It is made with very simple pantry ingredients:
white granulated sugar
unsalted butter
baking powder
baking soda
salt
eggs
vanilla
flour
all-purpose flour
cocoa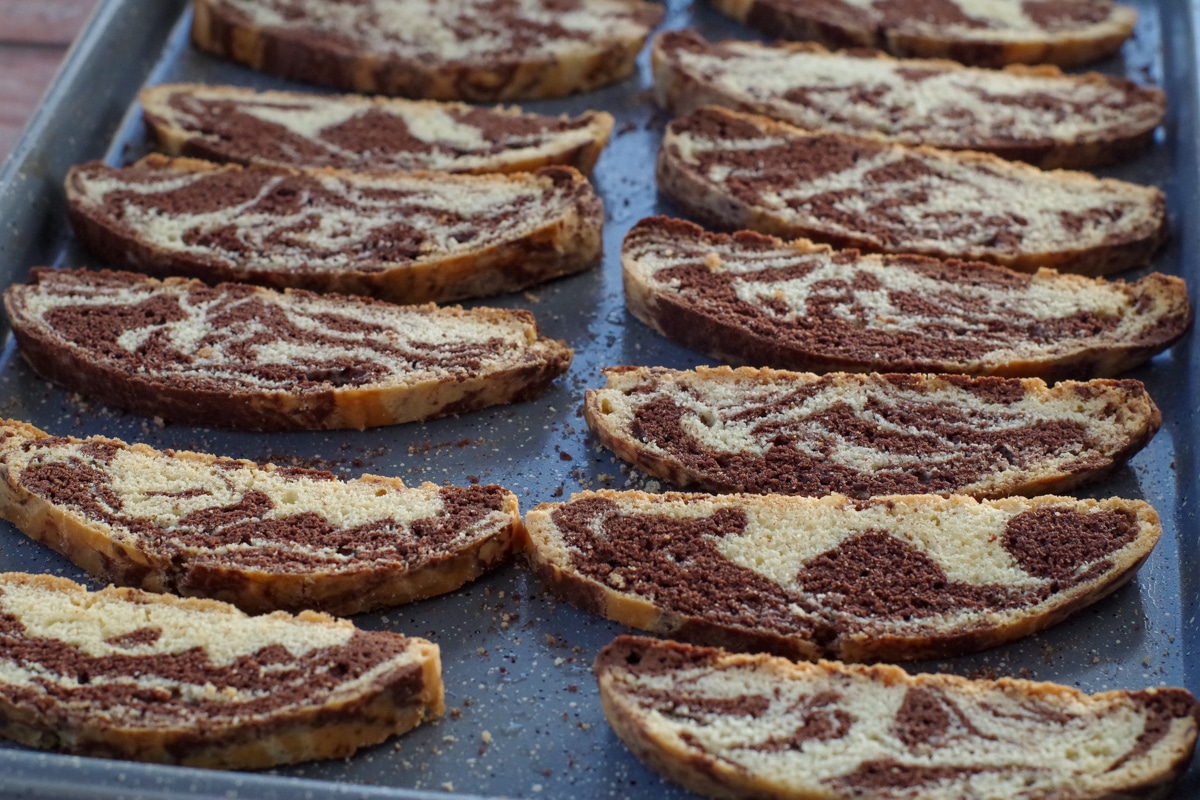 ⏲️ Baking time
If you've never made biscotti before then you need to realize that it's a bit of a time commitment because it requires 2 hours of chilling, 2 bakes (one is 25- 30 minutes and the other is 15-20 minutes ) and cooling time (up to an hour) in between the 2 bakes. So, in total time the biscotti takes is about 4 hours. But is it ever worth the time!!!
🔪 Instructions
It all starts with one simple biscotti vanilla dough that's then divided so that half of it can be made into a chocolate biscotti dough. From there it's just blended to get the marbled effect. I start with the two doughs shaped into rectangles then fold the dough over itself a couple of times, reshape, twist.
*See recipe card for full instructions
🎥 Video
The cook in the video demonstrates a very similar technique to mine: How to marble dough ( Skip to 6:15)
💭 Top tip
You'll want to cut this marbled biscotti on an angle, with a serrated knife. I use a serrated bread knife. I've just found it to be the best way to cut biscotti and the King Arthur Baking company agrees -they list the technique as one of their 'secrets' of great biscotti.
🍽Equipment
You will need mixing bowls, spoons, baking sheets, an electric mixer, a cutting board, wire rack for cooking, a serrated bread knife (affiliate link)and a pastry brush also comes in handy.
📖 Variations
Dried Fruit: You can add dried fruit (cranberries, dried cherries or dried apricots) to this biscotti. However, you may want to adjust the sugar, as the fruit makes it sweeter.
Nuts: You can also add nuts- sliced almonds or chopped pistachios tend to work the best. If you're counting WW points, you'll need to adjust those as well.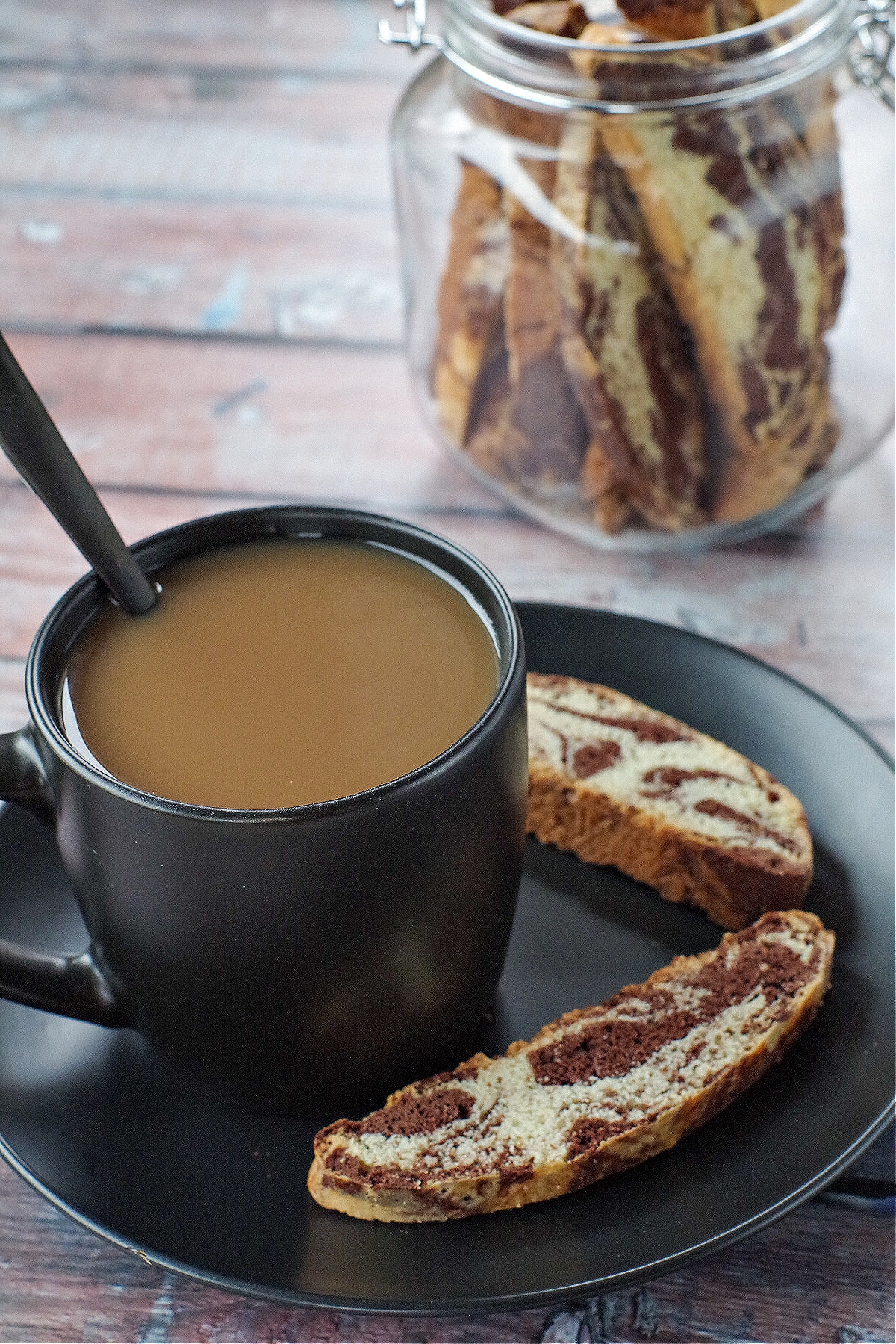 👪 Serving Size
This chocolate biscotti recipe seems like it makes a lot (48), but trust me, it goes fast! However, you can easily cut the recipe in half or double it, as I did. *Do this by clicking on the blue serving size in my recipe and selecting the number of servings you'd like. The ingredient quantities will automatically adjust. And it freezes well.
🔢WW Points
This chocolate marbled biscotti recipe is Weight Watchers friendly @ 2 WW points on my plan.
🌡️Storage
You can keep it in an airtight container (you can use a sealed jar, as in photo) for up to a week or freeze them in a Ziplock freezer bag for up to 3 months. I pull them out of the freezer as I need them.
So, if you're looking for the best chocolate biscotti, you're going to love this marbled biscotti recipe!
Because this is a ww biscotti recipe, now you can enjoy biscotti (almost) daily like I do!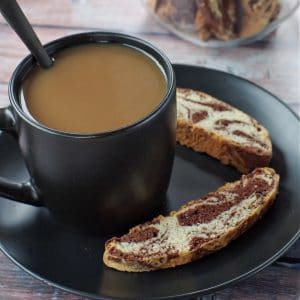 📋 Chocolate Marble Biscotti Recipe
This Chocolate Marble Biscotti has both chocolate and vanilla flavors mixed together (marbled) in one delicious cookie. It makes the perfect 'breakfast dessert' and is great for taking along to a breakfast potluck! They are also Weight Watchers friendly.
Print
Pin
Rate
Ingredients
¼

cup

unsalted butter softened

1

cup

white granulated sugar

1

teaspoon

baking powder

½

teaspoon

baking soda

¼

teaspoon

salt

3

eggs

½

teaspoon

vanilla

2 ¼

cups

flour

¼

cups

all-purpose flour

¼

cup

cocoa
Instructions
Heads up: There is a 2 hour chilling time before baking.

In a large mixing bowl, beat butter with an electric mixer on medium to high speed for 30 seconds, then add sugar, baking powder, baking soda, and salt; beat until combined. .

Beat in the 3 eggs and vanilla extract until combined. Beat in 2 cups of flour, beating in as much of the flour as you can with the mixer. Stir in any remaining of the 2 cups of flour with a large spoon.

Add the remaining flour into one portion and mix with hands until combined.

Add the cocoa into the other portion and knead with hands until well combined. You may need to add a little flour (1 tablespoon at a time until it isn't too sticky to work with)

**Cover and refrigerate for 2 hours or until dough is easy to handle.

Preheat oven to 350 degrees F/ 175 degrees C. Divide each dough in half, then put the halves together.

Then flip them on top of each other.

Start folding and twisting and mixing,

Keep doing this until the you get the desired marble effect (see video in NOTES)

Shape each half into a 12 inch log about 1 ½ inches thick.

Place logs on separate, lightly greased cookie sheets (*I use nonstick cooking spray). Flatten each log to a ¾ -1 inch thick loaf. (they will bake up quite a bit, so don't worry if they are very flat)

Egg Wash: Combine the 1 egg and 1 tablespoon of water to make an egg wash. Brush egg mixture over loaves. You won't use all of it (maybe ½ - ⅓)

Bake in preheated oven for 25- 30 minutes or until very lightly browned. Cool loaves on cookie sheet for 10 -15minutes, then carefully move to cooling rack.

Cool another 45-50 minutes or until completely cooled

2nd Bake:

At this point, I like to rewash and spray my baking pans.

When the loaves are cool, preheat oven to 325 degrees F/160 C. Transfer loaves to a cutting board. Cut each loaf diagonally in ½ inch thick slices with a serrated knife. Lay slices, cut sides down on cookie sheet. Bake in the preheated oven for 5-10 minutes until lightly browned on bottom.

Turn slices over and bake 5 -10 minutes more or until biscotti are dry and crisp. Transfer to wire rack. Cool.
Notes
*Please see post contents for important recipe information and tips!
Nutrition Facts
📋 Chocolate Marble Biscotti Recipe
Amount Per Serving
Calories 55
Calories from Fat 9
% Daily Value*
Fat 1g2%
Cholesterol 16mg5%
Sodium 29mg1%
Potassium 28mg1%
Carbohydrates 9g3%
Protein 1g2%
Vitamin A 49IU1%
Calcium 8mg1%
Iron 1mg6%
* Percent Daily Values are based on a 2000 calorie diet.
Nutrition
Calories:
55
kcal
(3%)
|
Carbohydrates:
9
g
(3%)
|
Protein:
1
g
(2%)
|
Fat:
1
g
(2%)
|
Saturated Fat:
1
g
(6%)
|
Trans Fat:
1
g
|
Cholesterol:
16
mg
(5%)
|
Sodium:
29
mg
(1%)
|
Potassium:
28
mg
(1%)
|
Fiber:
1
g
(4%)
|
Sugar:
4
g
(4%)
|
Vitamin A:
49
IU
(1%)
|
Calcium:
8
mg
(1%)
|
Iron:
1
mg
(6%)
Did you make this recipe?
Please leave a star rating and review below!
🍳More WW Breakfast and Brunch Recipes!