Holiday brunches are some of my favourite meals! While the kids are dreaming about presents under the tree, I'm fantasizing about all those leisurely, festive brunches with family and friends during the holidays.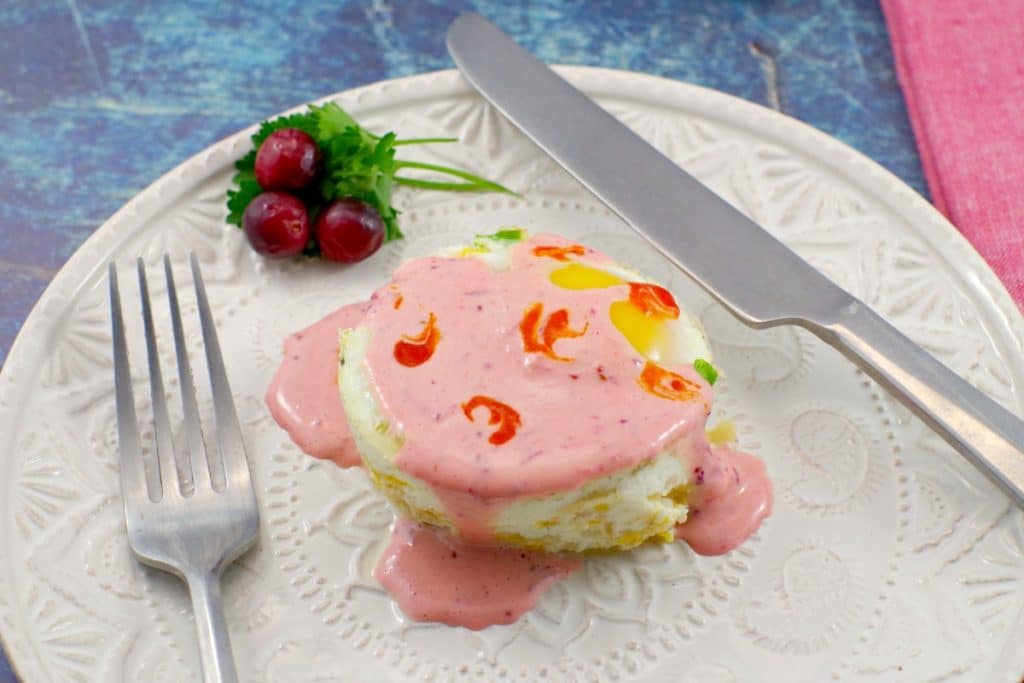 This post was sponsored by USA Rice Canada. I was compensated monetarily but all opinions are my own.
And if any of your people have gluten allergies or sensitivities, you'll definitely want to have this Gluten-free Holiday Ham and Rice Benedict with Blender Cranberry Hollandaise sauce recipe on hand! It's also Weight Watchers Friendly @ 6 WW points on the blue plan per serving! And it's because I don't have gluten-free bread around and I always have rice, that I made naturally gluten-free rice the base of this recipe. But what I love most about this recipe is that you can use leftover rice AND leftover ham as well. And if you're anything like me, you're always on the hunt for recipes for both; and not just during the holidays, but all year 'round!
Healthy Eggs Benedict
I love Eggs Benedict so much so that when I go out for breakfast or brunch I just can't bring myself to order anything else, even if I try. But I don't like to eat out very often because it's not only costly, I can't control the ingredients. And that's important to me. I love that I can make this at home and it's not only full of healthy stuff, it's quick and easy to make! I also eat a lot of rice because it's not only convenient and budget-friendly, but because there are numerous nutritional advantages:
Rice is a delicious and versatile, slow burning complex carb that provides long lasting energy.
It's naturally sodium, cholesterol and gluten-free and low allergen.
Rice is the ideal pre and post-workout food because it's a slow burning complex carb that provides long lasting energy.

Gluten-free Eggs Benedict
There are a plethora of unique twists on Eggs Benedict out there; everything from pulled pork to Matcha Eggs Benedict, but I can guarantee you that this is like no other Gluten-free Eggs Benedict you've ever had! I use brown rice (whole grain) to keep it even healthier. Brown rice is also a source of vitamins and minerals, contains fibre, magnesium, selenium and manganese! And I bet you didn't know that there is more magnesium in 1 cup of cooked long grain brown rice (21% DV) than in 3.5 cups of spinach (20% DV)?! Magnesium is critical for muscle function, with the heart being the largest muscle in the body.
Oh and talk about fibre - 1 cup of brown rice has almost 4 g of fibre while 3.5 cups of raw spinach has only 2.2 g. Sadly, 9 in 10 Canadians don't eat enough whole grains. I know I'm always looking for ways to get more natural fibre into my diet. Just one cup of cooked brown rice provides two of the three recommended daily servings of whole grains. I doubt you'd find that in restaurant Eggs Benedict!
Muffin Tin Eggs Benedict
I also adore stuff made in muffin tins because it's so simple and easy, but Eggs Benedict in a muffin tin is simply the best! I've never been that good at poaching eggs and now I don't have to be; these eggs are baked to pure perfection in the muffin tin.
Leftover Rice & Leftover Ham Recipe
Not only is this recipe gluten-free, it's festive, healthy, easy, baked in a muffin tin and uses up your leftovers! Whether you're looking for a unique holiday brunch, a way to use up leftover rice and ham or the perfect meal for your friend or loved one with a gluten allergy or sensitivity, then this recipe is for you! And if you're looking more leftover rice or ham recipes, then check out my Leftover Ham, Rice & Beans- Gluten-free and my Cranberry Gingerbread Stovetop Rice Pudding (Gluten-free)!
And if you're looking for the perfect sweet (but not too sweet) accompaniment to your holiday brunch, give my Holiday Biscotti (also WW friendly) a try!
Happy Holiday brunching!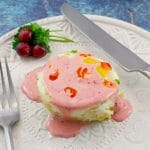 Print
Gluten-free Holiday Ham & Rice Benedict with Cranberry Hollandaise
These Gluten-free Holiday Ham & Rice Benedict are baked in a muffin tin with a whole grain rice base comprised of ham, green onion and cheese with an egg on top, then smothered a quick and easy savoury and mildly spicy blender Cranberry Hollandaise sauce. They are also WW friendly @ only 6 points on the blue plan! Perfect for your next holiday breakfast or brunch.
Ingredients
Rice Base:
2

cups

USA brown rice, cooked

500 ml

1

cup

ham, diced small ( inch cubes)

250 ml

⅓

cup

green onion, chopped

75 ml

1

cup

sharp/old low -fat cheddar cheese, grated

250 m

2

whole

eggs
Quick Blender Cranberry Hollandaise sauce:
Garnish
additional sriracha sauce

additional whole cranberries, defrosted, drained and patted dry

parsley sprigs
Instructions
Preheat oven to 350 degrees F and spray a 12 muffin tin VERY GENEROUSLY with non- stick cooking spray. * you need to use a lot of non-stick spray to keep these from sticking (or you can use parchment paper cups)
Rice Base:
Mix cooked rice, ham, green onion, cheddar cheese and 2 eggs together.

Divide mixture between all 12 muffin cups and pack them down very well with a spatula - they will be about ½ full. **It's important that it's very compressed so it will stay together once cooked.

Break egg directly onto rice mixture in each muffin cup, ensuring the yolk does not break.

Bake for about 25 minutes or until eggs are set (the whites are no longer runny and cooked through)

Meanwhile, make Blender Cranberry Hollandaise sauce.

Let Ham & Rice Egg Cups sit for 3 minutes, then run a knife about the edge to loosen. Allow to sit for another 3 minutes, then run a knife around 1 more time before removing.

* It is very important that you do this step or they will fall apart.
Quick Blender Cranberry Hollandaise Sauce:
Add the egg yolks, apple sauce, sriracha and lemon juice and cranberries (measure the cranberries BEFORE defrosting) to blender and puree.

Butter and Oil: In a small bowl, add the butter and melt on medium heat in the microwave until melted (about 45 seconds). Add the oil to the butter, and heat again for another 30 seconds so the mix is warm.

Then slowly add the olive oil butter mixture to the blender cranberry mixture on low speed until you get a nice creamy sauce (about 45 seconds to 1 minute).
Assembly:
Gently remove Ham & Rice Egg Cups from muffin tin with a spatula (a narrow, long half spatula works best - see NOTES)

Add about 1-2 Tbsp Hollandaise sauce over ham and rice egg cup.



Garnish:
Garnish with fresh cranberries, parsley and additional sriracha sauce as desired. (see photos) You can either add little dots of sriracha sauce and swirl with a butter knife or zig zag lines across.
Notes
*Note: If you are concerned about eating raw egg yolks, you can learn how to pasteurize eggs in the microwave by clicking HERE!
**Note: Rice can be stored in the fridge  for 3-5 days or in the freezer for up to 6 months
***Note: These can be stored in the fridge for 3 days and reheated as necessary
****Note: Reheat Hollandaise sauce as necessary.
My Amazon Recommendations (affiliate links)
 

Nutrition Facts

Gluten-free Holiday Ham & Rice Benedict with Cranberry Hollandaise

Amount Per Serving

Calories 156

Calories from Fat 90

% Daily Value*

Fat 10g15%

Cholesterol 57mg19%

Sodium 198mg9%

Potassium 39mg1%

Carbohydrates 9g3%

Protein 5g10%

Vitamin A 255IU5%

Vitamin C 2.1mg3%

Calcium 50mg5%

Iron 0.4mg2%

* Percent Daily Values are based on a 2000 calorie diet.

`
Nutrition
Calories:
156
kcal
|
Carbohydrates:
9
g
|
Protein:
5
g
|
Fat:
10
g
|
Saturated Fat:
4
g
|
Cholesterol:
57
mg
|
Sodium:
198
mg
|
Potassium:
39
mg
|
Sugar:
1
g
|
Vitamin A:
255
IU
|
Vitamin C:
2.1
mg
|
Calcium:
50
mg
|
Iron:
0.4
mg
Save
Saved!
More Gluten-free Holiday Breakfast Ideas!
Easy Sheet Pan Huevos Rancheros -gluten-free
Mexican Sheet Pan Eggs (with Tortilla Toast)- WW friendly and Gluten-free