"That was great ham, by the way!" he said. "What?" I replied, "you ate some of the ham? The one in the beige container?"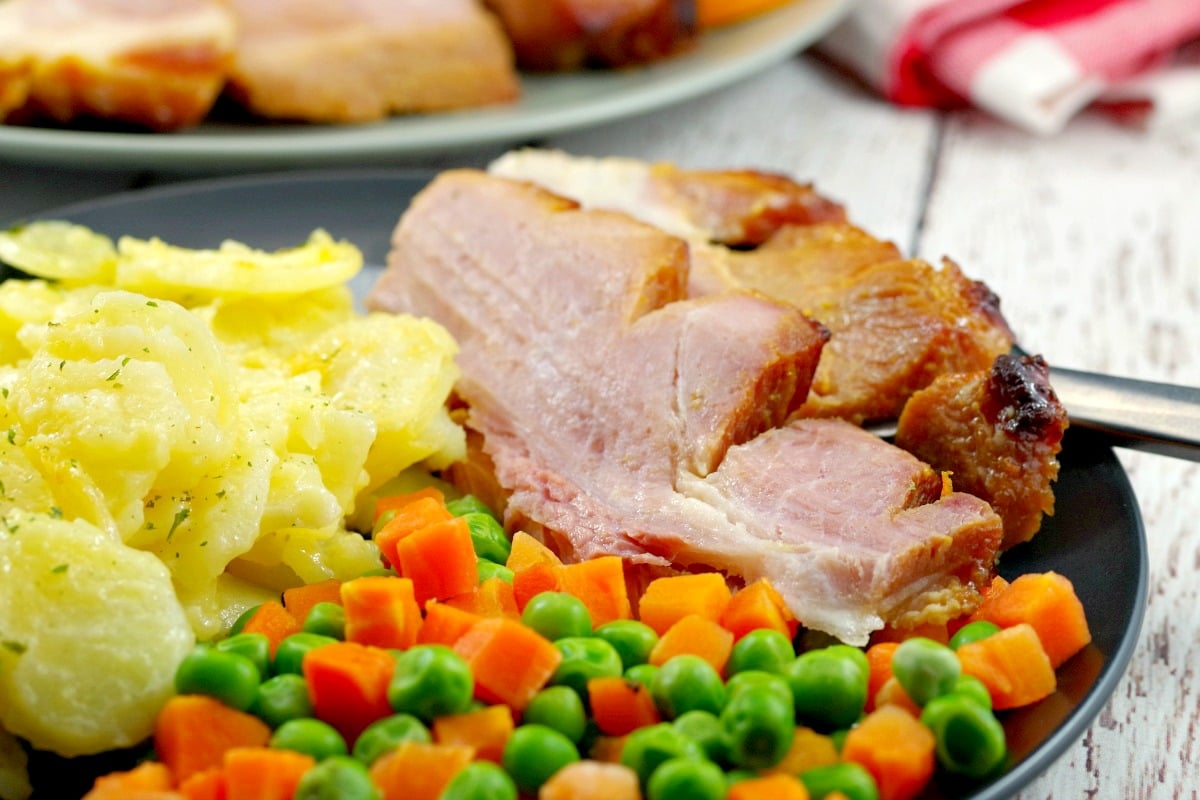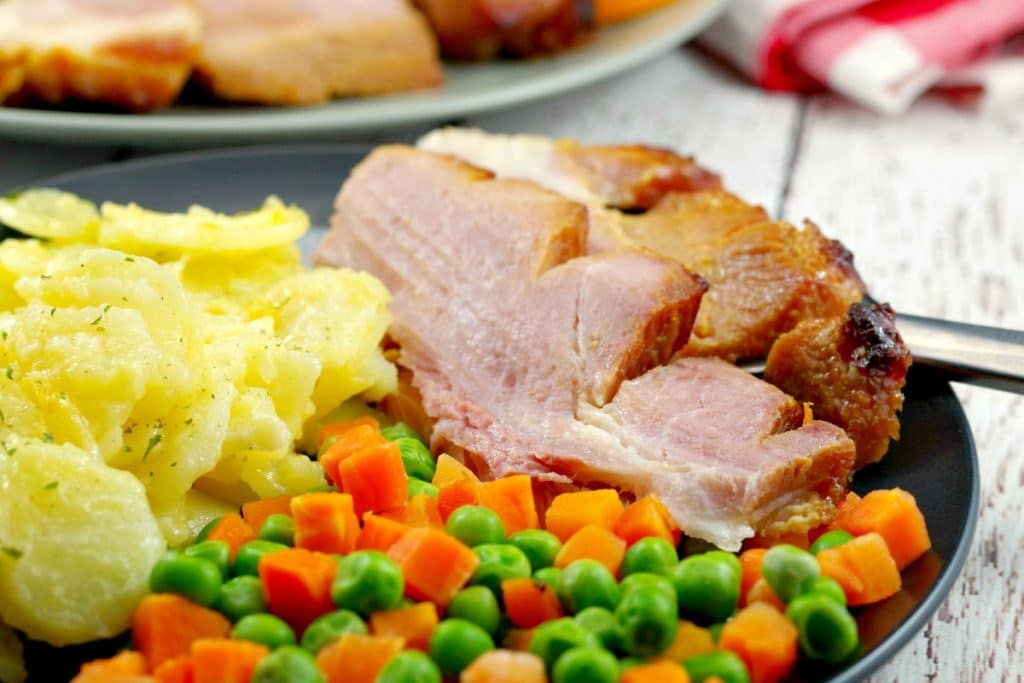 It couldn't be - he never eats anything 'new' in the fridge without asking me first! And usually I'm flattered when he tells me how good a meal was, but my perfectly cooked Picnic Ham with Orange Glaze Recipe wasn't quite ready for consumption...
Jump to:
I hadn't yet photographed it.
"Oh no! Was I not supposed to eat it?" he said. "It didn't have anything written on it." I could tell how awful he felt and that was worse. Not only as a wife but as a cook, you don't want that kind of remorse after someone eats your delicious food.
I usually write "DO NOT EAT" on the food that I've yet to photograph. And the family knows to ask. But for some reason, this time I forgot to write it and he forgot to ask.
"If it's any consolation," he said, "it was the best ham I've ever had!" It was a consolation. Because he's eaten a lot of ham and he's a damn good cook himself. And on the bright side, I was going to get to eat it for dinner now too because I no longer had to wait to photograph it. I also decided that it was a good thing because it would give me the opportunity to make another one exactly the same, but prettier (if it was possible for ham to be pretty).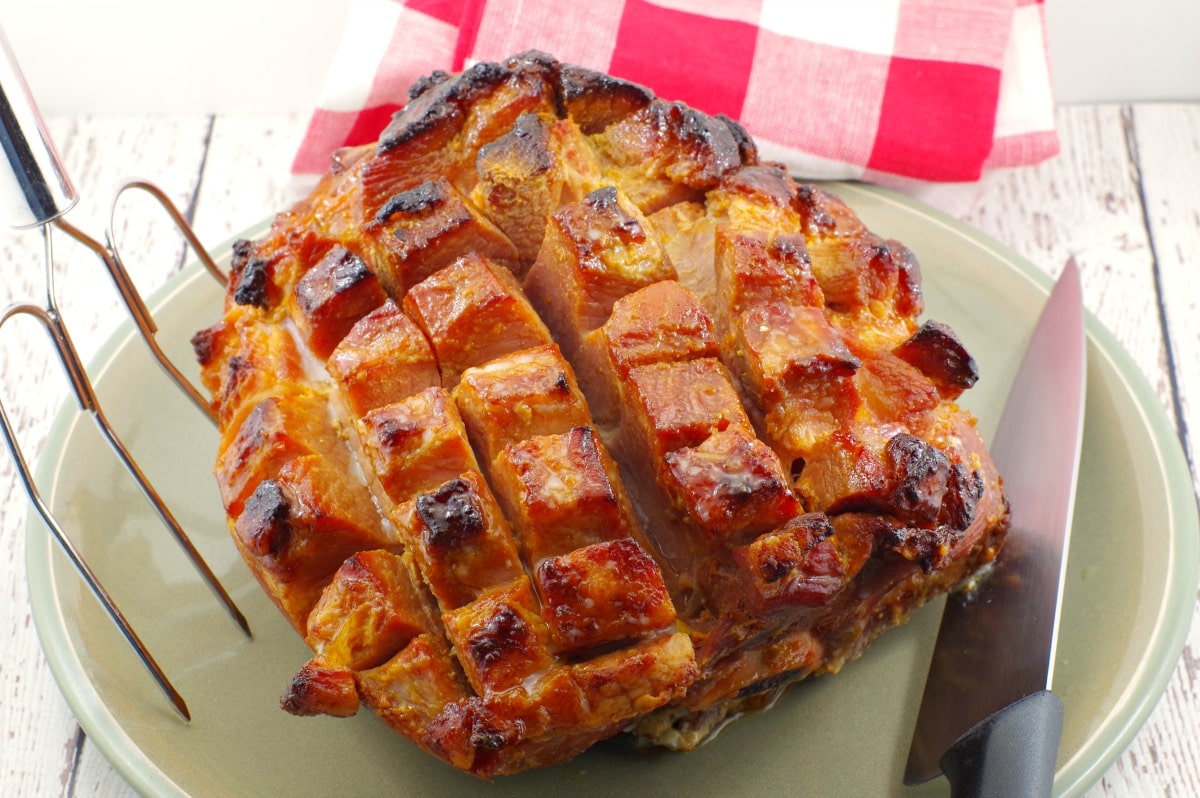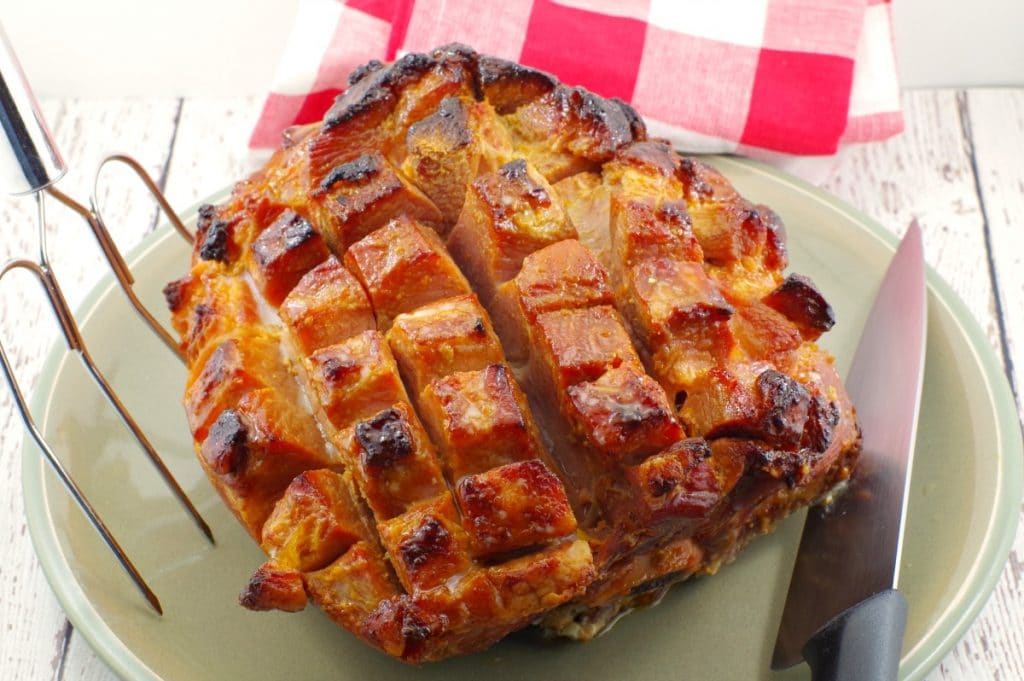 Photographing almost everything you cook is not only a hassle, it gets in the way of normality. I actually had to stop making recipes for the blog in front of the kids, unless I was making extra for them to try because it was obvious torture for them to wait to eat it until I had time to photograph it. Or I had to start making them a consolation recipe.
'You can't eat this delicious thing until I photograph it, but here's another delicious thing for you to eat in the meantime."
That helped. But it still disrupts the natural flow of cooking and eating in a household. Oh and your family eats food 2- 3 months before others eat them, so you can have time to get the post up well in advance of the holiday. Hence the April Easter dinner in February.
🥘 Orange Glaze Ingredients
The reason this ham is so good is because of this orange glaze - glaze is the key to a great ham. For this glaze you'll need the following:
orange juice
molasses
brown sugar
Dijon mustard
orange zest
I actually worked on this glaze for a long time until it was PERFECT! But it's not only the glaze, the other secret to great ham is basting with the glaze. A lot of people don't realize that ham needs that TLC, just like a turkey does.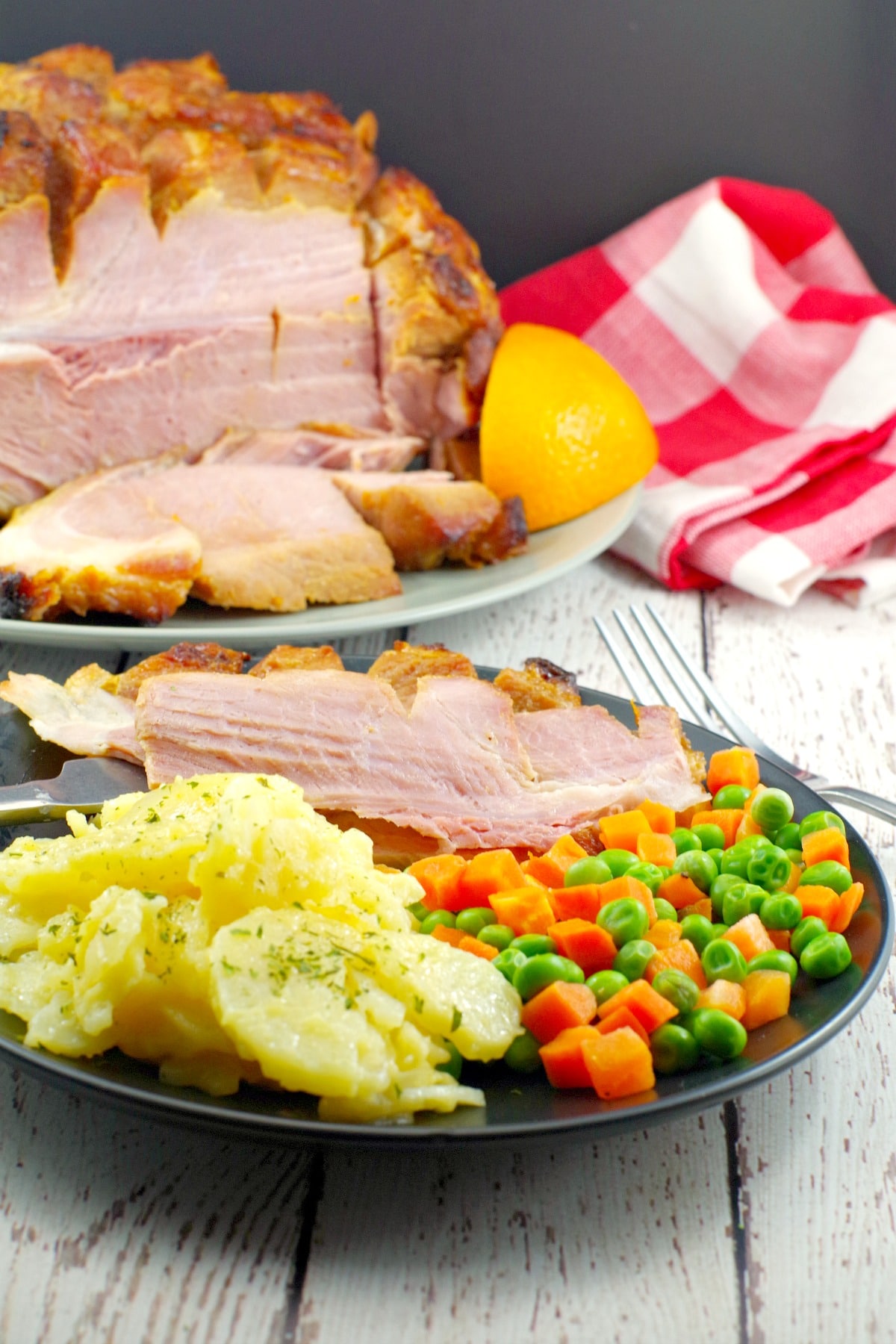 🐇Easter dinner dessert
Easter's just around the corner and if you're considering a dinner for a larger gathering, potluck or just your family, picnic ham is a great option! I'm all about turkey for special occasions but sometimes you just want to mix it up and have ham! And ham just makes it feel different than Thanksgiving or Christmas, which is a good thing. Ham is perfect for when you're feeding a crowd or just want leftovers. If you're looking for Easter dinner desserts, then check out my Easter Creme Egg Chocolate Swiss Roll!
🐖 What is a picnic ham?
This Picnic Ham with Orange Glaze is the perfect Easter ham or dinner any time of the year. I'll also cook this ham pretty much any other time of the year, especially when I find it on sale. It's a super economical meal, especially when you consider it feeds a family of 4 and you have leftovers, plus a ham bone for soup! Not many $17 meat purchases give you that!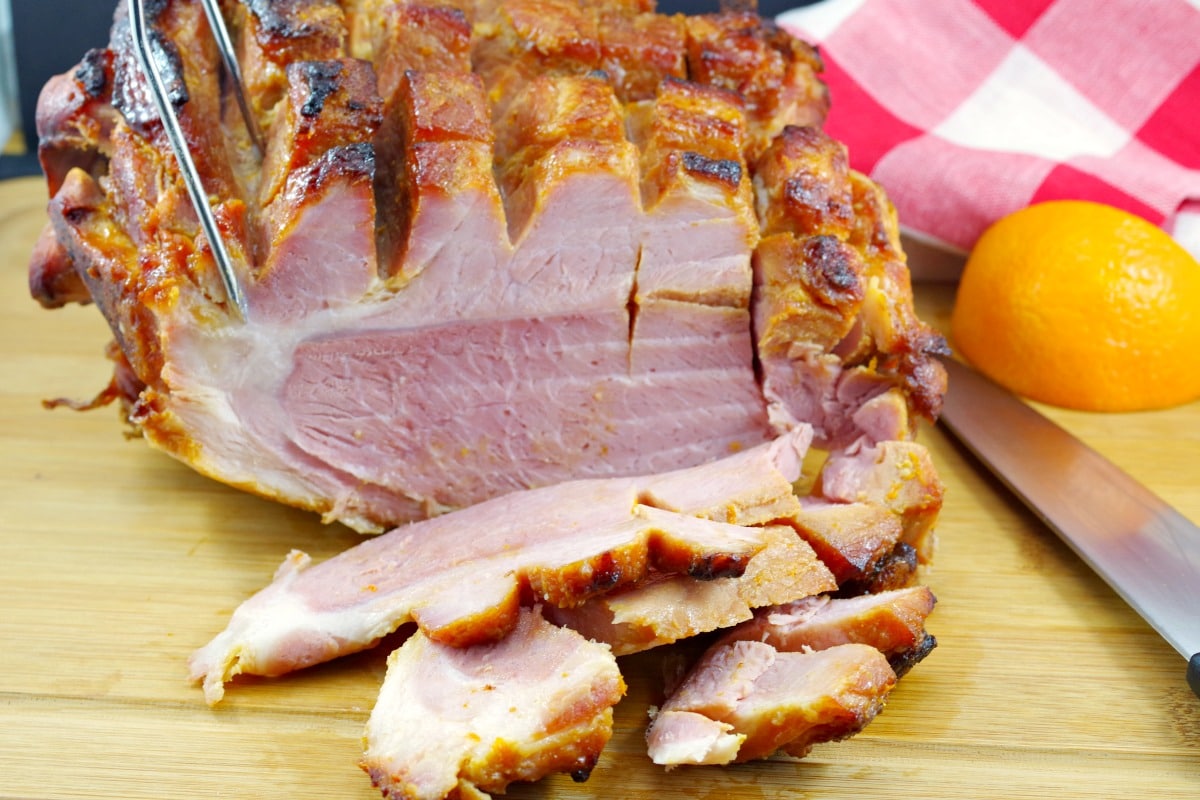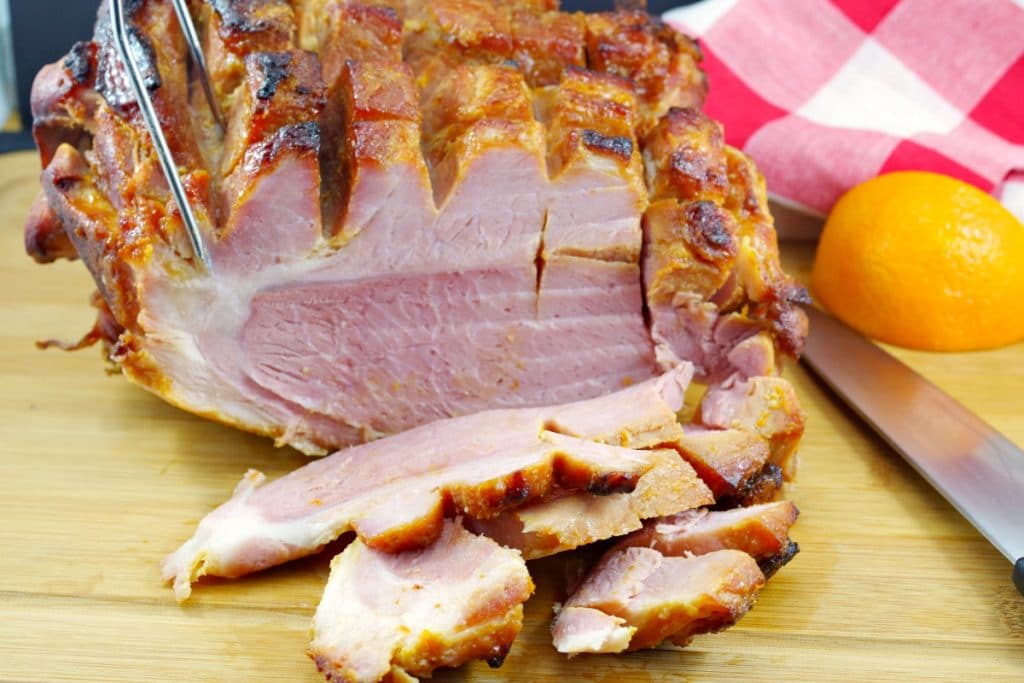 Okay, so technically picnic ham isn't ham, it's pork shoulder because it comes from the shoulder area of the pig, not the butt/leg.
💭Why do they call it picnic ham?
I used to think picnic ham was named as such because it was just great for picnics. And I really wasn't far off... Since picnic shoulder/ham is an inexpensive substitute for real ham (which only comes from the hind legs), it's considered to be a good cut for casual dining — such as a picnic — rather than for use at a formal affair.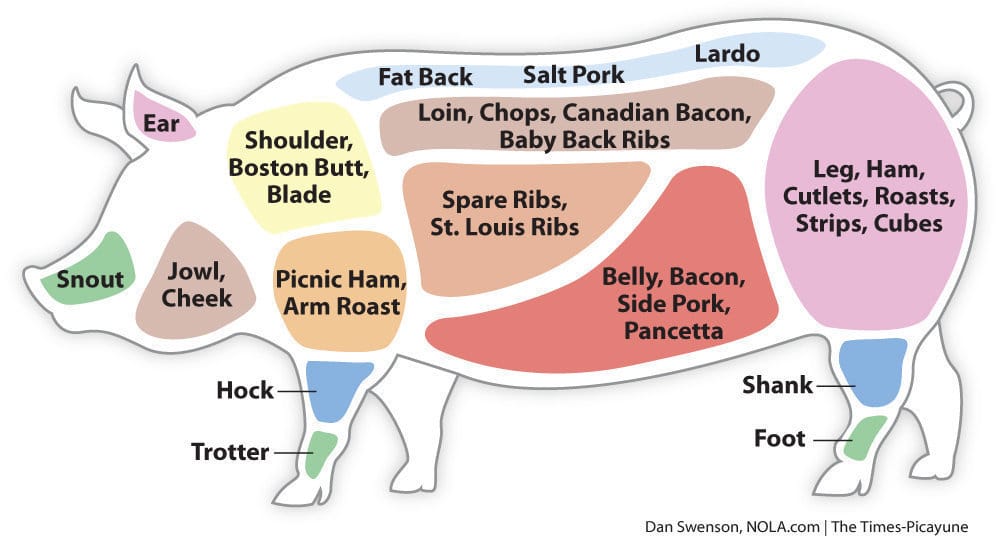 However, I can tell you that this ham is definitely formal affair worthy! Although, I don't exactly consider Easter a formal affair at my house (or anyone's house I'd eat Easter dinner at) anyway....
💭Are they precooked?
Yes they are, but you still have to cook them. Picnic hams are smoked and technically fully cooked. But because they have more fat than the leaner, pre-cooked hams we commonly buy, they need some extra cooking and not just reheating.
🍳How to cook a smoked picnic ham pork shoulder
The first time I grabbed a picnic ham from the grocery store, I have to admit, I was confused. Was it already cooked? Did I still have to cook it? How long should I cook it? It didn't look like other ham I'd bought in the past.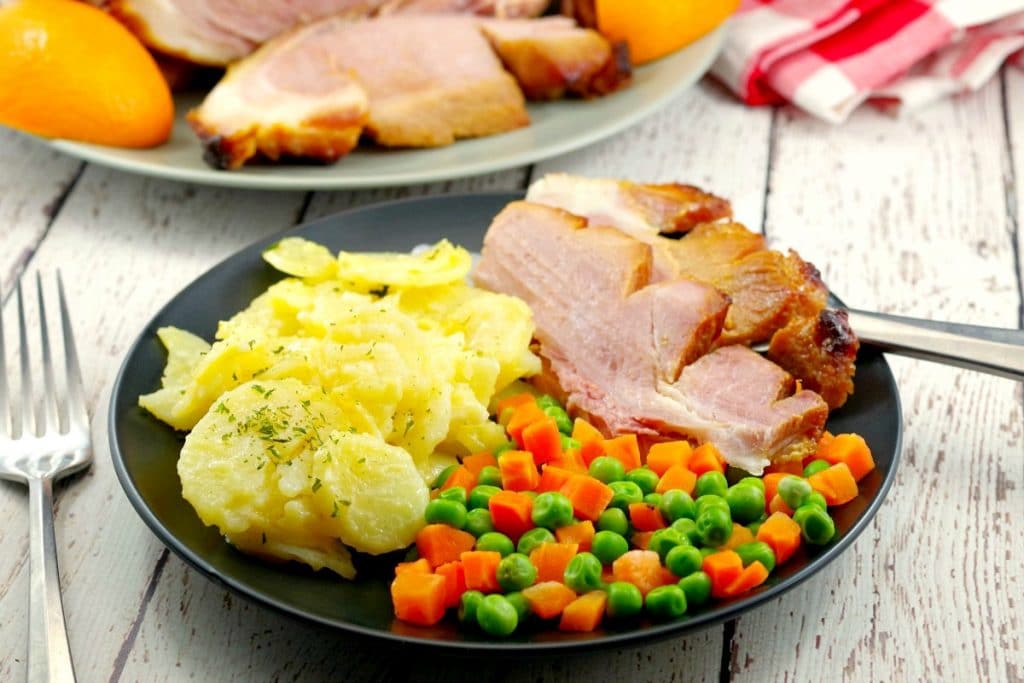 A fresh ham is one that hasn't been cured or smoked. This means it is raw pork that must be completely cooked, which depending on the size of the ham, can take about 5 -6 hours. This picnic ham takes 2-3 hours. And that's considerably less of a time commitment than a turkey, which usually takes 6-8 hours. This is a really good article about the different types of ham and how to cook them! Although, for this picnic ham, there are clear directions in the recipe below.
👪 Serving size
A smoked picnic ham is the perfect size for my family. Usually weighing somewhere between 5-8 pounds, these hams usually give my family of 4 a meal with leftovers and I love having the bone to make soup from!
Because of the accidental eating of this ham, I made it again and we got to eat it twice in a short period of time (and I think I made it prettier)! And once you taste it, you'll want to do that too!
Enjoy...
💭 Leftover Ham Recipes
And if you have still have ham leftovers, then give my Healthy Leftover Ham Pasta with Peas a try!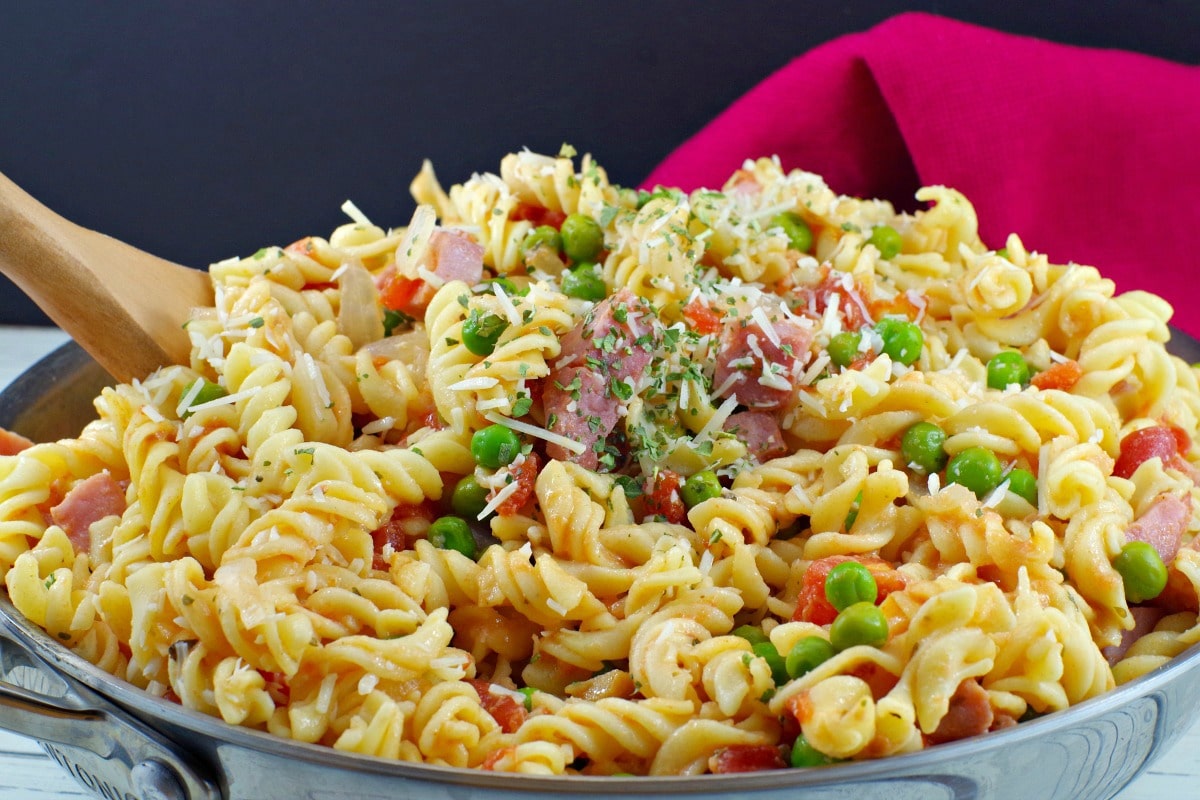 You might also like my Leftover Ham, Rice & Beans!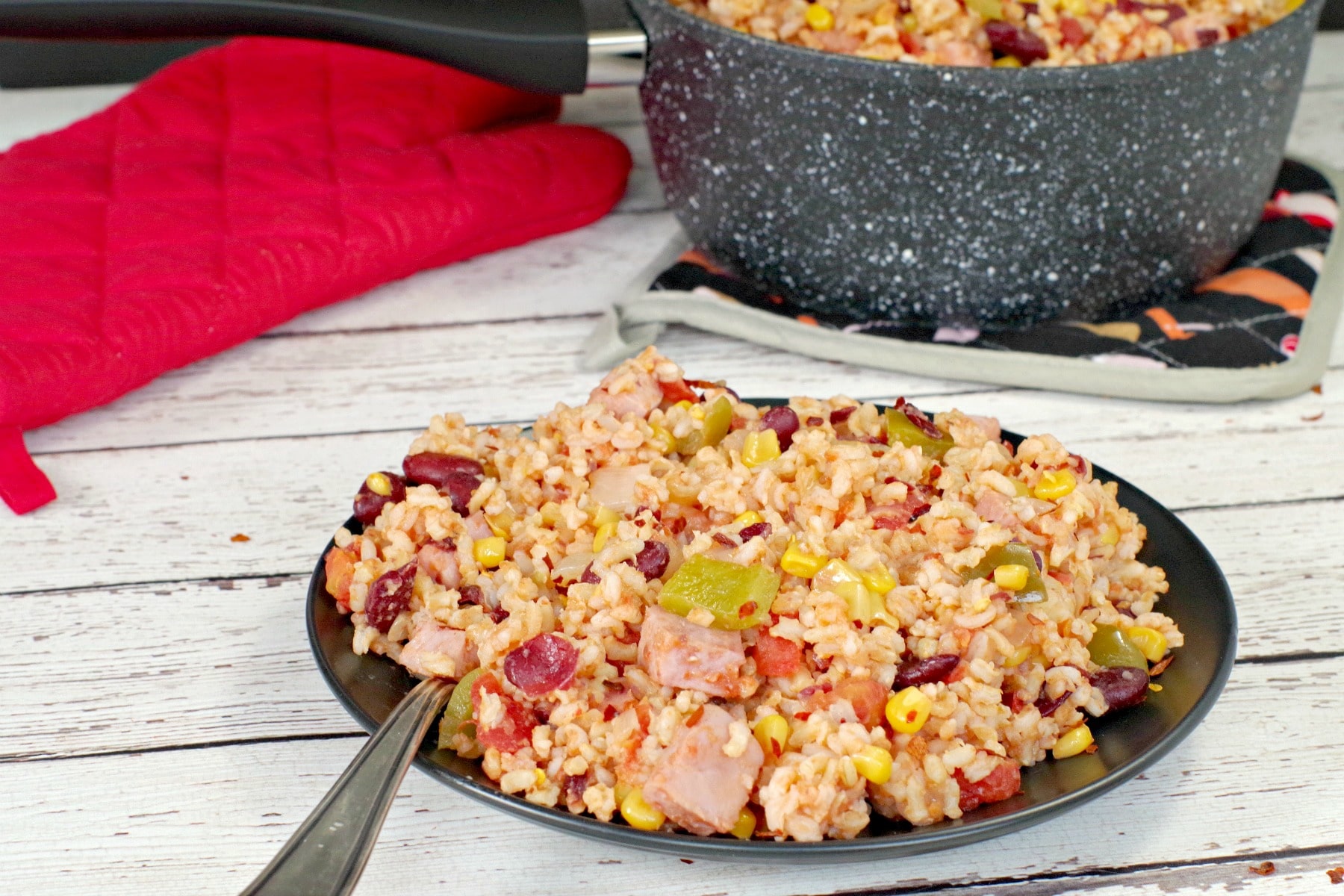 My Amazon Recommendations (affiliate links)
Print
📋 Smoked Picnic Ham (picnic pork shoulder) with Orange Glaze Recipe
This Picnic Ham with Orange Glaze is the perfect Easter ham or dinner any time of the year. Includes simple directions on how to score, baste and cook a picnic shoulder.
Ingredients
Glaze
1

cup

orange juice

1 ½

cups

brown sugar

¼

cup

molasses

3

tablespoon

dijon mustard

¾

teaspoon

orange zest
Instructions
Preheat oven to 350 degrees F

Remove netting! Then place picnic ham on a large roasting pan or baking dish, fat side up. Pour ¾ cup of water into the bottom of the baking dish.

Cover roasting pan with foil and bake in the oven for 1 hour. This allows the rind to be removed easily. Meanwhile, make the glaze.

After baking for 1 hour, take the ham out of the oven and remove the foil. Peel off the rind from the ham and discard. The rind will be hot, so I used tongs. If desired, you can trim some of the fat off the fat cap, but I usually leave a lot of it on the ham. This is what it will look like.
Orange Glaze:
While the ham is cooking, whisk all the glaze ingredients together in bowl or pourable measuring cup (I prefer to do this so I can pour it right onto the ham)

Scoring; Cut cross check slits into the fat and about ½ inch into the meat of the ham. * I cut a little deeper but it was nice because it really soaks up the flavor!

Pour ⅔ of the glaze over the ham.

Bake for another 2 hours, uncovered. BUT baste it with the remaining glaze after 1 hour, then again after 30 minutes, dividing the remaining glaze between the two basting sessions.* Use a BBQ basting type brush ( in photo) to ensure you get in the slits, You can use a pastry brush too!

Once done, let the ham rest for about 5-10 minutes after you take it out of the oven, then carve the ham into preferred serving slices. * I like it a little thicker.


Serve with scalloped potatoes and veggies or whatever else you desire.
Notes
Nutrition Facts
📋 Smoked Picnic Ham (picnic pork shoulder) with Orange Glaze Recipe
Amount Per Serving
Calories 475
Calories from Fat 180
% Daily Value*
Fat 20g31%
Cholesterol 198mg66%
Sodium 3200mg139%
Potassium 909mg26%
Carbohydrates 17g6%
Protein 51g102%
Vitamin A 25IU1%
Vitamin C 69.8mg85%
Calcium 43mg4%
Iron 2.8mg16%
* Percent Daily Values are based on a 2000 calorie diet.
Nutrition
Calories:
475
kcal
|
Carbohydrates:
17
g
|
Protein:
51
g
|
Fat:
20
g
|
Saturated Fat:
4
g
|
Cholesterol:
198
mg
|
Sodium:
3200
mg
|
Potassium:
909
mg
|
Sugar:
16
g
|
Vitamin A:
25
IU
|
Vitamin C:
69.8
mg
|
Calcium:
43
mg
|
Iron:
2.8
mg
Save
Saved!
🥗 Holiday Side Dishes
Gluten-free Sausage & Apple Rice
This post is part of The Country Cook's Weekend Potluck!