I love the look of a rolled cake. Not only is it fun and whimsical, you're guaranteed whipped cream and chocolate with every bite. That's my kind of cake!
But even better.... this Easter Creme Egg Swiss Roll marries the Chocolate Swiss Roll with Easter Creme Eggs; you just can't go wrong with that union!
Jump to:
In a May 2019 post Martha Stewart proclaims that rolled cakes are ready for a revival- I couldn't agree more! She says, "when sliced, the spiral sweets look graphic and modern, yet still retaining a nostalgic charm." You can read more about that HERE. I have always loved rolled cakes and have made several holiday yule logs over the years. I just adore that classic and tasty combination of the light sponge cake and whipped cream filling. Who doesn't?
🔪Instructions
If you've never made a Swiss Roll cake, don't be intimidated-it's really quite straightforward. In fact, it's so straightforward that my son's Grade 9 cooking class made this Chocolate Swiss Roll as a lesson. This is a really fun cake to make with your kids but my son actually made it by himself for Christmas dessert this year! That's how simple it is- you just have to follow my step-by-step instructions in the recipe card).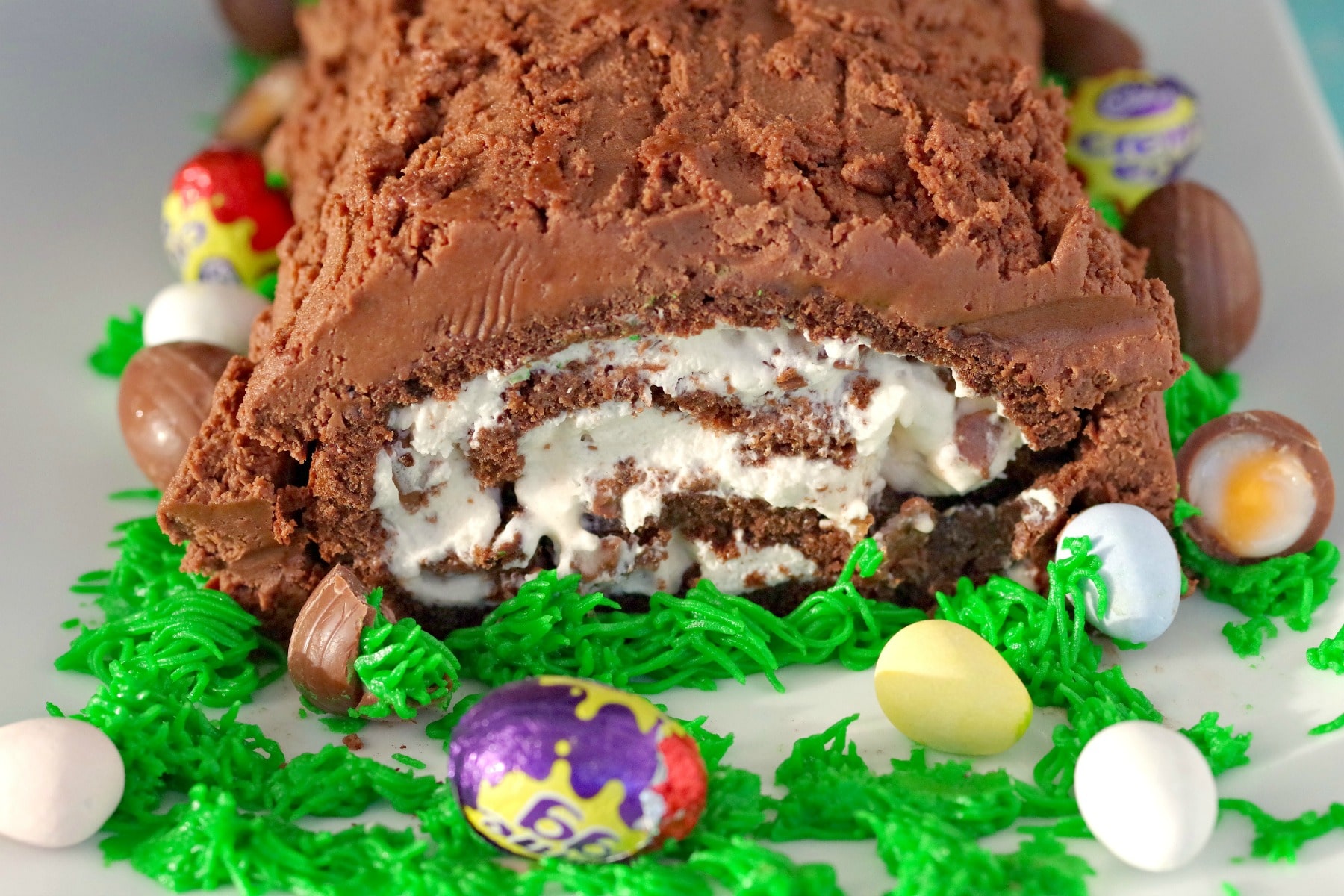 💭 Difference between Swiss Roll, Jelly Roll and Roulade
If you're wondering what the difference is between a jelly roll, Swiss roll and a Roulade well, it's not much. They are all sponge or chiffon cakes baked on a sheet pan (usually a jelly roll pan) and rolled with a filling inside. The big difference is the name; the French call it a "Roulade" while the Americans call it a "Jelly Roll" and the English call it a "Swiss roll." You can read more HERE. Despite the name "Swiss roll," the cake doesn't seem to have anything to do with Switzerland or the word 'swiss', unlike Swiss Steak, which is named so because of its preparation method. Swiss Rolls appear to have originated elsewhere in Central Europe and were invented in the nineteenth century.
👪 Serving size
This recipe serves 8 but it was perfect for our family of 4 - everyone got a leftover second slice the next day. Although we were left wanting even more!
🍰More Creme Egg Dessert Recipes!
It just isn't Easter without Creme Eggs and that's why I added them to this cake's filling. I used the mini Easter Creme Eggs, as they are easier to crush and roll up with the whipped cream. And it was perfect! I love Creme Eggs so much that I also created more desserts, including this Easter Creme Egg Icebox Cake and this Easter Creme Egg Microwave Fudge. They are both really fun and delicious Easter desserts or you can use leftover chocolate creme eggs to make them after Easter!
It's not easy to find an Easter cake with a full on Easter theme that looks and tastes as good as this! So if you're looking for Easter baking ideas, Swiss Rolls look great, are inexpensive to make and although the recipes are involved, if you follow the steps they are quite simple to make. If my 14 year old can master this recipe, so can you!
Happy Easter cake baking!
Here are my Amazon recommendations (affiliate links)
Print
📋 Easter Creme Egg Chocolate Swiss Roll Recipe
This Easter Creme Egg Swiss Roll has a delicious whipped creamy Cadbury Easter Creme egg filling wrapped up in a light and airy sponge cake, then covered in chocolate frosting and adorned with Easter creme eggs and mini eggs. It's a fun and whimsical cake to make and the perfect Easter cake centerpiece!
Ingredients
Swiss Roll Cake
1

tablespoon

butter for greasing parchment

4

large eggs

½

cup

white granulated sugar

4

tablespoon

butter

melted

½

cup

all purpose flour

¼

cup

unsweetened cocoa

plus more for sprinkling

¼

teaspoon

salt
Filling
1

cup

whipping cream (35% +)

2

tablespoon

white granulated sugar

1

teaspoon

vanilla extract

25

Cadbury Easter creme mini eggs

*about a 300 g bag (save remainders for decorations)
Frosting
2

cups

chocolate frosting either homemade or store bought (See NOTES for recipe)

* You can use any chocolate frosting but I used my No Butter Chocolate Frosting
Decorations
additional mini Easter Creme eggs (some wrapped and some unwrapped

mini colored eggs

1

cup

green frosting (for grass)

* you can use store bought or color white frosting. * I use Wilton leaf green icing color mixed in with white icing - I find it gives it a nice vibrant green
Instructions
Cake
Preheat the oven to 425 degrees F. Place parchment paper on a 17X12 sheet pan (jelly roll pan) and grease with butter. If you don't have a jelly roll pan, you can use a regular baking sheet (my son did this when he made it at Christmas and it turned out just fine)

Bring and inch of water to simmer in a medium saucepan.

Whisk eggs and sugar in a heatproof bowl, then place on the simmering water. Make sure the water doesn't touch the bottom of the bowl at any time.

Using a hand mixer, continuously beat the egg mixture until the eggs are thick, pale yellow and warm to the touch (120 degrees F) It should feel like hot tap water.

Remove the egg bowl from the heat and continue beating on a high speed until the mixture is thick and airy, and has reached the ribbon stage. This means that when you drag and drizzle a spoonful of liquid, it shouldn't settle back into the liquid for a good 5-10 seconds.

Mix in the melted butter.

In a small bowl, whisk together the cocoa powder, flour and salt. Add the dry ingredients to the egg mixture and gently fold it into the eggs with a rubber spatula

Spread the batter onto the buttered parchment, leaving approximately an inch from the edges of the parchment.

Bake the cake for 8 minutes until springy to the touch.

Sprinkle cocoa on a large piece of parchment paper while cake is baking.

As soon as you take the cake out of the oven, flip it onto the cocoa covered parchment paper.

Remove the parchment paper that the cake was baked on by gently peeling it off. Then trim the parchment around it, leaving a 1 ½ - 2 inch border.

IMMEDIATELY gently roll the cake up in the parchment paper into a log while it's warm.

Leave it in a rolled up state until cool (this is like muscle memory for cakes)
Filling
While cake is cooling, whip the whipping cream in a large bowl until soft peaks form, then add vanilla and sugar and beat until stiff peaks form.

Crush the Easter Creme Eggs. TERRI'S TIP: I do this by placing them on a cutting board and placing a large plastic ziplock bag over them. Then I hit each egg a couple of times gently with a hammer or mallet to crush them, with the plastic between the tool and the eggs. * This is the best and cleanest way I have come up with to crush them. If you enlist your kids to help you unwrap and crush them, it goes much faster and it's fun for them!

Mix the crushed Easter creme eggs into the whipped cream.
Assembly
Unroll the cake, spread the filling all over, leaving a 1 inch border around all the edges.

Then gently roll the cake back up, leaving the parchment paper behind. * If it cracks a little, don't worry, as it will be covered in frosting. Trim about an inch off each end to make it look neater.

Frost the cake with chocolate frosting, then drag the dull side of a butter knife across it all over to look like wood texture.
Decorations
Pipe grass around the cake with green frosting (see video in NOTES on how to pipe grass) * If you have never piped grass before, don't worry - it's one of the easiest types of piping to do (easier than most borders!)

Add eggs around the cake and serve with additional chocolate eggs on each slice and a little grass piped on.
Notes
*NOTE: Video: How to pipe frosting grass
               Video: How to pipe grass WITHOUT a grass tip (decorating hack)
**NOTE: Recipe for Chocolate Frosting (without butter)
***NOTE: Be aware that because the filling in this cake also has mini creme eggs in it, it's not going to roll up as "clean looking" as other Swiss roll recipes
****NOTE: This recipe serves 8 but it was perfect for our family of 4 - everyone got a leftover second slice the next day and were left wanting even more!
Nutrition Facts
📋 Easter Creme Egg Chocolate Swiss Roll Recipe
Amount Per Serving
Calories 517
Calories from Fat 279
% Daily Value*
Fat 31g48%
Cholesterol 141mg47%
Sodium 282mg12%
Potassium 213mg6%
Carbohydrates 60g20%
Protein 5g10%
Vitamin A 775IU16%
Vitamin C 1mg1%
Calcium 41mg4%
Iron 2mg11%
* Percent Daily Values are based on a 2000 calorie diet.
Nutrition
Calories:
517
kcal
|
Carbohydrates:
60
g
|
Protein:
5
g
|
Fat:
31
g
|
Saturated Fat:
15
g
|
Cholesterol:
141
mg
|
Sodium:
282
mg
|
Potassium:
213
mg
|
Fiber:
2
g
|
Sugar:
48
g
|
Vitamin A:
775
IU
|
Vitamin C:
1
mg
|
Calcium:
41
mg
|
Iron:
2
mg
Save
Saved!