Have you ever totally screwed up a recipe, but it turned out completely amazing anyway? Then afterwards you had no idea what you did wrong, but it was soo good that you desperately wanted to recreate it? Well, that happened to me with this Baked Beef Cannelloni recipe.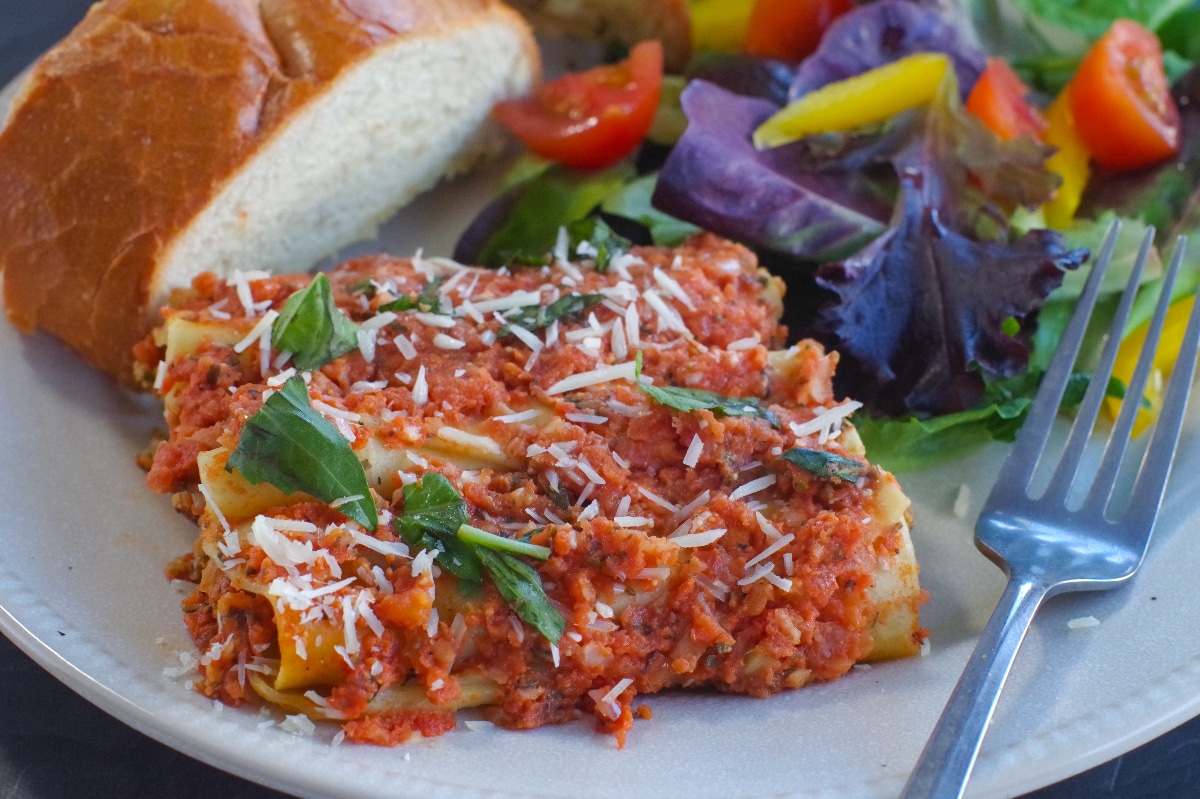 And I have spent years trying to screw it up again, just like I did the first time. Well, I'm happy to report that I finally had success and now I'm sharing it with you!
Jump to:
I like to make extra special meals for special occasions like birthdays, anniversaries and Valentine's Day or simply because I'm having people over for dinner. But like most people, I've got a busy life and don't always have the time to leisurely cook right before company comes; nor do I like that 'pressure'. Therefore, I need an arsenal of make-ahead and reheat recipes to pick from. This cannelloni recipe is now a member of that elite group! And it only took about 8 years....
🥘Ingredients
I love this recipe because it's a unique cannelloni filling; it doesn't have ricotta. Instead, it has a pureed mixture of beef, onions, carrots, spinach and fresh basil. The whipping cream, wine and parmesan lend a richness to both the filling and sauce so you don't even miss the ricotta. I find that if I use ricotta in cannelloni, it really just ends up having the same taste and texture as Lasagna, not that lasagna is a bad thing... It's just that I want my cannelloni to have a distinct taste and texture. But trust me, you'll also want to try my lasagna!

🍲 Oven Ready Pasta
When I made this recipe the first time, I remember knowing I messed it up when I added whipping cream to the sauce (and it wasn't supposed to be in the sauce) but it was more than that. Plus it looked nothing like the photo. However, I didn't write down amounts and it was a couple years before I made it again so it was hard to remember. But I do remember that it tasted great! So, I just kept trying different permutations and combinations until I got it to how I remember it all those years ago. But what I did remember was using oven ready pasta- it makes it sooo much easier!
🔪🎥Instructions: How to Stuff Cannelloni
If you enjoy stuffing things then stuffed cannelloni is for you! And if it's not your first love, don't worry because it's actually easier than making most stuffed pastas, perogies or dumplings because these cannelloni tubes are easy to stuff. The trick when you are stuffing cannelloni is to pipe in the filling with a pastry bag WITHOUT a tip! And if you don't have a pastry bag, use a ziplock freezer bag and cut off the end. And I guarantee that it's totally worth the effort in the end!! See VIDEO in NOTES!
💭 More Cooking Tips
Do not stuff the cannelloni ahead of time (the tubes will soften, then crack). If you are going to do this as make-ahead dish, then cook the entire dish in advance.
If you do need to make some of the dish in advance, I would recommend just making the filling and sauce and refrigerating them separately. You can put the dish together (and stuff the cannelloni tubes) just prior to baking and serving. *Stuffing the pasta with my method only takes about 10 minutes!
🥗 Side dishes
I love to serve pasta like this Baked Beef Cannelloni Recipe with:
🍰Dessert to serve with Cannelloni
And depending on the occasion, my Chocolate Italian Sponge Cake (shown below) Red Wine Strawberry Chocolate Fudge Cake or my No Bake Black Forest Tiramisu for dessert.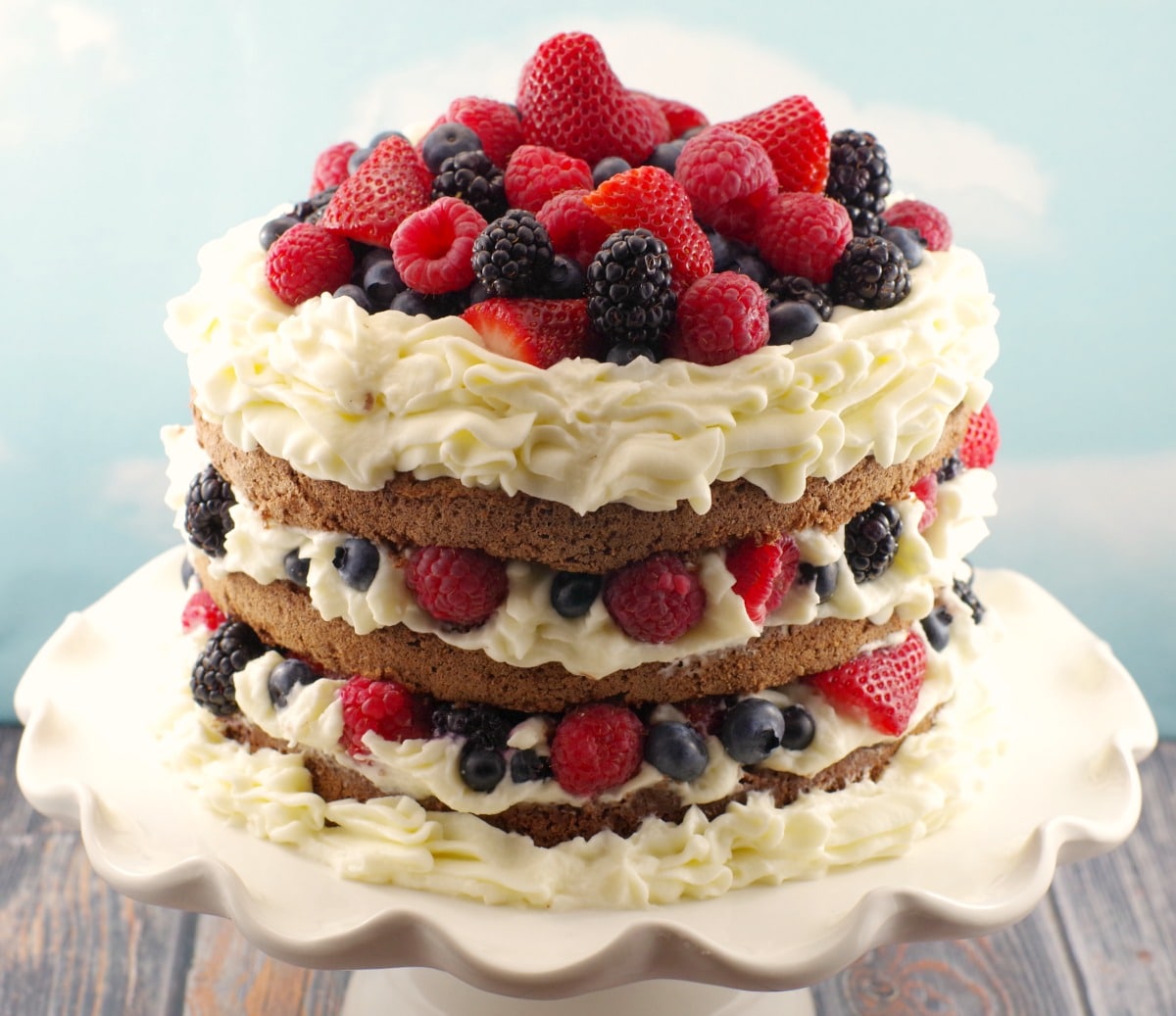 But whatever you serve this Baked Beef Cannelloni with, it's sure to be loved!
My Amazon Recommendations (affiliate links)
Print
📋 Baked Beef Cannelloni Recipe
This Baked Beef Cannelloni , made with oven ready pasta, has a unique filling comprised of ground beef, spinach, carrots, fresh basil and no ricotta. The whipping cream and wine make it rich and delicious! It's the perfect, make-ahead, special and company worthy dinner recipe!
Ingredients
2

-200g

-boxes of oven ready cannelloni

* I use Catelli Express- it's important to use oven ready
Filling
2

tbsp

olive oil

1

lb

extra lean ground beef

2 cups

4

whole

carrots, grated

(2 cups grated)

2

stalk

celery

chopped

1

medium

onion

chopped

3

cups

fresh spinach

washed and chopped

½

cup

dry white wine

¾

cup

heavy whipping cream

5

roma

tomatoes

chopped

½

cup

grated Parmesan cheese

2

tsp

Italian seasoning

2

tbsp

chopped fresh basil

2

cloves

garlic
Creamy Tomato Sauce
2

-28 oz

- cans diced tomatoes

6

cloves

garlic

1

medium

onion

chopped

8

leaves

fresh basil

½

cup

whipping cream

½

tsp

salt

2

tsp

Italian seasoning

¼

cup

dry white wine

¼

cup

grated Parmesan cheese
Instructions
Preheat oven to 350 degrees F. Spray two 9 X 13 inch baking dishes (lasagna dishes) with non-stick cooking spray.
Filling:
In a frying pan, over medium heat, sautee onions, celery and grated carrot  with olive oil until soft.

Add spinach and cook for 3 more minutes.

It should look like this after 3 minutes.

Meanwhile, cook ground beef over medium heat, in separate frying pan until browned. Then mix with veggie mixture.

Place meat/veggie mixture in food processor and process until finely chopped/blended. Add whipping cream, white wine, Roma tomatoes, parmesan cheese, Italian seasoning and basil and pulse (in food processor)  just until combined. * I do ½ a batch at a time.

It's not pretty but it should look like this once it's mixed. *Note: it can be a little bit chunkier, but not any more pureed than this. It needs to go through a pastry bag, but not be too runny.

Stuff each cannelloni with mixture until full, but not overflowing. The best way to do this is to hold the tubes upright (where the bottom is flush against the bottom of a small plate.) See VIDEO 🎥

Then gently lay the tubes in the prepared 9 x 13 inch baking dish in a single layer.
Creamy Tomato Sauce
Place diced canned tomatoes with liquids in food processor and add garlic and onion, basil leaves , parmesan cheese,  white wine and whipping cream. * I also do this in 2 batches

Pour creamy tomato sauce over stuffed, uncooked oven ready cannelloni tubes.

Cover pan with aluminum foil and seal around edges (*this is very important) and bake for 50 minutes in preheated oven. Serve warm.
Garnish
Garnish with additional parmesan cheese and/or fresh basil if desired.
Notes
*NOTE: In the United States, Cannelloni and Mannacotti are often used interchangeably but the cannelloni tubes are smaller.
**NOTE 
Nutrition Facts
📋 Baked Beef Cannelloni Recipe
Amount Per Serving
Calories 157
Calories from Fat 99
% Daily Value*
Fat 11g17%
Cholesterol 45mg15%
Sodium 191mg8%
Potassium 189mg5%
Carbohydrates 3g1%
Protein 8g16%
Vitamin A 925IU19%
Vitamin C 3.1mg4%
Calcium 94mg9%
Iron 1mg6%
* Percent Daily Values are based on a 2000 calorie diet.
Nutrition
Calories:
157
kcal
|
Carbohydrates:
3
g
|
Protein:
8
g
|
Fat:
11
g
|
Saturated Fat:
5
g
|
Cholesterol:
45
mg
|
Sodium:
191
mg
|
Potassium:
189
mg
|
Vitamin A:
925
IU
|
Vitamin C:
3.1
mg
|
Calcium:
94
mg
|
Iron:
1
mg
Save
Saved!
🥘More Pasta Recipes!
Easy Thai Pork and Noodles Recipe
Healthy Creamy Lemon Chicken Pasta
Healthy Greek Pasta Toss (with spinach and feta)
Easy Spicy Peanut Pasta Salad (Vegan)
Healthy Leftover Creamy Ham Pasta with Peas