"Wow. This is the best spaghetti sauce I've ever had," I said. "Can I get the recipe?" "Nope. Sorry, but it's a family secret," he replied. "There's something in there that really makes the sauce, but I can't quite put my finger on it. What is that?" I asked.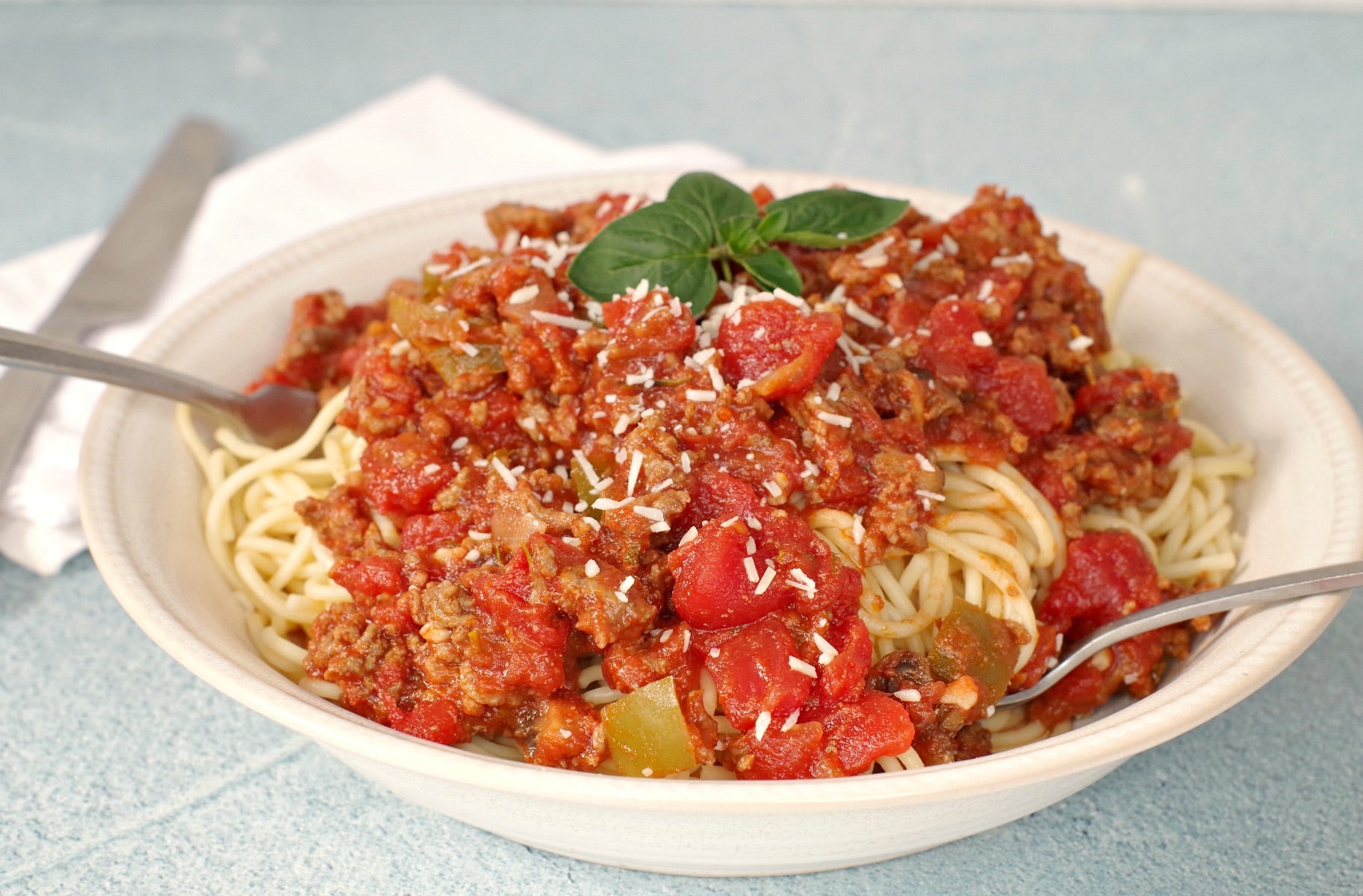 "Yes, that's the secret ingredient," he said. "But like I said, I can't tell you; it's a secret family recipe.
"C'mon...I won't tell anyone." I pleaded. But he just shook his head and smiled. "OMG- is this guy for real?" was all I could think.
The guy I was trying to get the recipe out of was a fellow student I worked with at my first summer job as a University student over 20 years ago. And that exchange happened during our first group potluck. I spent the remainder of the summer trying to get that secret sauce ingredient out of him.
Best Spaghetti Meat Sauce Recipe
Since that time I've eaten a lot of really good spaghetti sauces and an equal amount of bad. But when I eat the good stuff I always make a point to ask: "What's in it?" And fortunately, unlike that guy, the majority of people aren't guarding some ridiculous family secret and will simply just tell you.
So, I've picked up some really great tips along the way. And in my quest to create the ultimate spaghetti sauce, I've also done a lot of my own research and tried every crazy concoction out there (including chocolate and HP sauce). And I believe I've finally achieved the best spaghetti meat sauce recipe! And it's Weight Watchers Friendly only 8 WW points on the blue plan!
So, what was that secret ingredient in the spaghetti sauce all those years ago?!
Spaghetti sauce secret ingredient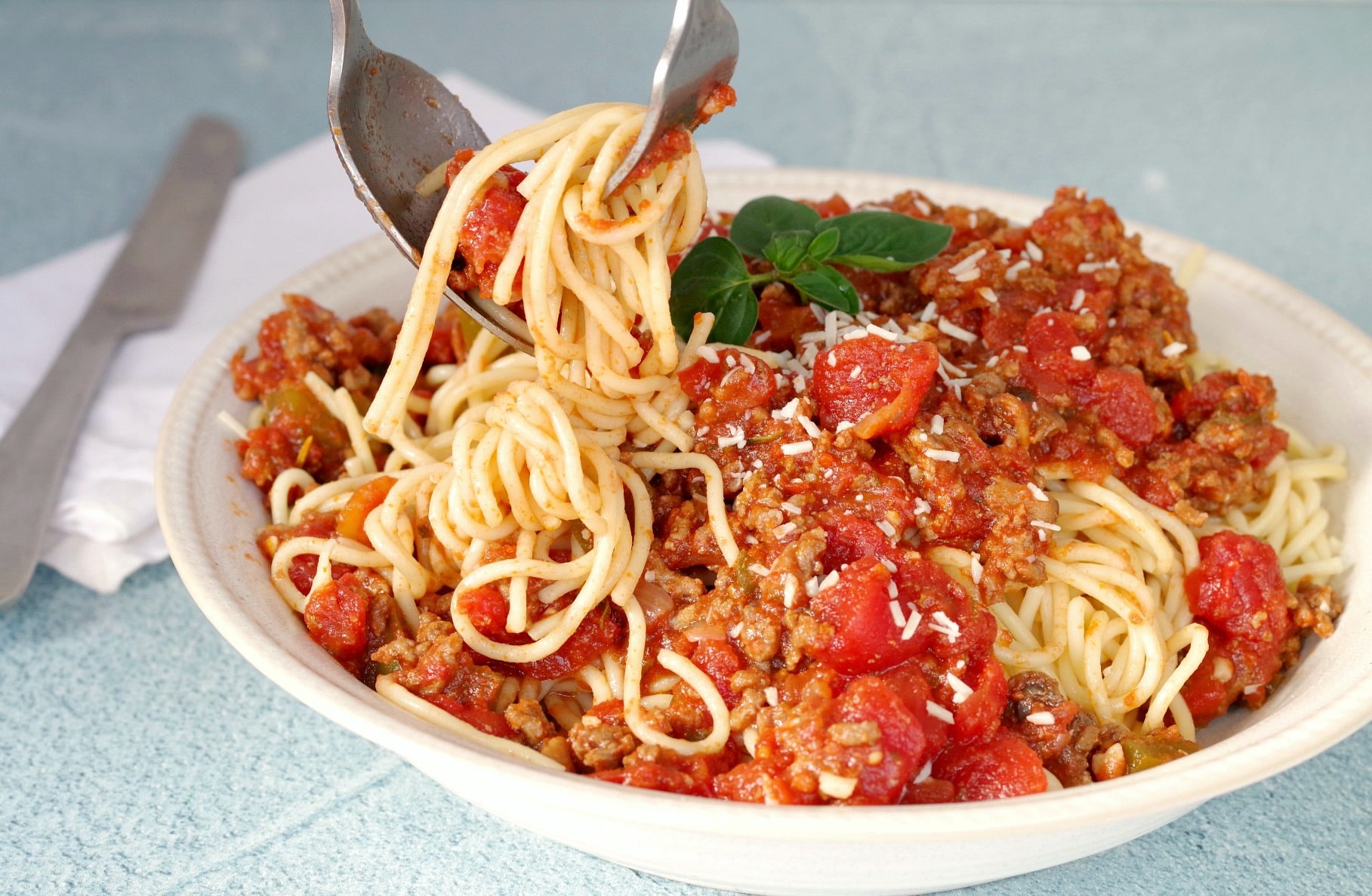 And the secret ingredient is.... I honestly don't know. I'm guessing it was Worcestershire sauce but I will never know for sure. Seriously, no matter how I hounded him, I could never get the guy to tell me. I'm not sure what higher purpose he thought he was serving, but he wouldn't cave. And honestly, I stop caring many years ago. But more importantly, I believe I've discovered the secret(s) to an even better sauce!
Given that my palate has probably developed quite a bit since those Kraft dinner fueled starving student days anyway, if I were to eat his silly secret spaghetti sauce now, I doubt I'd be very impressed.
But what I have learned along the way is that there are a few things you can do to really elevate your spaghetti sauce and that Worcestershire sauce and brown sugar are key ingredients in taking it to that next level. Tomato sauce is very acidic and the brown sugar is necessary to tone down the 'tart' in the tomatoes and balance the flavors. But I think it's the Worcestershire that is truly the secret ingredient and gives it that ' je ne sais quoi'! The herbs cilantro, oregano, rosemary and basil are also critical. And although fresh is best, if you don't have fresh, dried will do too.
Homemade Spaghetti Sauce from Scratch
Homemade Spaghetti Sauce from scratch is an easy, delicious, filling and economical meal. I use canned tomatoes for cost and ease, but I do like to use fresh veggies and herbs if I have them on hand ( I grow the herbs in pots on the deck in the summer). But I have also used canned mushrooms when I don't have fresh, so it's really what you have on hand.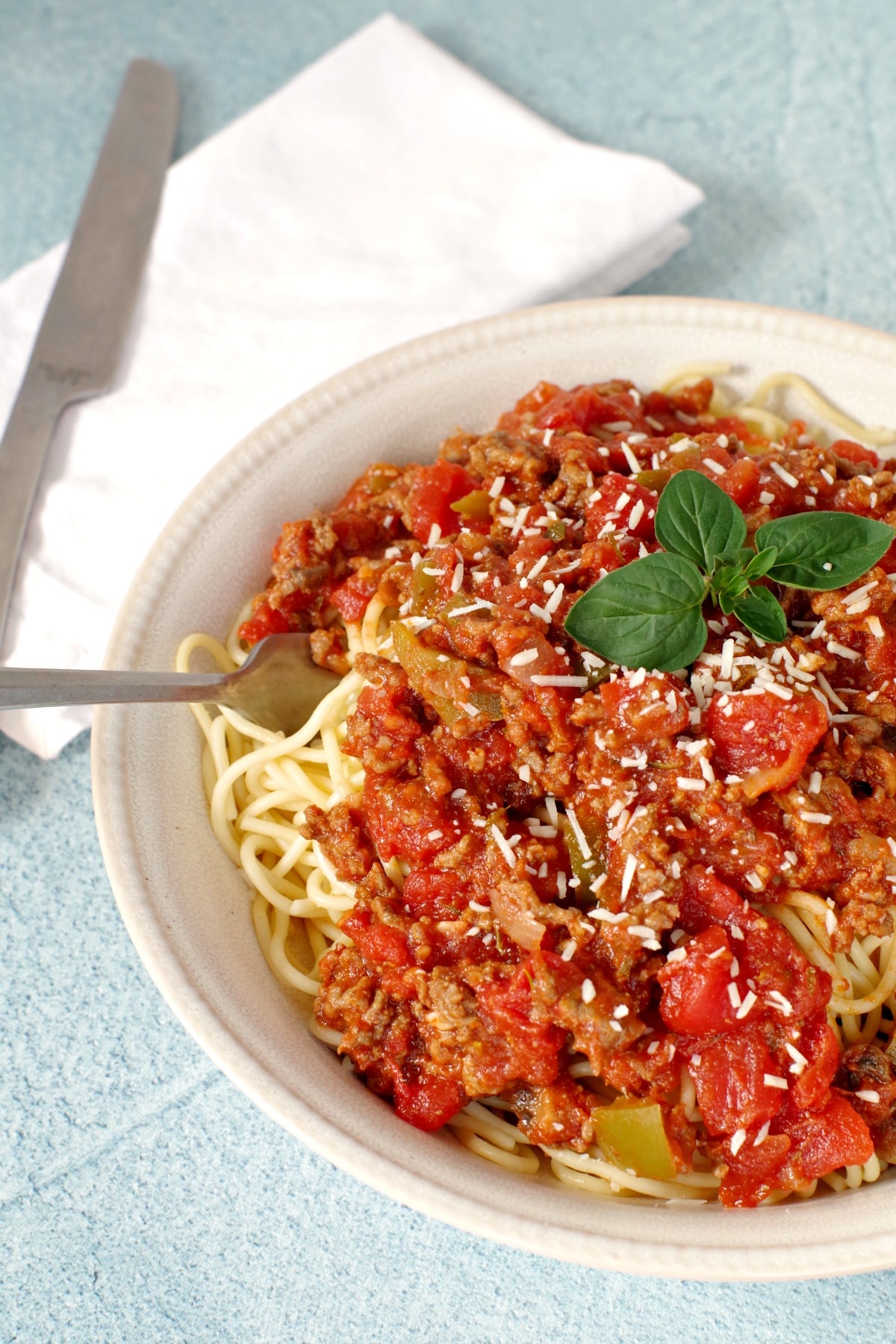 So, if you're looking for a yummy homemade spaghetti sauce from scratch, then give this a try! Unlike that guy, I think that delicious recipes are meant to be shared with the world.
But in a weird way, I'm kind of glad that he never told me what the secret ingredient was. Because, if he had told me I never would have been motivated to figure it out myself and create this recipe. In fact, if I saw him again, I'd simply thank him for helping to make me to become a much better cook!
If you have leftover spaghetti noodles, like I always do, this Spicy Peanut Pasta Salad is an excellent healthy, leftover recipe!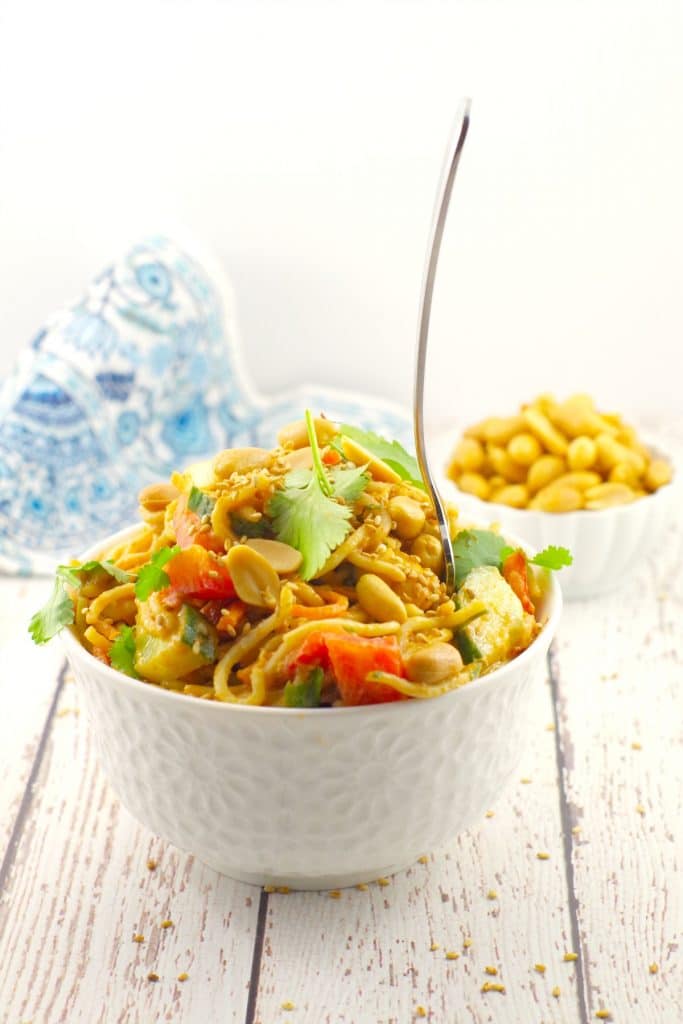 And if you are looking for additional pasta recipes, be sure to check out my Pasta Recipes Board on Pinterest!
Print
Secret Ingredient Spaghetti and Meat Sauce
This quick and easy Homemade Spaghetti & Meat Sauce, made with lean ground beef and canned tomatoes has a rich and meaty sauce with a secret ingredient that is delicious, healthy and economical! It's Weight Watchers friendly at 8 WW points on the blue plan.
Ingredients
½

-340 g

-box spaghetti noodles

*(½ of a 12 oz box)

1.5

lb

extra lean ground beef

1

Small

onion

1

tbsp

brown sugar

⅔

cup

mushrooms, chopped

½

green pepper

1

-5 oz

can tomato paste

2

-28 oz

cans of canned tomatoes

3

cloves

minced garlic

* add more or less to your liking

¼

cup

Heinz chili sauce

½

tbsp

Worcestershire sauce

1

tbsp

fresh, chopped basil

* can substitute 1 tsp dried basil

2

tbsp

fresh, chopped oregano

* can substitute 2 tsp dried oregano

½

tbsp

fresh, chopped cilantro

* can substitute 1 tsp dried cilantro

2

tsp

fresh, chopped rosemary

* can substitute ½ tsp dried rosemary

½

tsp

crushed red pepper flakes
Instructions
Cook ground beef and onions together until ground beef is browned

Meanwhile, mix tomatoes, tomato paste, green peppers, mushrooms, garlic, chili sauce, Worcestershire sauce, brown sugar, herbs and spices together in a large pot and cook over medium heat on stovetop.

When ground beef/onion mixture is browned, drain thoroughly and add to tomato mixture.

Simmer for approximately 20 minutes or until vegetables are soft.

While sauce is cooking, cook spaghetti as per package directions. Drain and serve with desired amount of sauce on top.
Garnish
Garnish with grated parmesan cheese and fresh oregano or basil, if desired.
Notes
Terri's Tip: If you don't already do this, add a teaspoon of olive oil to the water when you cook you spaghetti noodles. It helps prevent them from sticking!
My Amazon Recommendations (affiliate links)
Nutrition Facts
Secret Ingredient Spaghetti and Meat Sauce
Amount Per Serving
Calories 193
Calories from Fat 54
% Daily Value*
Fat 6g9%
Cholesterol 70mg23%
Sodium 185mg8%
Potassium 556mg16%
Carbohydrates 9g3%
Protein 25g50%
Vitamin A 134IU3%
Vitamin C 9mg11%
Calcium 40mg4%
Iron 4mg22%
* Percent Daily Values are based on a 2000 calorie diet.
Nutrition
Calories:
193
kcal
|
Carbohydrates:
9
g
|
Protein:
25
g
|
Fat:
6
g
|
Saturated Fat:
3
g
|
Cholesterol:
70
mg
|
Sodium:
185
mg
|
Potassium:
556
mg
|
Fiber:
2
g
|
Sugar:
5
g
|
Vitamin A:
134
IU
|
Vitamin C:
9
mg
|
Calcium:
40
mg
|
Iron:
4
mg
Save
Saved!
This recipe is part of The Country Cook Weekend Potluck!