"Congratulations Terri"? "Is that what you want it to say? Is that Terri with an "i" or a "y"?"
"Yes, it's Terri with an 'i'," I replied.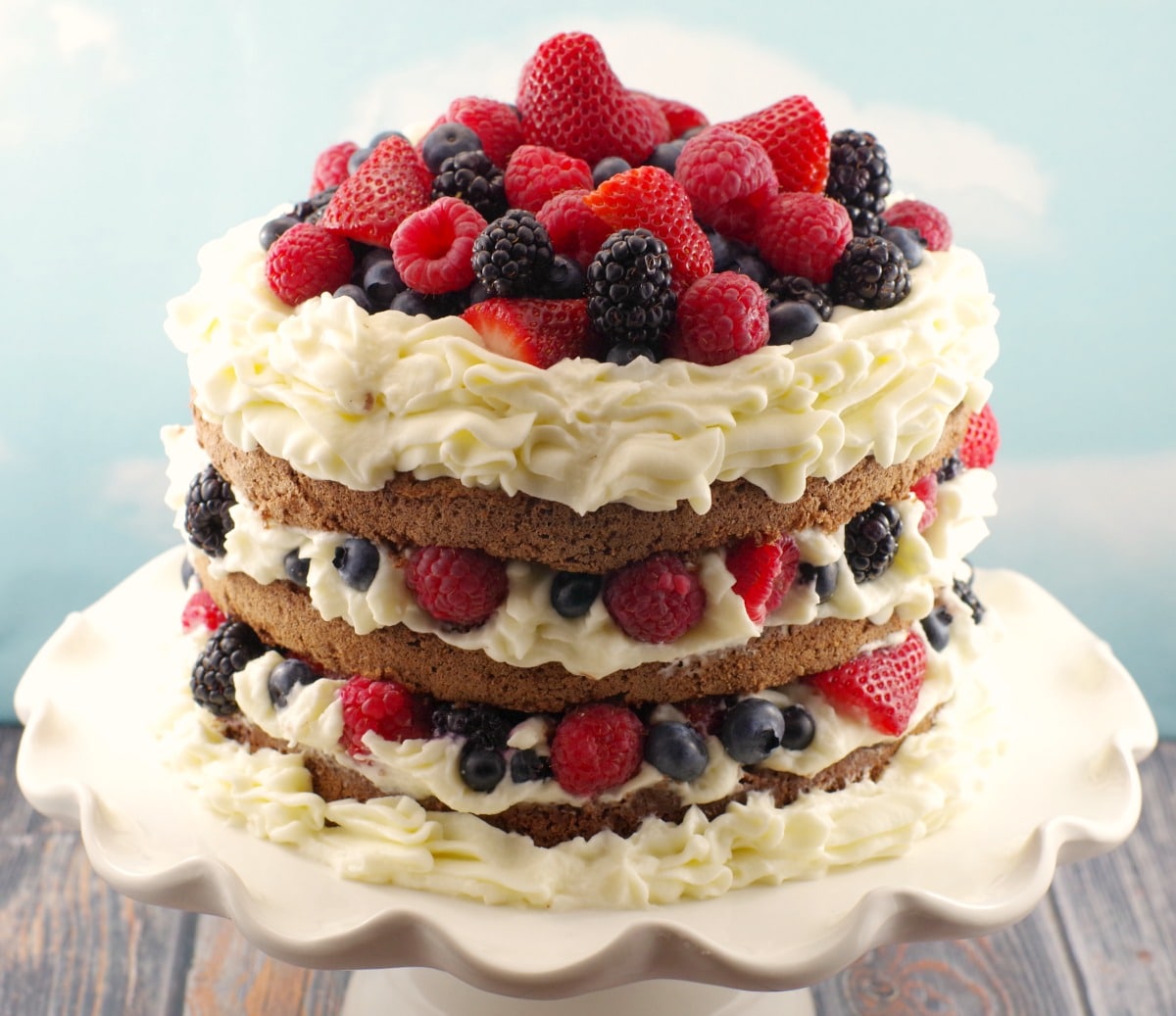 That's the girl spelling. I changed the spelling of my name from Terry with a 'y' back in Grade 2, having discovered that I'd actually been spelling it the boys way for my entire life! But I guess everyone wasn't privy to that rule. Or maybe the clerk behind the bakery counter didn't realize that the cake I was buying was actually for me.
To be honest, I wasn't exactly upfront about that. That type of admission was sure to be accompanied by a host of unflattering social assumptions. And since this cake was for a big celebration, I didn't want it soiled by awkwardness.
That's how much I love cake. And for a while, I bought myself congratulatory cakes whenever I felt I deserved one (and did I ever deserve this one)! That is, until I started making them myself. I've been making and decorating cakes for 15+ years and this Chocolate(Genoise) Italian Sponge Cake is one of my all-time favorites!
Jump to:
The funny thing is, I always felt like a bit of a fraud changing the spelling of a name that wasn't really wasn't even mine to begin with. According to Mom, "Terry" was my nickname. Yet, it's all my parents ever called me. Even though my legal name was Teresa, Mom said they never had any intention of calling me that.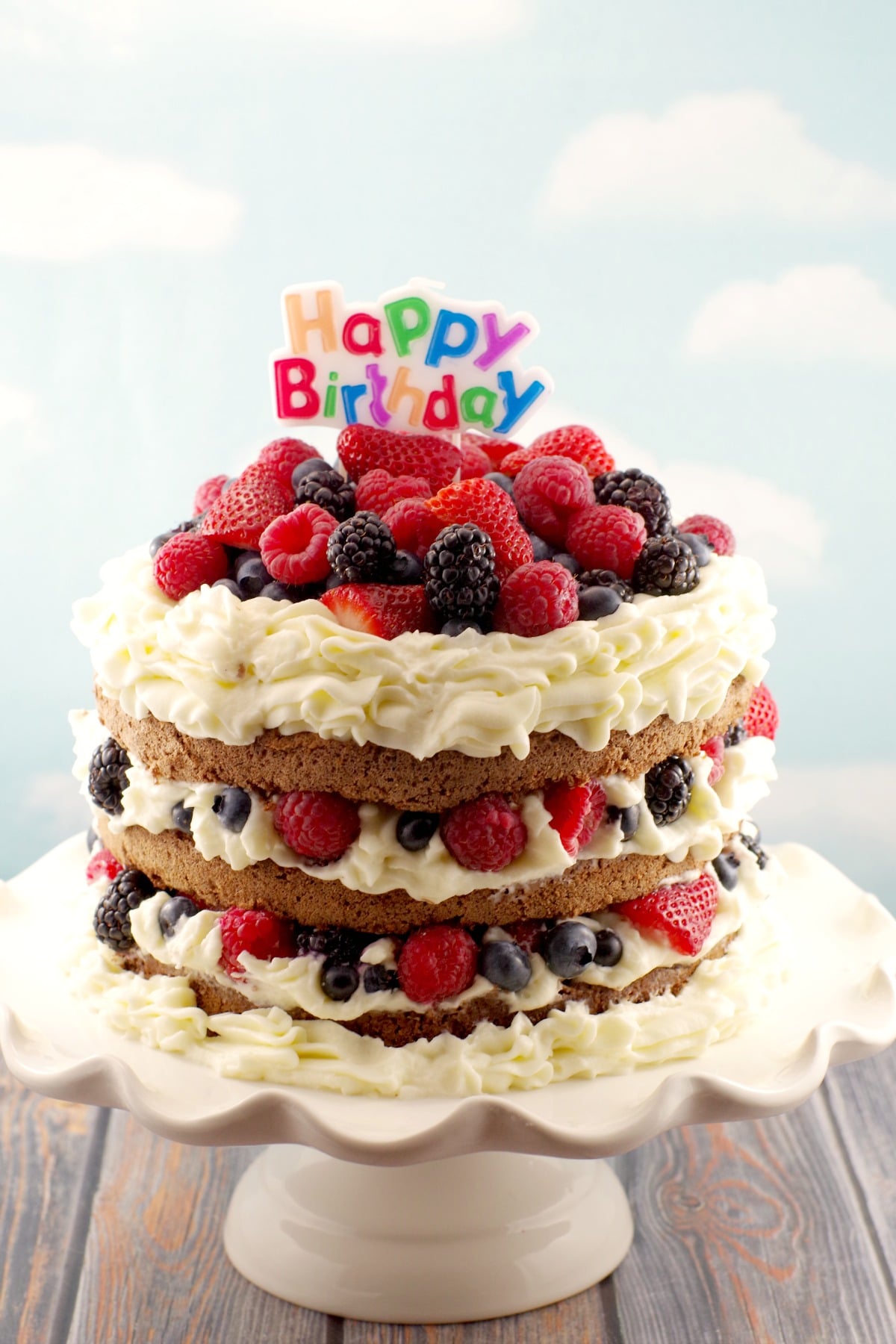 I once asked my Mom why she felt the need to complicate my life like that and she said, "Because I wanted you to have both a formal name and a nickname." I thought that was really stupid. Yet, I went and did the exact same thing to my daughter. Funny how perspective changes.
Given all that, the spelling of my name on this cake was pretty important because I was rewarding myself. I was celebrating my victory of having made it an entire 2 months without smoking a cigarette! Hell, there was a time when I didn't think I could have made it a one day, much less 60! And I had read that rewarding yourself regularly was a good motivational tactic. And naturally, buying myself a celebration cake seemed like the perfect reward and motivator because well, like I said, I love cake! And this Chocolate Italian Sponge Cake is one of my faves!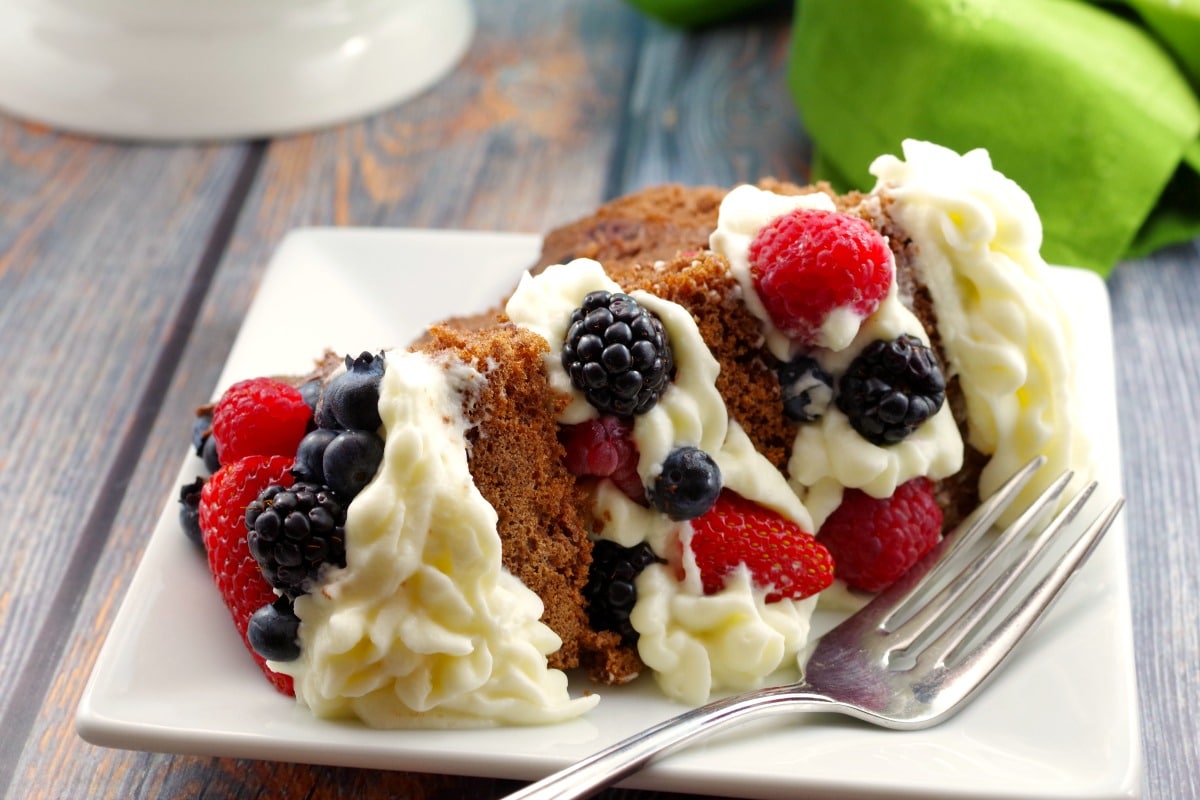 And cake is the ultimate symbol of celebration, is it not?
Just try to think of an important celebration in life that doesn't involve cake. And if you knew me as a pack a day smoker, that cared about cigarettes more than almost anything else in the world, you'd understand just what a momentous occasion this was for yours truly.
Flash forward 20 years and 7 months~ I am still smoke free (yay me!) and I still love cake. Although, I don't often buy cakes these days, I still love to make them. Yet I had never made a sponge cake, much less and Italian sponge cake until a couple of years ago. Now, I am obsessed.
💭Italian Chocolate (Genoise) sponge vs. sponge
Sponge cakes are light and airy and are known for having a subtle flavor and delicate texture.
Génoise sponge cake has Italian origins, although it's been adopted for treats that are more commonly associated with French cuisine. The batter is also the basis for Madeleines and ladyfingers, delicate cookies baked in molds. Italian Sponge Cake often ends up in a layer cake, such as this one, with fillings like whipped cream, buttercream or mousse.
And while the sponge and genoise are often regarded as being one and the same, they are, strictly speaking, two quite different creatures.
A true sponge contains no fat other than that occurring naturally in egg yolks, and the yolks and whites are usually beaten separately.
With a genoise, butter (in this case melted, but clarified butter is used in some) is used to enrich the batter, which is made by beating whole eggs, sometimes with additional yolks, together with sugar.
Although an Italian sponge is probably the most complicated to make, this recipe is foolproof! The most critical part is that your eggs are warm and you follow the directions, precisely, whipping the eggs together with the sugar, in a mixer (a stand mixer preferably) until the volume expands dramatically.
If you're curious about the different types of cakes and how they compare, you can Read more HERE or HERE!
I recently made this Italian (Genoise) chocolate sponge cake for my husband's birthday and paired it with a quick chocolate mousse and an easy stabilized whipped cream icing, then I added loads of berries (blackberries, raspberries, strawberries and blueberries). It was AMAZING! So, if you are looking for birthday cake recipes for adults or homemade birthday cake ideas, this is the one. My family went crazy for it!
📖 Variations
Filling: you could you any filling you want, but the chocolate mousse goes so perfectly with it!
Frosting: you could use plain whipped cream, but it won't hold up as well as the Stabilized Whipped Cream Icing does. When you add gelatin (or piping gel in this case) to the whipped cream, it holds the whip longer.
Berries: you can use any berries you like!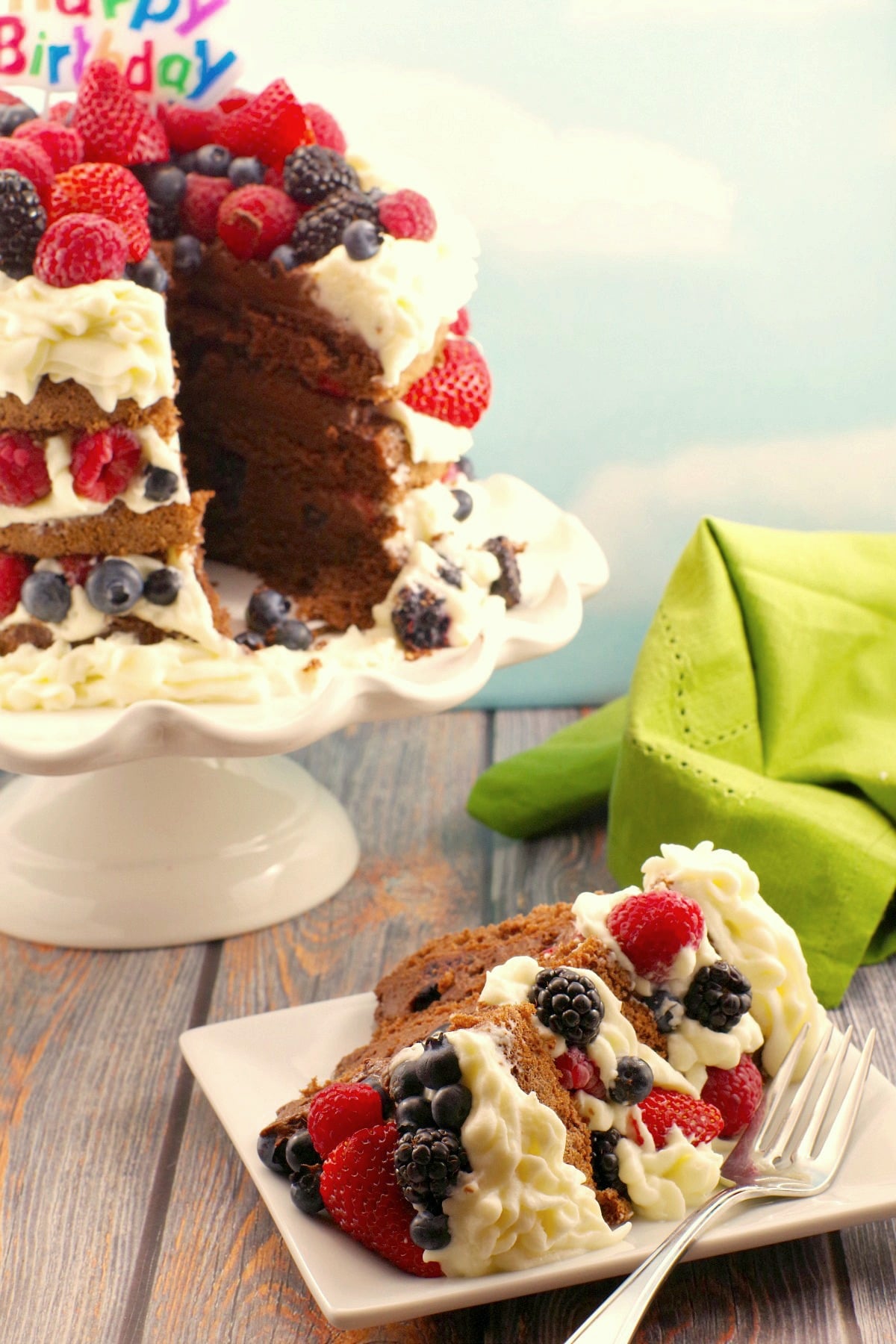 Reflecting back, buying myself cakes probably wasn't the best reward strategy for someone who just quit smoking and was worried about gaining weight. So, when I did start to gain weight, which is typical for someone who quits smoking, I had to reign in the celebratory cake purchases. Then down the road, once the weight was under control and I started making my own cakes, I never went back to buying them. You just can't beat a homemade cake. And this Chocolate Genoise Sponge cake is one of the best homemade cakes you will ever eat!
🎂Chocolate Genoise Sponge Cake Recipe
This light and airy Italian (Genoise) Chocolate Sponge Cake is light and airy and filled with a quick, easy and delicious chocolate mousse, loads of summer fruit like raspberries, strawberries, blackberries and blueberries, with a scrumptious stabilized whipped cream icing. This is the perfect adult birthday cake idea!
Ingredients
Chocolate Sponge (Genoise) Cake:
1

cup

+ 2 tablespoon all-purpose flour

¼

cup

+ 2 tablespoon sifted cocoa powder

9

eggs

at room temperature **it is critical your eggs are at room temperature

1 ½

cup

white granulated sugar

1 ½

teaspoon

vanilla extract

¼

cup

+ 2 tablespoon of unsalted butter, melted
Quick and Easy Chocolate Mousse:
Stabilized Whipped Cream Icing:
2

small

containers of blueberries

2

small

containers of strawberries

hulled and sliced (save a few half and whole strawberries for garnishing the top)

2

small

containers of raspberries

2

small

containers of black berries
Instructions
Chocolate Sponge (Genoise) Cake
Even before you turn on the oven,, make sure your eggs are out of the fridge - they need to come to room temperature. *this is critical for success with this cake! If you need to warm them quickly, then pour some boiling water into a shallow bowl, then crack your eggs into another bowl and set it on top of the bowl of boiling water. Just keep checking to see if the eggs have warmed. I did this and it worked well.

Preheat the oven to 350°F. You can line three 8-9 inch round cake pans with parchment paper (Do not butter the sides) or use cake release ** I always use "Cake Release" by Wilton and it eliminates the need for butter/flour/parchment paper and your cakes come out perfect every time! *See NOTES

Sift the flour and cocoa together in a bowl. Set aside.

In another bowl and using an electric mixer, beat the eggs, sugar and vanilla for about 10 minutes. You'll know when it's done because the mixture will turn pale and quadruple in volume. Then gently fold in the melted butter.

Gently pour the flour mixture into the egg mixture, folding it in with a spatula.

Pour the batter into the cake pans. * Always fill pans to ⅔ full and no more. Bake until a cake tester or toothpick inserted comes out clean, about 25 minutes.

* you will probably have some leftover batter so make a few cupcakes!

Let cool for about 10 minutes. Gently run a spatula around the edges of the pans to loosen the cake. Gently turn onto a cooling rack and let cool. * If you use Wilton cake release, your cakes will come out perfect!
Quick and Easy Chocolate Mousse:
Dissolve the cocoa powder in the hot water. In a double-boiler (or in the microwave) melt the chocolate chips on 50% power for 2 mins and 30 seconds in the microwave, then stir then for another 30 seconds just until smooth. Add cocoa mixture to the melted chocolate chips and stir well to combine.

In a separate bowl, beat the heavy cream and sugar until stiff peaks form. Add the whipped cream mixture to the melted chocolate and fold in with a spatula until well combined. Refrigerate until ready to use.
Stabilized Whipped Cream Icing:
Assembly:
Spread ⅓ of the chocolate mousse on the first layer of cake, then add about ¼ of the berries. Pipe some whipped cream around the edges of the layer, prior to putting the next layer on top.

Repeat for 2nd layer, then for the top.
Garnish:
Pile the remaining berries on top of the cake!

Pipe whipped cream around the edge of the top of the cake, the bottom and each layer, if it looks like it needs it.

Stud whipped cream (between layers( with additional berries, as in my photos, if desired.
Notes
*Note: Recipe for Stabilized Whipped Cream Icing
Cake Release:
**Note: I multiplied the original cake recipe by 1.5. If you want a smaller cake, cut the recipe, but you'll have a lot of leftover mousse and whipped cream icing.
I would recommend using a stand mixer for the beating involved in this type of cake. If you don't already have one, it's worth the investment. This is a purchase you will make good use of for a very long time!
Nutrition Facts
🎂Chocolate Genoise Sponge Cake Recipe
Amount Per Serving
Calories 448
Calories from Fat 297
% Daily Value*
Fat 33g51%
Cholesterol 151mg50%
Sodium 77mg3%
Potassium 210mg6%
Carbohydrates 32g11%
Protein 6g12%
Vitamin A 1060IU21%
Vitamin C 0.3mg0%
Calcium 65mg7%
Iron 2mg11%
* Percent Daily Values are based on a 2000 calorie diet.
Nutrition
Calories:
448
kcal
|
Carbohydrates:
32
g
|
Protein:
6
g
|
Fat:
33
g
|
Saturated Fat:
19
g
|
Cholesterol:
151
mg
|
Sodium:
77
mg
|
Potassium:
210
mg
|
Fiber:
2
g
|
Sugar:
22
g
|
Vitamin A:
1060
IU
|
Vitamin C:
0.3
mg
|
Calcium:
65
mg
|
Iron:
2
mg
Save
Saved!
📋More Summer Cake Recipes