I was a little surprised when my bestie requested a Chocolate Mayonnaise Cake for her birthday this year. But then I got to thinking and it started to make sense.
It was something we grew up with and therefore it's comfort food. It's also a rich and delicious chocolate cake, so why wouldn't you want it for your birthday? But it made me wonder: why put mayonnaise in a cake?
Chocolate Mayonnaise Cake Recipe
This easy old-fashioned Chocolate Mayonnaise Cake recipe uses mayonnaise in the batter to replace the eggs and oil for a rich and delicious chocolate cake. It's perfect for birthday parties or any celebration!
This cake has been around a long time; long before my childhood. And in my experience, I've noticed it's the good recipes that tend to stick around. I found a copy of the recipe tucked away in my recipe binder from 2002, although this cake has been in existence since at least the 1930's. I'm not sure where it originally came from (likely someone at work) but the note on it said they got it from their Dad; it was a cake his Mom used to make during the Great Depression.
Mayonnaise Cake History
When the Great Depression hit North America families were forced to stretch their budgets and "make do" with minimal and cheaper ingredients when it came to cooking. Dessert became a luxury for most and affordability was achieved through ingredient substitution. For example, shortening was substituted for butter, water was substituted for milk, and baking powder was substituted for eggs. Since mayonnaise replaced several ingredients in a cake, it just made sense! This cake was also very popular during the second world war when again, certain foods were scarce due to rationing.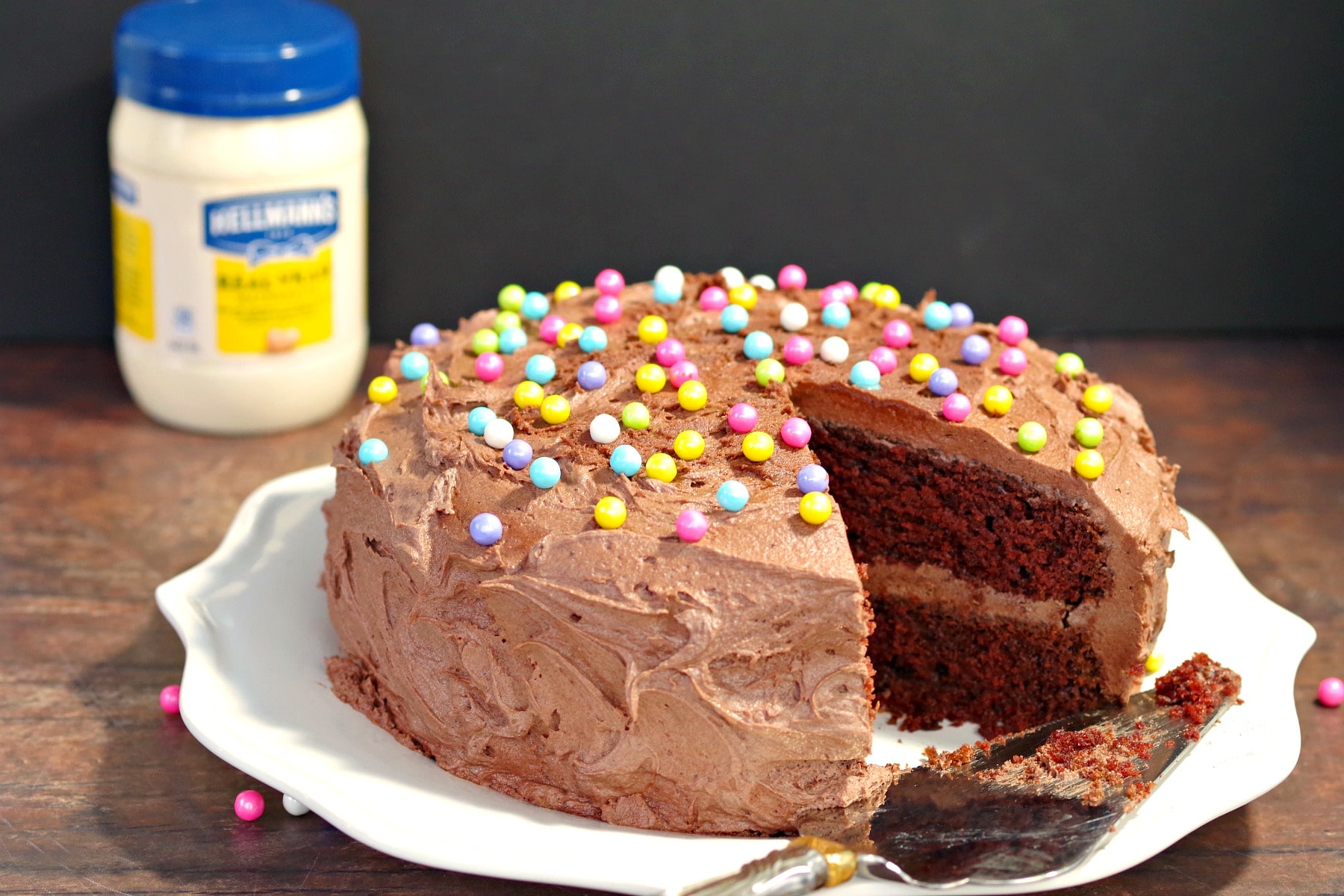 Why do you put mayonnaise in chocolate cake?
So why put mayonnaise in a cake? Mayonnaise is thick and rich and serves as a great substitute for several ingredients. Specifically, it does the job of the eggs, which is to hold everything together in a cake. And it replaces the oil, which like butter, serves to keep the cake tender. Mayonnaise also has salt in it. Water is used in place of the milk to make this cake more economical, as milk is obviously more expensive. And since milk's most important role in baking a cake is the part it plays in making the batter wet enough for the chemical reactions to take place, replacing milk with water during hard economic times was a no-brainer.
Old fashioned chocolate mayonnaise cake
So why do we still eat chocolate mayonnaise cake today if we aren't dealing with scarcity, rationing and severe poverty? Well, because not only is this cake pure comfort food for those of us that grew up with it, it's rich, moist, delicious, easy and budget- friendly! In other words, why wouldn't we eat mayonnaise cake?!
When I first mentioned mayonnaise cake to my family, honestly, they weren't all that keen on it. Yet the mayonnaise gives the cake such an unexpected decadent, rich and moist texture that when my family tasted this cake, all their negative preconceived notions dissipated -they LOVED this cake!
Cake Frosting for Mayonnaise Cake
Finding the ideal frosting/icing for a cake is an art in and of itself. It really can make or break a cake. I used my Chocolate Whipped Cream Buttercream Frosting because it's the lightest, airiest and not-too-sweet homemade frosting you'll ever taste! And it has no butter, as butter was a luxury and not something that would have been used in cake frosting during that era anyway. But most importantly, it is the perfect pairing for this cake and my personal go-to icing.
You simply replace a little of the powdered/icing sugar with cocoa and voila! you have the best chocolate frosting ever!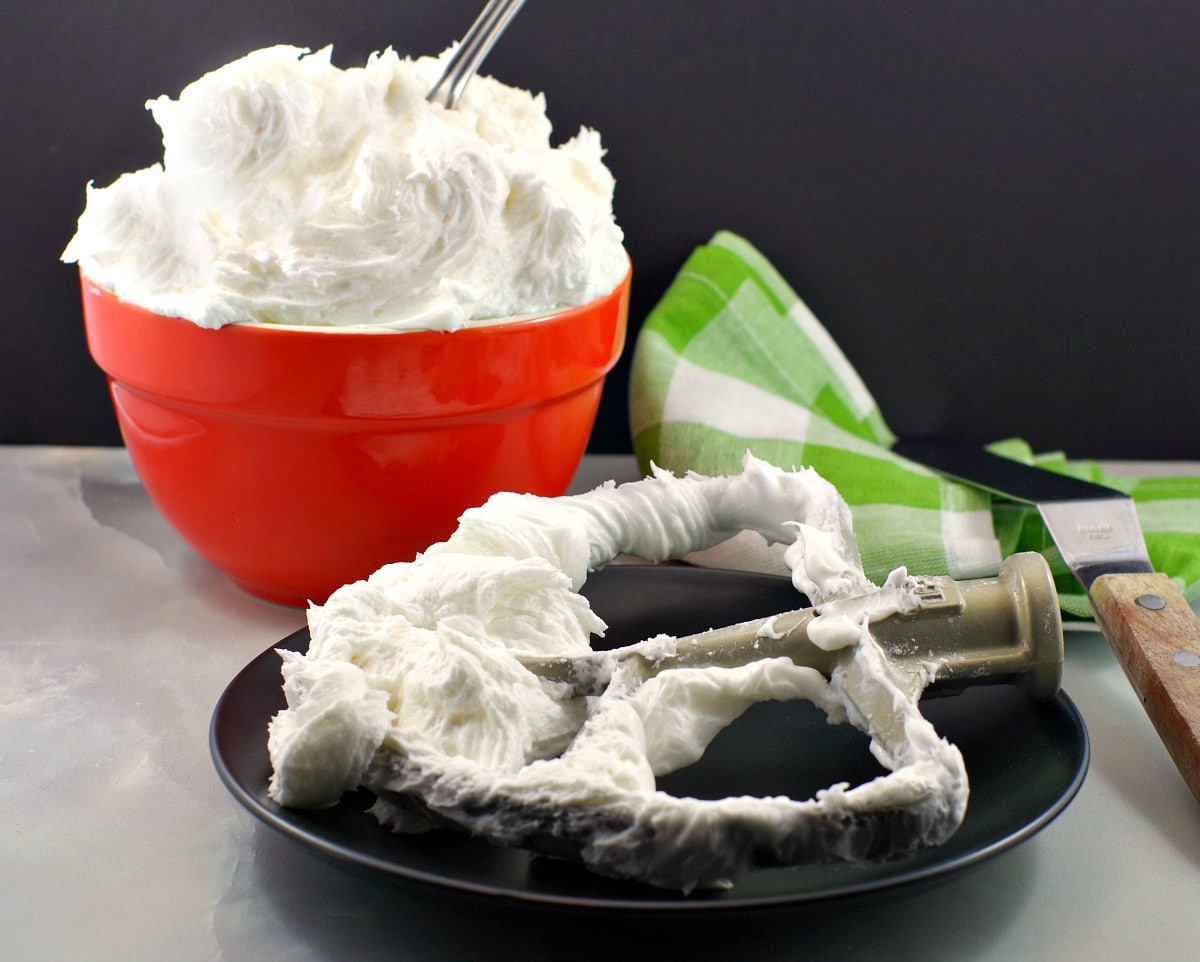 I also love this Chocolate Frosting (without butter) as it's a little quicker and easier to make!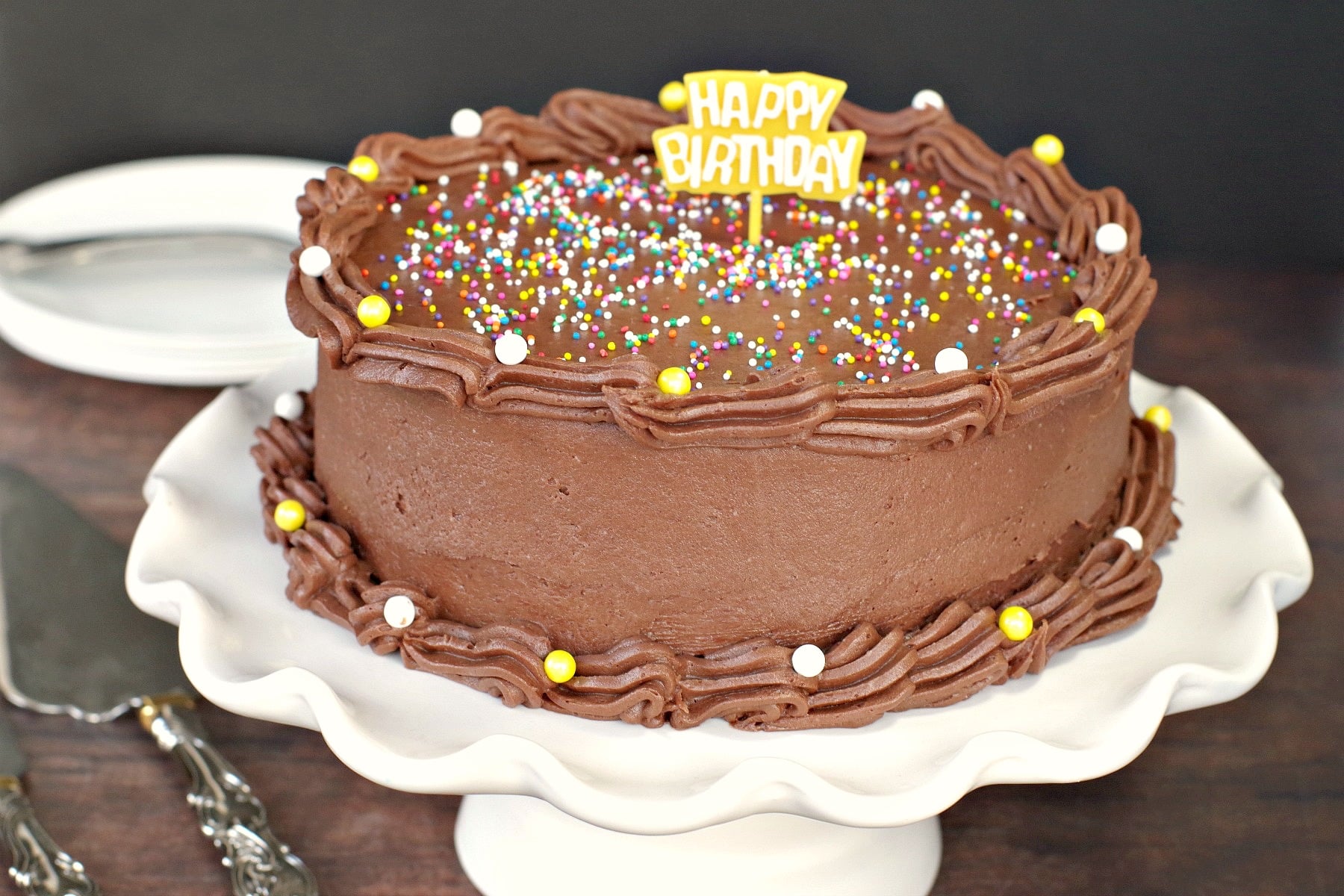 The very best part of this cake it that it's easy to make and there's no fancy decorating required!
Terri's TIPs for a perfectly crumb-free frosted cake
To avoid crumbs in your icing:
Use Wilton cake release (see NOTES)
Brush your crumbs off the cake with a pastry brush before icing it
Put it in the freezer for 10 minutes BEFORE you frost but AFTER you do a crumb coat.
Use a flat spatula and be sure to use generous amounts of icing when frosting the cake.. * Don't worry about smoothing it for this cake, it's meant to have a casual swirled look. You can see how to do that by clicking HERE.
My Amazon Recommendations (affiliate links)
If you're looking for more chocolate birthday cake ideas, check out my Genoise Chocolate Sponge Cake!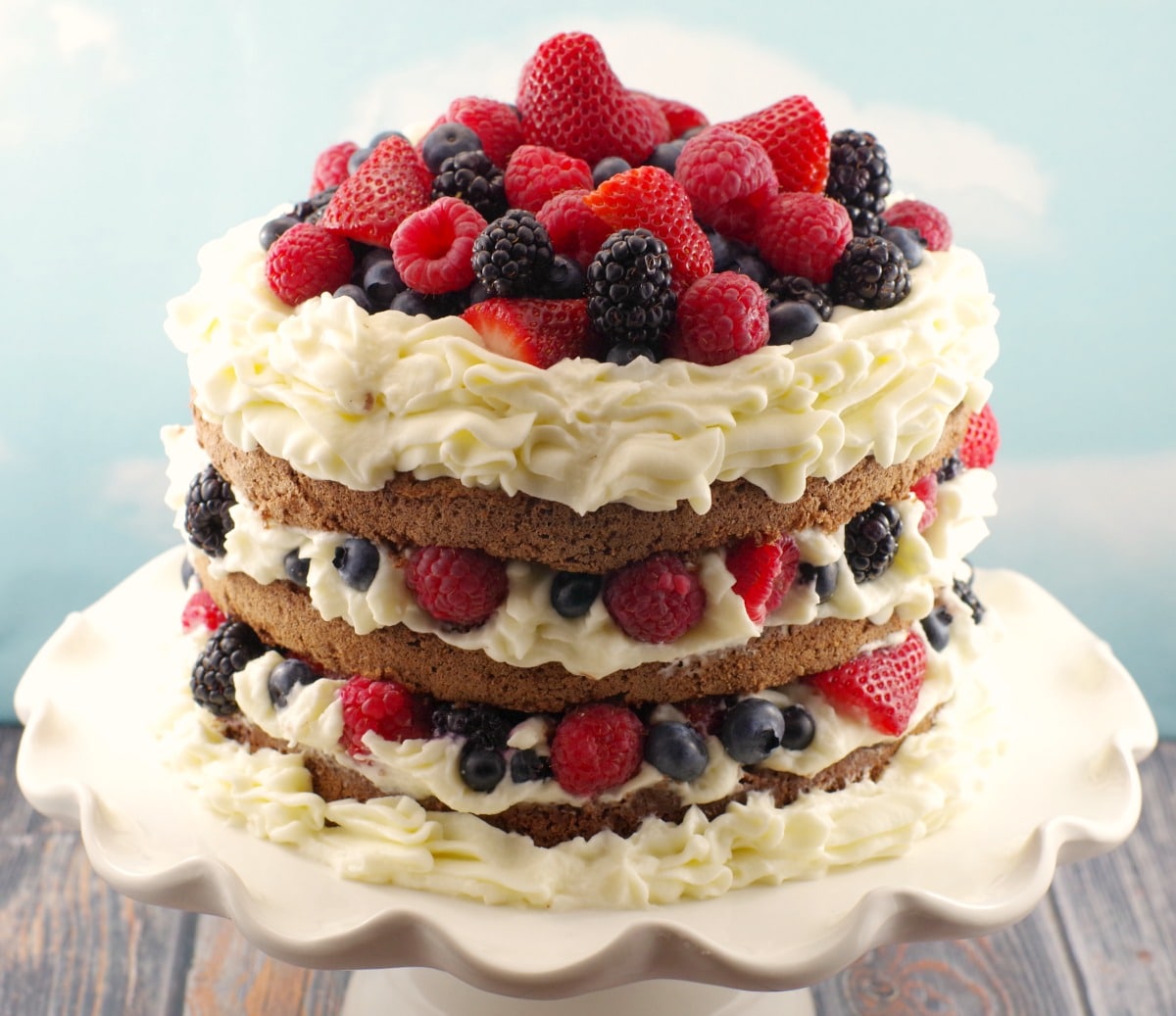 Print
Chocolate Mayonnaise Cake
This easy old-fashioned Chocolate Mayonnaise Cake uses mayonnaise in the batter to replace the eggs and oil for a rich and delicious chocolate cake. It's perfect for birthday parties or any celebration!
Ingredients
3

cups

all-purpose flour

1 ½

tsp

baking soda

1 ½

cups

white granulated sugar

⅓

cup

unsweetened cocoa powder

1 ½

cups

mayonnaise

1 ½

cups

water

2 ¼

tsp

baking powder

1 ½

tsp

vanilla extract
Instructions
Preheat oven to 350 degrees F and grease 2-9 inch pans (I use Wilton cake release - see NOTES)

In a large mixing bowl, combine flour, baking soda, baking powder, cocoa and sugar. Stir in mayonnaise.

Gradually add water and vanilla and blend until smooth. Pour batter into prepared pans

Bake at 350 degrees F for 30 minutes. Cool, remove from pans and frost with your favorite chocolate frosting (see my recommended frosting)
Frosting
I recommend using my Chocolate Whipped Buttercream Frosting (see recipe NOTES)
Decorations
Decorate with colored celebration candy pearls
Save
Saved!
More Chocolate Cake Recipes!
Old Fashioned Sour Cream Chocolate Fudge Cake
Chocolate Italian (Genoise) Sponge Cake with berries
Microwave Chocolate Banana Mug Cake