What I really wanted to do was strangle the little beast. But I had witnesses. What I mean is, we had company. I anguished over how I could even think this way – I loved cats! But I couldn't believe what he had done.... Milo had always been a naughty cat, right from the day we brought him home the summer before. He chewed cords, he wrecked furniture and he scratched things. But I wrote that off as pretty typical kitten stuff. What l would soon discover is that Milo had a fatal flaw - he was a pig. He started to beg for food incessantly, stole food right off the kids' unmanned dinner plates, and would even eat raw meat directly out of the grocery bags.  But
this
was, by far, the naughtiest thing Milo had ever done....
I spend a lot of time making birthday cakes. At one point in my life,  making and decorating a cake could take me 20+ hours. Now-a-days my focus is on the inside of the cake, rather than decorations. And this homemade Root beer float birthday cake has the BEST tasting insides! Whether you are a kid or an adult, if you like root beer, and you are looking for birthday cake recipes,  you will LOVE this cake! I wanted to try a new technique (gravity defying), so I made this Gravity Defying Root Beer Cake for my husband's birthday a couple of years ago. It soon became his favorite birthday cake and he requested it again this year. It's the ultimate happy birthday cake.
This cake is a chocolate cake  made with root beer extract (You can buy the extract here, through Amazon, because it's not easy to find: Hires Big H Root Beer Extract, Make Your Own Root Beer
),  then painted with a reduced root beer syrup for the ultimate in moistness. This Wilton whipped cream buttercream is a light and fluffy shortening based icing that uses meringue powder ( which you can purchase here: Wilton Meringue Powder, 16 oz Can) that isn't too sweet and is the best icing I have ever had - I use it for everything! I added the marshmallow fluff on top to make it look like the melting ice cream on a root beer float. Although this root beer float birthday cake won't take you 20 hours, it will take you a couple of hours. But trust me, the extra time is worth it. If you are looking for the ultimate happy birthday cake, this is it!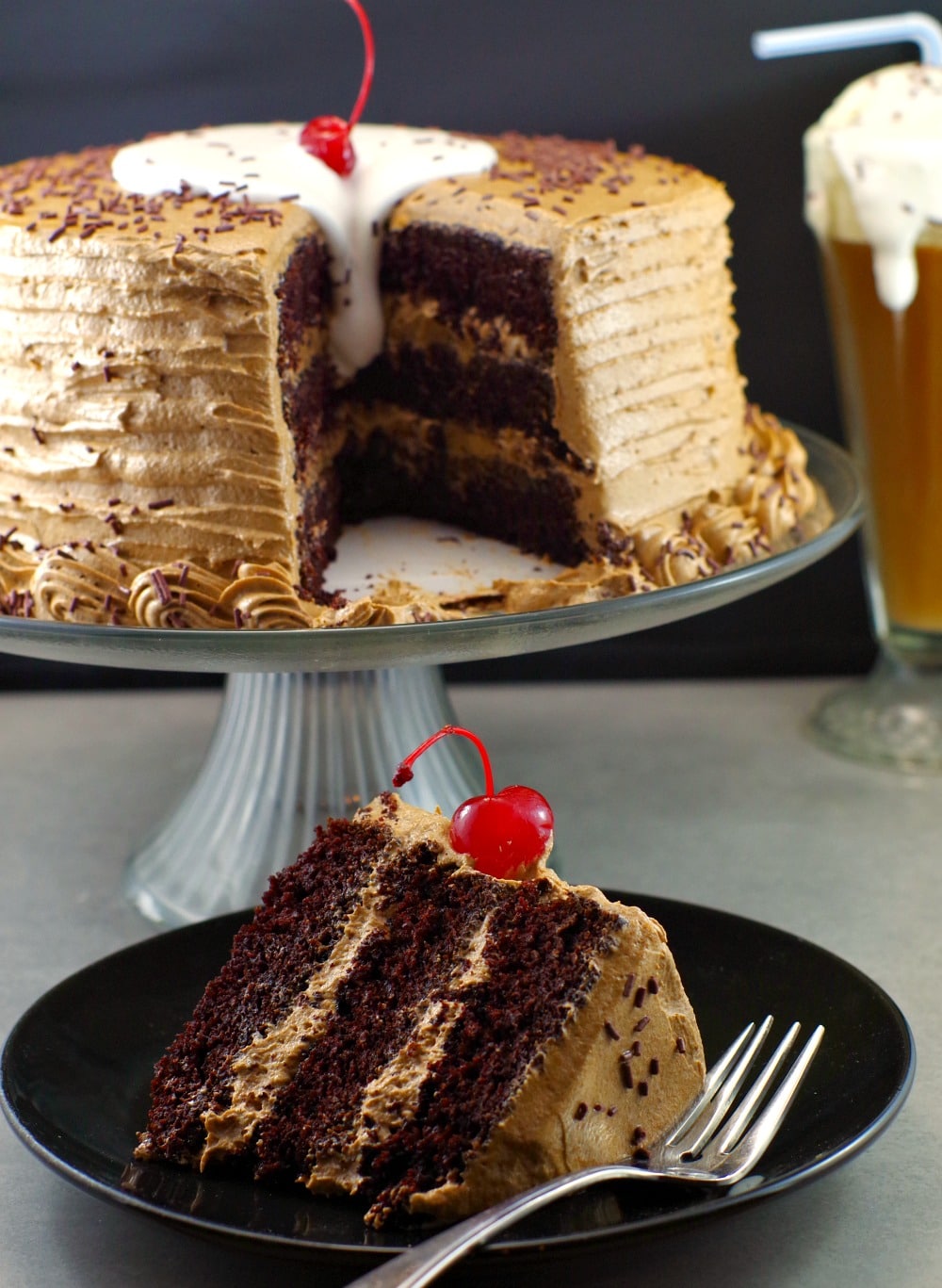 The naughtiest thing Milo has ever done:
Walking into the kitchen off the back deck, having just enjoyed a summer BBQ dinner with friends, I could not believe what I was seeing. As my daughter lunged into the kitchen, screaming, "Milo's on the counter!" and her 8th birthday cake, that I spent nearly 20 hours creating, plummeted to the floor, all I could think was, "how was that even possible?!" I knew I couldn't leave food out around Milo, so I had secured the cake in very large container with a lid and pushed it into the corner of the island. Little did I know, as we noshed outside, inside, over the course of
4 hours,
Milo was slowly and strategically pushing that massive container of cake to the edge of the counter. I later learned that this was a tactic he had picked up when my husband worked late shifts, leaving his leftovers in Tupperware containers on the counter. Milo would push the containers off the edge of the counter and quickly deduced : if it falls to the floor, food spills out. This was a major score for a cat that is never sated.
Below, on the floor, lay a twisted mass of marshmallow fondant, buttercream and vanilla butter cake. It was akin to the scene of a bad traffic accident – severed blobs of cake and icing where they shouldn't be, broken flowers, almost unrecognizable, as I stood there, stunned and in a complete state of shock.
It was awkward:
"Oh no" and "I'm sorry " is all my friends could muster, as we all just stood there, gawking at the wreckage. It didn't help. It was awkward. I was frozen.
That was, until Milo casually sauntered back to the scene, viewing this as an opportune time to pilfer some of that floor cake from the carnage.
That's precisely when I grabbed him by the scruff. My daughter began to cry inconsolably when she realized that the cake couldn't be salvaged for her birthday party. Then as suddenly as they began, the tears ceased, her face lit up and she said, "Does this mean I can have a Menchie's birthday cake?!" And just like that, all was okay in her world. My healing, however, took a little longer.
Root Beer Float Cake
It's been a couple of years since that incident and since that time I have discovered that Milo generally enjoys my baking. So we don't leave food on the counter, unless it's fruit or vegetables because, as it turns out, Milo's not a fan of anything healthy. I still made sure to hide this cake
far away from Milo because although he's done A LOT of naughty things since that day, this one still takes the cake.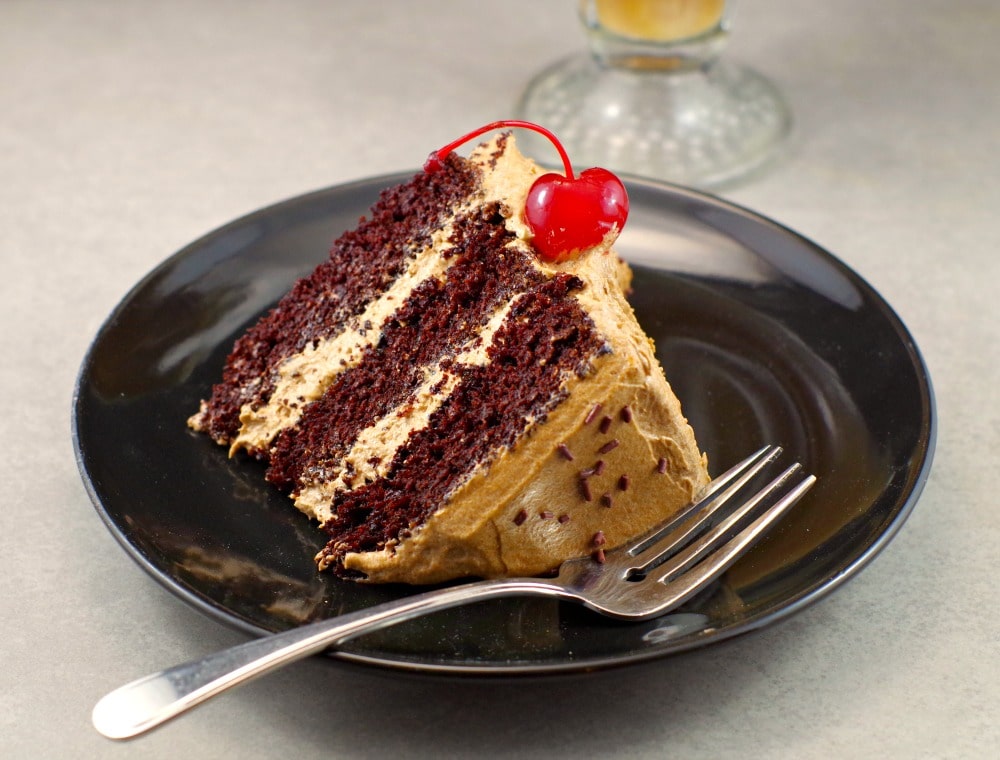 MY AMAZON PICKS:
More Summer Cakes!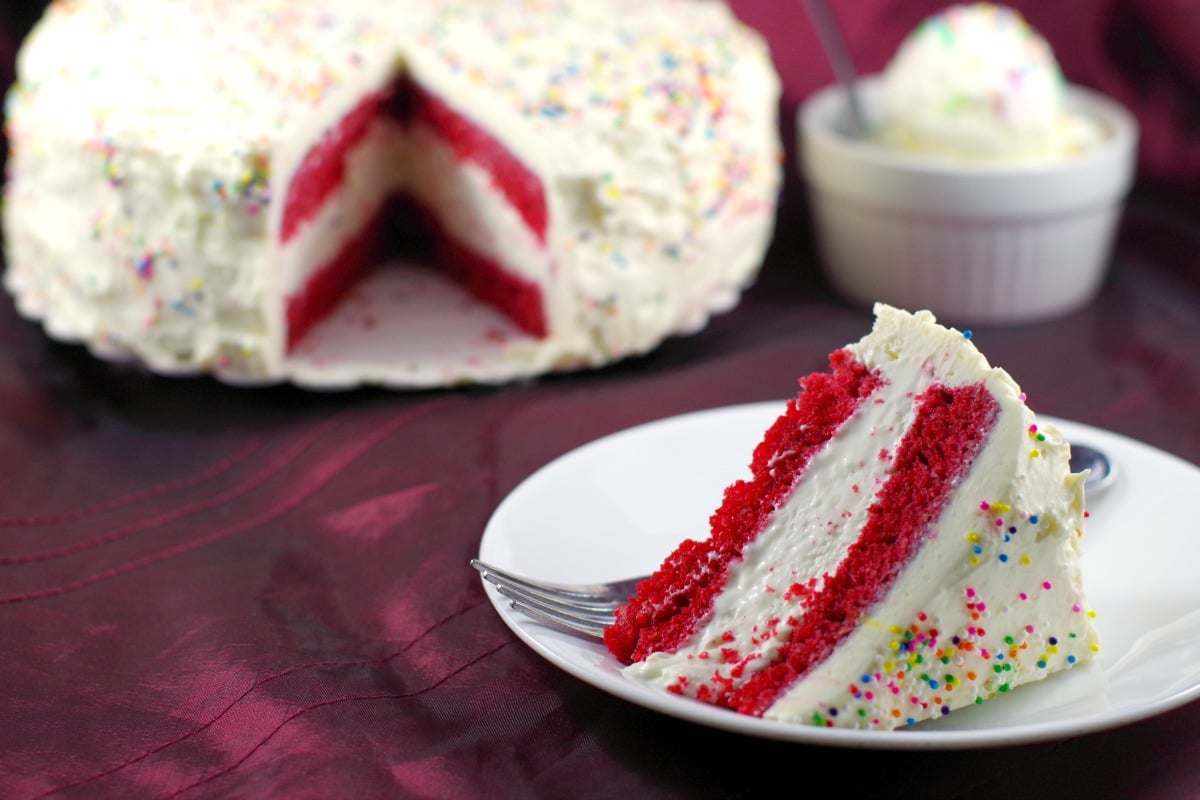 ⭐ REVIEWS
Did you make this recipe? Please RATE THE RECIPE below!
"Made this today for my son's birthday and his first response was that it tasted like a tootsie roll - it was delicious! Lots of work but well worth the effort when all is said and done. We went with the icing recipe on this blog and it was exactly what the cake needed- a light and delicate frosting to counter the richness of the cake. Definitely a file for other parties recipe for sure. Thanks for sharing this one!"
⭐⭐⭐⭐⭐
Please
 SUBSCRIBE 
 (get my FREE E-cookbook) and be sure to FOLLOW ME on 
FACEBOOK
, 
TWITTER
, 
INSTAGRAM
 and 
PINTEREST
!
Print
🎂 Root Beer Float Cake Recipe
This root beer float cake recipe tastes just like a root beer float, but even better because it's a cake! And it's the ultimate happy birthday cake. Chocolate cake, flavoured with root beer extract, then painted in root beer syrup, making it super moist, with a light, fluffy and not too sweet shortening (Crisco) based icing. The cake is topped with marshmallow fluff to look like melted ice cream, with a cherry on top! If you are looking for birthday cake recipes, this is your cake!
Ingredients
WHIPPED CREAM BUTTERCREAM FROSTING
Part 1:
1

lb.

powdered sugar (sifted)

2 ½

cups

shortening

* I use Crisco
Instructions
Preheat oven to 350. Butter and flour two 8 or 9 inch cake pans and set aside.

In the bowl of your mixer, combine sugar, flour, cocoa powder, baking powder, baking soda, and salt.

Add eggs, milk, oil and root beer extract. Beat on medium speed for 2 minutes. Slowly stir in boiling water and continue mixing for another minute or until combined. Pour batter evenly into 3- 8 inch prepared pans until ⅔ full. **Batter will be runny.

Bake cakes for about 30 minutes or until center of tops spring back when lightly touched. Let cakes cool for 10 minutes before removing from pans to finish cooling on wire racks.

While cakes cool, boil root beer in a heavy sauce pan until reduced by half. It will form a syrupy liquid. Brush warm cakes with the reduced root beer and let finish cooling.

Once cool, wrap in plastic and refrigerate for several hours or overnight. **this is not critical, but you do get the best results if you do this
Whipped Cream Buttercream:
Part 1:
Put shortening in bowl of mixer and gradually add powdered sugar. Beat about 5 minutes until mixture is very creamy and fluffy. Set this aside.

Part 2:
In a very clean bowl mix dry ingredients. Add BOILING water and immediately mix on high speed. Beat until stiff peaks form, about 8 minutes. When mixture begins to get stiff add root beer extract.

Combine both mixtures and beat together for another 8 minutes. When finished, use a rubber spatula to down beat a little to remove some of the air bubbles. Frosting will be very light and creamy. Cover. DO NOT REFRIGERATE.

The frosting may be kept at room temperature for 1 month. Whip with a spoon each time you use it to restore fluffiness. * Makes enough to ice this 3 layer 8 inch cake 
Assembly & Garnish:
Fill and ice the cake then run a comb along the outside (see sample method in video in notes)

Add the marshmallow fluff, then a maraschino cherry in the centre and sprinkle with chocolate sprinkles.
Notes
Notes: Root Beer Float Cake adapted from Hershey's chocolate cake
*Preparation times include icing/frosting and decorating
Note: Video: How to ice and comb a cake *skip the refrigeration part, as this whipped buttercream should NOT be refrigerated!
This recipe makes 1 - 8 inch -3 layer cake
Root Beer extract:

Nutrition
Serving:
1
slice
|
Calories:
883
kcal
|
Carbohydrates:
103
g
|
Protein:
5
g
|
Fat:
54
g
|
Saturated Fat:
19
g
|
Trans Fat:
6
g
|
Cholesterol:
28
mg
|
Sodium:
405
mg
|
Potassium:
195
mg
|
Fiber:
2
g
|
Sugar:
85
g
|
Vitamin A:
78
IU
|
Calcium:
63
mg
|
Iron:
2
mg
Save
Saved!
🍰More Cake Recipes!
White Chocolate Pistachio Cake with pistachio pudding filling Old Fashioned Gingerbread Cake with Blueberry Cookie Butter Filling Lemon Poppy Seed Torte with Raspberry Curd Filling Strawberry Jello Angel Food Cake Easy Black Forest Cake Coconut Lime Tres Leches Cake Healthy & Light Carrot Cake Chocolate Mayonnaise Cake

I had him by the scruff and carried him around the house for a good 20 minutes. I didn't know what else to do.