Top Ten Recipes (See #10 below for links to pictured recipes)
Since I started food blogging a year ago, I have had my cat stick his paw in the food I was planning on eating before I even photographed it, cried over my crust falling off every piece of pie I planned to use in my shoot, rejoiced when Foodgawker finally accepted my first photo, pained over which recipes to post, pledged my allegiance to that one and only person who visited my blog the day that no one else in the whole wide world did, moved my website, (which is just as bad as moving your entire house) and got up at 4:00 AM  waaay too many mornings to count in order to fit blogging into my already very full life. I don't know if the first year of blogging is harder, but it is definitely hard. Don't get me wrong, it's still fun, but not exactly what I expected. If you want to start a food blog, you may wonder what to expect, so I am going to share 10 things I wish I knew BEFORE I started a food blog.
10 things I wish I knew BEFORE I started food blogging:
 1. If you build it, they won't necessarily come
Maybe I'm dating myself, but this particular saying is from the movie, "Field of Dreams"  circa '89 (in case you're not familiar with it). Just because you start a food blog, have great recipes and maybe even recipes that have won awards, that doesn't mean that people will be rushing to get to your site. Now I realize how naive my expectations were, but I really thought my site would be popular or at least have a fairly steady stream of visitors. But the internet is a very mysterious place with its own set of rules.
In fact, there were days when no one came!
And that can be downright depressing. And although you feel like the world's biggest loser,  you need to keep plugging way. And this is where community support (see point # 8 on community below) becomes critical. So I kept plugging away. Although you will hear about it happening once in a while, very few bloggers actually become an overnight success. Blogging is slow and steady and something that you have to keep building over time. And if you have a day job, a family or other commitments, then it's going to be even slower. This is very important to understand so you don't set yourself up for disappointment – it takes time! You also have to build up an inventory of recipes so people have a reason to come to your site. Unless you can post daily, it's going to take a while. And this is also where SEO (search engine optimization) comes in (see point #3 on SEO below). If google can't find you, it's not likely that anyone else can either! Had I known this, I would have focused on SEO from the get go!
2. Photos matter BIG TIME
People eat with their eyes first and that's why it's so critical to have good food photography. I only wish I knew how important it was to start to improve my photography from day 1! You can have the best recipe in the world, but if it doesn't look appetizing, then no one is going to click on it, much less read your recipe and try it! And your recipes won't be included in recipe roundups either, which is something you want because it brings you exposure and traffic to your blog.
You don't have to spend a fortune on photography props either. I buy discount materials and clearance items and shop at second-hand stores. My lighting set up is relatively inexpensive as well.
The photo on the left is the very first photo I posted. Everything is wrong with it from the background to the lighting to the angle.
The photo on the right is taken a year later and it was the first photo that Foodgawker (the premiere food photo site for food bloggers) accepted without edits. I wish I knew the importance of food photography a year ago!  A lot of my photography improvement is due to Food Blogger, Nagi @RecipeTinEats's  e-book, "The Food Photography Book" Find out more about the book that transformed my photography! It is worth every penny!
Yes, you can shoot photos with your iPhone and you don't have to have a DSLR (Digital Lens reflex camera) but you are going to have real limitations and having a DSLR really really helps! I was lucky to win one in a contest, but you don't have to break the bank to get one. I recommend the Nikon D5500. It's a really great intro camera. Although I shoot with Pentax right now (because it's the camera I won) I've always been a Nikon girl.
See the Nikon D5500 DX-format Digital SLR Dual Lens Kit w/ – Nikon AF-P DX NIKKOR 18-55mm f/3.5-5.6G VR & Nikon AF-P DX NIKKOR 70-300mm f/4.5-6.3G ED Lens HERE

You also want to be submitting your photos to sites like: LiveDan330, FoodFoto and Foodyub for additional exposure/traffic. Here is a great book that I highly recommend, written by food bloggers The Ultimate Guide to Food Sharing Sites.
3. SEO matters just as much as photos
I also wish I knew how important SEO (Search Engine Optimization) was when I started my food blog. If your site is not search engine optimized, then google can't find you and neither can anyone else.  This is how people who are searching for recipes actually find the recipes, then come to your blog. If you don't use the right keywords, map your site and or use an SEO optimized recipe plugin (the one I use is WP Recipe Maker Plugin) no one is going to find you! This book was the best purchase when it came to SEO: The Complete SEO Guide for Food Bloggers. Also worth every penny.
4. You are going to spend way more time than you think you will with your blog
So you better LOVE doing it! If you don't, then you're not going to be motivated to do the work. In the beginning, my husband cautioned me about letting my food blog become our third child. I laughed. But now I understand what he meant. It is very time-consuming, that is, if you want to put out good content and photos. Just be prepared…..because something else has to give.And if there is one thing I have learned in my relatively short time blogging it is: everything will take longer than you think!
Since the birth of Food Meanderings a year ago, I have poured in too many hours to count. Balance is the biggest challenge with having a blog and this is what I hear from most bloggers. And because there is always something you could be working on, it can get become all-consuming if you let it. I literally have to shut down my computer and walk away, but I'm not always so good at this. Try to put limits on it from the beginning.
5.There is techy stuff you can't avoid
I used to rely on my 11-year-old for anything technical, but when you have a blog you can't do that. You may think that you can get away with not learning the techy because you have an IT friend. However,  I am here to tell you that is not the case – you will still need to learn and understand the inner workings of your website.
You don't have to become at IT person yourself, but it's nearly impossible to run a blog without understanding the back-end of it. Your friend can't be there all the time and you will need to learn how to install widgets/plugins move things around and fix problems (you will have many). I had never even heard of a widget or plug-in before I started, but there are a lot of tutorials out there. I didn't start on a self-hosted site because I was worried about the IT support. Had I known that there is also IT support through hosting services (see #6 you get what you pay for), it wouldn't have been such a concern. But you still have to learn the basics to run your blog. So, dive in and have fun learning!
And the learning never ends…It's not just your blog, its social media and the ever evolving rules and algorithms that accompany it. You need to keep up with it and roll with the punches.
6.You get what you pay for when you start a food blog
I started off paying nothing. If you want to start a blog for free, think twice. I went to WordPress.com, followed their instructions on how to create a website for free and it was easy. I did this because I didn't know any better. This is not something I would do if I knew what I wish I knew before I started a food blog. I didn't want to pay for a website because I wasn't sure if I would even like blogging.
If you are going to got to all the trouble of starting a food blog, I recommend going self hosted from the beginning and get IT support. It is worth it!
WPopt Hosting is an excellent service! Click here—> WPopt Hosting  for more info. They came highly recommended from many other food bloggers and offer customized services, with varied IT support options.
You also want to thoroughly research the theme and platform you plan to use. I use the Foodie Pro theme on the Genesis framework. You can find more info here —-> StudioPress Themes for WordPress.  Themes are another area where you get what you pay for. This theme and platform is SEO optimized and that makes a huge difference. I thoroughly researched it. (*Keep in mind that you can save your receipts and claim as a business expense if you intend to monetize your food blog and make money). But if it's just a hobby and you intend to keep it that way, then that's a different thing altogether.
Either way, I would recommend you buy your domain name. It's not very expensive (about $35) and it's an annual expense. That way, if you like your name, no one else can take it ! Just keep in mind that you have a lot of limitations in the world of free blogging. You cannot install SEO optimized recipe plugins, nor is your theme or platform SEO optimized, you can't have advertising and are limited in terms of customizing your site look. And if you decide you want to do these things in the future, moving your site to self-hosted is a hassle. Take it from me -when I moved my blog, it was pretty much as stressful as moving to a new house.
7. A LOT of your time and energy should be put into Pinterest
When I first started food blogging, I changed my name on my Pinterest account to Food Meanderings, created a few boards and waited for everyone to flock to my account. I didn't happen. Then I started reading about Pinterest and got some advice from my blogging friend and it slowly started to improve. Although, again, it wasn't overnight. It took me a year to reach 650 followers. And that was with a lot of time and hard work invested!
In the food blogging world, generally social media is critical but Pinterest is KING. There is also a lot to learn. There are better times a day to post, photo size/pin requirements and pinning etiquette. And a lot of this, I learned through the food blogging community (see # 8 below).  Pinterest is a great investment for food bloggers because a Facebook post, a tweet or an Instagram photo is very short-lived, but a pin has an extended life ( 18 months approximately).
In addition to creating a professional looking business account (I would recommend creating consistent looking boards- brand yourself).  You can check out my Pinterest board here for an example, you need to be pinning regularly because Pinterest loves pinners who pin regularly and rewards these pinners by having their pins show up in feeds. And doing this manually, without spamming everyone's feed is both challenging and extremely time-consuming. Tailwind, the pinning scheduling program, was a game changer for me and now it's something I couldn't live without. I actually wonder how I got along without it in first place. It's the scheduling tool that PINS FOR YOU at intervals, so you're not batch pinning and spamming others. Learn more about Tailwind here –>  This is yet another program worth every penny. Tailwind also tracks the popularity of your pins and your boards for you! And join group boards! You will find out about most of these boards and requests through Facebook groups (yet another reason why #8 community is critical, is so important).
8. Community is critical
If I knew this, I would have sought out all the food blogging communities and Facebook groups from the very beginning. The stuff you learn from these groups is invaluable. Food Bloggers of Canada, Food Bloggers Central and Pinterest strategy groups on Facebook are good places to start. It is a lot to keep up with, but it is well worth it the time investment. You not only connect with others who are in the same situation you are,  you learn so much. And the food blogging community is very supportive!
I was also very lucky because I had a blogger friend who'd been at it for a few years already. She generously shared her knowledge with me and I don't know what I would have done without her help. I didn't know the first thing about blogging and would have been even more lost than I already was if it weren't for her mentoring and support! But we have different types of blogs (she is travel) so there were still a lot of things I had to learn on my own. But most importantly, she is the one person that "gets it" when it comes to sharing blogging frustrations and victories. Unless you are blogging, it's hard to relate to these things. I wish every blogger a blogging friend like her. Check out my friend Sue's amazing travel blog @ TravelTalesofLife
I plan to pay forward all the help I've received from both Sue and the blogging community. If you have any questions, please feel free to contact me at terri@foodmeanderings.com
9.Writing Matters:
You may not think that anyone wants to read anything but your recipe, but that's not necessarily true.  The recipe plugin that I use (WP Recipe Maker) on my food blog does have a "jump to recipe" function for the convenience of those that are just there for the recipe. But your core readers aren't just there for the recipe.
You can go to any food blog and get a recipe that is likely very similar to yours. So you need to make people want to come back to your blog. Telling stories is one way of doing this and if you use a formula, it makes it easier for you to write a story that hooks your reader and makes them want to return to your site.  I took the Sticky Blogging writing course and can't say enough about how helpful it was! I wish I had taken this course in my first month of blogging!
10. The recipes you least expect to be popular, will be your most popular.
If I knew this, I wouldn't have anguished over posting those simple recipes that I assumed everyone already knew about. In fact, I almost didn't post one of my most popular recipes – my 4 ingredient whipped shortbread- because I was embarrassed that I was posting a recipe that was on the back of a box cornstarch for years. How lame is that? I assumed that everyone must know this recipe already. What I wish I knew was, 'it doesn't matter!' Post what you want, what you like, what fits seasonally, whatever. Don't worry if you think that everyone else has it already. It doesn't matter. Some were my creations and some weren't.
There is no science to what will be popular.
Just post whatever you feel like posting on your food blog. BUT  if you adapt a recipe, just make sure you ALWAYS post the source and link back to the site where you found that recipe.
These are the recipes that received the most love my first year of blogging: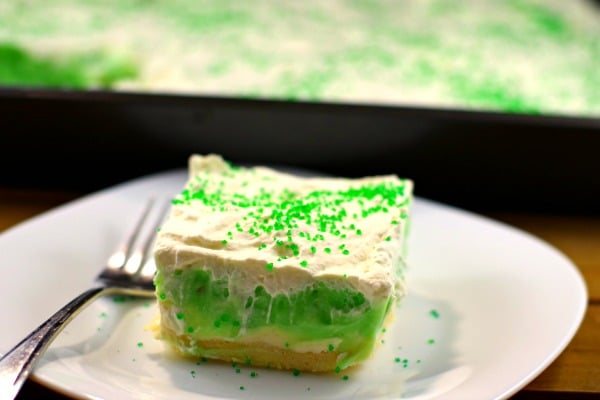 4 Ingredient Whipped Shortbread recipe HERE
Bread Maker Ukrainian Babka recipe HERE
Easter Cream Egg Icebox cake recipe HERE
Scottish Cabbage Rolls recipe HERE
Asian Pan-fried Salmon Patties Recipe HERE
Fruit and Oat Bars Recipe HERE
No Bake Chocolate Cherry Energy Bites Recipe HERE
Healthy Yogurt Hummus Recipe HERE
Rocky Road Froyo Bark Recipe HERE
PIN ME: