I used to think that if I worried about everything, then none of the things I worried about would happen. I guess I thought I could 'unjinx' myself or something, in advance, you know? I'm a bit of a worry wart.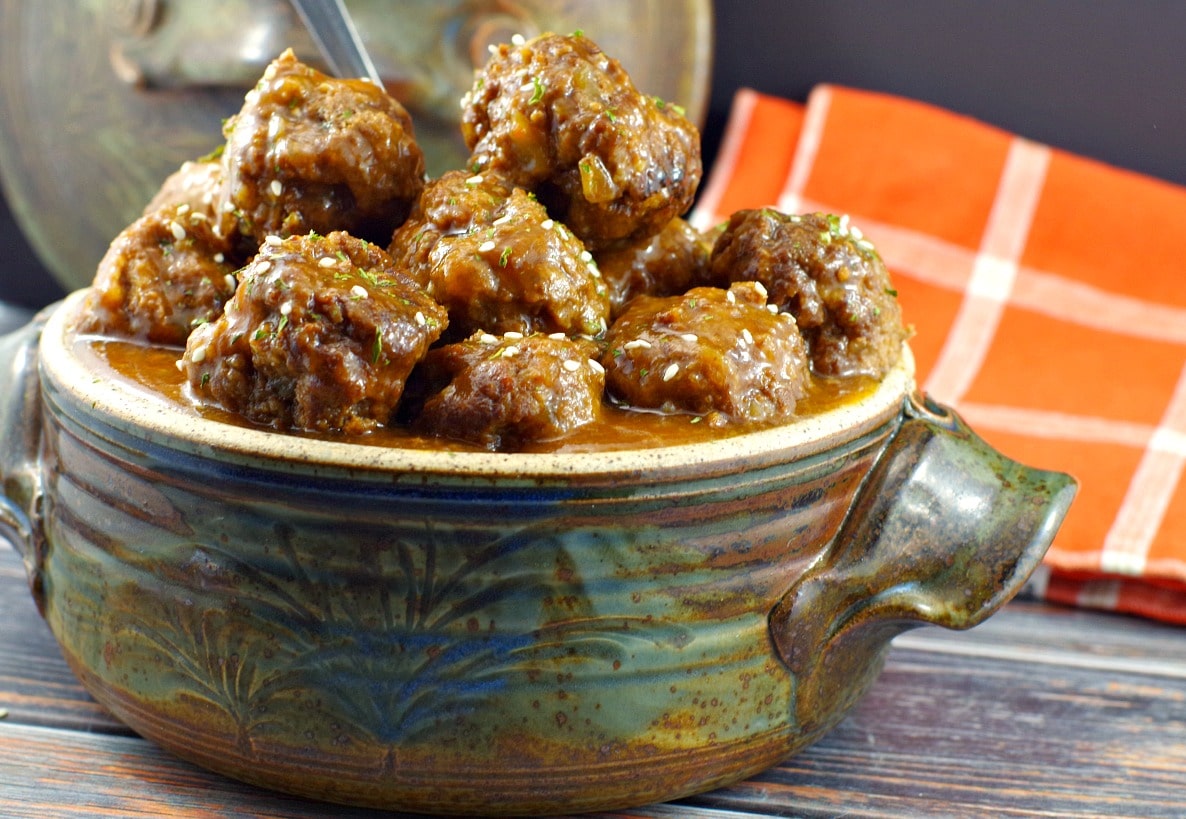 When I first moved away from home, I was so worried that something would happen that would prevent me from making it back home for my first Christmas or it would somehow be ruined, that I think I worried the hardest I have ever worried. I wanted more than anything, to be home, with my family, eating that special, traditional Christmas dinner. The turkey, pumpkin pie, the stuffing, the cabbage rolls and the Ceasar salad (minus the chicken), the butter tarts and these glorious Slow Cooker Sweet and Sour Meatballs (3 WW points on the blue plan). Plus, I couldn't really cook back then, so it's not as if I could have made it for myself.
Jump to:
And I was pretty confident I covered every possible bad scenario with my worrying. Apparently not. Because something did happen, and of course, it was none of the things that I had even thought to worry about. These Slow Cooker Sweet & Sour Meatballs are a family favorite and super easy recipe that's perfect as a holiday side or appetizer, potluck dish or any evening dinner. Put it all in the slow cooker, set it and forget it!
🍽 Equipment
Besides dishwashers, I think that slow cookers are one of mankind's greatest inventions. Obviously, you'll need a slow cooker for this reicpe. But dump and go slow cooker recipes are my absolute fave. I don't particularly like to have to cook things ahead for a slow cooker recipe; that defeats the entire purpose of the slow cooker! Okay, so there are a few exceptions to that rule, but they have to be worth it. And my Gluten-free Slow Cooker Pork Carnitas and my Slow Cooker Pulled Pork on a bun are those exceptions and they are sooo worth it! But generally, I want to be able to put the ingredients in the crock pot and walk away. And that's exactly what the recipe is all about.
I must have cried every day for the first month after I moved. It was hard. I missed my family so badly and for some irrational reason, I feared I'd never see them again. So, when it was time to board the Greyhound bus for that arduous journey home, across the Canadian prairies, I worried the bus would crash, there'd be a snowstorm and everything else I could possibly worry about that would prevent us from making it home and/or enjoying our Christmas.
But I learned that you can't possibly worried about everything and even if you did, it really makes no difference. Yep, it's pretty basic stuff, but apparently I had to learn that.
👪 Serving & Storing
I've shared some of my other holiday family faves on this blog, but this simple sweet and sour meatball recipe is so easy and delicious that I can't believe I haven't shared it until now. This is a side dish we have every year with our Christmas dinner. I love that you can set and forget it. You have enough going on when you're trying to make a big holiday dinner that having a slow cooker dish (or something you can make ahead and freeze) is ideal! And they are an excellent potluck dish! I also serve these crock pot meatballs with sweet and sour sauce for a regular dinner over mashed potatoes or jasmine rice.
🥘 Ingredients
These crock pot meatballs are easy to make with ground beef and pantry ingredients. For this recipe, you'll need:
Meatballs
extra lean groun beef
bread crumbs
garlic powder
oregano
onion
Sweet & Sour Sauce
ketchup
vinegar
brown sugar
soya sauce
water
cornstarch
So I did, in fact, make it home that Christmas. There was no snowstorm, no sliding off the highway into a ditch or anything of that sort. But what I neglected to worry about was getting strep throat and spending my entire first Christmas back at home, sick, on the couch. And if you've ever had strep throat, you know how miserable it can make you feel and how hard it is to swallow. It was pretty hard to enjoy that delicious Christmas dinner.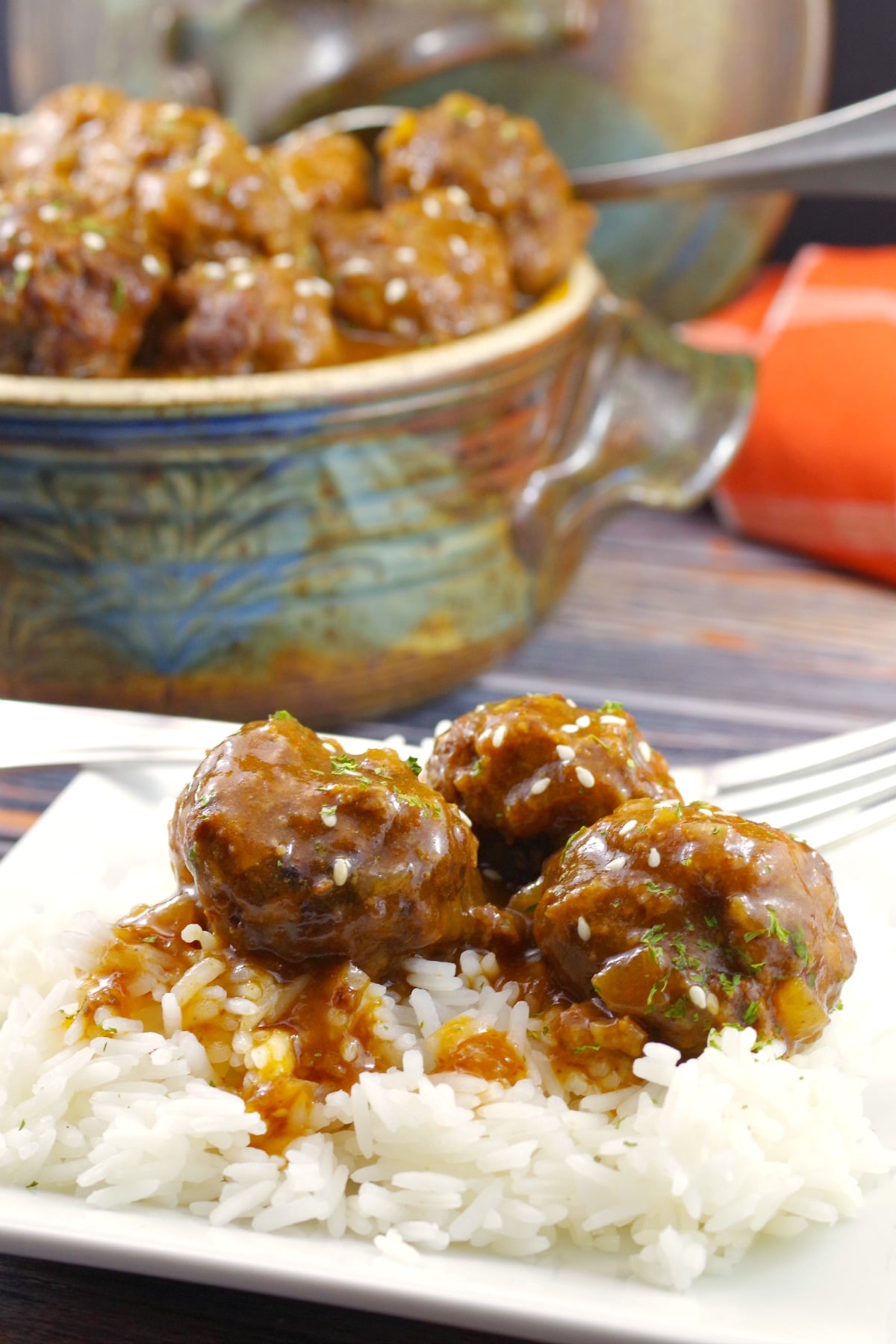 I'm not really sure why I ever thought worrying would actually help. I guess it's just an inherent part of some of us, more in some that others. Because it's not like I've actually stopped worrying since then! In fact, I have continued to worry pretty consistently since then and that was 25 year ago. Although it's not to the same degree as it was (I guess I did learn something.) Nor is it about me anymore. Now I also have other little people to worry about.
But at least the one thing I don't have to worry about is missing out on my family faves at Christmas dinner. I have all the recipes and if I can't make it back home for Christmas, now I can cook the meal myself!
Here's another little traditional holiday side dish that I have added into the mix (and it's Weight Watchers Friendly):
Merry Christmas!
📋 Slow cooker Sweet and Sour Meatballs Recipe
These Slow Cooker Sweet and Sour Meatballs are a family fave and super easy recipe that's perfect as a holiday side, potluck or any evening dinner. Put it all in the slow cooker, set it and forget it! They are 3 WW points each on the blue plan~
Servings
24
large (1 .5 inch) meatballs
Ingredients
Meatballs
2

lb

extra lean ground beef

1

onion, finely chopped

½

teaspoon

garlic powder

½

teaspoon

oregano

¾

cup

fine bread crumbs
Garnish (optional)
Instructions
Spray the inside of a slow cooker with non -stick cooking spray.
Meatballs
Mix meatball ingredients together and form into ball (1.5 inches approximately.) Then place meatballs in the slow cooker.
Sweet and Sour Sauce
Whisk sauce ingredients together in a separate bowl and pour over meatballs.

Mix cornstarch and water together and add to sauce.

Cook on low in slow cooker for 8 hours.

* If sauce is still a little runny when done (NOT consistency of gravy) add 1 more teaspoon of cornstarch mixed with ½ teaspoon of water. You can keep adding more until you reach the desired consistency.
Garnish:
Garnish with parsley flakes and sesame seeds, if desired.
Notes
*NOTE: Meatballs can be made and frozen ahead, but you'll want to thaw them before you cook them.
**NOTE: I usually double this recipe
My Amazon Recommendation (affiliate links)
Nutrition Facts
📋 Slow cooker Sweet and Sour Meatballs Recipe
Amount Per Serving (1 meatball)
Calories 107
Calories from Fat 18
% Daily Value*
Fat 2g3%
Cholesterol 23mg8%
Sodium 190mg8%
Potassium 167mg5%
Carbohydrates 13g4%
Protein 8g16%
Vitamin A 35IU1%
Vitamin C 0.9mg1%
Calcium 13mg1%
Iron 1.3mg7%
* Percent Daily Values are based on a 2000 calorie diet.
Nutrition
Serving:
1
meatball
|
Calories:
107
kcal
|
Carbohydrates:
13
g
|
Protein:
8
g
|
Fat:
2
g
|
Cholesterol:
23
mg
|
Sodium:
190
mg
|
Potassium:
167
mg
|
Sugar:
10
g
|
Vitamin A:
35
IU
|
Vitamin C:
0.9
mg
|
Calcium:
13
mg
|
Iron:
1.3
mg
Save
Saved!
🥘More Appetizers!
Award Winning Roasted Turkey & Black Currant Brie Bites
Tortilla Pinwheels- Weight Watchers friendly!
Buffalo Chicken Stuffed Mini Peppers
Easy Pierogi Stuffed Mushrooms- Weight Watchers Friendly
4 Ingredient Caprese Salad Skewers (Gluten-free)
Boursin Stuffed Pickles (Gluten-free & Low-Carb)
This recipe is part of The Country Cook's Weekend Potluck!