"What do you want me to do?" I asked, apprehensively. "Just stir it and turn it down when it's ready" he said, his head popping back around the door frame, looking somewhat confused by my reaction. "Okay, so when do I flip this?" I countered. I was really concerned this whole thing was not going to end well. Standing in the kitchen of my new boyfriend's apartment, less than a month into the relationship, he had started lunch for us, gone off to do something and asked me to keep an eye on it.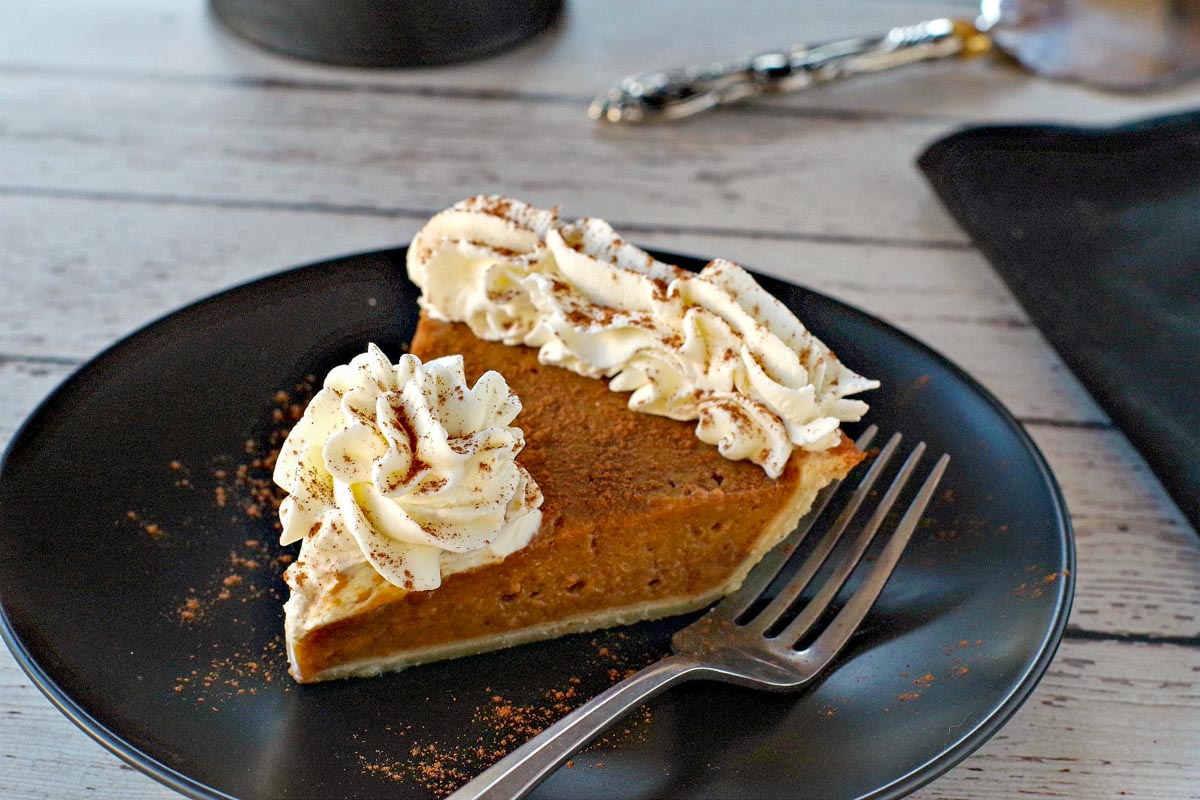 My fear that I'd ruin it was not unfounded. I wasn't always a good cook. And I had burnt simpler meals (i.e. frozen Mc Cain mini pizzas). Burning lunch was not exactly one of the first impressions I wanted to make. I've come along way since then and this Easy Pumpkin Pie (with canned pumpkin) was one of the first things I successfully baked. I have always loved to bake, but cooking was a different matter all together...

Jump to:
It's not that I felt some need to show him I could cook so he'd think I was good marriage material. I was 19 years old and had no interest in conforming to gender stereotypes. But that wasn't the point; I didn't want to be so useless in my life that I couldn't even make tomato soup and grilled cheese without burning them.
Although I loved to bake from a very young age, I really didn't have a lot of interest in cooking. To me, cooking was something you did because you had to eat, but baking... well, baking was just plain magical. The transformation that occurred between counter top and cooling rack was mysterious and metamorphic. And this pumpkin pie recipe was no exception. In the warm cocoon of the oven, pumpkin, flour and a few other simple ingredients underwent a miraculous transformation that resulted in the creation of this silky, gloriously delicious pie.
I have been baking and eating this pumpkin pie since I could eat and bake. And it was one of the first solid foods I fed both my kids. My Mom made it for almost every holiday dessert when we were young and it was something we looked forward to at Easter, Thanksgiving and Christmas. It is still one of my favorite things to bake and eat.
I especially love this recipe because It is truly the best pumpkin pie filling I have ever had and I got it out of my very first cookbook ("A Guide to Good Cooking" - The Five Roses cookbook). First published over 100 years ago, it still houses many of my "go to" recipes, including this one. As you can see, the book has been well-loved over the years.
🥘 Ingredients
canned pumpkin puree (not pie filling) * you can also use real pumpkin
flour
salt
ginger
nutmeg
cinnamon
brown sugar
maple syrup *I used no sugar added maple syrup
milk
egg
unbaked pie shell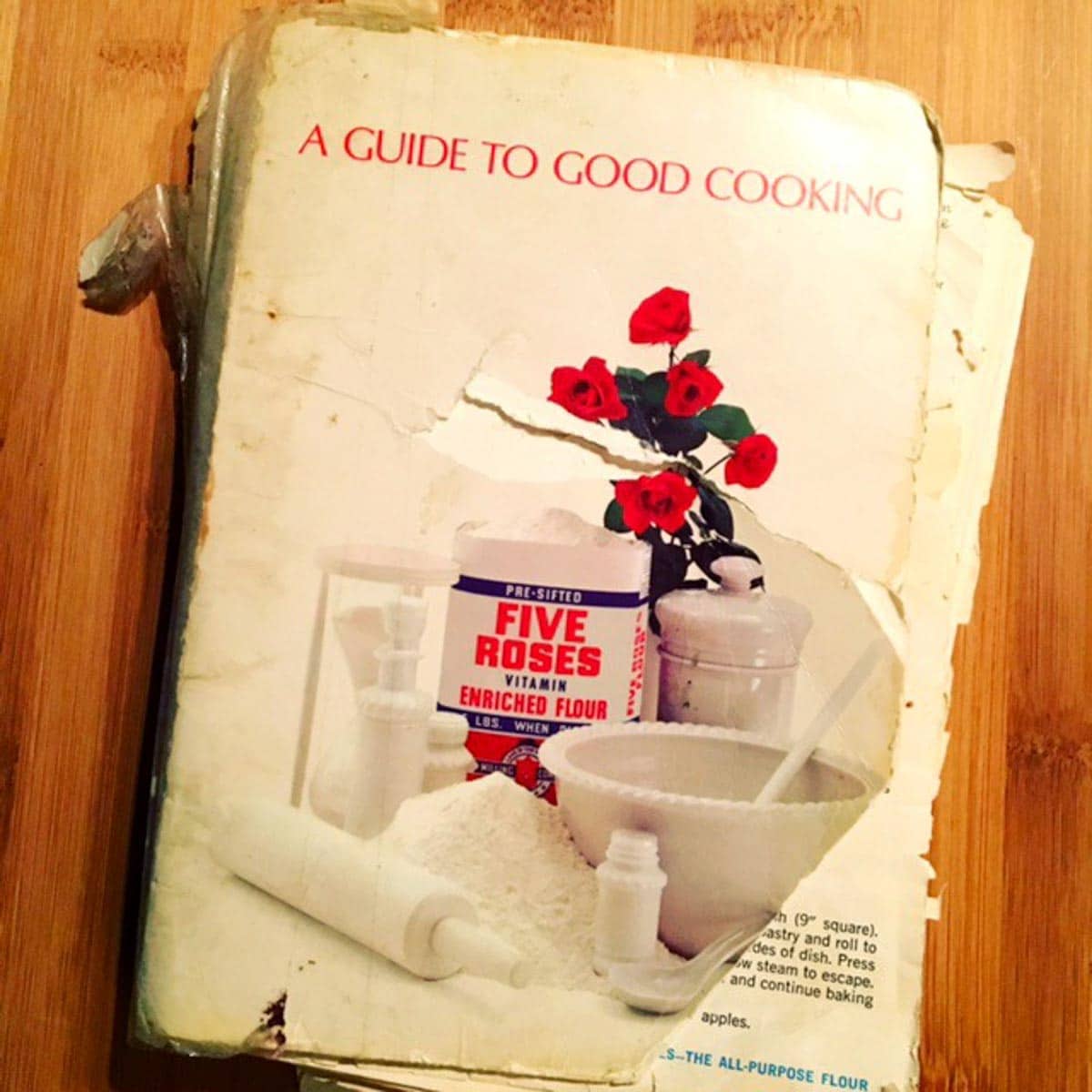 🥫

Canned Pumpkin Pie Filling

With Easter just days away, I thought about making something different this year, but I just couldn't think of anything that would rival my canned pumpkin pie (especially in terms of simplicity.) I have tried to mix it up and made other Easter desserts in the past, but it wasn't satisfying. So I always return to this tried recipe! Using canned pumpkin in your pie filling makes it so much easier, although it's still a scratch pie and is so easy to make!

And you're going to want to try my EASY Stabilized Whipped Cream Icing with this pie! Because it's stabilized with piping gel, it's easy to make, and you can make it in advance because it holds its shape for longer. You simply substitute white granulated sugar for the powdered sugar, if you prefer.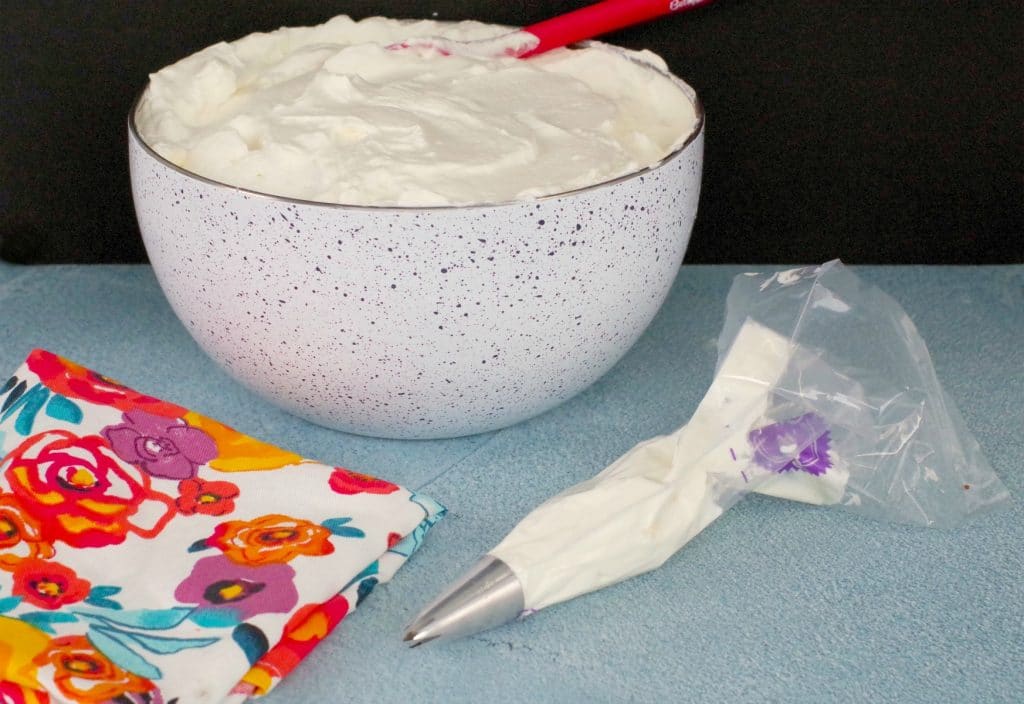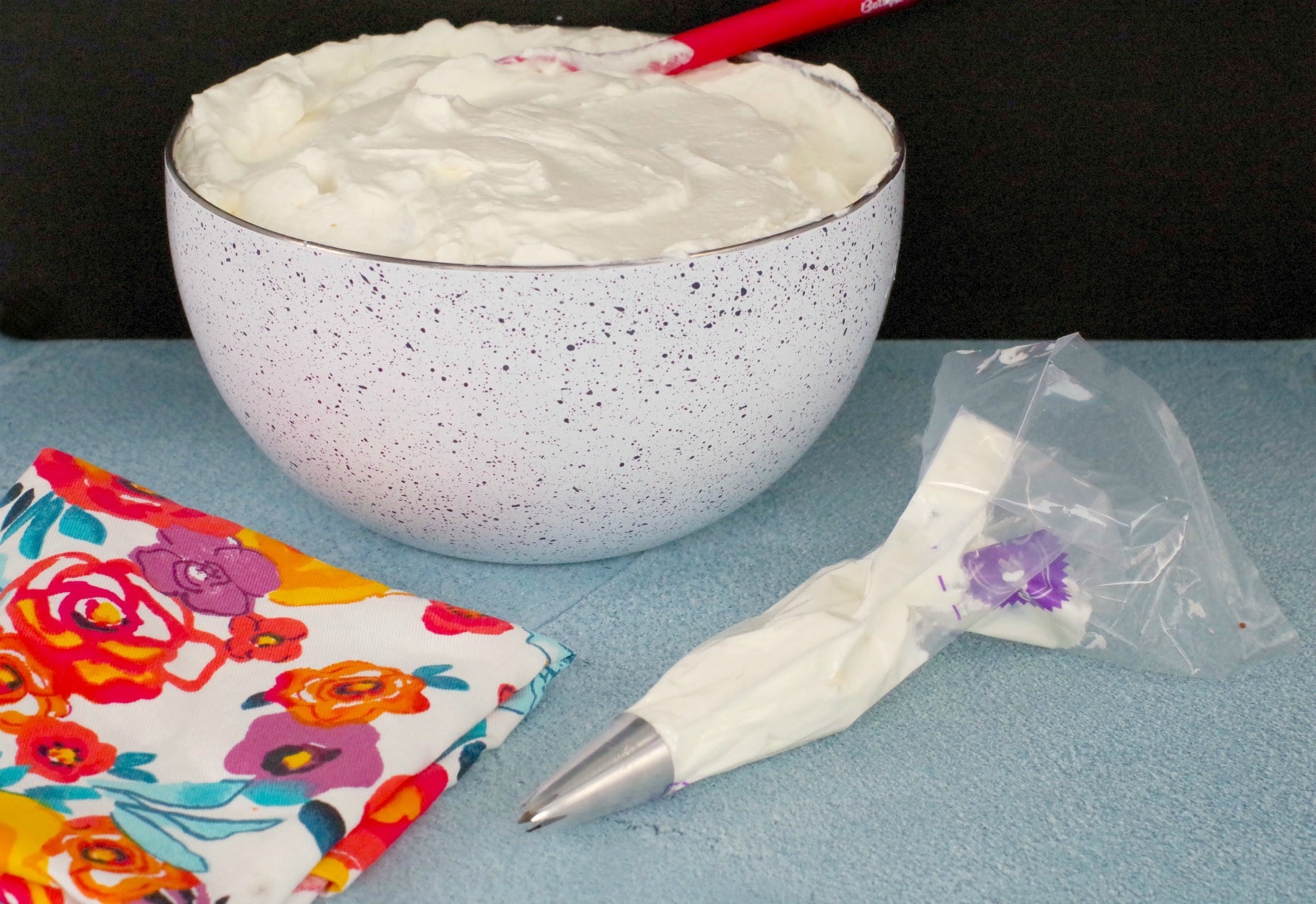 🎥 Video
You will need scalded milk for this recipe. If you're not sure how to scald milk, then check out this video: How to scald milk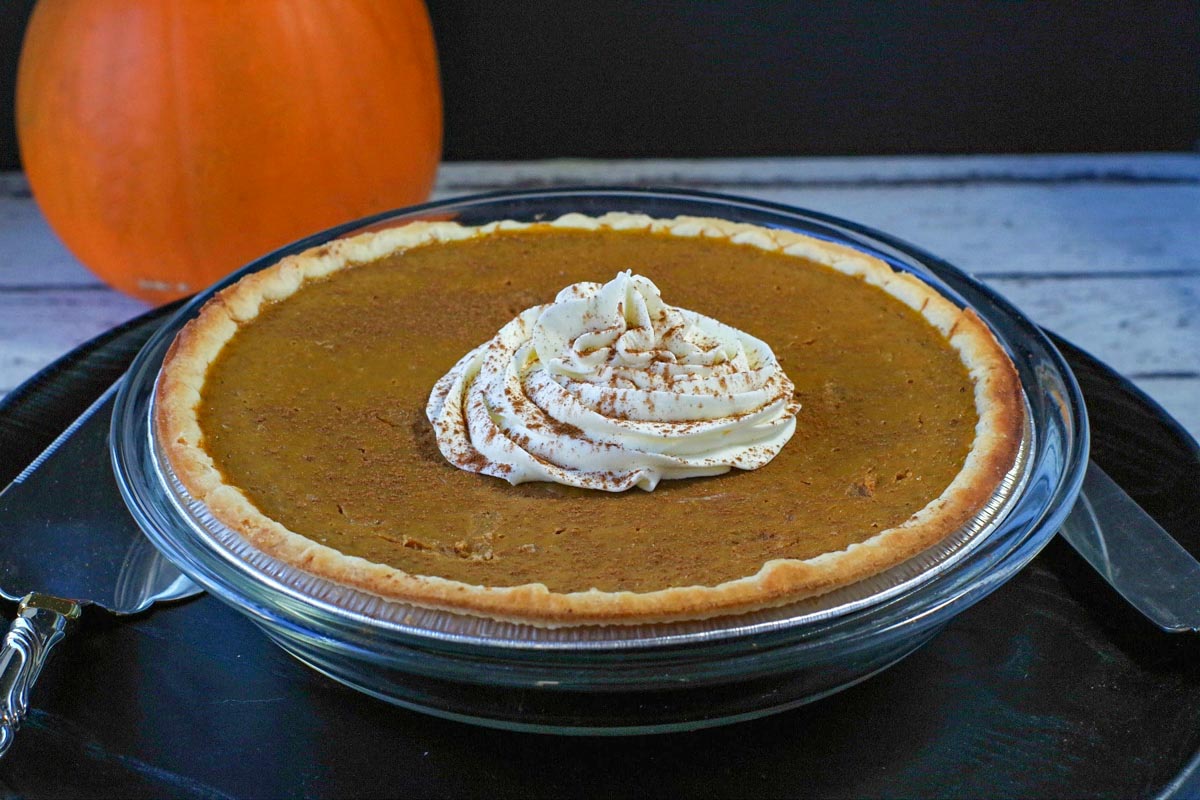 💭How to tell when pumpkin pie is done
You can insert a knife into the centre and when it comes out clean, it's done. But the very BEST way to make sure it's done is by taking it's temperature. Bake until the internal temperature hits 175 degrees. I use this instant read thermometer- (affiliate link) it's great for everything food related!)
Thankfully, I managed to keep the soup and sandwich from burning that fateful lunch date nearly 30 years ago. And perhaps that was what gave me enough confidence in my culinary skills and the inspiration to keep going, because I started to venture into the cooking realm around that time. And my Five Roses cookbook, full of simple, basic recipes, served me well during that period. A little more than 2 months after that lunch, I made my then boyfriend/now husband my very first meal where I cooked more than one thing on the stove at a time; deviled eggs and Kraft dinner with hamburger. Don't ask. I guess, since those were the only two non - baking things I knew how to make at the time, cooking them together made sense. Still, I was pretty proud.
Years later, the 'grilled cheese and tomato soup' incident is still something my husband and I laugh about when we're reminiscing about the good ol' days, as well as the unfortunate pairing of deviled eggs and Kraft dinner. Fortunately for him, my cooking and meal planning skills have evolved in the decades since those meals. And credit to him for much of that - he was able to teach me a thing or two about cooking and encourage me along the way. Fortunately for me, he's a great cook. Luckily for both of us, we both turned out to be pretty good marriage material!
So, if you're looking for a very easy pumpkin pie filling that tastes amazing, then give this Prize Pumpkin Pie a try!
⭐ REVIEWS
Did you make this recipe? Please RATE THE RECIPE below
Please SUBSCRIBE (get my FREE E-cookbook) and be sure to FOLLOW ME on FACEBOOK, TWITTER, INSTAGRAM and PINTEREST!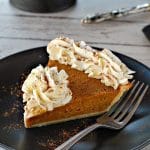 Print
📋Easy Pumpkin Pie Filling Recipe
Easy to make, silky, smooth and magically delicious, this easy pumpkin pie (with canned pumpkin pie filling) is the perfect holiday dessert!
Ingredients
2

tablespoon

all purpose flour

¼

teaspoon

salt

⅛

teaspoon

ginger

¼

teaspoon

nutmeg

½

teaspoon

cinnamon

⅓

cup

brown sugar

¼

cup

maple syrup

*I used no sugar added maple syrup

1

cup

scalded milk

*See video in notes on "how to scald milk"

2

eggs

well, beaten

1 ½

cups

pumpkin

canned or fresh

1

10 inch

unbaked pie shell
Optional Garnish (adding whipped cream will increase the calories and fat per serving size)
Instructions
Preheat oven to 450 degrees F/230 degrees C. Mix all ingredients together, except whipped cream. 

Pour into unbaked pie shell and bake for 10 minutes. 

Reduce oven temperature to 325 degrees F/160 degrees C and bake 30 to 40 minutes or until filling is firm. *See NOTES

Cool before serving. If desired, serve with whipped cream.
Notes
*NOTE: Video - How to scald milk.
**NOTE: How to tell when pumpkin pie is done: You can insert a knife into the centre and when it comes out clean, it's done. But the very BEST way to make sure it's done is by taking it's temperature. Bake
until the internal temperature hits 175 degrees. I use this instant read thermometer- (affiliate link) it's great for everything food related!)
Be sure that the center of the pumpkin pie jiggles slightly; it will set up as it cools. You can read more about pie and temperature HERE.
 My Amazon Recommendations (affiliate links)
Nutrition Facts
📋Easy Pumpkin Pie Filling Recipe
Amount Per Serving (1 slice)
Calories 110
Calories from Fat 18
% Daily Value*
Fat 2g3%
Cholesterol 43mg14%
Sodium 105mg5%
Potassium 164mg5%
Carbohydrates 20g7%
Protein 2g4%
Vitamin A 1960IU39%
Vitamin C 2mg2%
Calcium 65mg7%
Iron 0.5mg3%
* Percent Daily Values are based on a 2000 calorie diet.
Nutrition
Serving:
1
slice
|
Calories:
110
kcal
|
Carbohydrates:
20
g
|
Protein:
2
g
|
Fat:
2
g
|
Cholesterol:
43
mg
|
Sodium:
105
mg
|
Potassium:
164
mg
|
Sugar:
17
g
|
Vitamin A:
1960
IU
|
Vitamin C:
2
mg
|
Calcium:
65
mg
|
Iron:
0.5
mg
Save
Saved!
🦃

More Thanksgiving Recipes!

Sweet Potato Pie with Marshmallow Whipped Cream

Gluten-free Sausage & Apple Rice: An Easy Thanksgiving side recipe

Weight Watchers Crustless Pumpkin Pie

Carrot Casserole- A Holiday Side Dish