I hung that ribbon from the bulletin board in my office with pride. I hadn't won many things in my life and certainly not a baking contest.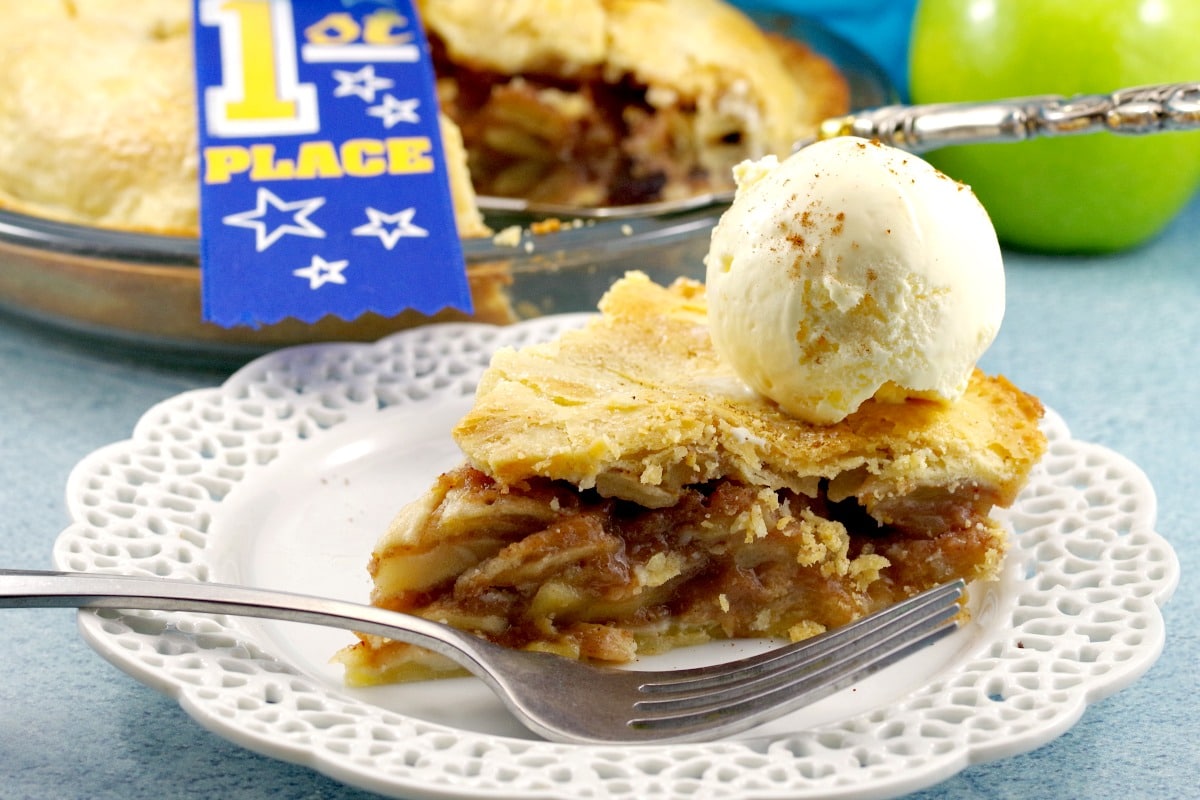 To me, this was a big win! I was an aspiring baker and my Deluxe Apple Pie had just won first place in the pie contest!~Then the Recreation Coordinator breezed by and said, "Okay, can I have that ribbon back now?" I thought she was joking.
Jump to:
"No way," I said, laughing, just a little. She thought I was joking. I wasn't. My apple pie had earned me this ribbon and there was no way I was giving it up!
This award-winning apple pie recipe has the perfect balance of tart to sweet with green apples and lemon zest in the filling. But the butter and whipped cream make it extra rich and creamy! I've won quite a few recipe contests in the 18 years since then (see award-winning recipes HERE!) but that apple pie recipe win was truly the sweetest. And it wasn't just because it was my first, but it was because of who the judges were.
Funny thing is that I'm not a very competitive person. That's probably why I never really took to sports or anything else remotely competitive. I guess I just never appreciated the adversarial relationship it created with my fellow-man. I prefer harmony. But then I discovered cooking contests....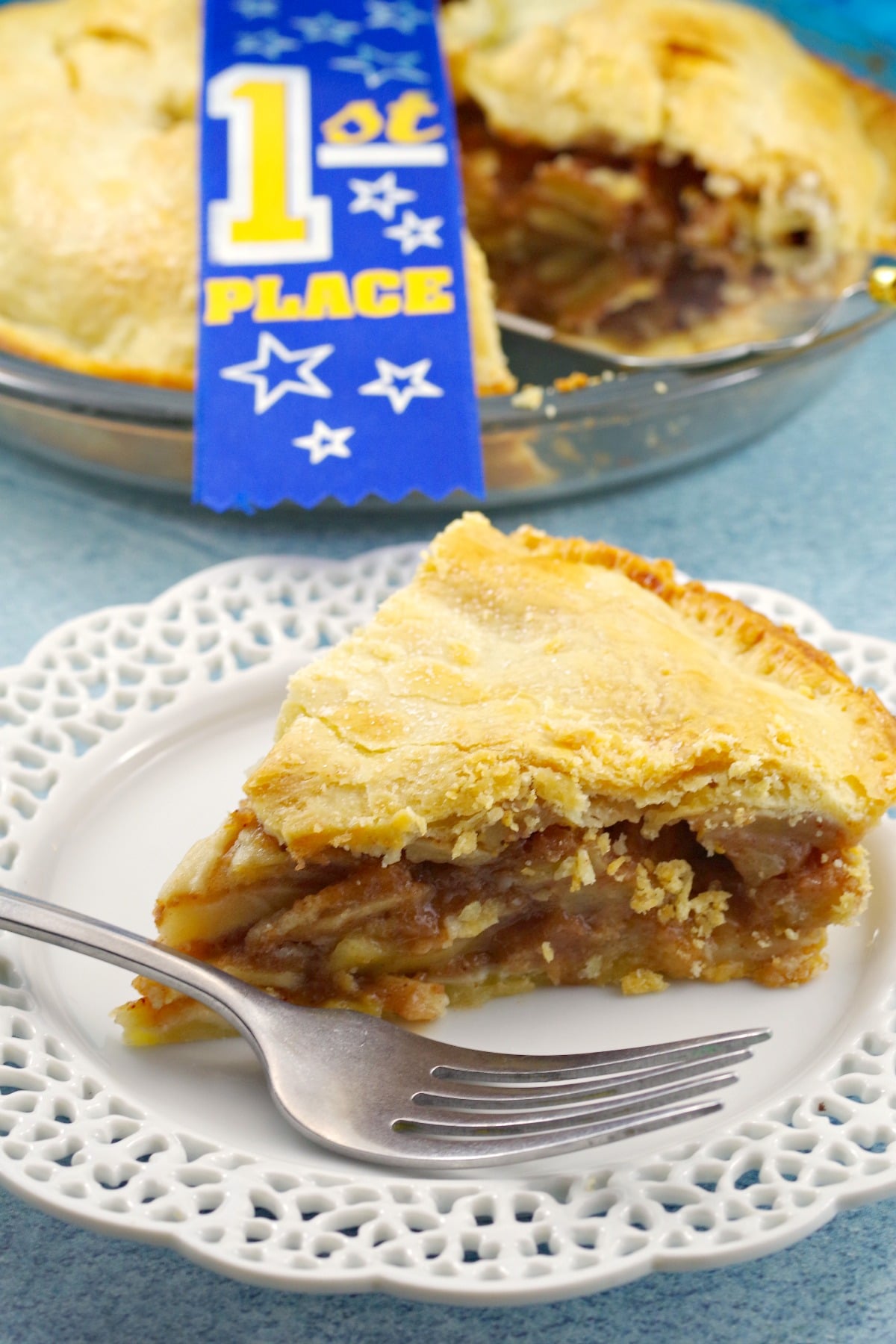 There's a difference when it's not exactly you that's in competition, but your food. I guess you feel a little removed; a little more insulated. Plus, you hardly ever see your competitors because most cooking contests are virtual. You submit the recipe, someone makes it, a panel judges it and you get notified if you win. And even if you do ever find yourself in a room with your competitors, they're often very nice to you! I was once in a cook-off that felt NOTHING like a cooking competition. Actually, it was quite the opposite - we were sharing and helping each other. I guess I'd say that it was truly my kind of competition. And I loved that I'd come out of it with an award-winning Apple Pie!
🥘 Ingredients
Making apple pie from scratch is easier than you think! All you need is:
Green Granny Smith apples * these hold their shape better and are the best apples for pie
white granulated sugar
brown sugar
all purpose flour
cinnamon
unsalted butter
lemon zest
whipped cream
You can use a store-bought pie crust, but my No Fail Pie Crust is really easy!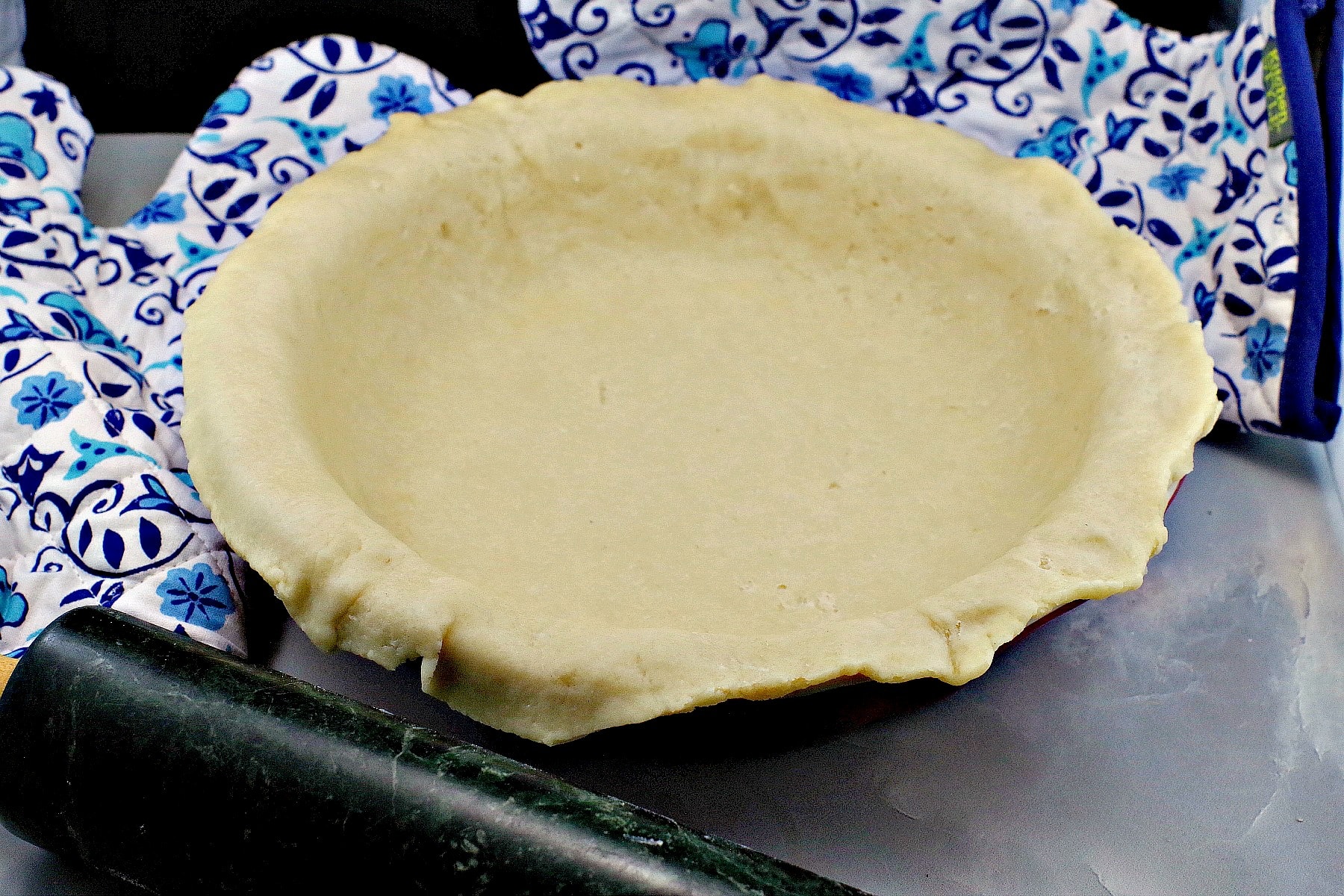 The Judging
I wasn't even around when my apple pie was judged that day and I'm not even exactly sure who my competitors were. I know they were other staff that brought in pie, but I don't know which staff. I was working at a nursing home at the time and the judges were all the seniors. And believe me, seniors are a tough crowd! I know this very well because I listened to them complain about the food on a monthly basis at the Resident Council meetings. And, more importantly, that generation grew up in a time when everyone baked from scratch. They knew what REALLY GOOD home baking was! And I have no doubt that these seniors knew what a damn good apple pie from scratch tasted like. So I was very honored that they picked mine!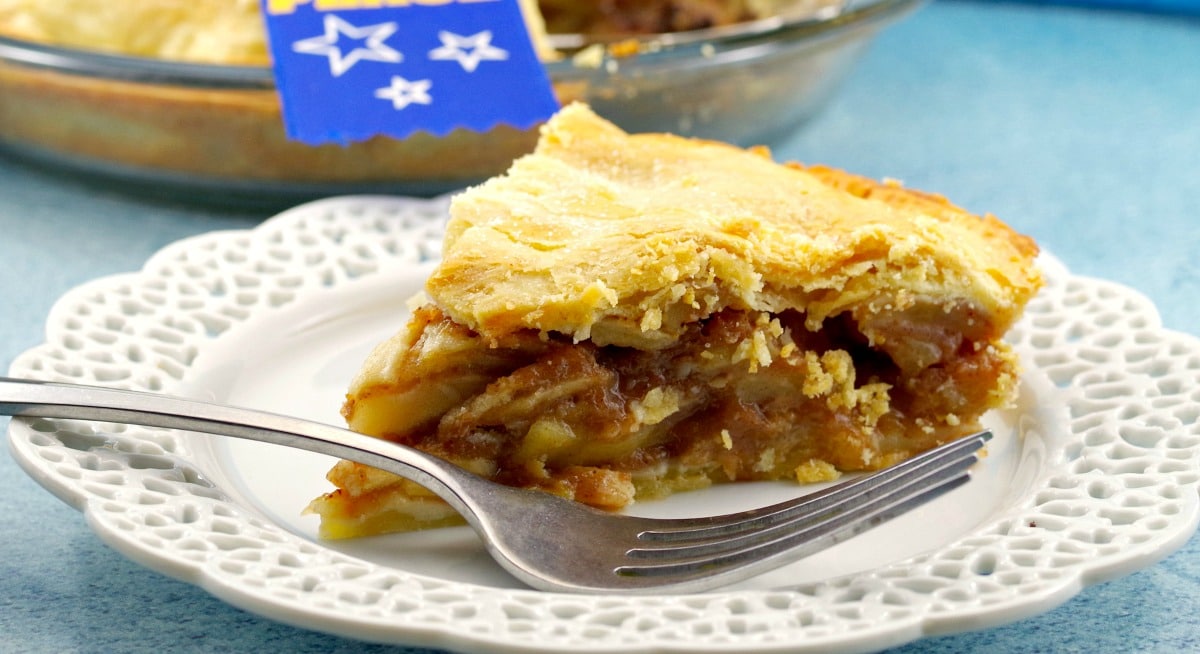 Unfortunately, that Recreation Coordinator did come by again and ask for that ribbon back. And as awkward as it was, I wouldn't budge. She clearly didn't get it. I know it was a non-profit nursing home and all and I'm aware that there was a small recreation budget, but really? How much did a ribbon really put them out? And it meant the world to me.
💭 Top tip
So, if you're looking for an apple pie filling with fresh apples, then this is THE ONE! The Secret to Award-winning Apple Pie is the lemon zest, whipped cream and butter in the filling, as well as the brown sugar and white granulated sugar combination! The lemon zest balances the sweet and the whipped cream and butter make it rich and creamy, making it the best apple pie in the world!
And one of my 'tricks' is to keep your butter in the freezer and grate it into the pie - it's so much easier and less mess! (This also works very well for pastry)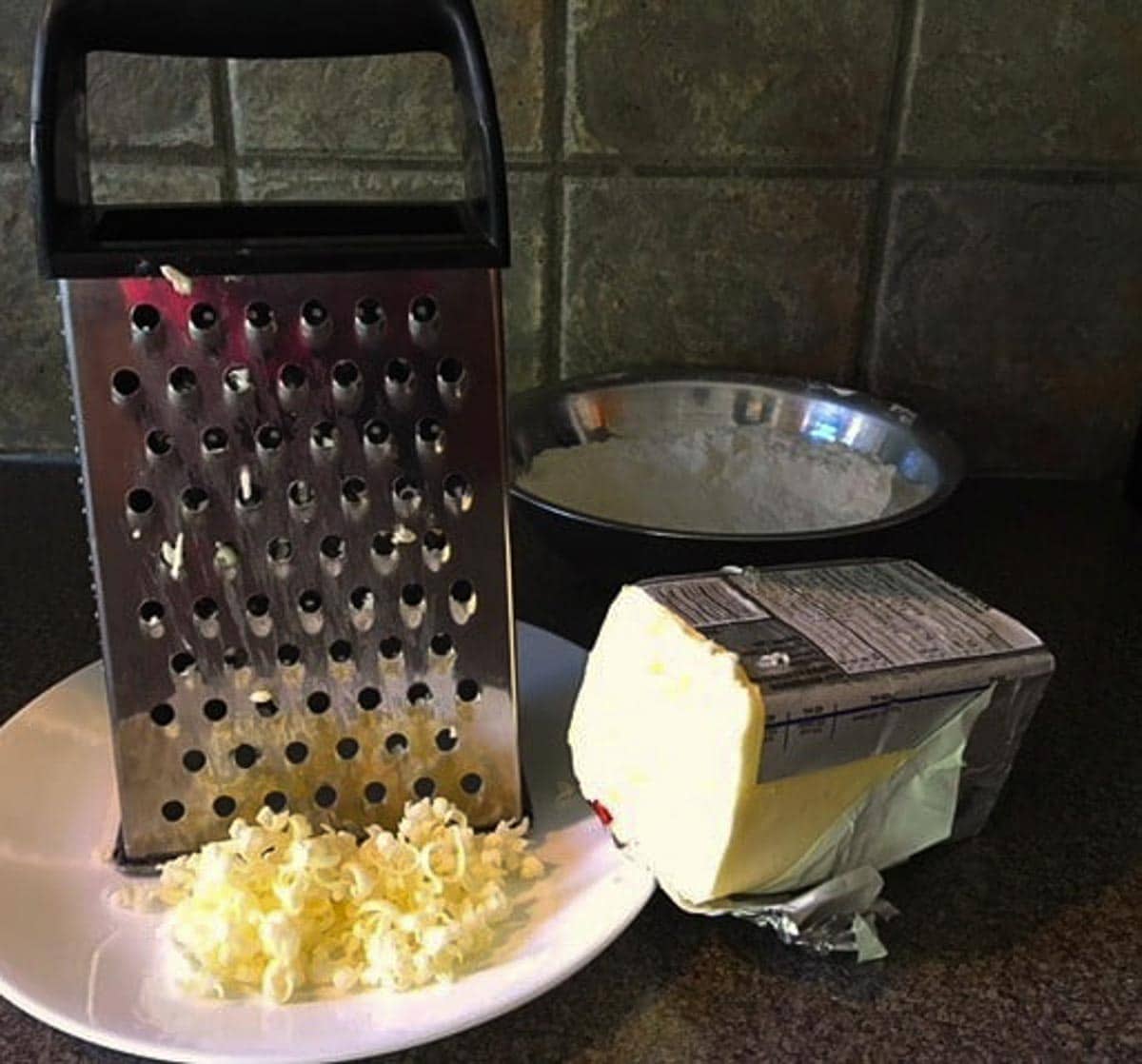 And if you love apple pie, then check out my Award-winning Toffee Apple Pie Cookies! They won the Grand Prize in the Home Baking Cookie Category at "Canada's Baking and Sweets Show 2015". That contest was also judged by two of my baking/cake decorating heroes - celebrity chef's Anna Olsen & Duff Goldman!
I was also recently selected as a finalist by a panel of judges that included celebrity chef Michael Bonacini. And although that was a very high honor, when it comes to judging panels, to this day, having those seniors select my apple pie, deeming it an award-winning apple pie, in that contest all those years ago still feels like my finest hour.
So if you're looking for an apple pie filling that will make you feel like the best baker around, then give this Award-winning apple pie a try!
⭐ REVIEWS
Did you make this recipe? Please RATE THE RECIPE below!
Here's what others are saying:
"Thank you for your recipe. I have only made two pies in my life one out of the can cherry pie. And my wife wanted me to make another and I ran across your recipe and thought I could try it. It was the best pie ever! Thank you for making me look like an award winner."⭐⭐⭐⭐⭐
Please SUBSCRIBE (get my FREE E-cookbook) and be sure to FOLLOW ME on FACEBOOK, TWITTER, INSTAGRAM and PINTEREST!
Print
📋 Award-winning Deluxe Apple Pie
This award-winning Deluxe Apple Pie recipe has the perfect balance of tart to sweet with green apples and lemon zest in the filling. But the butter and whipped cream make it extra rich and creamy! 
Ingredients
3-4

LARGE peeled and cored thinly sliced green Granny Smith apples

* like the size of the apple in the lead photo. If your apples are very small, use more

6

tablespoon

white granulated sugar

6

tablespoon

brown sugar

⅓

cup

all purpose flour

1

tsp

cinnamon

¼

cup

butter

½

tsp

lemon zest

8

dollops

whipped cream

* can use spray can whipped cream

2

-9 inch pie shells

(store-bought or homemade)
Garnish
1

teaspoon

white granulated sugar

1-2

tablespoon

milk, cream or whipping cream
Instructions
Spray a 9"inch pie plate with non stick spray and place pie shell inside. Trim edges to fit if using homemade pastry.

Core and peel apples then slice thinly. Combine sugars, flour, cinnamon, then mix with apples. Spread apples mixture into unbaked pastry shell.

Cut butter with pastry cutter or knife. Or grate from frozen (as I do). *You can also grate refrigerated butter, but it's a little messier.

Dot apple mixture with butter and sprinkle with lemon zest.

Dab mixture with whipped cream dollops.

Then cover with top crust, sealing carefully by running water around the rim, then adding crust and using fork to mark and seal.

Make 3 rows of slits (triangles) to allow steam to escape. 3 in outside rows and 2 in the middle.

Brush on cream, milk or whipping cream and sprinkle granulated sugar. * I used whipped cream in this photo

Bake in a hot oven 450 degrees f for 10 minutes then reduce heat to 350 degrees F and continue baking for 20 to 30 minutes or until apples are cooked (fork can easily go through)
Garnish
Serve with ice cream or whipped cream with cinnamon sprinkles or whatever you desire.
Notes
*NOTE: Green Granny Smith apples are the best apples to use for apple pie because they hold their shape (don't become mushy) and have the perfect "tartness"!
My Amazon Recommendations (affiliate links)
Nutrition Facts
📋 Award-winning Deluxe Apple Pie
Amount Per Serving
Calories 450
Calories from Fat 207
% Daily Value*
Fat 23g35%
Cholesterol 18mg6%
Sodium 254mg11%
Potassium 141mg4%
Carbohydrates 58g19%
Protein 3g6%
Vitamin A 250IU5%
Vitamin C 3.3mg4%
Calcium 28mg3%
Iron 1.7mg9%
* Percent Daily Values are based on a 2000 calorie diet.
Nutrition
Calories:
450
kcal
|
Carbohydrates:
58
g
|
Protein:
3
g
|
Fat:
23
g
|
Saturated Fat:
8
g
|
Cholesterol:
18
mg
|
Sodium:
254
mg
|
Potassium:
141
mg
|
Fiber:
2
g
|
Sugar:
25
g
|
Vitamin A:
250
IU
|
Vitamin C:
3.3
mg
|
Calcium:
28
mg
|
Iron:
1.7
mg
Save
Saved!
🍏

More Apple Recipes!