When I was growing up, "HALLOWEEN APP-LES!" was a familiar sing-song chant you would commonly hear reverberating through the chilly autumn air throughout my suburban Winnipeg neighbourhood on Halloween night.

As we clamoured for candy at the doors of our benevolent neighbours, "Halloween Apples" was shouted interchangeably with "Trick or Treat," in addition to the notorious, "Trick or Treat, smell my feet, give me something good to eat. Not to big, not to small, just the size of Montreal!" which we also used both daringly and sparingly, as we got a little older.
But like most things I said as a kid, I didn't think much of it; nor did I ever question the logic of it. And I was completely oblivious to its meaning. "Halloween Apples" was simply something we said. I never expected to actually get an apple.
Halloween Caramel Apples
These Salted Toffee Caramel apples are a quick and easy Halloween Caramel Apple recipe using store-bought caramels and dipped in salted toffee bits.
I guess we just wanted to mix things up a bit. And I thought it pretty much translated to, "give me candy" in sort of the same way, "trick or treat" did, but maybe with a "please" on the end. Like I said, I didn't actually expect to get apples! And then when I did get apples, I never even made the connection. With Halloween upon us, I was reminiscing about Halloweens gone by and was curious as to where the saying, "Halloween Apples" came from? Is it a "Winnipeg thing"?

Halloween Apples
When you come from Winnipeg, you get accustomed to speaking a language that no one else in the rest of the country seems to comprehend. As an adult living in Western Canada, I can't tell you how many uncomfortable pauses and long, blank stares I have endured at dinner parties and the like when I've made reference to things such as "booters" that I experienced as a kid growing up in Winnipeg. Although there are those that come from some 'eastern parts' of Saskatchewan that appear to understand the dialect of 'Peggers, as we are also commonly known, it's a stretch. So, I started doing my research and at first glance, "Halloween Apples" appeared to be predominantly a "Winnipeg thing".
Here are a few other popular "Winnipeg things" that you may or may not recognize, depending on where you are from (my beloved "booter" is included):
Dainties
Social

A fundraising event commonly held by the bride and groom of an upcoming wedding to raise money

Quinzee

A popular way of making a snow fort where you create a large pile of snow, wait for it to harden and hollow it out

Booter

When snow or water gets in your boot or footwear

Cabin

Used in the same context as cottage

Honey dill

Popular condiment commonly used with chicken fingers

Gotch -aka "Gitch"
2-4
Dike

Used to hold back water at possible flood points and commonly made of sandbags

Jam buster

A delicious type of donut with a jam filled centre

Late Lunch

A meal served around midnight at a social (see above definition) consisting of rye bread, cheese, deli meat and pickles

Pickerel

Also known as Walleye, Manitoba's official provincial fish

Vendor
LC

Liquor store, an abbreviation of Liquor Commission

Salisbury House or "Sals"

A Manitoba restaurant open 24 hours

Nip

A type of burger served at Salisbury House restaurants (see above definition)
I started to wonder if we were the only ones that said, "Halloween Apples"?
This is what it sounds like:
PLAY this "Halloween App-les" Recording
According to Wikipedia, : "in some parts of Canada, children sometimes say "Halloween apples" instead of "trick or treat." This probably originated when the toffee apple was a popular type of candy. Apple-giving in much of Canada, however, has been taboo since the 1960s when stories (of almost certainly questionable authenticity) appeared of razors hidden inside Halloween apples; parents began to check over their children's "loot" for safety before allowing them to eat it."
I couldn't think of a worst waste of prime candy real estate in my trick or treating sack than apples! Not to mention the precious minutes and breath I had squandered at those apple-bestowing houses. Yeah, I know...apparently, I had asked for them! But fortunately for me, I trick or treated in the latter part of the '70's so the razor blade scare was still very real and therefore, at the very least, I could justify tossing those apples in the trash!
Caramel Apples
But had they been caramel apples... well, that's a completely different story! I would have been perfectly happy to get a caramel apple in my trick or treat sack. But alas, it never happened.
I also wondered what relationship caramel apples had to Halloween....
Caramel apples are said to have been invented in the 1950's by a guy named Dan Walker, who was a sales representative working for Kraft Foods at the time. Back then, Kraft sold small individually wrapped caramels, as they still do today. Walker said he was experimenting with melting down leftover caramels and made this brilliant discovery! Kraft continues to print the recipe for caramel apples on the backs of their caramel bags to this day. Then when October 31 was deemed caramel apple day (likely by Kraft, although I could not find the origin of this day) these apples became associated with Halloween! You can read read more about the origins of caramel apples HERE.
In light of this, I have made my own salted toffee version of the Kraft Caramel apple recipe. It's really easy to make but much less hassle than making the caramel coating from scratch. And melting down caramels tastes so much better and looks so much prettier than using the caramel apple wraps!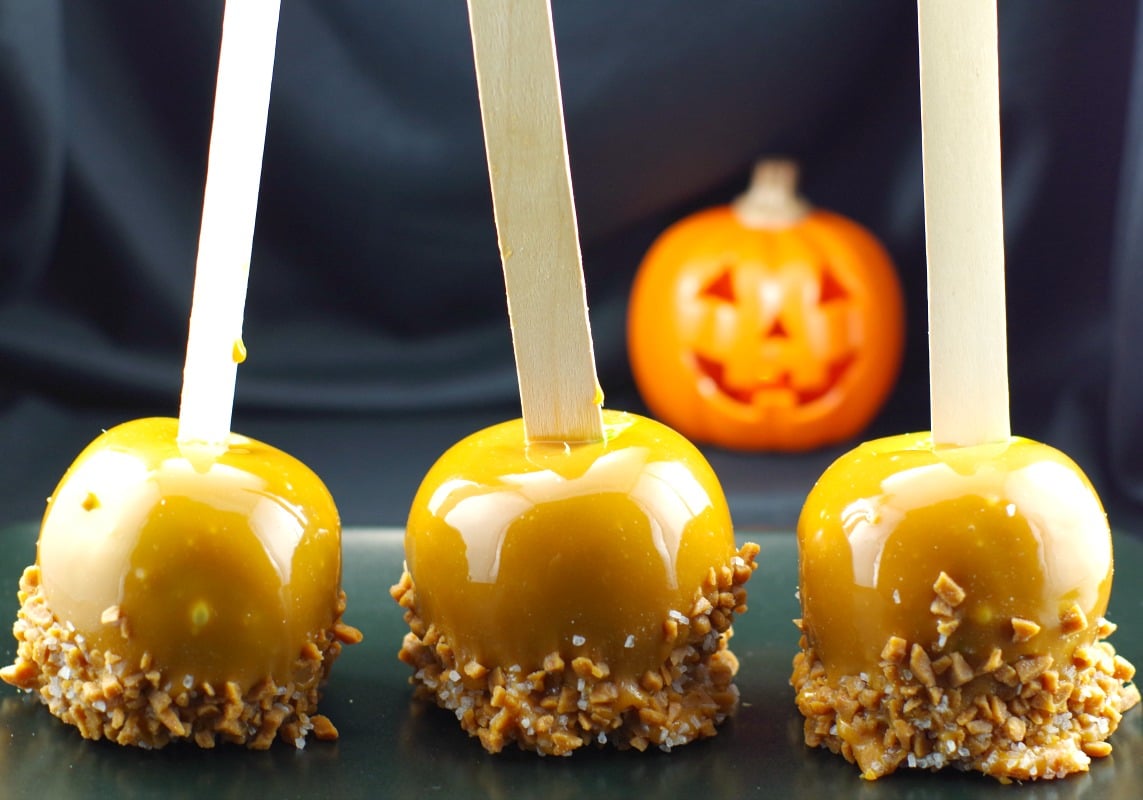 Canadian Prairie Thing:
In the end, I decided to conduct my own little "Halloween Apples straw poll" and randomly asked people I know if they had ever heard of this saying or if they said it themselves as kids. Interestingly enough, I came across several individuals that said "Halloween Apples," on Halloween when they were growing up, although they were from cities and towns all over the Canadian prairies. Most had a Manitoba connection, but a few others claimed absolutely no known association with Manitoba. Not one person from Ontario and eastwards had ever even heard this saying.
Perhaps it's more of a Canadian prairie thing then, with some generational influence? Because I couldn't find anyone under the age of 40 that had the faintest idea as to what I was talking about either. Nor had my own kids or their friends ever heard of this Halloween saying. And for the 25 Halloweens I have been doling out candy in Calgary, I have never ever heard a kid say "Halloween Apples!" at my door.
However, if I ever were to hear a kid say "Halloween Apples!" again, I don't think I could resist the temptation to bestow a caramel apple upon them. I happen to think they are an excellent use of prime trick or treating sack real estate!
Did you say, "Halloween Apples"? when you were growing up?
I'd love to hear your comments (below)!
If you like this recipe, PIN IT for later~!
If you love caramel apples, you'll love my Caramel Apple Betty Dessert Shooters!
My Amazon Recommendations (affiliate links)
Print
Salted Toffee Caramel Apples Recipe
These Salted Toffee Caramel apples are a quick and easy Halloween Caramel Apple using store-bought caramels and dipped in salted toffee bits.
Ingredients
5

apples

1-½ lb./675 g, washed, well dried, stem removed

1

11 oz bag (311 g)

store-bought caramels

3

tbsp

water
Instructions
Cover large baking sheet with parchment paper. Insert wooden popsicle stick into stem end of each apple.

Unwrap caramels and melt caramels and water in large saucepan on medium-low heat until caramels are completely melted, stirring constantly.

Dip apples in caramel; spoon additional caramel over apples if necessary to evenly coat apples. * I found the swirling the apple, as I spooned the caramel was the most effective.
Garnish:
Mix salt and toffee bits together, then dip bottom of apples in mixture. You may have to gently press some to get them to stick to the sides.

Place on prepared baking sheet. Refrigerate 1 hour.
Notes
Nutrition Facts

Salted Toffee Caramel Apples Recipe

Amount Per Serving

Calories 104

% Daily Value*

Cholesterol 1mg0%

Sodium 4mg0%

Potassium 194mg6%

Carbohydrates 26g9%

Vitamin A 115IU2%

Vitamin C 8.3mg10%

Calcium 11mg1%

Iron 0.2mg1%

* Percent Daily Values are based on a 2000 calorie diet.
Nutrition
Calories:
104
kcal
|
Carbohydrates:
26
g
|
Cholesterol:
1
mg
|
Sodium:
4
mg
|
Potassium:
194
mg
|
Fiber:
4
g
|
Sugar:
20
g
|
Vitamin A:
115
IU
|
Vitamin C:
8.3
mg
|
Calcium:
11
mg
|
Iron:
0.2
mg
Save
Saved!
More Halloween Recipes!
Melting Witch Halloween Chocolate Bark
No Bake (Inside out) Boston Cream Moon Pie
Halloween Jack o'lantern Bucket Cupcakes
Witches Brew Spumoni Trifle (with jello worms)
Halloween Phantom Pierogi Pizza Pockets