Walking into Miss Lamont's Grade 4 classroom, balancing a tray of Peanut Butter Delight, while attempting to conceal the fact that my costume was seriously riding up my butt, I really can't say which humiliated me more; the fact that I was wearing an obviously too-small, homemade, polyester Pink Panther costume for the second year in a row or that I had to show up for the class Halloween Party with this sad excuse for a treat again.
But if I had to pick.... I'd pick something else entirely! Anything actually. Cookies, rice krispie treats, baked squares... I'd pick these Caramel Apple Betty Dessert Shooters!~
Jump to:
ANYTHING BUT PEANUT BUTTER DELIGHT!
My Mom never made Apple Betty when I was a kid, so I didn't get to enjoy it until adulthood. Instead she like to make peanut butter delight for everything! In my humble opinion, there is just nothing remotely delightful about Peanut Butter Delight. Not only is peanut butter delight a lame attempt to coerce a "square" out of ingredients that should never have been forced into any type of geometric shape to begin with, it was clearly a gross abuse of peanut butter. Studded with raw, sugar coma-inducing, multi-colored mini marshmallows, fighting to stay afloat in a pool of sickly sweet brown gunk,  I lamented, 'why couldn't she have just baked cookies !?"
The sad fact was that although I despised the stuff, my Mom liked it. She liked it mostly because it was easy to make and since she was the one making the treat, she clearly trumped me.
Old Skool Halloween Party Treats
Although I'm not a fan, like my Mom, I know there are zillions of other people out there that love it! So, if you are one of them, then give Yay For Food's PEANUT BUTTER BUTTERSCOTCH MARSHMALLOWS BARS (AKA CONFETTI BARS) a try! She graciously let me use her beautiful photo because I obviously did not want to make it and photograph it myself. Hey, I still appreciate stunning food photography. Plus, there are only 4 ingredients and it takes 10 minutes~! She also has a ton of other delicious recipes, so make sure you head over and check out her website!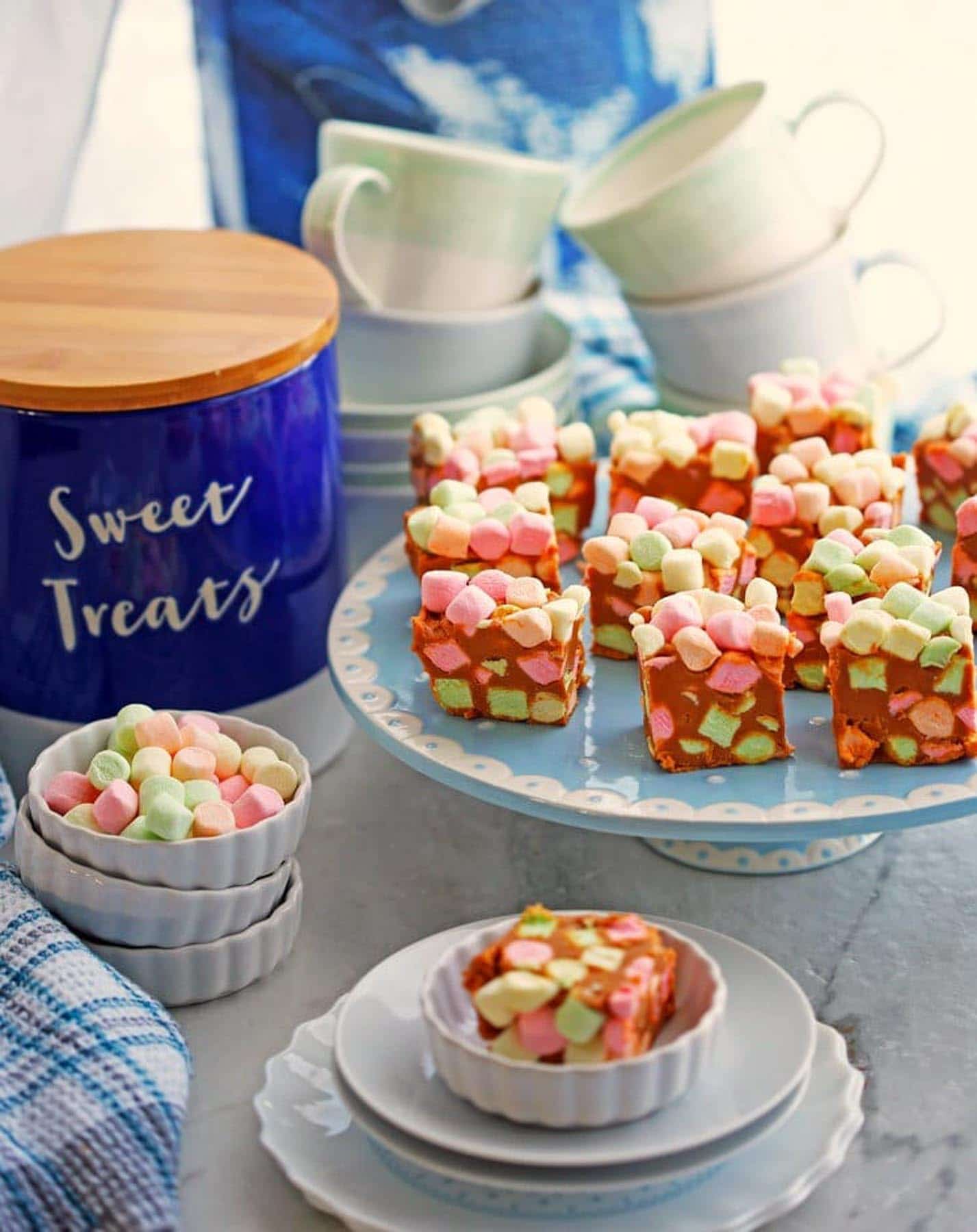 Photo courtesy of Yayforfood.com
But one day, I fantasized, I would be the one making the treats.  And I swore I would never send my kids to school with Peanut Butter Delight. I would be making MY favorite desserts!
Flash forward 35+ years:
My how things have changed. They no longer even allow kids to have Halloween parties at school. In fact, my kids' elementary school wouldn't even let them celebrate "Halloween"; it was black and orange day. Nor were they allowed to wear costumes - they could only come dressed in black and orange attire. And bringing treats to share with your friends-completely out of the question, whether it's Halloween or not!
My Mom probably had no idea how much I disliked that stuff. And although I obviously can't bake for school parties these days, I usually consult my kids before I make treats for events/bake sales/parties/sports wind-ups etc.. Yet, I don't recall being consulted....
However, when I was growing up, things were different - children weren't 'consulted', as they are now. You were pretty much grateful to just get a treat (just not Peanut Butter Delight). Not to mention that my Mom wasn't much of a baker back then, so she had a limited repertoire!
Modern Day Halloween Party Treats
But now I'm in charge of the treats (aside from when I have to consult my kids, of course 🙂 ) And since I do get to bring something to my own Halloween potluck at work, I thought these Caramel Apple Betty Dessert Shooters would definitely be as far away from Peanut Butter Delight as one could get!
Caramel Apple & Apple Betty are a fine pairing in this no bake dessert shot. Oh and they are a just little more "grown up" than the typical Halloween party dessert.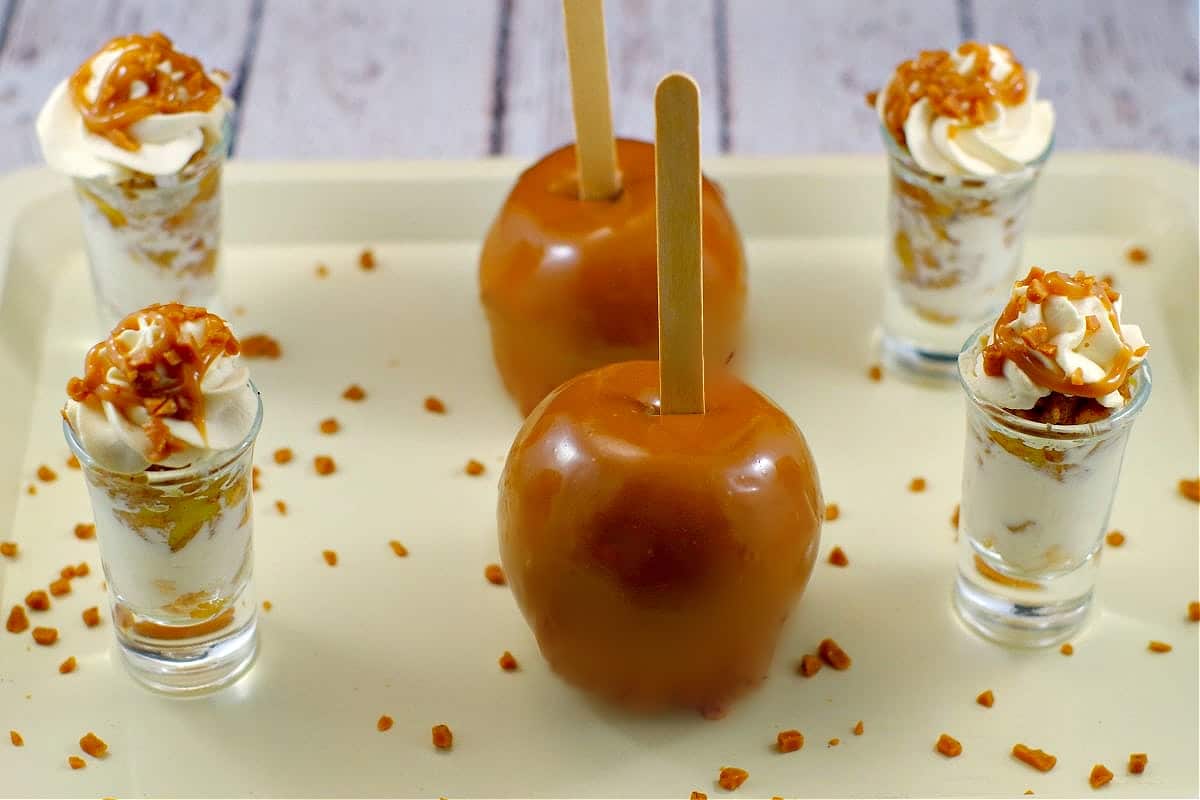 🥘 Ingredients
The brown butter in these easy apple dessert shooters lends a rich caramel flavour that blends so perfectly with the cheesecake-like tanginess of cream cheese/yogurt layer. And the maple whipped cream is light, airy and oh so dreamy. The caramel sundae sauce and toffee bits crown it all off with the perfect balance of sweetness.
For this caramel apple betty recipe, you'll need:
butter
apples (I use green Granny Smith)
cream cheese *I use light
brown sugar
cinnamon
orange zest
white granulated sugar
yogurt (Greek or 2%)
lady fingers
maple extract
whipped cream
toffee bits
caramel sundae sauce
🍽Equipment
You'll need dessert shot glasses (affiliate link). There are a variety of different types of shot glasses, so you can just choose the type you like best.
🌡️Storage
Store these mini dessert shooters in the fridge in a sealed container for up to 3 days. These ingredients do not stand up to freezing.
👪 Serving Size
This caramel apple betty recipe makes 12 dessert shots. However, you can half, double or triple the recipe by clicking on the blue serving number and selecting the number of servings you'd like. The ingredient quantities will automatically adjust.
🎥 Video
How to pipe whipped cream with 1 M tip
But back to the Peanut Butter Delight.....Although you've probably already guessed, I'd have to say that the Peanut Butter Delight definitely won out over the tight Pink Panther costume for the mortification prize that Halloween.
So, cheers to the new age of party treat consultation; what a great time to be a kid! But being a grown up is even better when you get to be in charge of bringing treats like this Caramel Apple Betty Dessert Shooters recipe to the Halloween party! It's always a huge hit.
Happy Halloween treat making!
If you like dessert shooters, give my Saskatoon Berry (Juneberry) Tiramisu Dessert Shooters a try!
If you have a few more minutes to spare, give my Salted Toffee Caramel Apples (with melted caramels) a try!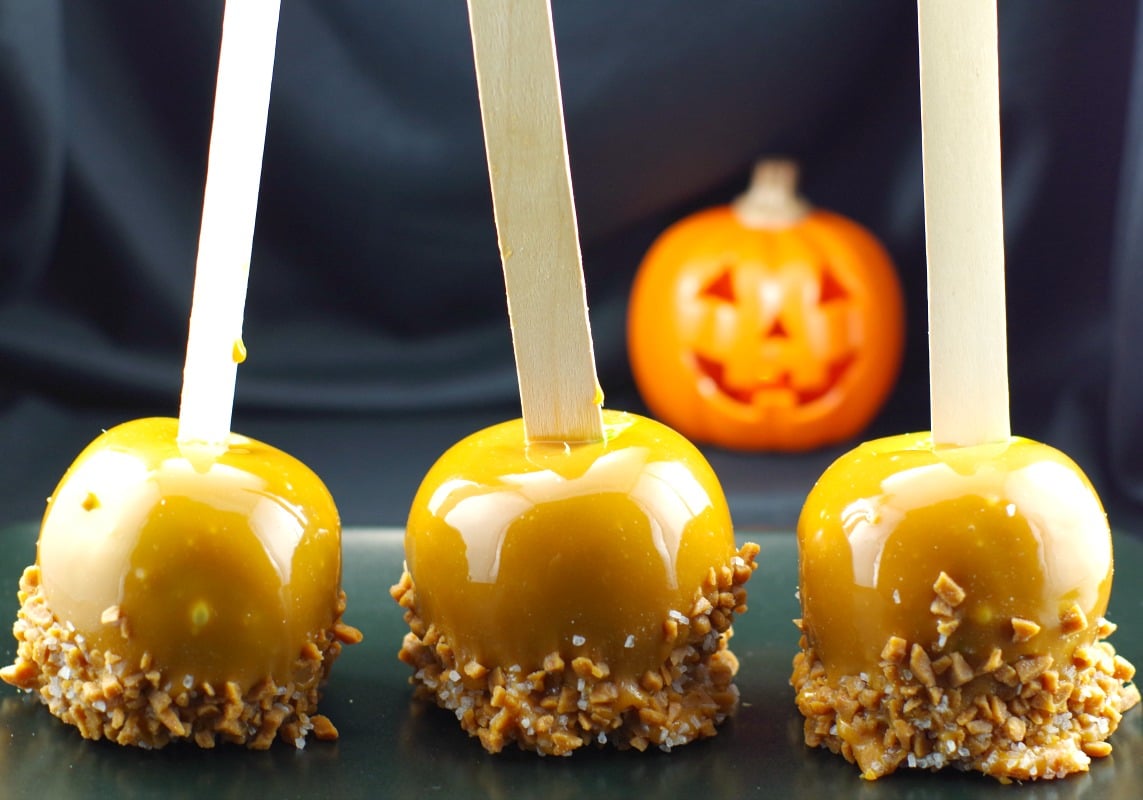 ⭐ Reviews
Did you make this shooters dessert recipe? Please RATE THE RECIPE below!

📋 Caramel Apple Betty Dessert Shooters Recipe
Apple Betty meets Caramel Apple in this delicious dessert shooter! This mini dessert is perfect for fall or anytime!
Print
Pin
Rate
Servings:
12
dessert shots
Ingredients
Instructions
Brown butter in small saucepan over medium heat (SEE VIDEO "How to brown butter) in post). Set aside 2 tablespoon for apples.

Saute apples with 2 Tblsp butter over medium- low heat in frying pan on stove top until they are soft (can easily put fork through) but still hold their shape (about 5-7 minutes). 

Add orange zest. Then toss in bowl with cinnamon 2 Tblsp of brown sugar.

Beat yogurt and cream cheese together with 3 Tblsp of brown sugar, then add remaining brown butter

Beat whipping cream in separate bowl, then add sugar to your liking (I used about 3 tsp) and maple flavouring when it reaches soft peaks. Beat to stiff peaks. Set aside

Layer in shot glass beginning with crushed lady fingers, then yogurt mixture, then apples.
Garnish:
Top with whipped cream. You can spoon it on our use a 1 M icing tip and pastry bag and pipe on (see VIDEO in post) 

Drizzle caramel sundae sauce over the whipped cream in a a circular fashion. You want it to look whimsical.

Sprinkle toffee bits onto each dessert shooters, dividing evenly between them all.
Notes
*See post contents for important recipe information and tips!
Please SUBSCRIBE  (get my FREE E-cookbook) and be sure to FOLLOW ME on FACEBOOK, TWITTER, INSTAGRAM and PINTEREST!
Nutrition Facts
📋 Caramel Apple Betty Dessert Shooters Recipe
Amount Per Serving (1 shot)
Calories 176
Calories from Fat 108
% Daily Value*
Fat 12g18%
Cholesterol 44mg15%
Sodium 85mg4%
Potassium 79mg2%
Carbohydrates 16g5%
Protein 1g2%
Vitamin A 470IU9%
Vitamin C 1.7mg2%
Calcium 41mg4%
Iron 0.1mg1%
* Percent Daily Values are based on a 2000 calorie diet.
Nutrition
Serving:
1
shot
|
Calories:
176
kcal
(9%)
|
Carbohydrates:
16
g
(5%)
|
Protein:
1
g
(2%)
|
Fat:
12
g
(18%)
|
Saturated Fat:
7
g
(44%)
|
Cholesterol:
44
mg
(15%)
|
Sodium:
85
mg
(4%)
|
Potassium:
79
mg
(2%)
|
Sugar:
11
g
(12%)
|
Vitamin A:
470
IU
(9%)
|
Vitamin C:
1.7
mg
(2%)
|
Calcium:
41
mg
(4%)
|
Iron:
0.1
mg
(1%)
Did you make this recipe?
Please leave a star rating and review below!
🍰More Mini Desserts