She sent out long emails, detailing almost every aspect of their lives; the travelling (where they went, whom they visited, where they were going next), upcoming specialist appointments, and treatment options. But she never once mentioned the word cancer. Nor did she ever say that everything would be okay -that Uncle Garry was going to be okay. I ached to read those words.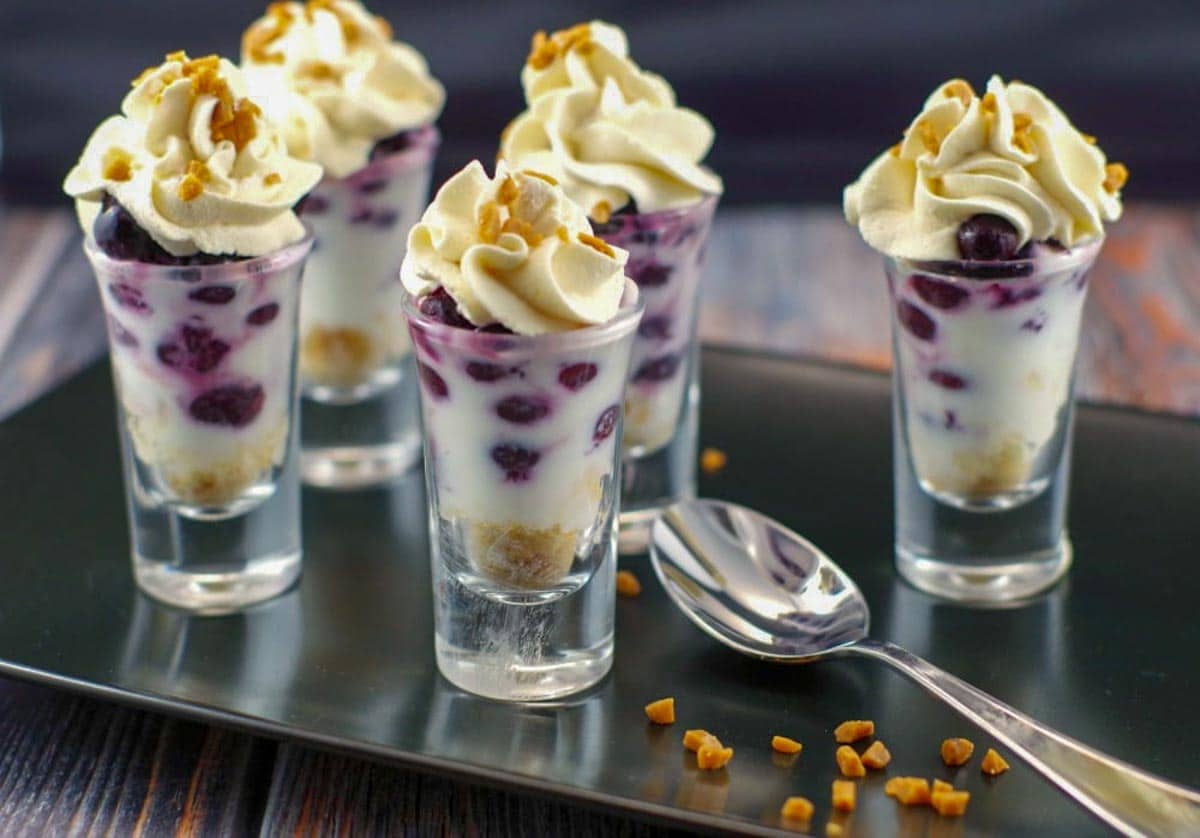 Instead, she wrote things like, "we have to enjoy these things now because you never know what the future holds...."
But I have to say that admired her for that; for all of it – composing what must have felt like endless updates, forced to immerse herself in every last painful detail. I guess it made her feel like she was helping – by keeping us all in the loop. And perhaps it was somehow cathartic; her way of coping.
Jump to:
I didn't even realize that Auntie Sue and Uncle Gary weren't actually related to me until I was about 10 years old. It was disappointing and I didn't understand it. I called them Aunt and Uncle, we spent more time with them than many of our blood relatives, we even took many of our summer vacations together, not to mention endless camping trips. There were certainly others I'd much rather not have been related to. But we don't get to pick our relatives.
I decided it really didn't matter- they were family to me, whether we were related by blood or not. And when I got married, Auntie Sue and Uncle Garry were two, of my entire guest list of eighteen, travelling fifteen hours to attend my wedding. My Uncle Gary gave the Toast to the Bride.
Back when I was a kid, on many of our families' camping trips you would always find Uncle Garry and I out picking Saskatoon berries while the others slept (Read more about those Saskatoon Berry picking adventures here). Saskatoon picking was simply a part of prairie life.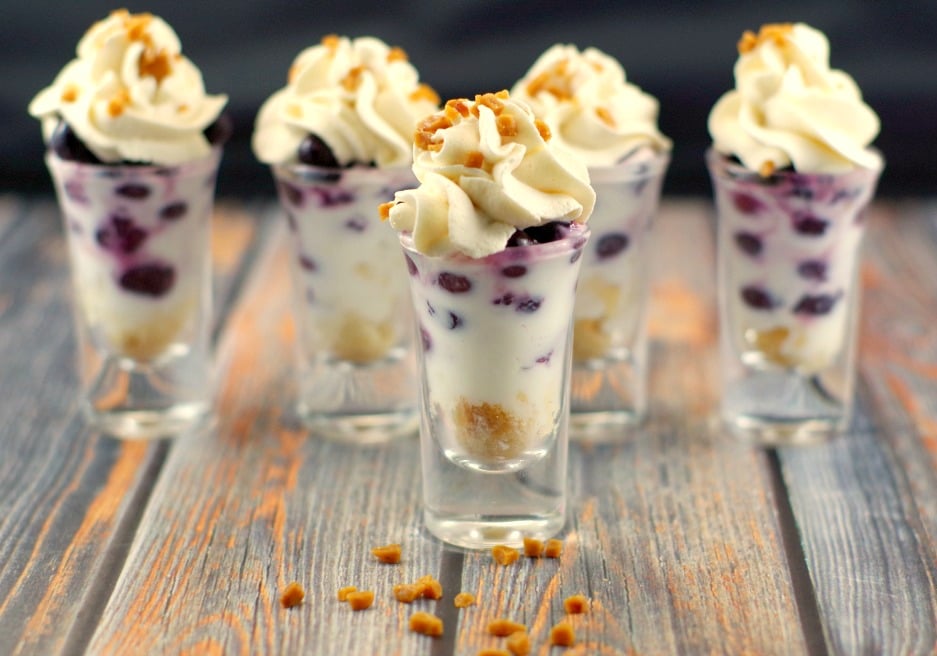 💭 What are Saskatoon berries and Juneberries?
If you are not familiar with this little gem of a berry, then you may know it by its alias "Juneberry". A native to Canadian Western provinces, as well as other parts of North America, the Saskatoon berry ripens in late July/early August. A purply-blue berry, it is actually cousin to the apple, although it looks more like a blueberry (with a nuttier flavour.)
Interestingly, researchers at Cornell University found that Americans loved the taste of Saskatoon berries, but the name didn't resonate as well as Juneberry. To capitalize on their thirst for the small purple berries, some U.S. marketers started asking Canadian growers to change their labelling, so our illustrious Saskatoon berry gets a name change at the border. In some parts, Saskatoons are also known as Serviceberries.
🥘 Instructions
I am obviously a huge Saskatoon berry fan, as well as a fan of tiramisu, so I created this shot glass dessert recipe. Although it looks fancy (I just love the way a dessert looks layered in glass) it's really a quick and easy. You can make it in under 30 minutes.
I soften the Saskatoon berries for this recipe by poaching them for a few minutes in the Kahlua and coffee so the berries soak up the flavor.
Then layer the berries with lady fingers and a mascarpone white chocolate pudding mixture, topped with maple whipped cream and toffee bits.
It's a very impressive and elegant looking dessert that is deceptively simple and easy to make! I love the concept of dessert in shot glasses because sometimes you just want a little dessert.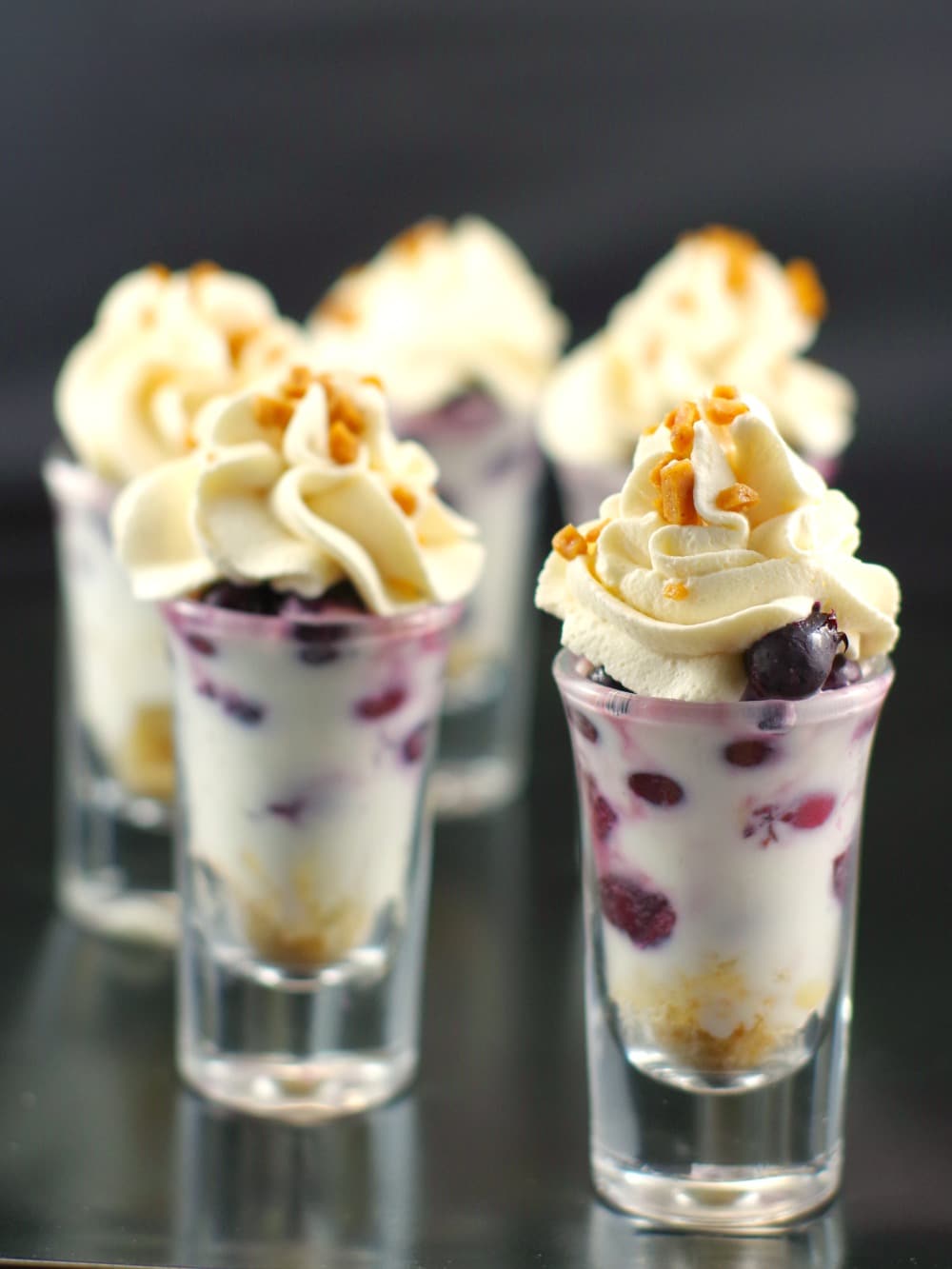 📖 Variations
Vanilla Coffee: substitute coffee + 1 teaspoon vanilla
Berries: You can substitute blueberries, blackberries or raspberries
Auntie Sue and Uncle Garry came out West to visit us in the fall that year he got sick. And although everything seemed fine while they were here, the emails continued after they returned home. Then one spring day, another update arrived in my inbox. But this email was different – it did not embody the hope the others had. I realized that I needed to get home that summer.
My trip was planned for early July and I recall telling my Mom that I'd love to be able to make Uncle Garry Saskatoon Berry Pancakes when I got home. That was something special we always did together on our camping trips when I was a kid. But she only said what I already knew…
"it's too early for Saskatoons."
But not long after I arrived home, my Mom got a phone call. Excitedly, she called to me, "Grandma's on the phone and she has Saskatoons!!!! They were early this year!" I could not believe it… could I really be this fortunate!? Apparently it had been a really weird, wet, warm year; a fluke of nature.
So one beautiful, early July morning, my Uncle Garry and I sat eating Saskatoon berry pancakes together, with the rest of our families, just like we did thirty-five plus years ago. We didn't talk about our picking adventures (although he did in his speech at my wedding) because didn't need to. We both knew those berries had no business being in our pancakes that morning and we were eternally grateful they were.
That was the last time I ever saw Uncle Garry. He passed away 2 months later. And I miss him all the time. But I know that eating those Saskatoon pancakes on that early July morning was a gift and I am thankful for those gifts in life. I also believe that the family you get to pick are also a gift. I have been blessed with many of them in my life. And I'm so grateful that we picked Auntie Sue and Uncle Garry to be our family.
I still pick Saskatoon berries whenever I can and love making Saskatoon berry dessert recipes, like these Saskatoon Berry Tiramisu Dessert Shooters.
⭐ Reviews
Did you make this recipe? Please RATE THE RECIPE below!
Please SUBSCRIBE (get my FREE E-cookbook) and be sure to FOLLOW ME on FACEBOOK, TWITTER, INSTAGRAM and PINTEREST!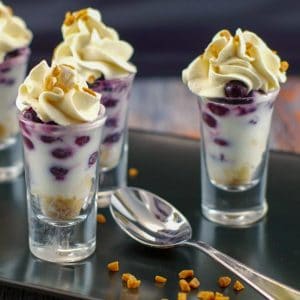 📋 Saskatoon Berry Tiramisu Dessert Shooter Recipe
This mini dessert is deceptively simple, layered Saskatoon berry dessert in a shot glass, with Saskatoon berries, aka Juneberries, poached in coffee and kahlua, combined with marscarpone and white chocolate pudding, lady fingers and maple whipped cream. Although it looks elegant, it's the ultimate easy, quick and fancy tasting dessert shooter. Because sometimes you just want a little dessert. 
Print
Pin
Rate
Instructions
Break apart lady fingers a divide between 12 shot glasses (how many you need will depend on the size of your shot glasses and how many you get)

Combine Kahlua and coffee. Take 2 tablespoon and sprinkle a little of the coffee/kahlua mixture over the lady fingers in each shot glass, dividing equally between all 12.
Poached Juneberries:
Combine sugar, saskatoon berries, remaining coffee and Kahlua mixture in a medium saucepan and simmer on stovetop. Reduce heat, and simmer on medium-low for 5-7 minutes or until tender. Remove berries from pan with a slotted spoon and set aside. Discard kahlua/coffee mixture.

Mix mascarpone cheese and white chocolate pudding together in medium sized bowl.

Beat whipping cream in separate bowl, then add 2 tablespoon white granulated sugar and maple flavouring when it reaches soft peaks. Beat to stiff peaks

Layer in shot glass beginning with crushed lady fingers, with pudding/cheese mixture mixture, then Saskatoon berries Top with whipped cream and garnish with toffee bits
Notes
⭐ Reviews
Did you make this recipe? Please RATE THE RECIPE below!
Please SUBSCRIBE  (get my FREE E-cookbook) and be sure to FOLLOW ME on FACEBOOK, TWITTER, INSTAGRAM and PINTEREST!
My Amazon Recommendations (affiliate links)
Nutrition Facts
📋 Saskatoon Berry Tiramisu Dessert Shooter Recipe
Amount Per Serving (1 shot)
Calories 150
Calories from Fat 54
% Daily Value*
Fat 6g9%
Cholesterol 28mg9%
Sodium 295mg13%
Potassium 23mg1%
Carbohydrates 19g6%
Protein 1g2%
Vitamin A 255IU5%
Calcium 18mg2%
Iron 0.4mg2%
* Percent Daily Values are based on a 2000 calorie diet.
Nutrition
Serving:
1
shot
|
Calories:
150
kcal
(8%)
|
Carbohydrates:
19
g
(6%)
|
Protein:
1
g
(2%)
|
Fat:
6
g
(9%)
|
Saturated Fat:
4
g
(25%)
|
Cholesterol:
28
mg
(9%)
|
Sodium:
295
mg
(13%)
|
Potassium:
23
mg
(1%)
|
Sugar:
9
g
(10%)
|
Vitamin A:
255
IU
(5%)
|
Calcium:
18
mg
(2%)
|
Iron:
0.4
mg
(2%)
Did you make this recipe?
Please leave a star rating and review below!
🍰More Saskatoon Berry Dessert Recipes!
Saskatoon Berry Oatmeal Cookies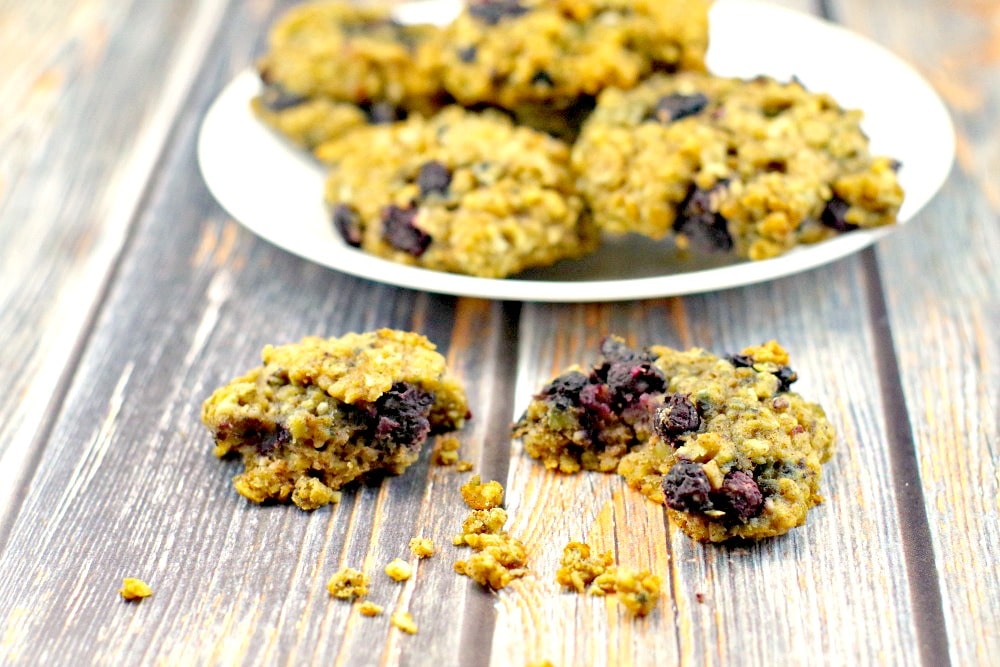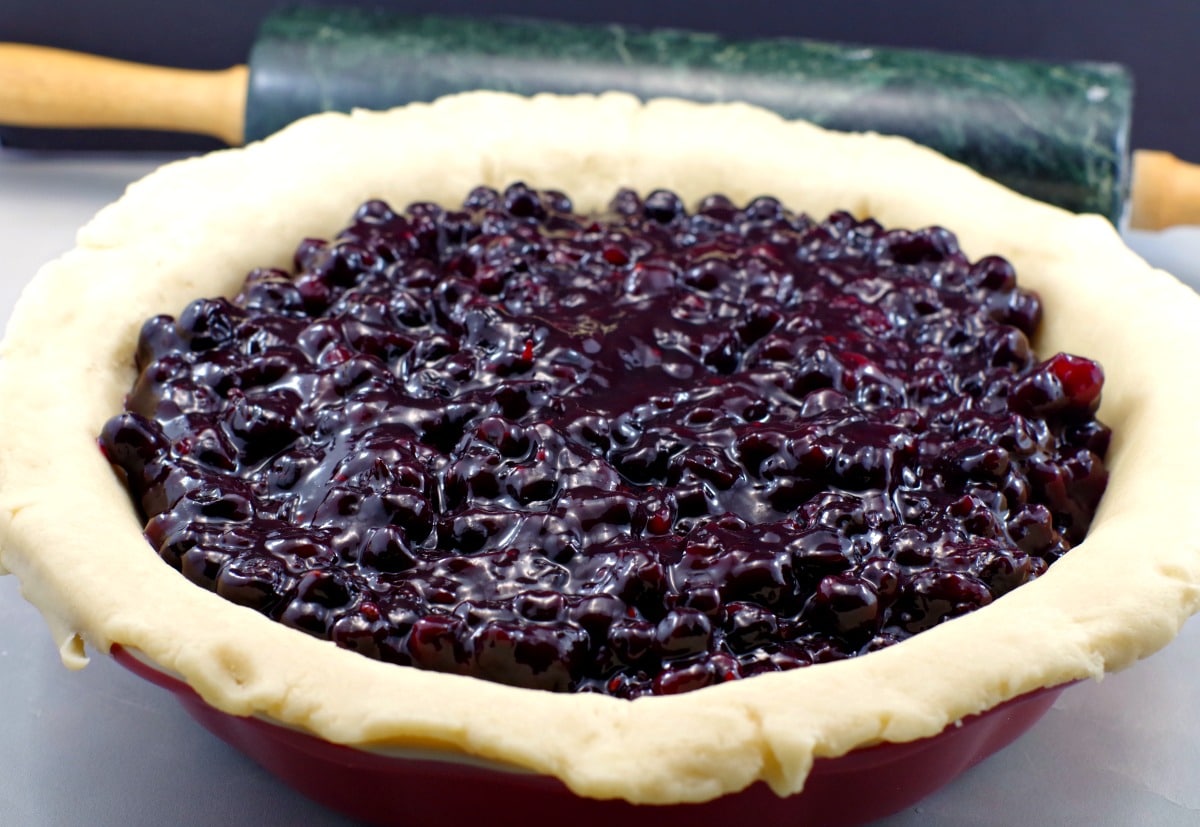 10 Best Saskatoon Berry Recipes