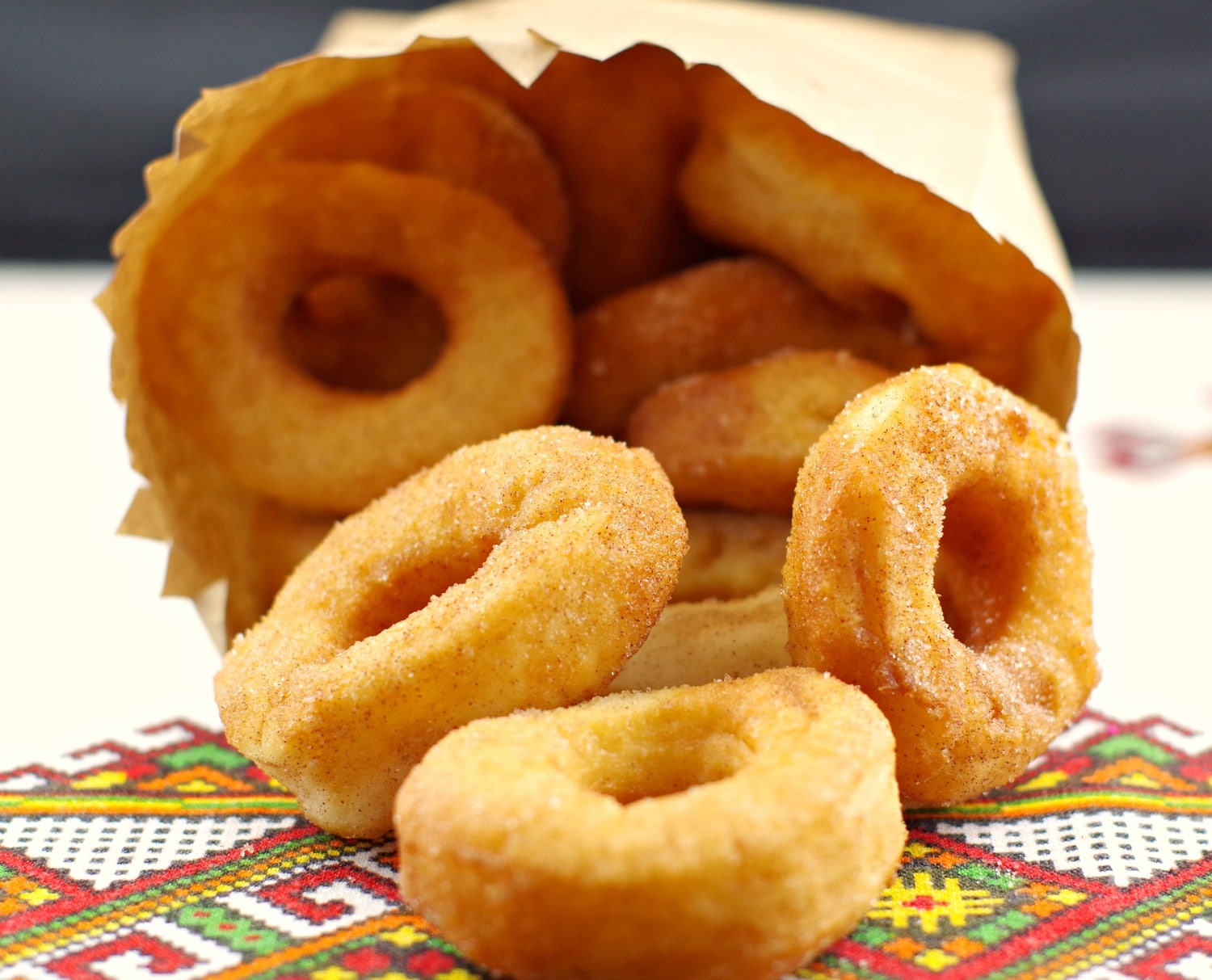 THIS POST CONTAINS SOME AFFILIATE LINKS (See Disclosure Policy)
It's about 4:45 am and the alarm is wailing. Although I am typically an early bird, this is not something I particularly relish getting up for. Plus, it's my day off. And it's also the first Friday the kids are off school for the summer, not to mention my first opportunity to sleep in. But instead of sleeping,  I will be racing to Confederation Park to catch a city bus to downtown. Thankfully the blankets, sunscreen, rain coats and snacks are already packed and ready to go, including the little bags of those mini doughnuts (pampushky).
The things we do for love…
It's the smell of the yeast that transports me right back to Baba's little kitchen. The pot is boiling on the kitchen stove while Baba hunches over the counter, working away, kneading the dough. These days that aroma is enough to make me weep. Back then it always meant she was making something magical and delicious, like these homemade Ukrainian doughnuts (Pampushky) or Ukrainian bread (Babka  or Paska ).
We arrive downtown around 6:30 AM to secure a spot. My friends have done this for years so they have an actual system. I just follow along. We wait on the street corner near 9th Ave and 11 th St. SW with all our stuff in tow, for what seems like hours, until a city worker finally comes by and closes off the intersection. Then we pounce; procuring our hot and stinky chunk of prime parade real estate. Then we settle in for the 2 ish hour wait until the parade starts, while fervently trying to defend our land against invaders.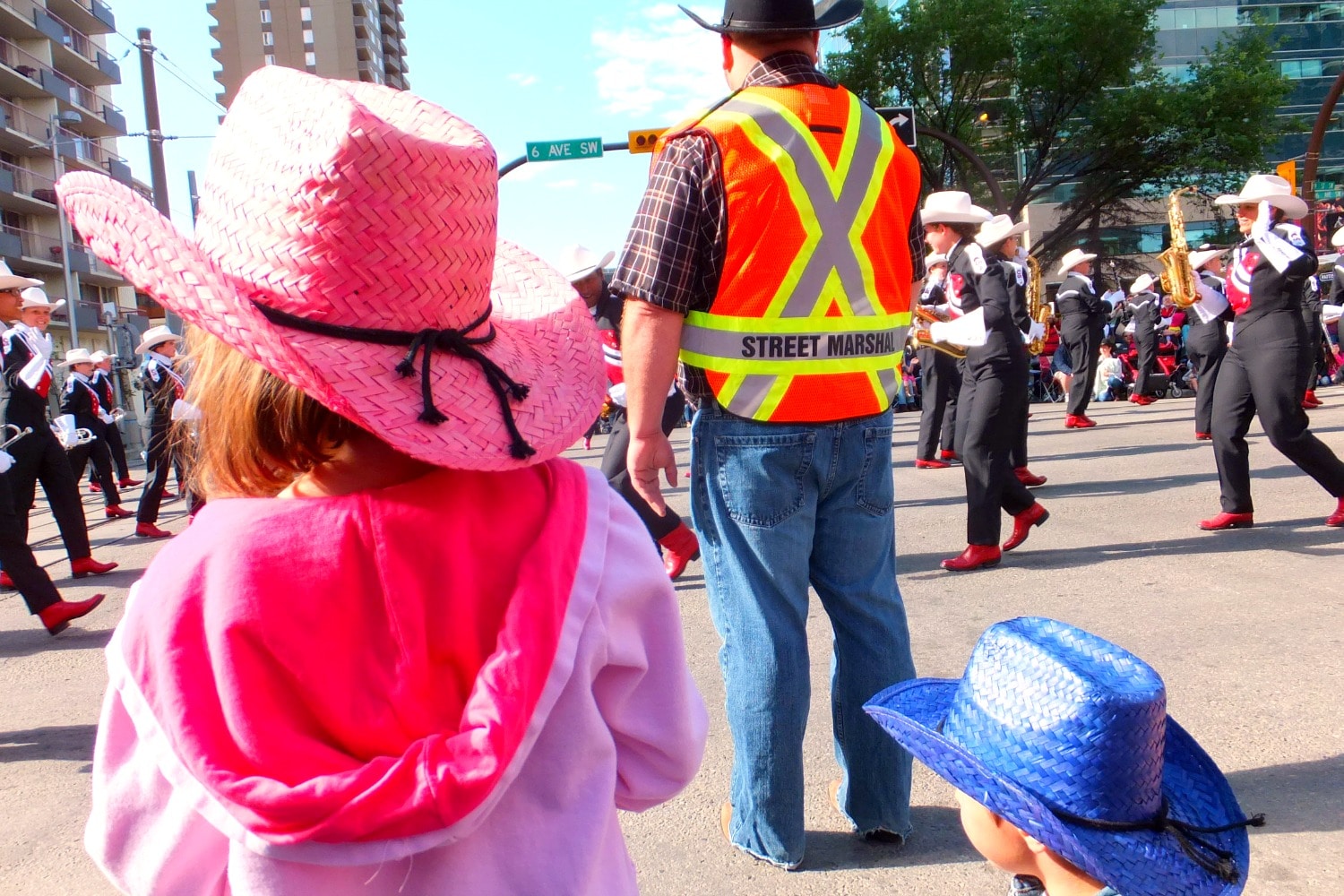 I have never been a big fan of the Stampede parade but my kids are. And if you're a kid in Calgary, you go to the Stampede parade. It's like a rite of passage in this town. I didn't grow up here so it doesn't have the same memories or meaning for me that it does for them. But there were a few years when they were very little that I couldn't get the time off work and wasn't able to take them. So now I suck it up –  I am making up for lost time.
Pampusky (Ukrainian Doughnuts)- Carnival style
These mini Ukrainian Doughnuts became a tradition for us when we started going to the Stampede parade. I don't fill my Pampushky raised doughnuts because my Baba never did and to me, that would just be sacrilege. She would however, sprinkle them with sugar, so this is what I do, except that I add a little cinnamon too. It's divine! These donuts are so light and fluffy that you will never go back to whatever doughnut it is you used to make. I have also made these donuts for bake sales and they were a huge hit!
No more Stampede Parade
My kids no longer want to go to the parade and although it's a little sad that they are growing up, I'm grateful that I no longer have to do this. But it's still Stampede week in Calgary and in my house, that means one thing – homemade mini doughnuts! That tradition has lived on. Funny how food traditions tend to be the survivors in my house.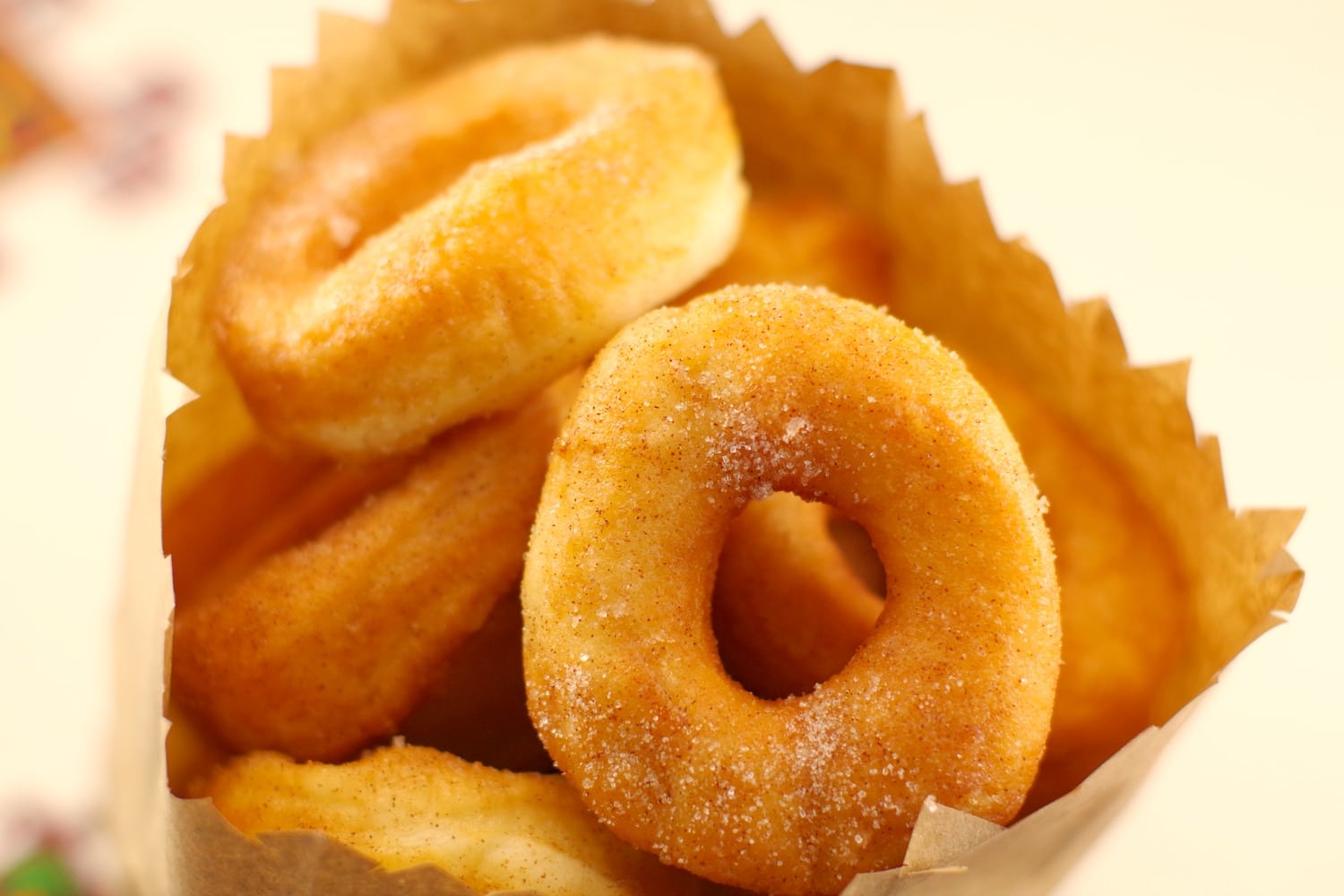 Although they take a lot of time to make, I love these donuts so much that it's not a sacrifice for me to make them every year. I have tried making other homemade doughnuts that are quicker or a little healthier (baked), but they just don't cut it. These traditional donuts may take you a good couple of hours, but trust me, this is an easy Pampushky recipe and well worth your time and effort!
The things we do for love…. 🙂
Hey everyone- I am now a publisher on Yummly! You can use the Yum button on the left side or the bottom of my posts to save my recipes to your personal recipe box.
YOU MAY ALSO LIKE:
TERRI'S AMAZON PICKS:
This post is part of the Weekend Potluck Linkup Party
Pampushky - Ukrainian Doughnuts
This Pampushky (Ukrainian Doughnut) recipe is a light and airy raised doughnut without filling. These traditional Ukrainian donuts are made into modern mini (Stampede-style) doughnuts and sprinkled with cinnamon and sugar just the way my Baba used to make them when I was a kid.
Prep Time
1
hour
30
minutes
Ingredients
2

cups

warm water

1/2

cup

white granulated sugar

2 1/4

tsp

regular yeast (traditional)

2

whole

eggs

3/4

cup

vegetable oil

1/2

tsp

salt

1

cup

milk

6

cups

all-purpose flour

5

cups

vegetable shortening for frying

2 1/2 boxes shortening, approximately
Topping:
1

cup

white granulated sugar

2

tsp

cinnamon
Instructions
Grease a large mixing bowl and set aside.

Dissolve granulated sugar in warm water, then add yeast and DO NOT STIR it yet. Let stand for 10 minutes or until it begins to bubble. Stir yeast mixture.

In a separate bowl, beat eggs with a whisk and gradually add in the salt and 3/4 cup vegetable oil while continuing to beat. Stop when it becomes lighter in colour (about 2 minutes). Then add milk. Add yeast mixture.

Gradually add flour to mixture. Mix into a smooth and soft dough, ensuring it does not become tough. You want to add a little more flour (tbsp at a time) until the dough doesn't stick to your hands anymore.

Move onto a floured board and knead for 15 minutes. *** if you have a dough hook with your stand mixer - use it and save yourself some work! This is what it's for. Just make sure you grease the bowl and the hook first.

Place in a greased bowl and allow to rise in a warm, draft free place until the dough has doubled in size- this will take about 45 minutes.

Punch down to original size then roll out to about 1/2 an inch in thickness and cut into donuts with a mini cutter.

Place donuts and donut holes on a parchment covered cookie sheet, cover with a clean tea towel and let them rise again for 20 minutes.

Meanwhile melt the shortening in your deep fryer until it's a the right level. Then set the deep fryer to 375 degrees F. (****see Recipe Notes at end for stove top cooking if you do not have a deep fryer, although I don't recommend this, as it's not nearly as safe)

When deep fryer is ready, add 3 -5 doughnuts and a few doughnut holes in basket and lower into oil, place lid on and cook for 1 minute approximately. Then lift out basket and turn over with tongs. Repeat.

When ready (will be a golden brown) remove onto paper towel lined plate or cookie sheet. Roll in sugar/cinnamon mixture.

Topping: Mix 1/2 cup of white granulated sugar and 2 tsp cinnamon together in a shallow bowl. While doughnuts are still warm, roll them in sugar cinnamon mixture.

Serve warm or cold. Cooked doughnuts can also be frozen in a ziplock freezer bag for up to 6 months.
Notes
 * NO deep fryer method:
You can use a deep pot to fry the doughnuts in but I don't recommend this. Hot oil can be dangerous. But if you are going to use this method:
The fat should be deep enough to let the doughnuts come to the top and float free at the bottom.
Heat the fat in a deep pan, with a flat bottom, to 375 degrees F. *test the temperature by frying a doughnut hole in the oil for a minute. 
Immerse the doughnuts gently into the hot fat, one at a time, using long handled tongs or a slotted spoon that  has been greased by being dipped into the hot fat. 
Deep fry until they turn a golden brown - about 3 minutes. The doughnuts will rise to the top. Turn and brown the underside. 
Remove with slotted spoon and drain on paper towel. 
Freezing dough:
**This recipe makes 88 mini donuts. I only make half, then freeze the other half. I have frozen the dough for a year (in a ziplock freezer bag) and you'd never know that it wasn't freshly made. It works great!
Nutrition Facts
Pampushky - Ukrainian Doughnuts
Amount Per Serving
Calories 164
Calories from Fat 117
% Daily Value*
Total Fat 13g 20%
Sodium 15mg 1%
Potassium 14mg 0%
Total Carbohydrates 10g 3%
Protein 1g 2%
* Percent Daily Values are based on a 2000 calorie diet.
Nutrition
Calories:
164
kcal
|
Carbohydrates:
10
g
|
Protein:
1
g
|
Fat:
13
g
|
Saturated Fat:
4
g
|
Sodium:
15
mg
|
Potassium:
14
mg
|
Sugar:
3
g
|
Vitamin A:
0.1
%
|
Calcium:
0.5
%
|
Iron:
2.3
%