This post contains some affiliate links (SEE DISCLOSURE POLICY)
It was a beautiful summer day when I got the call from my Mom asking me to come home. She didn't want to tell me over the phone.
I was over at a friend's house watching "The Shining." I already knew what she was going to say, so I stayed and watched the rest of the movie. l didn't want to hear it because then it would be real.
Baba never seemed to care about being fat or losing weight. And if she did, I never heard her talk about it. From my grandkid perspective, she was just perfect and exactly like a Baba should be – round, pudgy and huggable. She was also an amazing baker.
Every Easter Baba made Ukrainian Easter Bread and that Easter was no exception. It was something I ate with abandon and without the remorse of middle age.
I often hear people talk about bread being a weakness; that was never the case for me. Don't get me wrong, I have many weaknesses when it comes to food (and let's not forget wine) but bread isn't up there at the top of that list. Except when Easter rolled around and the Ukrainian Paska came out. Then everything changed….
This is the only homemade bread I have ever made. And the amount of work that went into it was exhausting! It's really a lot of unnecessary punching down and waiting and kneading and waiting and well, you get the picture. Since I found this bread maker Paska recipe, I don't plan on making it by hand ever again. Why do all that labour and waste all that time when the bread maker can do it on your behalf? I'm guessing Baba would have done the same, given the opportunity.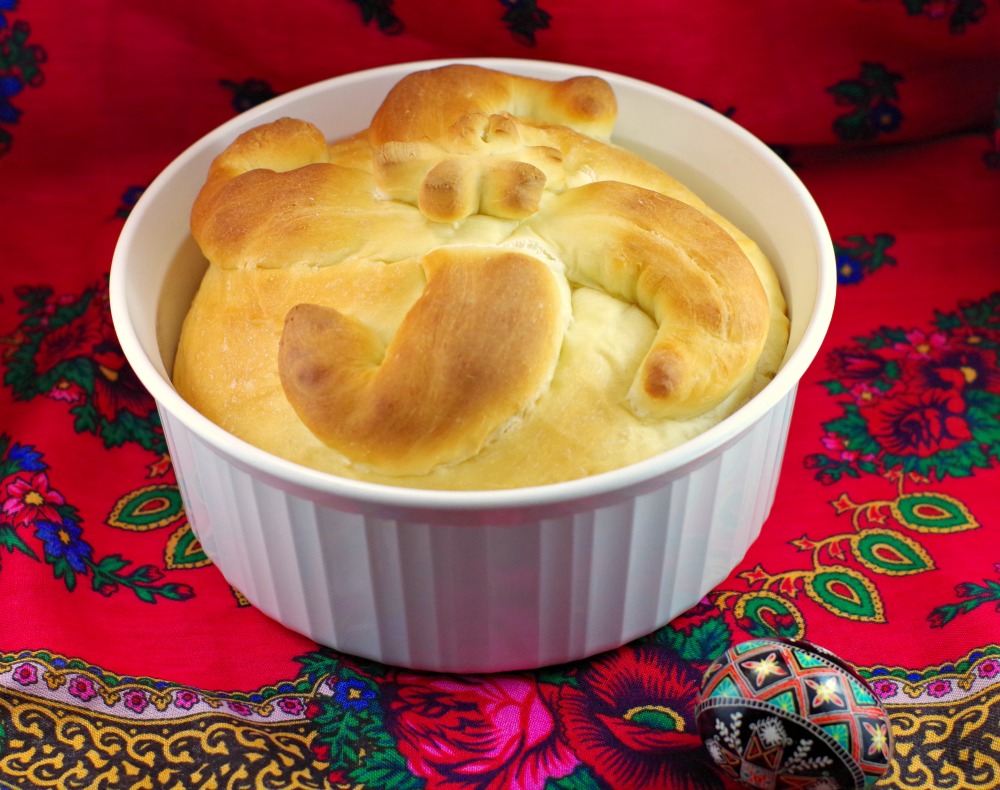 Baba never made it to the annual Mother's Day Brunch that year. Then she spent what felt like an eternity in the hospital in a coma. She was 66. I was 12.
That call I received from my Mom on that beautiful sunny summer day fundamentally altered me. It altered me in a way that only losing someone you love can, as you desperately try to pack the wound, then spend the rest of your life trying to fill that scarred and hollow space with something that gives you even an inkling of pleasure. But I didn't know how to fill it because I was just a kid. So I floundered.
Had I known that Easter would have been my last Easter eating her Ukrainian Easter bread, I would have eaten even more, I would have savoured every bite, but most importantly, I would have hugged her even that much tighter and longer.
There are obvious disadvantages to being a great baker.
I later found out that she had a stroke and was not in the greatest of health for quite some time leading up to it. She was an uncontrolled Type 2 diabetic, likely never exercised a day in her life and loved to eat the naughty and delicious things she created. And although I know my family history, the importance of exercise and healthy eating, have my own concerns about my weight, it still takes a lot of will power to practice moderation and not indulge in too much of my own baking.
That hollow, scarred space still aches and echoes at times, but I have learned how to fill it with some pleasurable things, like making this Easter bread every year and sharing it with my kids. And each and every time those flakey Paska morsels meet my taste buds, they wrap around me in a really long, tight Baba hug. And for that moment in time, I put aside the worry about weight, indulge in too much Ukrainian Easter bread and savour every last bite.
TERRI'S AMAZON PICKS:
YOU MAY ALSO LIKE:
Bread Maker Paska (Ukrainian Easter Bread)
This Easy Bread Maker Paska, a traditional Ukrainian Easter Bread, is made in your bread machine, then decorated with simple decorations and baked for a short time.
Prep Time
2
hours
35
minutes
Instructions
Break egg into a 2 cup measuring cup and add enough water to make 1 1/2 cups. Beat well and place in bread machine. Add milk powder, sugar, melted butter, salt, flour and yeast.

Set bread machine to dough cycle. When finished, remove dough from the machine. Set aside enough dough to create the decorations to be placed on top (* Note: I set aside about 1/6 of the dough, but it will be more or less depending on the decorations you make)

Shape the rest of the dough into a round loaf and place in a greased, round shallow pan.

Decorations: decorate the loaves with the dough previously set aside.The central ornament on pasta is usually a cross. Roll the strips of dough approximately 1/4- 1/2 inch in diameter. Here are some ideas:

Set the loaves in a warm place to rise for 45 mins to 1 hour.

Carefully observe the ornaments while rising so that it does not get out of shape. The shape can be corrected by slightly inserting a pointed knife or a wooden toothpick, along the side of the ornamentation that has risen too much.

Before baking brush the Paska with melted butter or with a beaten egg diluted with 1 tbsp of water (which I forgot to do in the photo) * It's not absolutely necessary, but it's just not as shiny.

Bake at 350 degrees F for 25-35 minutes or until golden brown. * If ornamentation is browning too quickly, cover very loosely with tinfoil or parchment paper. Cool in pans for approximately ten minutes before gently removing. Cool on a wire rack.
If you like this recipe, PIN IT!~