Spring is here and that means Easter! And just like Christmas, after the Easter egg hunts and another breakfast of chocolate eggs, it's time to sit down to a special brunch. With this in mind, I have put together my favorite Easter brunch recipes that you can make ahead, so they are conveniently located in one place. These are all the dishes you'd find at my family's Easter Sunday brunch celebration.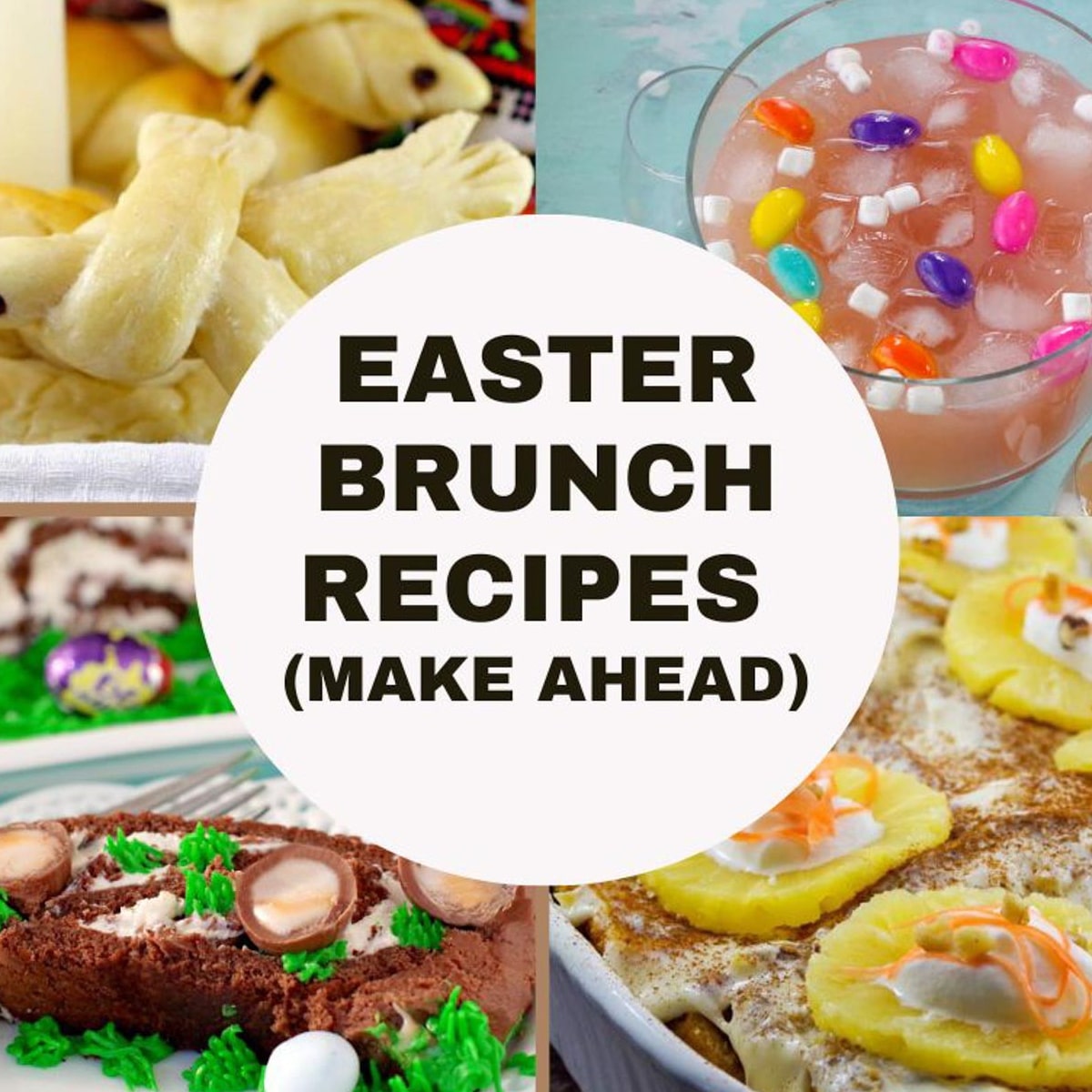 Although there are several healthy recipes, there are some Easter brunch ideas that are indulgent desserts and chocolate, of course! Because it's not Easter without CHOCOLATE! But they are all delicious Easter brunch ideas that you can make ahead, like my easy French Toast Casseroles (HELLO Carrot Cake French Toast Casserole and Baileys French Toast Casserole!), Easter brunch drinks, sides, Easter dessert, and Easter finger foods! These recipes are popular at Easter, but great any time of year!
Easter make-ahead brunch recipes
I'm all about preparation, mostly because I'm NOT a last-minute person (it stresses me out). Nor am I the kind of host that can cook and visit at the same time. Yeah, that's just too much for me to handle. And that's why I LOVE Easter brunch make-ahead recipes! Even if I can get most of it made in advance and just pop it in the oven or heat it up the day of, I'm good. So, if you're anything like me, you'll love these recipes, because the best part is... they can be made ahead. As far as I'm concerned, these are the best Easter brunch recipes!
Breakfast Casseroles
Main Courses
French Toast, Waffles, and Pancakes
Egg Recipes
Easter Finger Foods
Finger foods are great to have at an Easter brunch but they are even better for bringing along to a gathering! Kids can grab and go!
Easter Side Dishes
Easter Breads and Baked Goods
Easter Desserts
What Easter brunch is complete without sweet treats?
Easter Drinks
🦺 FOOD SAFETY
Do not use the same utensils on cooked food, that previously touched raw meat
Wash hands after touching raw meat
Don't leave food sitting out at room temperature for extended periods
Never leave cooking food unattended
Use oils with high smoking point to avoid harmful compounds
Always have good ventilation when using a gas stove
Whether you are looking for good food for an Easter brunch for your large or smaller family gatherings or for a potluck, I hope you enjoy this holiday menu and collection of healthy Easter brunch recipes, as well as indulgent recipes and easy Easter brunch ideas!
Happy Easter!
⭐ Reviews
Did you like these make-ahead Easter brunch recipes? Please leave a 5 star rating a comment below!
Don't forget to SUBSCRIBE (get my FREE E-cookbook) and be sure to FOLLOW ME on FACEBOOK, TWITTER, INSTAGRAM and PINTEREST!