I remember seeing these Ukrainian Easter Doves (Holuby) as a kid, but they were on fancy towers of bread and did not look like they were edible. In fact, some of them would have actually been varnished to preserve them. I was really glad when I could make them and actually eat them. It was like a childhood fantasy come true.... And now you can too!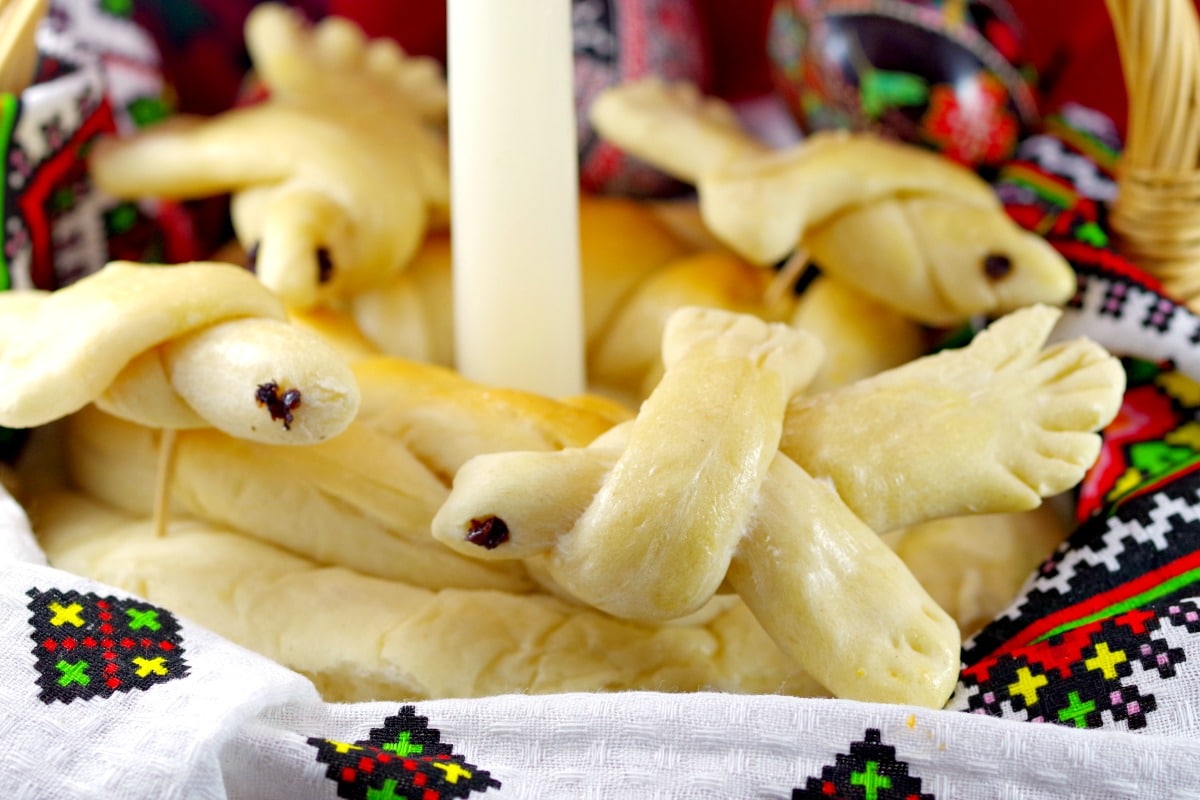 These cute little edible ornamental doves are used to decorate the Easter baskets that carry bread to church on Easter Sunday as an offering. I make them because it's tradition and I decorate my Ukrainian Easter bread (recipes below). Easter doves are fun and easy to make with this simple step by step tutorial!
In an earlier time in Ukraine, on the Holy Day of the 40 Martyrs, (March 9, O.S; March 22, N.S.), the return of the birds in the spring was celebrated with special spring songs (vesnianky). Birds made of dough were also baked representing the larks that were migrating back to the north.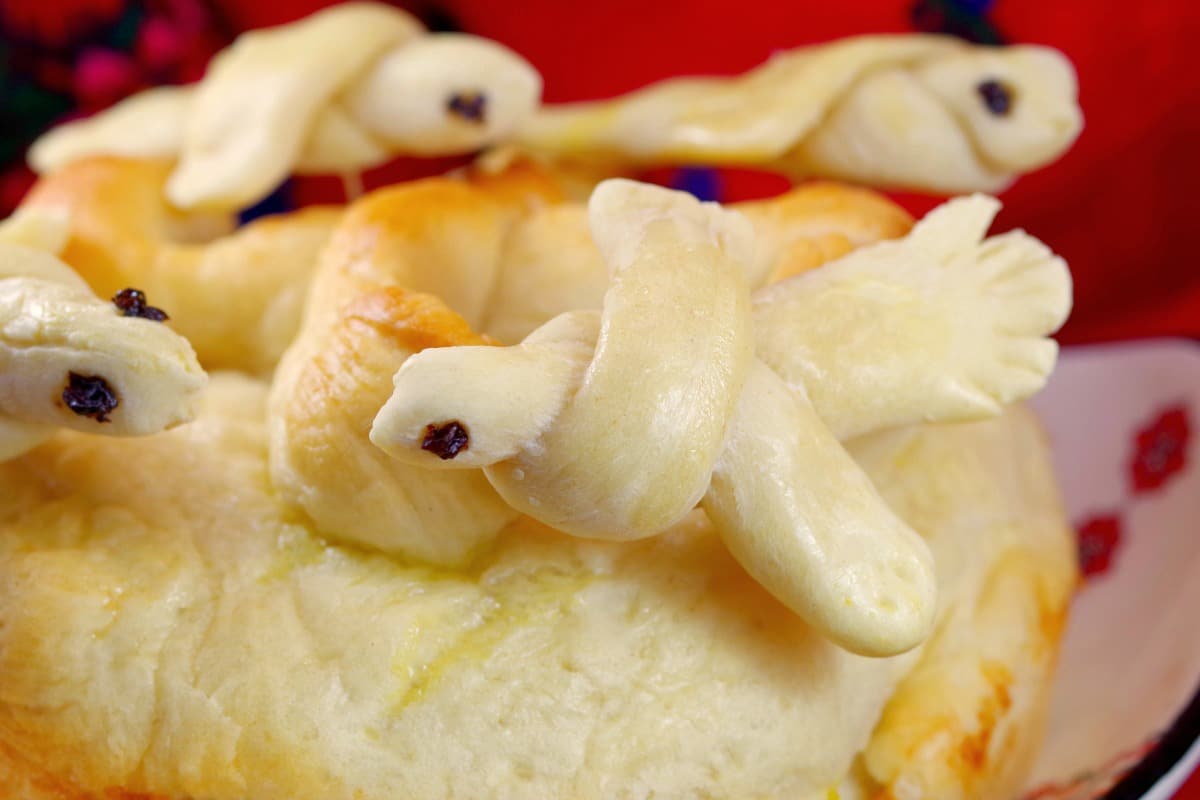 Easter Doves
Today, these bread "doves" still symbolize spring and are made for Easter. These doves are also used to decorate wedding bread called Korovai, a traditional bread used at weddings and anniversaries that symbolizes family and community. The Korovai is decorated with these ornamental baked doves: two birds represent the couple, and other dove ornaments represent family and friends.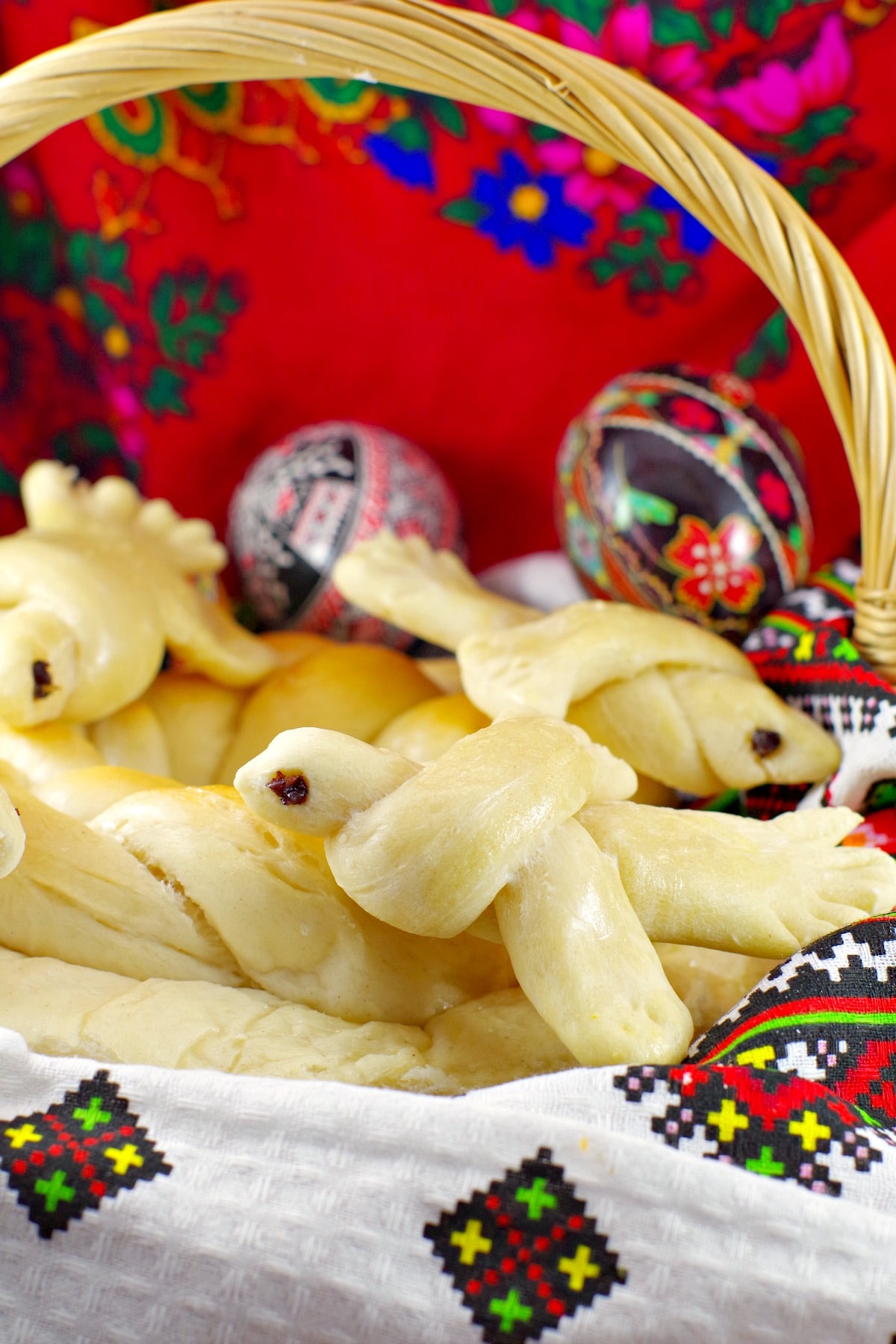 To Ukrainians, bread is kind of a big deal. In fact, Ukrainians regard bread as one of the holiest of foods. Not only is it brought to church on Easter Sunday as an offering, it used to greet honored guests at home. Ukrainians celebrate almost every holiday (Christmas and Easter) and special occasion (like weddings and anniversaries) with bread. And if you ever have the honor of attending a traditional Ukrainian wedding, you will marvel at the towers of elaborately decorated breads.
Ukrainian Dove tutorial
Easter doves are great way to celebrate Easter and a fun family Easter activity to do with kids! They are also ideal to make with larger groups of kids. In fact, it's so easy that I did this with a class of 8 year-olds when my son was in Grade 3 and my daughter's girl guides group (ages 8 and 9) and they loved it!
A complete step by step photo tutorial is in the directions below but I printed this out and gave it to each child (it really helped)!
Here are some EASY BREAD MACHINE Ukrainian Easter Babka Bread, Paska and Kolach Bread Recipes to go with your Easter Doves!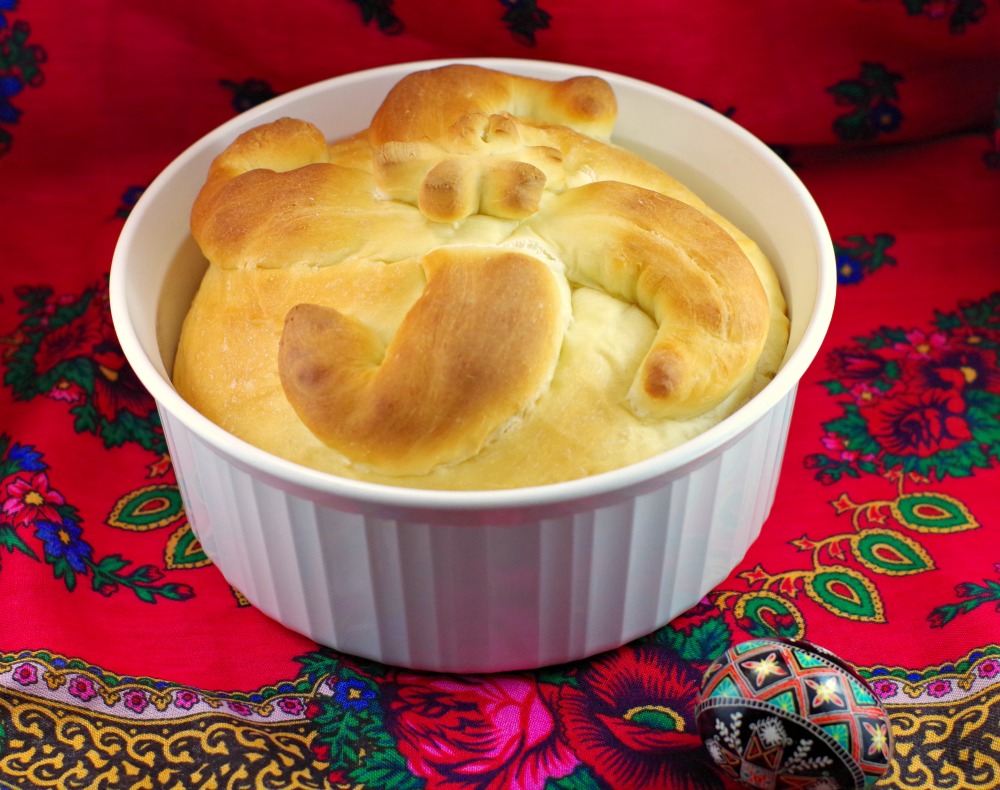 Bread Machine Kolach-Ukrainian Christmas bread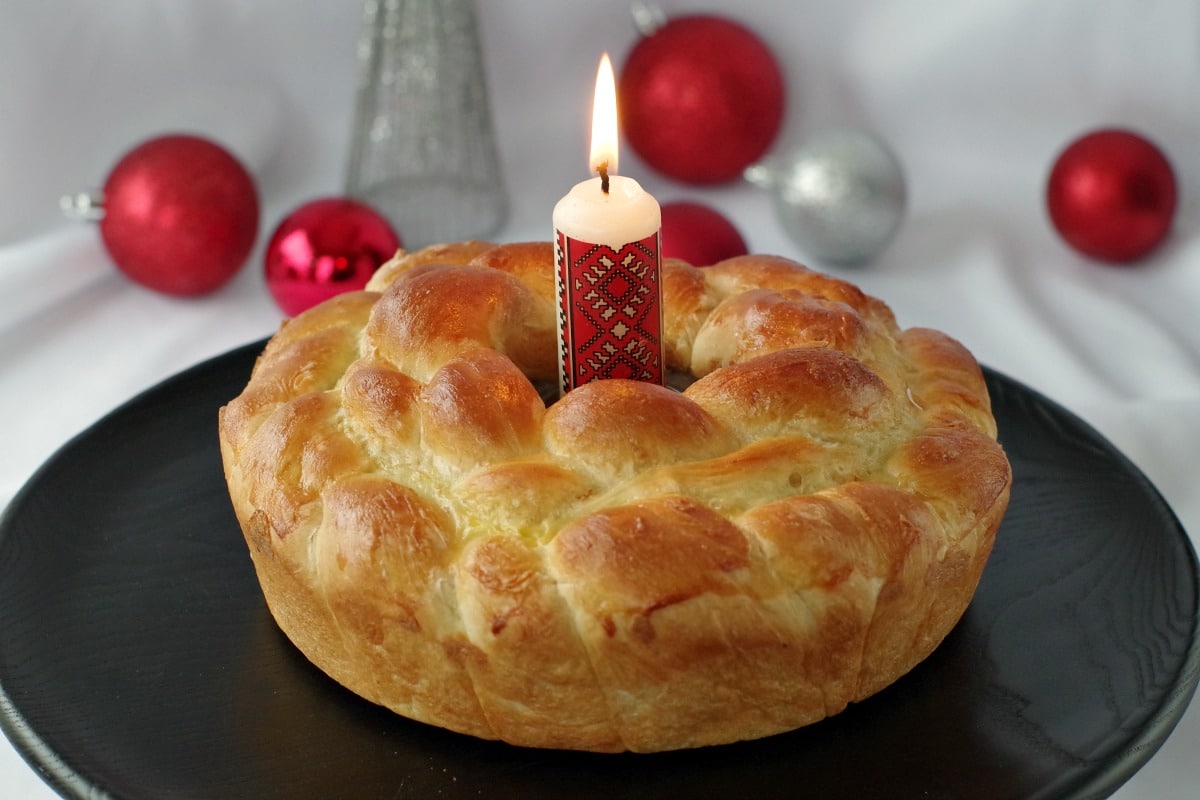 My Amazon Recommendations (affiliate links)
Print
Ukrainian Easter Doves (Holuby)
Learn how to make Ukrainian Easter Doves (Holuby) with this easy to follow tutorial (with recipe) ! These cute edible ornamental doves are used to decorate Ukrainian Easter Baskets, Ukrainian Easter bread, Korovai (wedding bread) and symbolize spring.
Ingredients
Egg Wash:
1

egg

beaten

1

tsp

water or milk
Instructions
Preheat the oven to 350 degrees F line a baking sheet with parchment paper

Combine the first 5 ingredients. Add one cup flour. Mix well with a wooden spoon.

Add another two cups flour. Knead by hand on a floured surface.

If more flour is needed, add a little at a time. The dough should be thick, like play dough.

Roll out the dough into snakes about the thickness of a finger; cut into 2 - 4 inch sections.

Place one strip horizontally on your work surface; lay another strip on top like a cross

Pull the arm of the strip beneath up and cross to the opposite side.

Now pull the other (left) side across (left side becomes right, right side becomes left)

Flatten and shape slightly as for wings, then use a plastic or regular knife to cut little feathers into tail

Using the other (non-cutting side) of the knife blade, press feather impressions into wings

Shape one end of the straight strip of dough like a head (pinch for a beak)

Add a poppy seed or piece of a currant for eyes (I used pieces of currants- not the entire currant)

Let rise for 5 minutes, then place the doves in a preheated oven for 10 minutes.

Remove and brush with the beaten egg, which has been diluted with 1 tsp of water

Return to the oven for another 10 minutes.

Remove from oven. Cool for 5 minutes.

Insert a toothpick on the bottom of each dove to enable insertion into decorative ritual breads (see photos in post).
Notes
 *Note: I make mine quite large, but they can be made smaller
**Note: These directions can be copied and handed out if doing this with kids
Nutrition Facts
Ukrainian Easter Doves (Holuby)
Amount Per Serving
Calories 51
% Daily Value*
Cholesterol 10mg3%
Sodium 4mg0%
Potassium 17mg0%
Carbohydrates 9g3%
Protein 1g2%
Vitamin A 15IU0%
Calcium 4mg0%
Iron 0.6mg3%
* Percent Daily Values are based on a 2000 calorie diet.
Nutrition
Calories:
51
kcal
|
Carbohydrates:
9
g
|
Protein:
1
g
|
Cholesterol:
10
mg
|
Sodium:
4
mg
|
Potassium:
17
mg
|
Vitamin A:
15
IU
|
Calcium:
4
mg
|
Iron:
0.6
mg
Save
Saved!
MORE UKRAINIAN RECIPES!
Ukrainian Shortcut Borscht Soup with Beef
Scottish Style Ukrainian Cabbage Rolls (Meat and Rice Cabbage Rolls)
Easy Pierogi Stuffed Mushrooms
Pampushky: Mini Ukrainian doughnuts
Ukrainian Style Eggs- Egg dinner recipe
Ukrainian Daughter's Crock Pot Casserole: An easy Ukrainian feast in one pot
Lazy Slow Cooker Cabbage Rolls