As a kid, Easter was an occasion second only to Halloween, summoning the kind of unadulterated delight that can only come from hunting your own living room for hordes of chocolate. Yet it was the Ukrainian Easter bread I really looked forward to
Although bread is not typically the type of fare that kids yearn for, this bread was different. It was Ukrainian Babka.
And like any other child, I longed for kid food; candy, cakes, cookies, mac & cheese, pizza and sugary cereals, all of which happened to be the very same foods my mother had declared a moratorium on.
Except at Halloween and Easter. These were shining days for us – the days of junk food freedom. Emancipated from the shackles of parental food domination, we completely went to town on the sweet stuff; scarfing down that waxy, second-rate chocolate at every opportunity. We ate chocolate for breakfast, dessert and every snack in between, until just one more chocolate egg made us cry 'uncle'.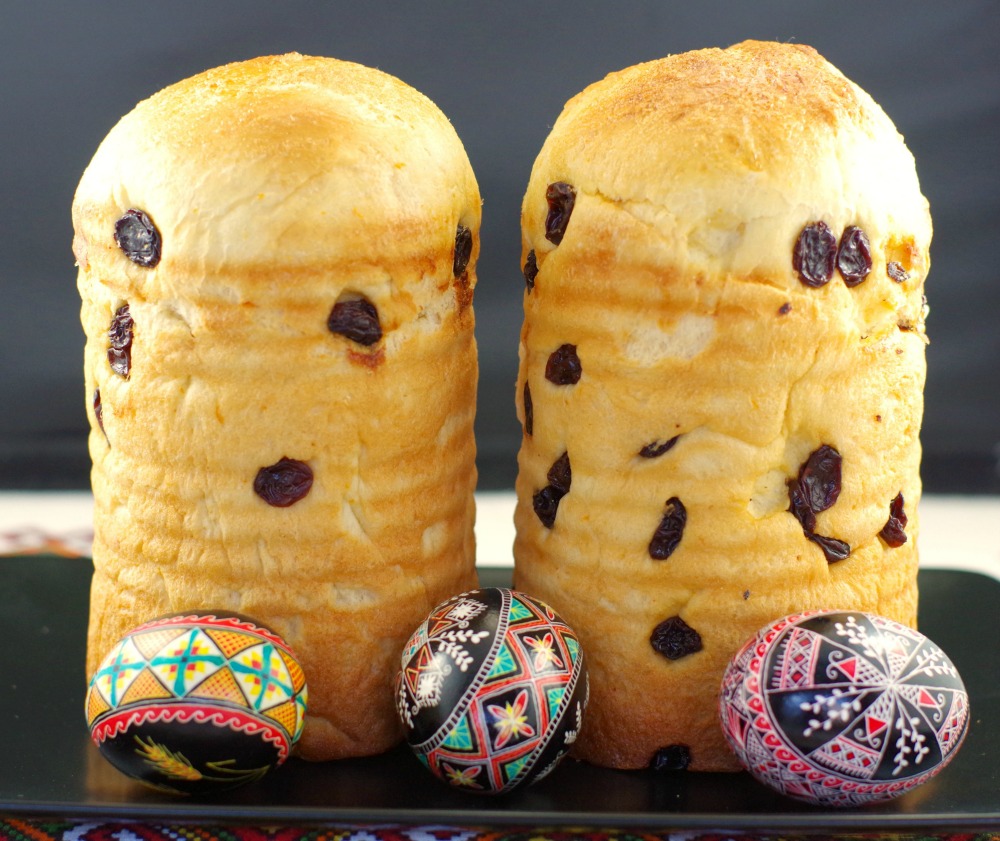 Ukrainian Babka
So, in order to trump Easter chocolate, this was indeed, a special bread. You know, the kind of special that only comes once a year? The kind of special that infiltrates every fervent food thought in anticipation of the annual event it's served at?
Of course I am talking about Babka- that light, buttery, slightly sweet, delicate cake-like type of Ukrainian Easter bread; bread that sent me reeling with the kind of gastronomical gratification only that breed of special food is capable of evoking. Then luring me back to the table, sawing off hunk after glorious flaky hunk, heaping with slabs of semi solid butter, barely clinging to its delicate crumbs; the Easter chocolate riding shot-gun….for now.
And after the celebration had finally ceased, ballooning above the belt, yet sated for another year, only then would I turn back to my Easter chocolate for consolation.
Bread Machine Babka
Bread is a big deal!
To Ukrainians, bread is kind of a big deal. In fact, Ukrainians regard bread as one of the holiest of foods. Not only is it brought to church on Easter Sunday as an offering, it used to greet honoured guests at home. Ukrainians celebrate almost every holiday and special occasion (like weddings and anniversaries) with bread. And if you ever have the honor of attending a traditional Ukrainian wedding, you will marvel at the towers of elaborately decorated breads.
I carry on the tradition and make this bread for my family now. However, unlike those that seek solace in the art of making home-made bread, I preferred when my Baba made it for me. Although I love to bake, I can do without the hard labor of bread making . I have weak wrists – really, it's true!
So allow me to introduce a bread maker version of Babka that is every bit as good as the handmade version. Although the artisan bread maker may scoff at this method, I am not the type of person to take technological advances for granted, especially when it means less physical work for yours truly. And you still get your baking fix- the machine just does the unpleasant part for you!
If you don't have a bread maker, check out this great deals at Amazon! (affiliate links)

You may also like Bread Maker Paska!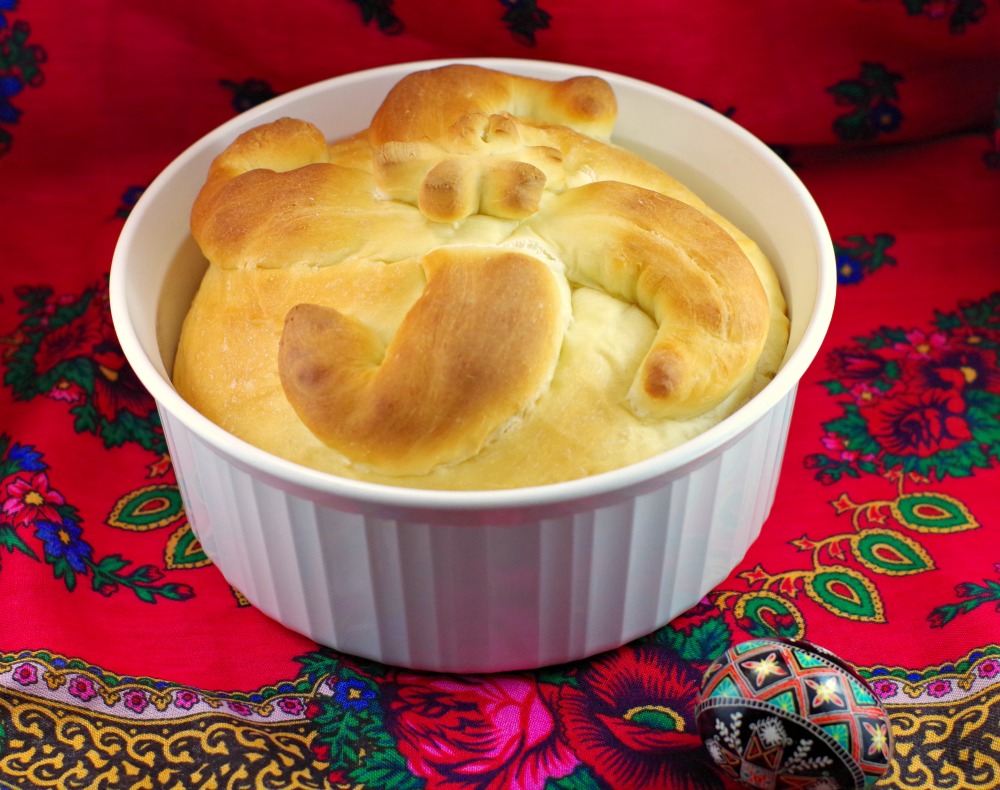 And check out my Ukrainian Easter Dove Tutorial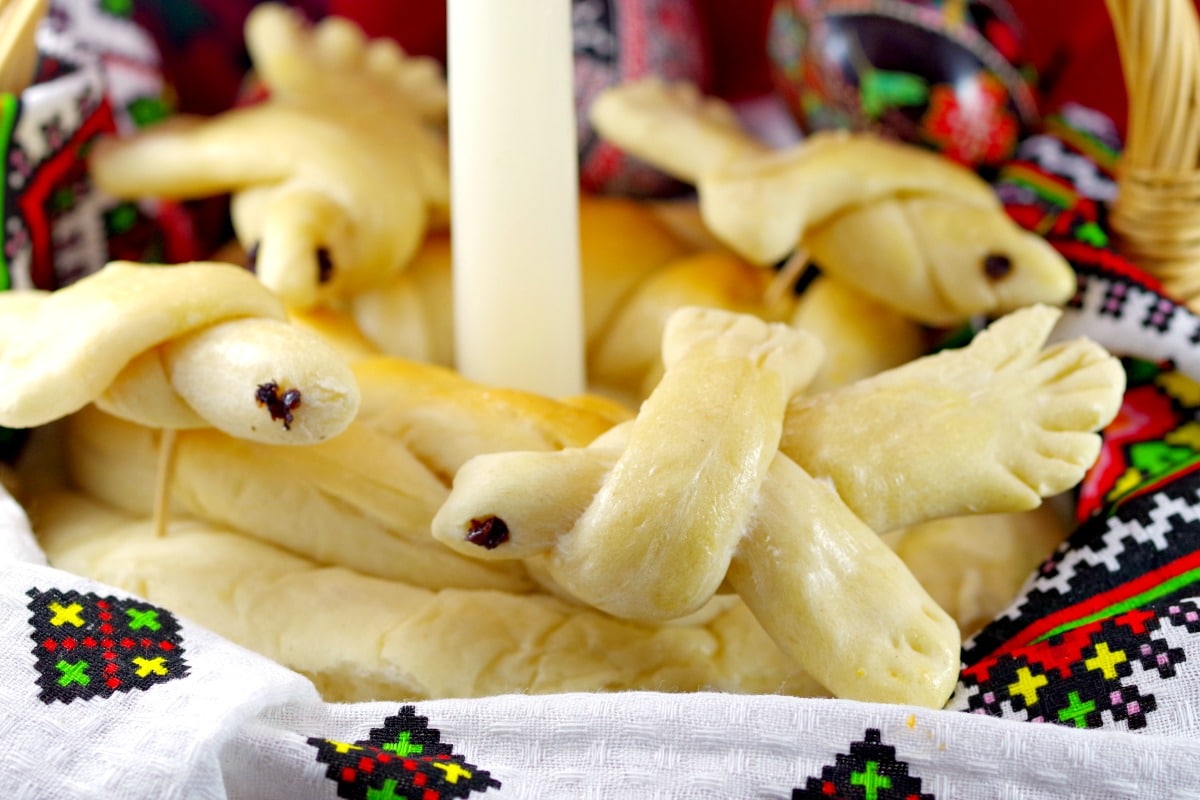 And my Bread Machine Kolach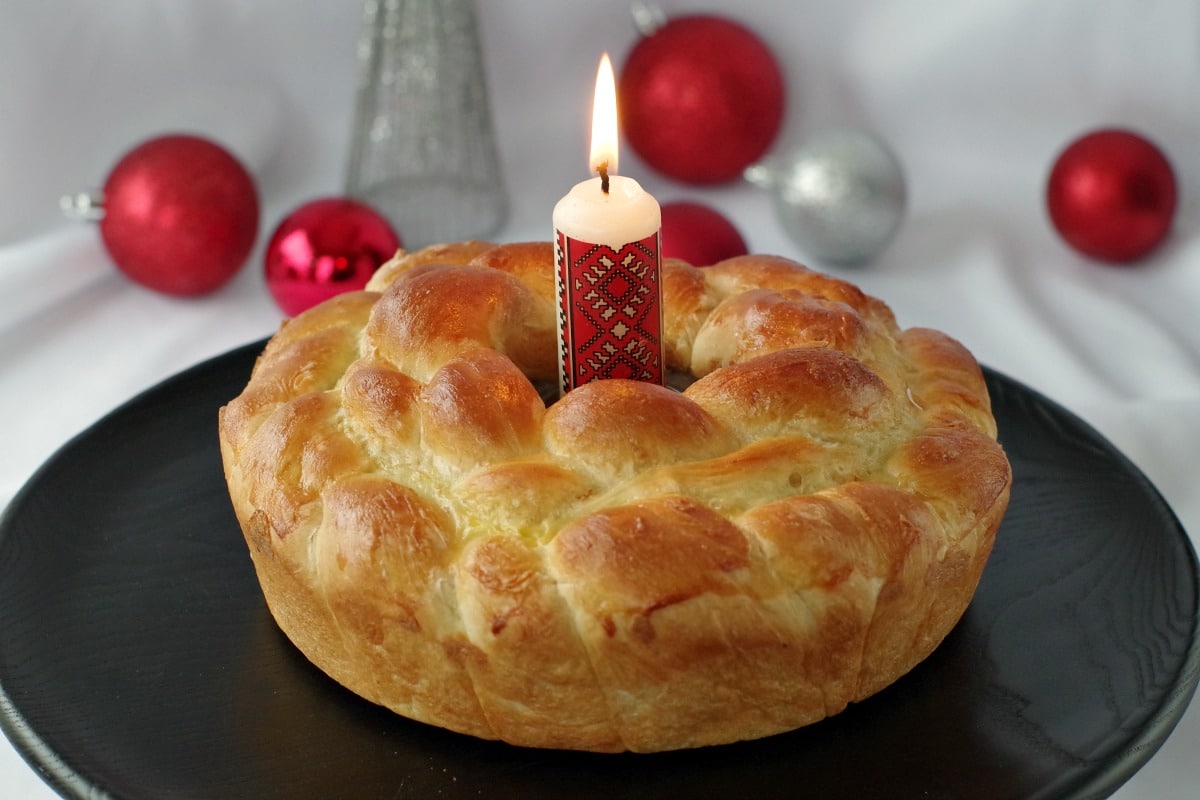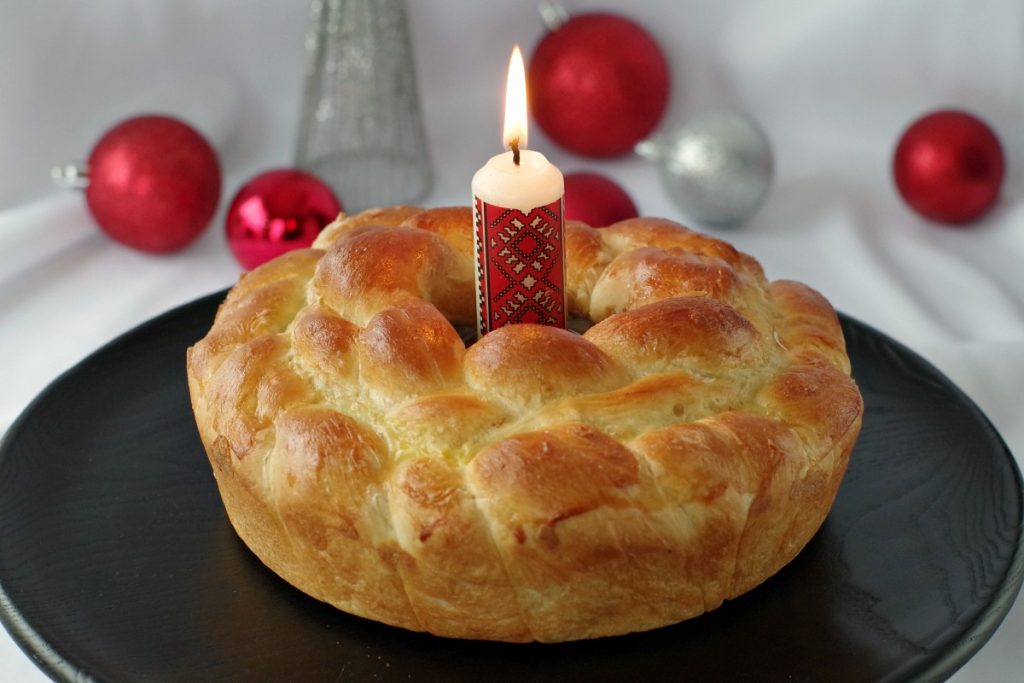 Print
Bread Maker Babka
This tender, cake- like babka, a sweet traditional Ukrainian Easter bread, is made in your bread machine!
Instructions
In a small bowl, beat egg, egg yolks, butter, sugar, salt, milk powder, orange juice, orange zest, and vanilla. Pour into the bread maker. Add 1 cup water, minus 1 tbsp.

Add flour, then form a small crater with your finger in the top of the flour and pour yeast into this crater.

Set bread machine on dough cycle and when 'add fruit/ingredients' signal goes off, add raisins.

When dough cycle is complete, remove from bread machine.

Prepare 3 juice tins (I use 48 oz /1.36 L tomato juice tins) by greasing generously with shortening and divide dough into 3 balls. Place balls into 3 juice tins and let rise until double in bulk. (about 45 mins- 1 hour)

Beat egg whites until foamy and brush tops of loaves.

Bake on low rack of oven on 375 degrees F for 20 – 25 minutes or until golden brown on top (if loaves are browning too fast, cover with aluminum foil)

Check for doneness: Remove from oven and knock on the bottom of the tin with your knuckles. If done, it will sound hollow when tapped (yes, this really works!)

Remove loaves from oven, cool slightly and remove from tins onto pillows covered with tea towels.

Slice in rounds and serve with butter, if desired.
Notes
Note: This recipe is for a 1 lb bread maker
Note: Gluten free option: Replace all- purpose flour with: 3 and ⅔ cups rice flour
Note: I use tomato juice tins (about 1 litre),  as it has become increasingly difficult to find coffee tins (most are made out of a plastic-type material) now
*Loaves are very soft and require careful handling.
MORE UKRAINIAN RECIPES!
Ukrainian Shortcut Borscht Soup with Beef
Scottish Style Ukrainian Cabbage Rolls (Meat and Rice Cabbage Rolls)