It was only the morning after and my son was already in mourning. I couldn't blame him; the day after Malanka is always a bit of a let down.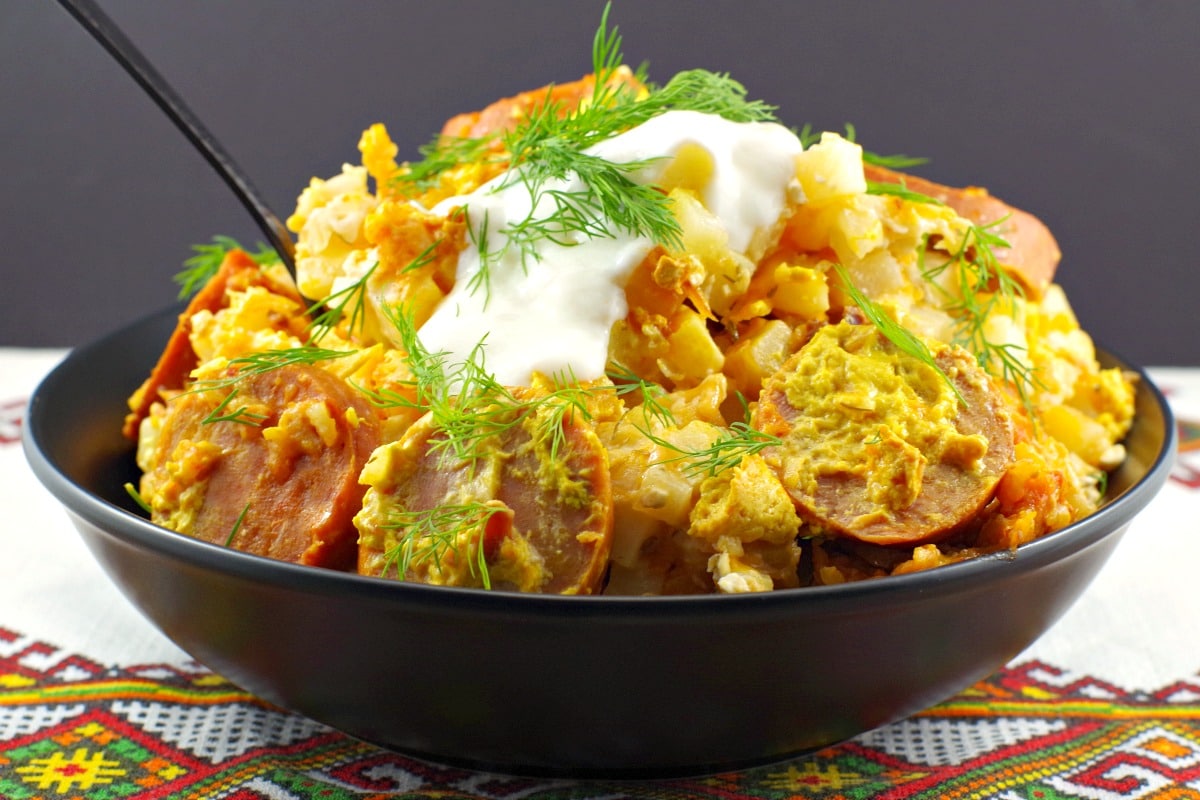 Not only does the next one feel like a really long way away, I was also feeling considerably hungover. My son loves Malanka more than anyone I know. But this year it was even more special for him than any other year.
So, on the heels of this wonderful celebration, with 11 long months 1 week and 4 days to go until the next Malanka, I wanted to drown our collective sorrows and capture a little of the spirit of that night with my Ukrainian Daughter's Crock Pot Casserole. This slow cooker casserole is a giant Ukrainian feast in one pot!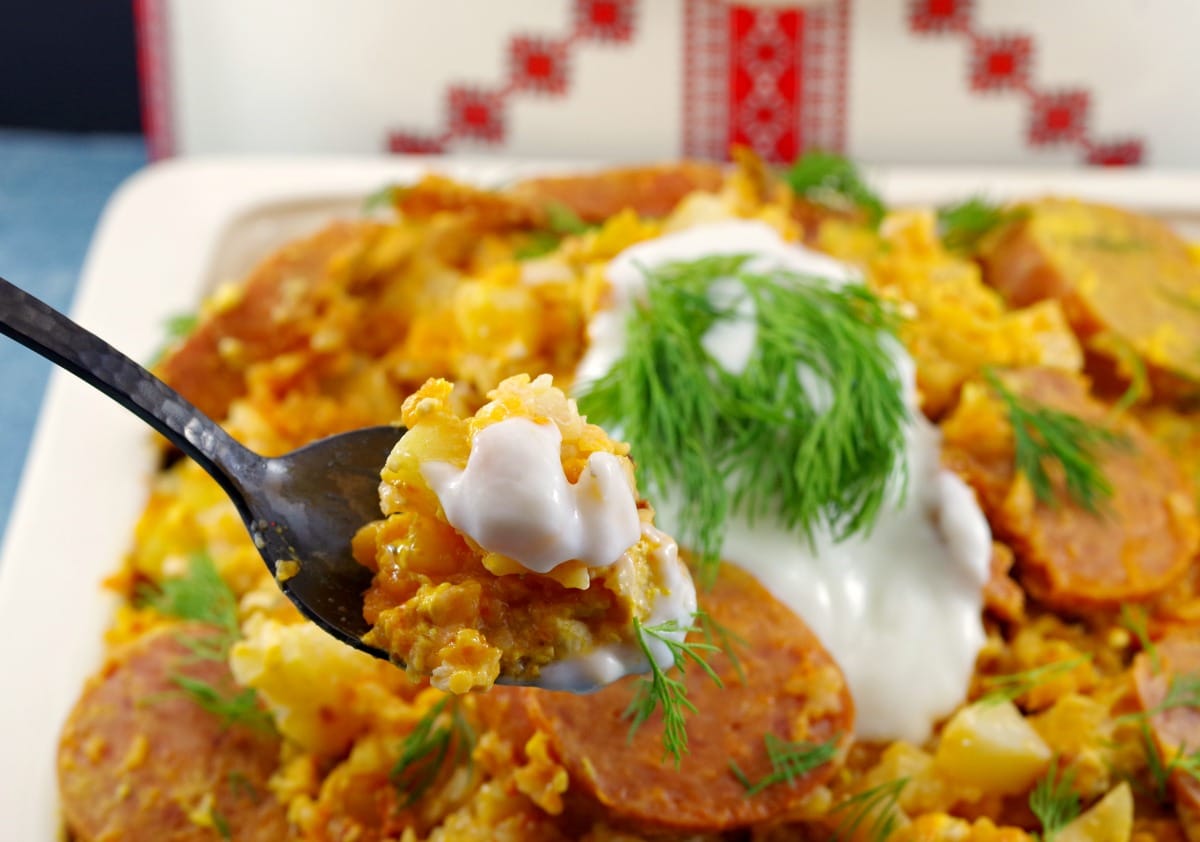 A shining light in the midst of one of the dreariest times of the year, a great big party with family and friends, beautiful dancing and an amazing Ukrainian feast of perogies, cabbage rolls and kubasa. This is our Malanka; our dance school's Ukrainian New Year's Celebration.

And this year, my son wasn't just a spectator – he got to dance at Malanka for the first time ever!

Ukrainian Recipes
Who doesn't want a giant Ukrainian dinner without having to spend a ridiculous amount of time making it? You can load all the ingredients into the slow cooker within 20 minutes, then go about your day. There is NO precooking required!

Ukrainian Food Recipes
If you are looking for Ukrainian food recipes, give this crock pot casserole a try! It's about 4 different Ukrainian meals in one dish. But the best part is that it works so well together and tastes amazing! And it should because it took me many tries and many versions to perfect this recipe. It really was a labor of love….
It should hold you over until the next Malanka (or your next big Ukrainian feast) anyway. Fortunately, it was able to ease my son's pain, if only a little. Oh and it also makes a pretty good hangover remedy.

And if you LOVE Ukrainian food then check out my Ukrainian Recipes Board on Pinterest
MY AMAZON PICK:
Print
Ukrainian Daughter's Slow Cooker Casserole
A Ukrainian recipe for slow cooker casserole- a huge Ukrainian meal in one pot, including kielbasa sausage, cabbage, rice and pierogi/perogy flavors. Prepped in 20 minutes - the slow cooker does the cooking for you!

Ingredients
3 -4

cups

chopped cabbage

1 very small cabbage

2

cup

dry instant brown rice

minute rice

2

cups

water

1/3

cup

tomato juice

2

10 oz

cans tomato soup

2/3

cup

real bacon bits

2/3

cup

mustard

3

tsp

horseradish

1/4

cup

greek yogurt

750

g

Ukrainian Kubassa ring

casing removed

1

kg

pkg hashbrowns frozen (about 5 cups)

defrosted

1 ½

cup

old light cheddar cheese

1

cup

light sour cream

1

cup

dry cottage cheese

1

10 oz

can cheddar soup

1

tbsp

dill

1

cup

sauerkraut

chopped

1

small onion

finely chopped

¼

cup

butter

salted

2

tbsp

sauerkraut liquid

from jar
Instructions
Spray crock pot with non-stick cooking spray. Pour 1 can of tomato soup into bottom of crock pot. Add 3-4 cups shredded cabbage on bottom of crock pot, then add dry rice.

Pour 2 cups of water on top of rice, then sprinkle on ¼ cup of bacon bits.

Evenly spread the other can of tomato soup over cabbage, then pour on tomato juice. Cut kubasa into circles (1/4 inch) and spread evenly over cabbage roll layer.

Mix mustard, horseradish and greek yogurt together and spread evenly over kubasa.

In a large mixing bowl mix frozen hashbrowns, finely cut onion, dry cottage cheese, sauerkraut, sour cream, remaining bacon bits, cheddar cheese soup, dill, and the grated cheddar cheese. Then cut butter into very small pieces and mix in.

Spread hashbrown mixture over top of kubasa. Sprinkle sauerkraut liquid over hashbrown mixture.

Turn crock pot on low for 8-10 hour. It is ready when cabbage is tender and cooked through.
Notes
**Note: This recipe is for a minimum 6 Qt. crock pot/ slowcooker