I envisioned days, even weeks, stretched out in front of me, leisurely perusing Pinterest, looking for that perfect recipe (or even coming up with my own). Then the next thing I know, it's closing in on me, only a few days away. Funny, when I first heard about the potluck, it felt like ages away.
I have a love-hate relationship with potlucks. I love the social part of course, sampling new and interesting dishes, not having to cook that day and deciding on what I'm going to bring. Yet I hate deciding on what I'm going to bring.
Take this weekend for instance:
I have a Valentine's Day potluck coming up at work on Tuesday. It's now Friday. And in between the invite and life happening, a stomach bug has infiltrated my abode, taken down my entire family and left me bracing to be its next victim. I have tons to do this weekend, along with kids' activities and I still haven't an inkling of what I'm bringing to the potluck.
In my world, the potluck contribution bar is set pretty high. I already feel a ton of pressure to make something particularly awesome, to the point that it paralyzes me with indecision. Ugh! Now there goes ¾ of the ideas I pinned when I thought I had a lots of time. And there is certainly no way in hell a new fabulous recipe is going to happen before then.
My bar has just been lowered.
St. Patrick's Day Green Dessert
If this has ever happened to you, not to worry, I've got your six! If you are looking for St. Patrick's day green food, here is a beautiful and tasty green dessert just in time for your potluck or dinner party. This retro potluck dish was a pretty popular one back 'in the day' - about 15 -20 years ago. I haven't seen it around for a while so I decided to resurrect it, with a few changes.
You can make this St. Patrick's dessert in less than 30 minutes, although it's best to sit overnight in the fridge. If you have less time than that, 3-4 hours will do it. This Pistachio dessert square is also versatile in that you can change up the topping (use shaved toasted almonds, finely chopped pistachios, another chopped nut or chocolate shavings) and bring it to any potluck any time of year. I used to take it to summer, soccer team and work potlucks- back in the day, of course.
Happy Potlucking!
Looking for more green or St. Patrick's Day Dessert Recipes? Give my Shamrock Irish Cream Dessert Shots a try! They can be made with or without alcohol:
And if you love pistachio, give my Spumoni Trifle a try! It can be made for Halloween or without the eyeballs and worms!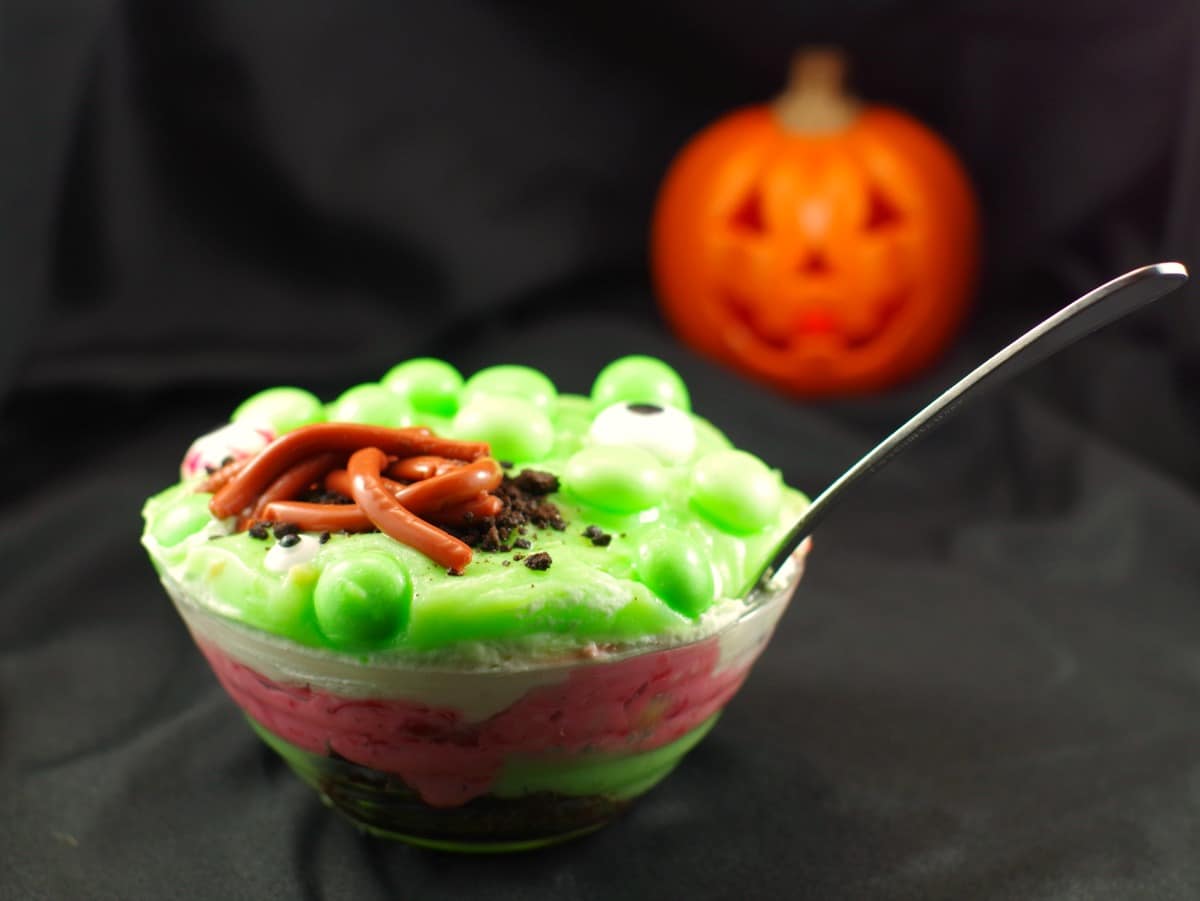 My Amazon Recommendations (affiliate links)
Print
Pistachio Dessert
A quick, easy and delicious green dessert layered with whipped cream, cream cheese, pistachio pudding on a nutty shortbread crust - perfect for your St. Patrick's Day dinner or any potluck
Instructions
Preheat oven to 350 degrees F. Spray 9X13 baking pan with non-stick cooking spray.

For base: In a food processor, add ground pecans with butter, flour and 2 Tblsp icing sugar and blend until it clings together; press onto bottom of prepared pan. Bake 12- 15 minutes or until lightly brown around edges; cool completely.

Beat pudding mixes and milk with an electric mixer for 2 minutes. Set aside and let stand until thickened for 5 minutes.

Beat cream cheese, vanilla and icing sugar in medium bowl with electric mixer until well blended. Spread gently over cooled crust.* If the crust cracks a little,don't worry it's not a big deal.

Pour pudding over cream cheese layer.

Melt white chocolate in the microwave on ½ power for about 40 seconds or until melted. Put back in for 10 second intervals if not melted, stirring between.

Beat whipped cream to soft peaks, then add melted white chocolate and beat to stiff peaks.

Cover pudding layer with whipped cream by spreading gently, ensuring you keep the layers separate. Refrigerate for 3-4 hours or overnight.
Notes
NOTE: This recipe needs to be refrigerated for 3-4 hours or overnight
Save
Saved!