I love a good challenge! And what a fun challenge this was. Do your remember the show, "Sugar" hosted by Anna Olson? Well, it was an awesome show and I'm a HUGE fan of Anna Olson. She's not only an incredible baker, she's Canadian too! And for a while, she ran a monthly bake-off challenge where she'd pick one of her recipes and invite you to recreate it, with your own twist. This particular challenge involved her Jam filled Doughnut Muffins.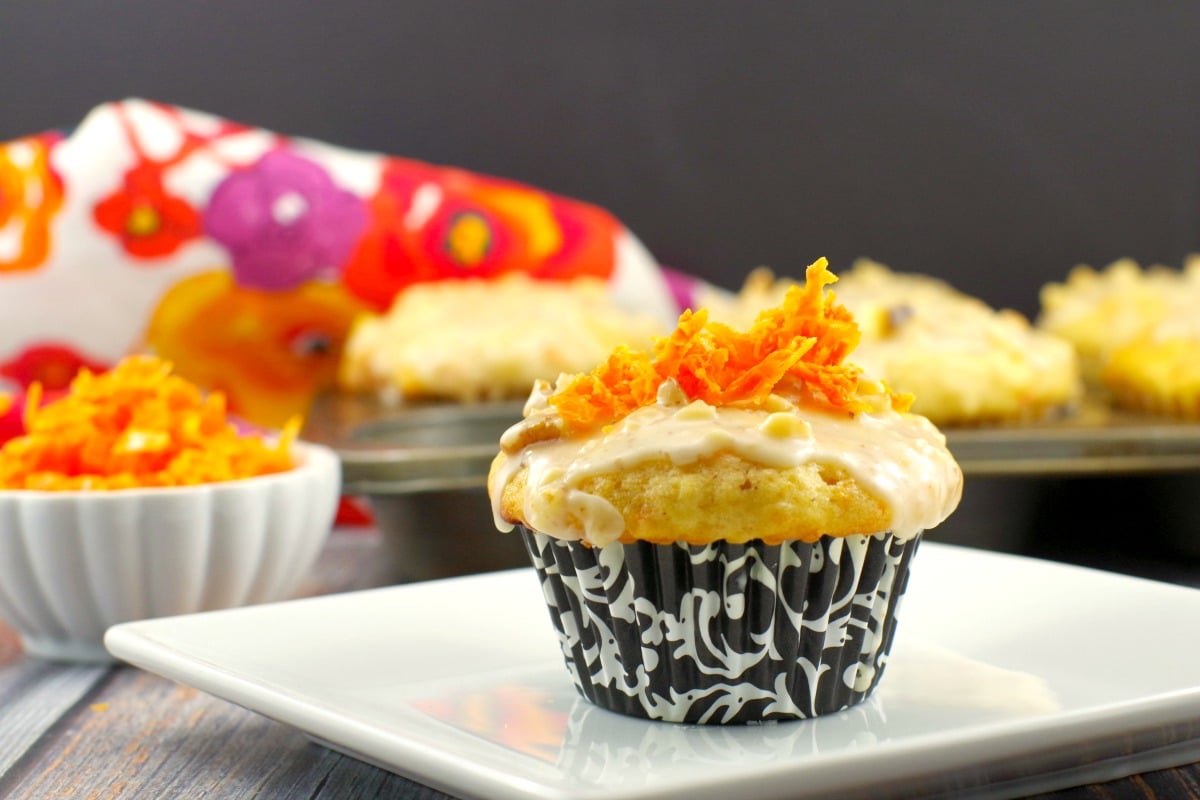 At the time, I had never even heard of a doughnut muffin, much less made one. I was intrigued...This Glazed Carrot Cake Doughnut Muffin was the delicious result of that bake-off challenge!
Jump to:
I actually created these doughnut muffins a few years ago, around the time my Mom and Grandma were coming to town for a visit from Winnipeg. It was close to Mother's day so I decided to have an early celebration.
This gourmet muffin is a orange mocha glazed carrot cake doughnut muffin with jam Mascarpone filling and candied carrots. Fancier than your typical muffin or doughnut, but easy to make and tastes like carrot cake. This donut muffin recipe is perfect for Easter, Mother's day or your next brunch or breakfast potluck!
🥘Ingredients
For this donut muffin recipe, you'll need:
Milk
White granulated sugar
Vegetable oil
Carrots
Eggs
Vanilla
All-purpose flour
Baking powder
Salt
Cinnamon
Jam (marmalade, apricot or peach)
Confectioner's sugar/powdered sugar/icing sugar
Orange juice
Walnuts
Brewed vanilla coffee
1 recipe for Candied Carrots
📖Variations & Substitutions
Jam: My Mom's fave muffin is carrot and my Grandma loves marmalade, which also goes so well with carrot (although I've made this with peach jam and apricot jam as well - peach being my fave).

Mascarpone: If you don't have mascarpone, you could substitute cream cheese.

Coffee: you can substitute regular coffee and ¼ teaspoon of vanilla extract if you don't have vanilla flavored coffee
Although this donut muffin is as easy to make as any muffin, it's not your typical muffin. Therefore, I'm going to go as far as to give it the label "gourmet muffin" because it's fancier than your average muffin or doughnut. However, it's still not too fancy for a regular breakfast or brunch potluck and it's easy to make.
But if you want to bring something a little more elegant, that looks super yummy, it really is the PERFECT sweet treat for any breakfast or brunch potluck. In fact, I recently brought these carrot cake muffins to a breakfast potluck and I think it was the candied carrot topping that won everyone over. My husband actually couldn't get past the fact that I turned carrots into candy. He thinks it's my new super power 🙂 You can find my Candied Carrot recipe HERE!
🌡️Storing
These muffins will keep for up to 4 days in an airtight container, or can be frozen (in an airtight container) for up to 3 months. If you are going to make them in advance and freeze them, I recommend you wait until they are completely thawed to add the candied carrots. Although you can freeze them with the glaze, they present nicer when you glaze them after they are defrosted.
👪 Serving Size
This recipe for gourmet muffins makes 18. However, you can half, double or triple the recipe. Simply click on the blue serving size in the recipe card, select the number of servings and the recipe amounts will adjust accordingly. You'll just need additional muffin tins.
The best part is that these gourmet muffins, with a jam Mascarpone filling, orange mocha glaze and candied carrots, are part doughnut, muffin and taste like carrot cake! You can't go wrong with that combo. So, if you are looking for unique muffin ideas that are a little fancier than the usual and you LUV carrot muffins, carrot cake and donuts (and who doesn't?!), this carrot doughnut muffin is for you!
And if you love carrots in your baking, then give my other carrot baking recipes a try:
⭐ Reviews
Did you make this recipe? Please RATE THE RECIPE below!
Please SUBSCRIBE  (get my FREE E-cookbook) and be sure to FOLLOW ME on FACEBOOK, TWITTER, INSTAGRAM and PINTEREST!
🍳More Brunch Recipes!