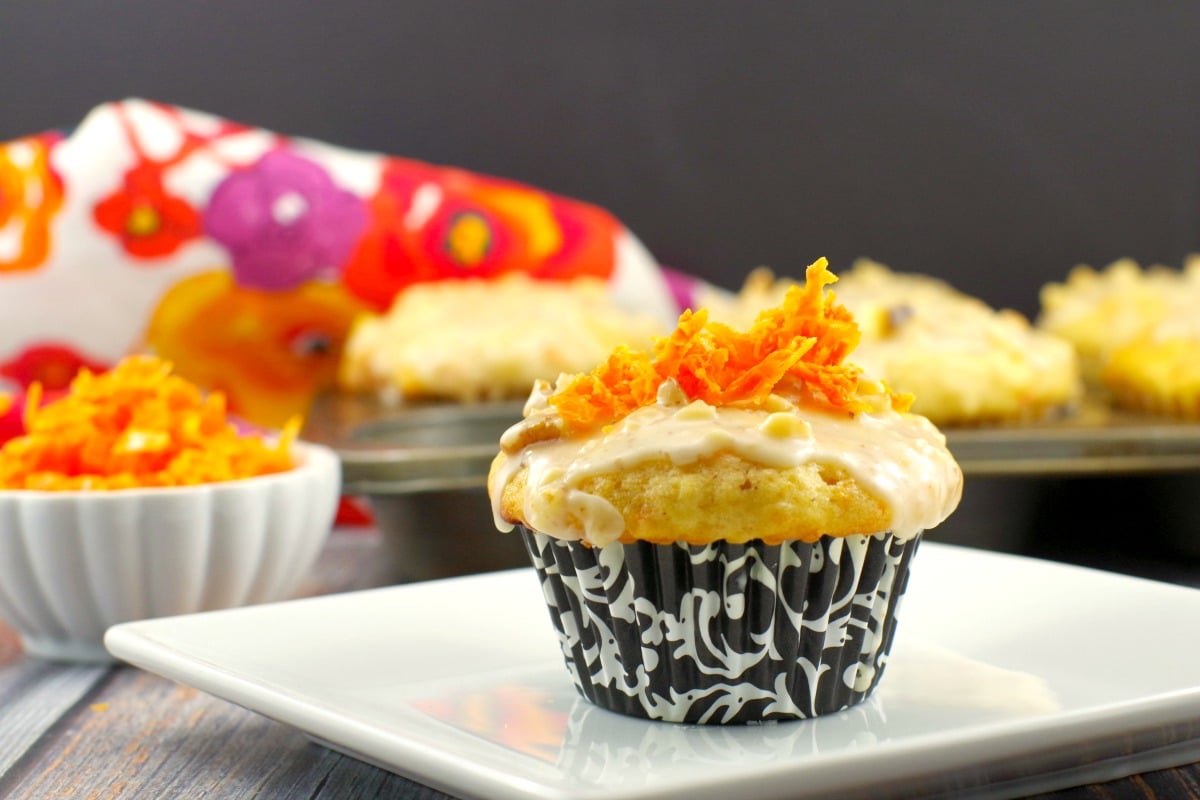 This post contains some affiliate links (See Disclosure Policy)
I love a good challenge! And what a fun challenge this was. Do your remember the show, "Sugar" hosted by Anna Olson? Well, it was an awesome show and I'm a HUGE fan of Anna Olson. She's not only an incredible baker, she's Canadian too! And for a while, she ran a monthly bake-off challenge where she'd pick one of her recipes and invite you to recreate it, with your own twist.  This particular challenge involved her Jam filled Doughnut Muffins. At the time, I had never even heard of a doughnut muffin, much less made one. I was intrigued…
This Glazed Carrot Cake Doughnut Muffin was the delicious result of that bake-off challenge!
I actually created this recipe a few years ago, around the time my Mom and Grandma were coming to town for a visit from Winnipeg. It was close to Mother's day so I decided to have an early celebration. My Mom's fave muffin is carrot and my Grandma loves marmalade, which also goes so well with carrot (although I've made this with peach jam and apricot jam as well – peach being my fave). So I put the two together with Mascarpone cheese in the filling, an orange mocha glaze and candied carrots and VOILA! Deliciousness ensued…..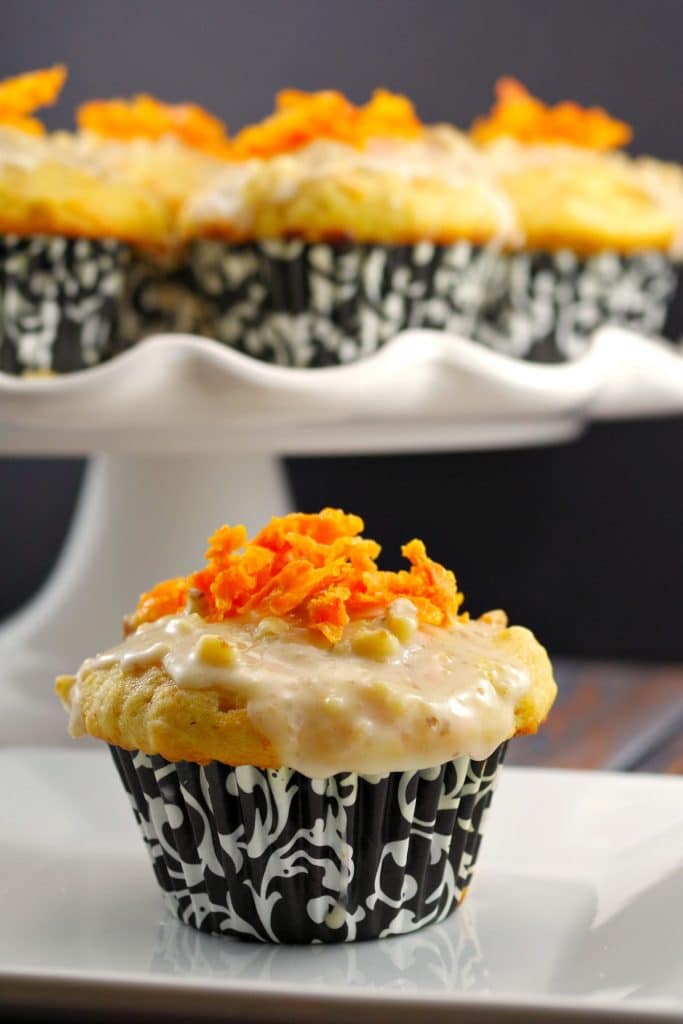 Gourmet Muffins
Although this doughnut muffin is as easy to make as any muffin, it's not your typical muffin. Therefore, I'm going to go as far as to give it the label "gourmet muffin" because it's fancier than your average muffin or doughnut. However, it's still not too fancy for a regular breakfast or brunch potluck. But if you want to bring something a little more elegant, that looks super yummy, it really is the PERFECT sweet treat for any breakfast or brunch potluck.
In fact, I recently brought these doughnut muffins to a breakfast potluck and I think it was the candied carrot topping that won everyone over. My husband actually couldn't get past the fact that I turned carrots into candy. He thinks it's my new super power 🙂
So, if you are looking for muffin ideas that are a little fancier than the usual and you LUV carrot muffins and donuts, this doughnut muffin is for you!
And if you love carrots in your baking, then give my other carrot baking recipes a try:
Carrot Cake Doughnut Muffins with Mascarpone Jam Filling, Orange Mocha Glaze & Candied Carrots
A gourmet glazed doughnut muffin with jam Mascarpone filling, orange mocha glaze and candied carrots. Fancier than your typical muffin or doughnut, but easy to make. Perfect for your next brunch or breakfast potluck!
Servings
18
doughnut muffins
Ingredients
Instructions
Preheat the oven to 350F (175C) and grease 2 muffins tins (or line 18 of the cups with paper liners) * I used the black & white damask cupcake liners as shown in post (above recipe)

In a large mixing bowl, whisk the milk, sugar, oil, eggs and vanilla until blended. Add in shredded carrots. In a separate bowl, sift the flour, baking powder, salt, cinnamon and then add this to the wet mixture, stirring just until blended (a few lumps are okay).
Filling:
Fill 18 muffin tin cups 2/3 full with the batter. Stir the jam, mascarpone and cinnamon together and drop a teaspoonful into each of the muffins. Scoop the remaining batter over top so that it covers the filling completely. Bake the muffins for about 30 minutes, until a tester inserted in the center of a muffin comes out clean.

Allow the muffins to cool for 20 minutes, before turning out to cool completely.
Orange Mocha Glaze:
For the topping, whisk the ingredients together and spoon onto muffins, dividing evenly between all the muffin doughnuts.
Candied Carrots Topping:
In a small saucepan heat water and sugar till the sugar dissolves. Bring to the boil, add the carrots, and simmer for 10 minutes. Turn off the heat and leave to stand for another 10 minutes.

Remove carrots with a slotted spoon, draining off as much liquid as possible and spread the carrots out on a parchment lined baking sheet. Let dry for 24 hours in a cool, dry place OR bake in oven on low (200 degrees F) for 2 hours or until carrots are dried (as in photo)

Add candied carrots to top of muffin doughnuts, dividing evenly between all of them. Serve.

The muffins will keep for up to 4 days in an airtight container, or can be frozen for up to 3 months
Notes
Nutrition Facts
Carrot Cake Doughnut Muffins with Mascarpone Jam Filling, Orange Mocha Glaze & Candied Carrots
Amount Per Serving
Calories 321
Calories from Fat 90
% Daily Value*
Fat 10g15%
Cholesterol 19mg6%
Sodium 89mg4%
Potassium 181mg5%
Carbohydrates 55g18%
Protein 4g8%
Vitamin A 1850IU37%
Vitamin C 1.6mg2%
Calcium 68mg7%
Iron 1.4mg8%
* Percent Daily Values are based on a 2000 calorie diet.
Nutrition
Calories:
321
kcal
|
Carbohydrates:
55
g
|
Protein:
4
g
|
Fat:
10
g
|
Saturated Fat:
7
g
|
Cholesterol:
19
mg
|
Sodium:
89
mg
|
Potassium:
181
mg
|
Fiber:
1
g
|
Sugar:
34
g
|
Vitamin A:
1850
IU
|
Vitamin C:
1.6
mg
|
Calcium:
68
mg
|
Iron:
1.4
mg
This recipe is part of The Country Cook's Weekend Potluck