I love a good challenge! And what a fun challenge this was. Do your remember the show, "Sugar" hosted by Anna Olson? Well, it was an awesome show and I'm a HUGE fan of Anna Olson.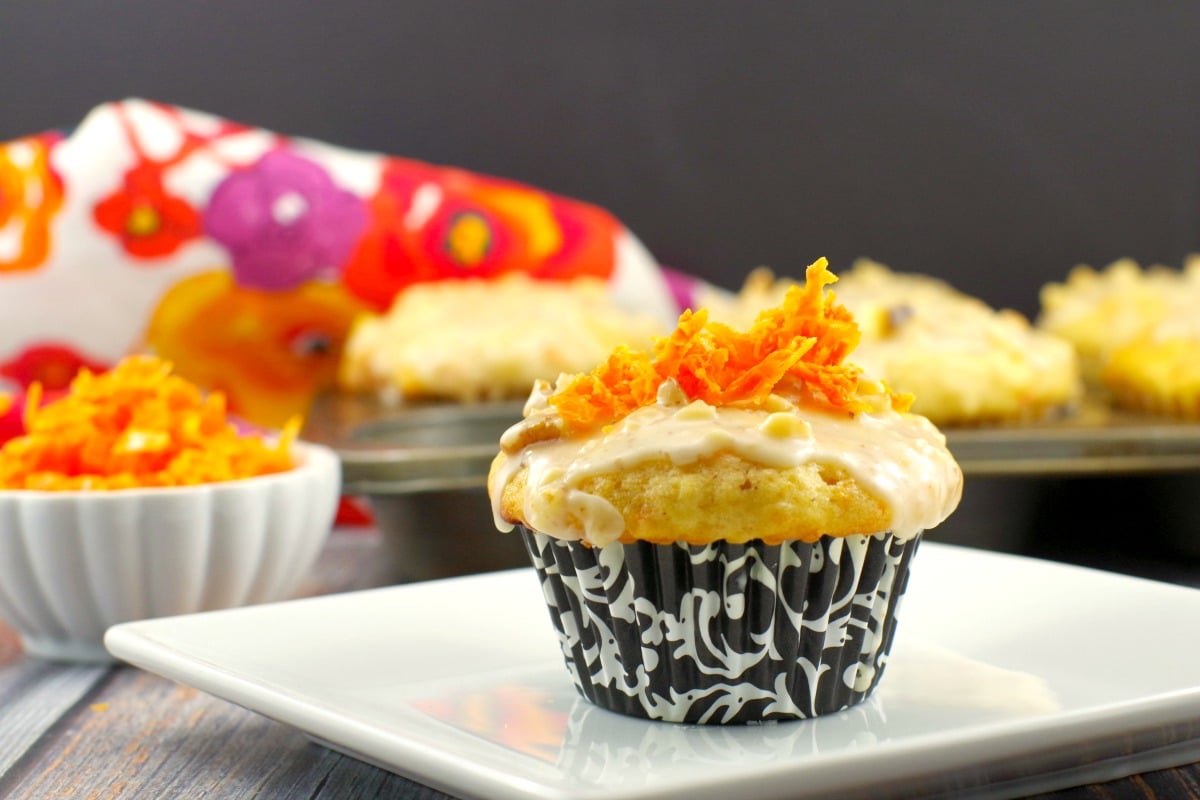 She's not only an incredible baker, she's Canadian too! And for a while, she ran a monthly bake-off challenge where she'd pick one of her recipes and invite you to recreate it, with your own twist. This particular challenge involved her Jam filled Doughnut Muffins. At the time, I had never even heard of a doughnut muffin, much less made one. I was intrigued...
This Glazed Carrot Cake Doughnut Muffin was the delicious result of that bake-off challenge!
Jump to:
I actually created these doughnut muffins a few years ago, around the time my Mom and Grandma were coming to town for a visit from Winnipeg. It was close to Mother's day so I decided to have an early celebration.
📖Variations
My Mom's fave muffin is carrot and my Grandma loves marmalade, which also goes so well with carrot (although I've made this with peach jam and apricot jam as well - peach being my fave). So I put the two together with Mascarpone cheese in the filling, an orange mocha glaze and candied carrots and VOILA! Deliciousness ensued..... If you don't have mascarpone, you could substitute cream cheese.
Although this donut muffin is as easy to make as any muffin, it's not your typical muffin. Therefore, I'm going to go as far as to give it the label "gourmet muffin" because it's fancier than your average muffin or doughnut. However, it's still not too fancy for a regular breakfast or brunch potluck and it's easy to make. But if you want to bring something a little more elegant, that looks super yummy, it really is the PERFECT sweet treat for any breakfast or brunch potluck. In fact, I recently brought these carrot cake muffins to a breakfast potluck and I think it was the candied carrot topping that won everyone over. My husband actually couldn't get past the fact that I turned carrots into candy. He thinks it's my new super power 🙂
🥘Ingredients
The best part is that these gourmet muffins, with a jam Mascarpone filling, orange mocha glaze and candied carrots, are part doughnut, muffin and taste like carrot cake! You can't go wrong with that combo. So, if you are looking for muffin ideas that are a little fancier than the usual and you LUV carrot muffins, carrot cake and donuts (and who doesn't?!), this carrot doughnut muffin is for you!
And if you love carrots in your baking, then give my other carrot baking recipes a try:
My Amazon Recommendations (affiliate links)
🍳More Brunch Recipes!
Carrot Cake Overnight French Toast Casserole
Award-Winning Maple Sausage Brunch Bites
Overnight Cinnamon Sticky Buns
Rum & Raisin Sheet Pan Pancakes
This recipe is part of The Country Cook's Weekend Potluck