"Say goodnight to Auntie Monique." I say, as I'm getting my son, a toddler at the time, ready to go to bed. "Goodnight cake" he responds, looking right past her, actually right through her, to what's left of the carrot cake sitting on the counter.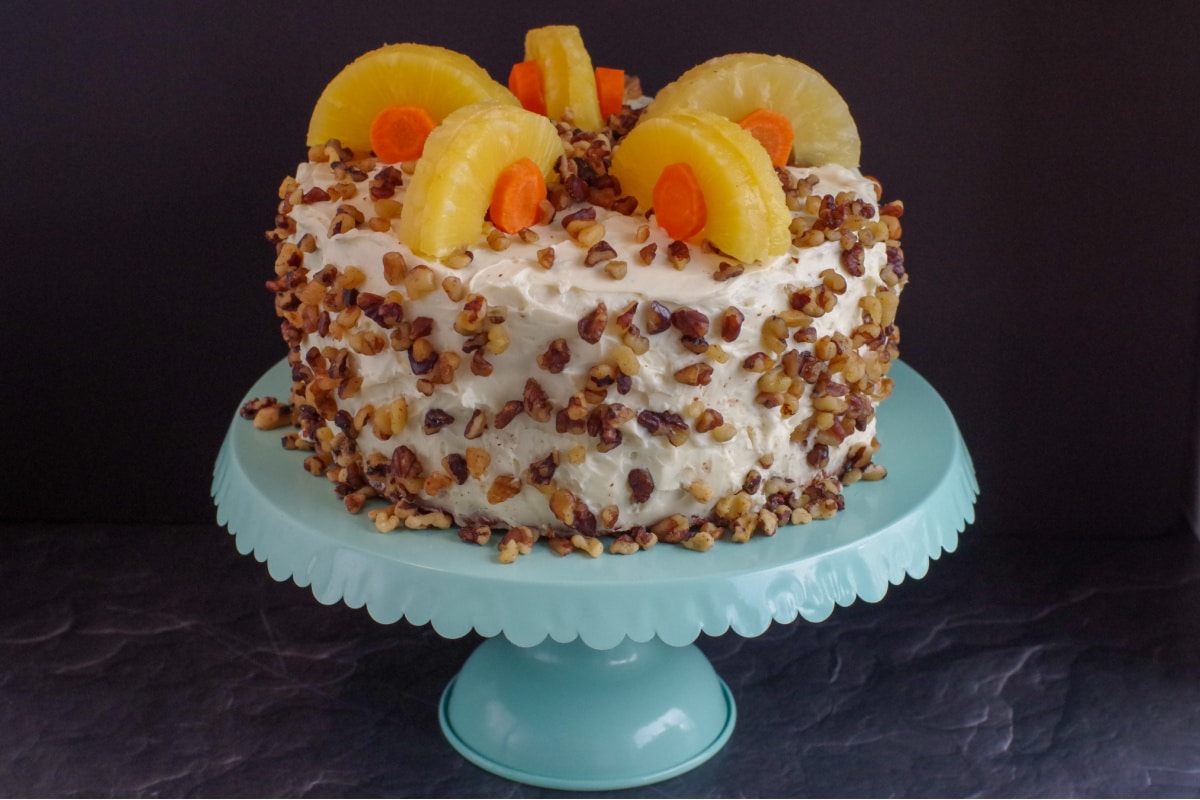 It was the first carrot cake he ever had and I guess he was smitten. I can't blame him - that's exactly how I feel about this Weight Watchers friendly carrot cake too. And with Easter just around the corner, I have carrot cake on the brain. And this Weight Watchers friendly Healthy and Light Carrot Cake (at 11 WW points on the blue plan) is just the answer!
Jump to:
My bestie was over for her annual birthday dinner that night, and this was her birthday cake. He was pretty crazy about Auntie Monique and didn't like going to bed when she was over, but that night he only had eyes for the cake. So, if you're wondering if this carrot cake is kid-friendly, along with being low-fat and healthy, I think it's pretty obvious.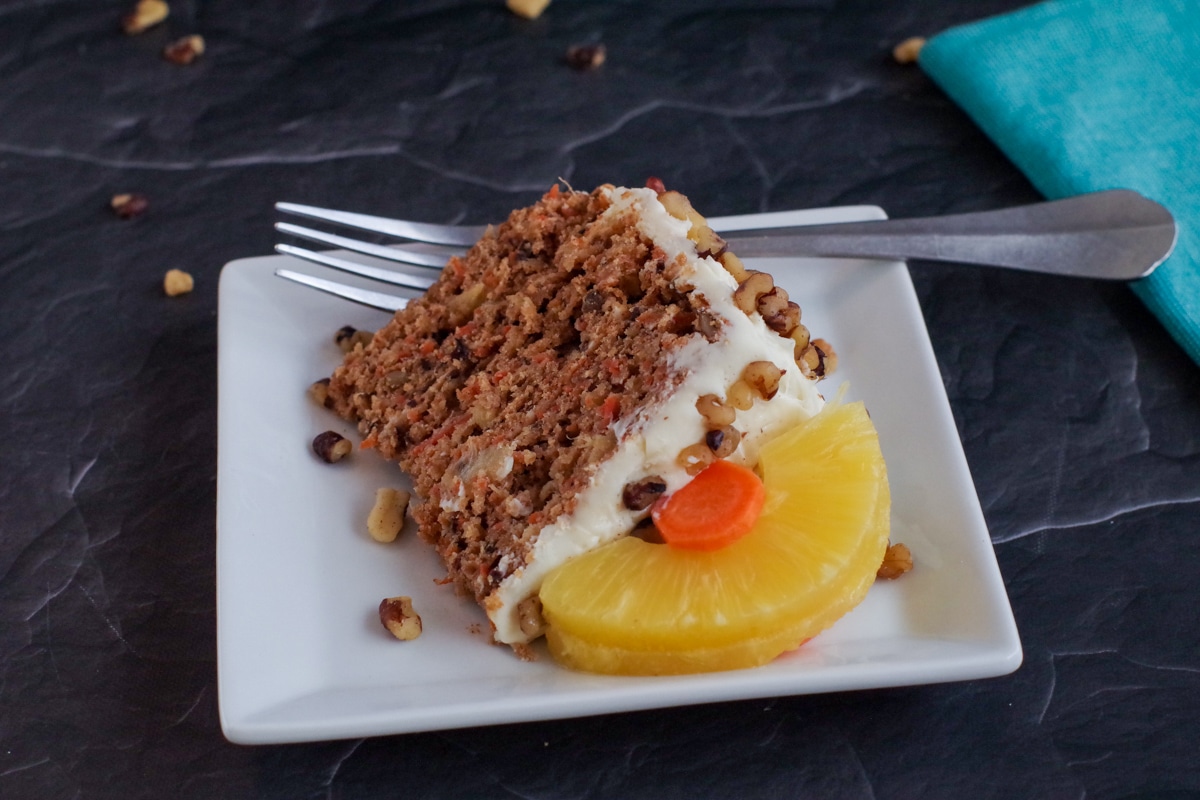 You know it's going to be a rough week when more than your entire day's worth of WW points is used up on ONE piece of carrot cake. If this sounds at all familiar then you need this Weight Watchers Carrot Cake! Given that a typical piece of restaurant carrot cake has 29 points on the blue plan and I'm only allotted 23 for an entire day, but I really want, no.... actually NEED carrot cake, what's a girl to do? Well, she makes this cake at only 11 WW point (on blue) per slice.
👪 Serving size
This cake is 16 servings because it's 3 layers. There is only a light layer of frosting between the layers because it doesn't need it, it's rich and moist on it's own. And one piece is totally satisfying. Plus, you can freeze the leftovers- I have done this many times!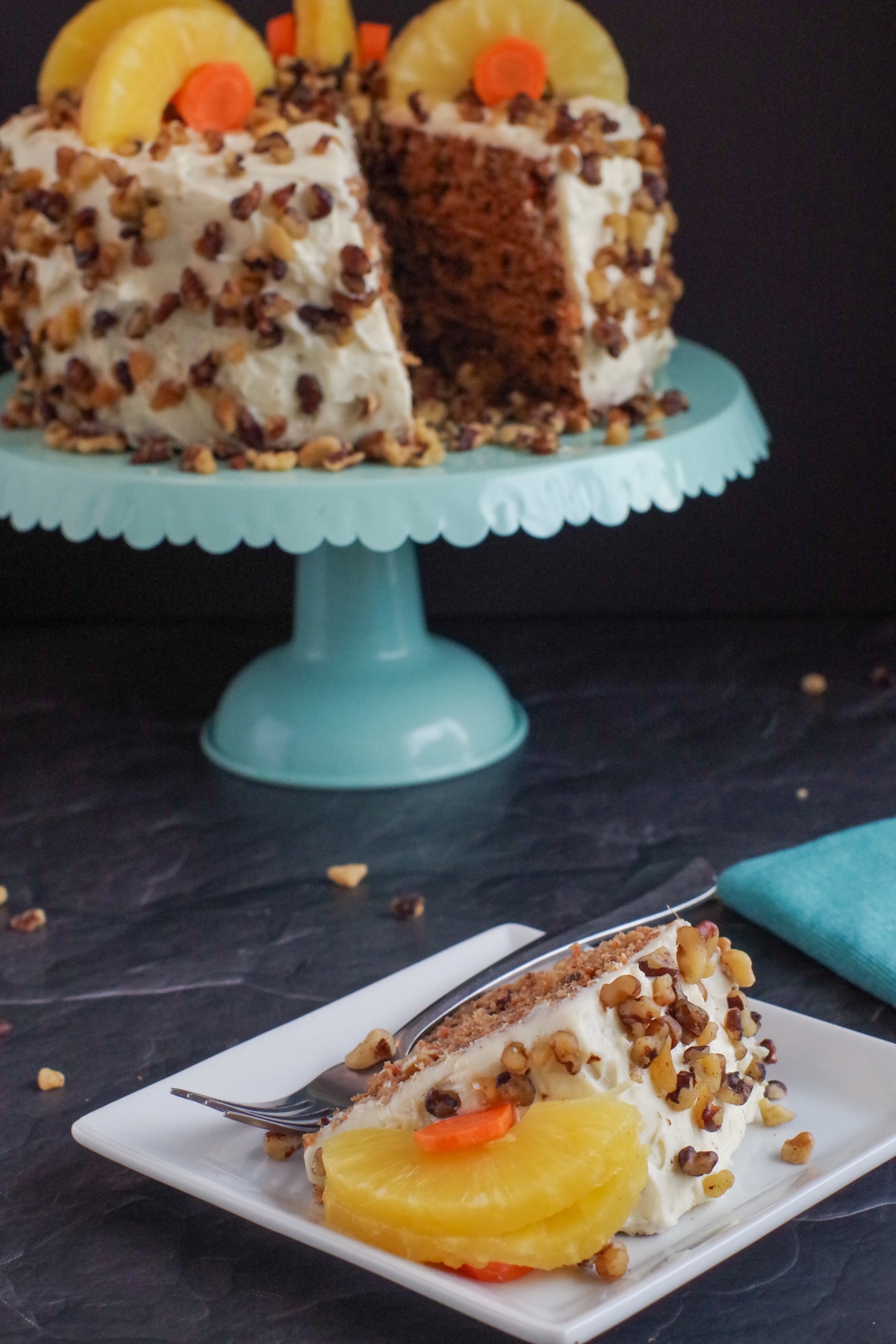 💭 Is Carrot Cake Healthy?
The answer is yes and no. Not all carrot cake is created equal, nor are they all healthy.
There are lots of carrot cakes out that there are healthy and many that aren't. A lot of carrot cakes are laden with fat and sugar. I have reduced both of those elements in this cake. It has prunes in it (in puree form) to moisten it and provide natural sugar and if prunes aren't healthy, then I don't know what is! Much of the sugar comes from the applesauce, carrots and pineapple as well (see nutritional analysis at the end of the recipe).
If you consider only having carrots in a cake healthy, then I guess almost any carrot cake could be considered healthy. But if you're eating your entire recommended daily WW points+++ in one piece of cake, then it's not feeling too healthy to me. But remember, it's still CAKE and cake is cake. It's not salad.
🥕Will Carrot cake dry out in the fridge?
The answer is yes if you keep it in the fridge too long (2+ days), especially once it's been cut. Because this cake has perishable filling/icing, you have no choice but to refrigerate it. This is not the cake I would recommend making very far in advance; the day before you plan to serve it is ideal. And once you cut it, press saran wrap over the cut section, to retain moisture. But if you are really pressed for time, you can freeze it to serve later, just don't frost it before you freeze it, if possible. Although, I've frozen leftovers and they are fine (the texture of the cream cheese frosting changes a little but it's still good!)
And ensure that you keep it in a sealed cake container in the fridge. If you need one, here are my Amazon Recommendations (affiliate links)
My son is now 12 and I hadn't made carrot cake in many years. So when I did, he just couldn't get enough of it and was surprised to find out how healthy it was. I actually had to make the kids their own carrot cake because they couldn't wait for me to photograph this one!
And as he was heading up to bed that night, I could have sworn I heard him whisper 'goodnight' to the cake 🙂
And if you still have carrots on the brain, then give my other healthy carrot recipes a try: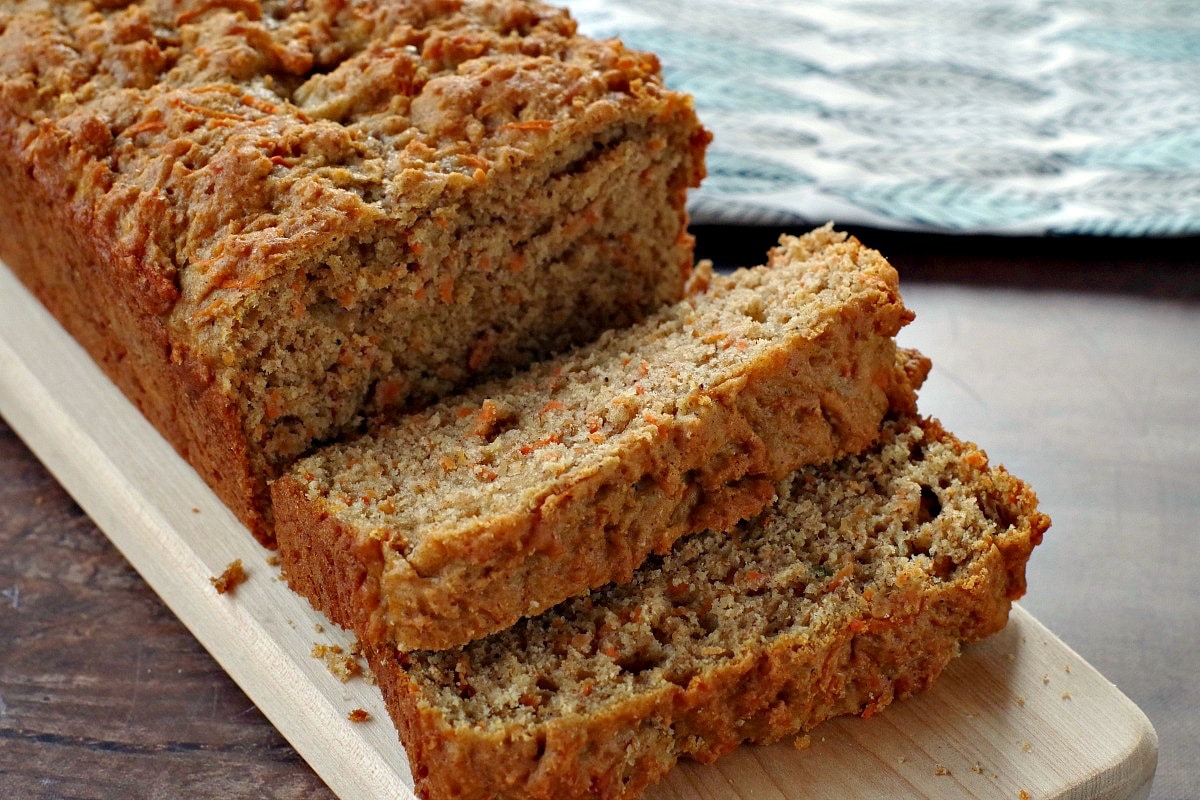 Award-winning Creamy Carrot Soup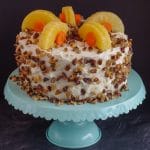 Print
📋 Healthy & Light Carrot Cake Recipe
This Healthy & Light Carrot Cake is low-fat and full of wholesome ingredients like shredded carrots, prunes, pineapple. walnuts and applesauce. It's Weight Watchers friendly at only 11 WW points on the blue plan and the low-fat cream cheese makes for a lighter icing. But it's so delicious you'll never know healthy or light!
Ingredients
Instructions
Make Cake
Preheat oven to 350 degrees F/175 degrees C. Coat the inside of 3- 8 inch layer pans with cake release (see NOTES) Or use non-stick cooking spray.

Spread walnuts in a pie plate and bake for 8 -10 minutes, until fragrant. Cool.

In a medium sized bowl, stir together flour, baking soda, cinnamon, baking powder and salt. 
Make Prune puree
In a food processor, combine 1 cup of pitted prunes with 6 tablespoons hot water.

In a large bowl, whisk together eggs and egg whites. Add sugar, prune puree and apple sauce and whisk until smooth.

Add the flour mixture to the egg mixture and stir until blended. Stir in carrots, pineapple and toasted walnuts.

Divide the batter among the pans and bake for 30- 35 minutes or until cake tester comes out clean. Let cool for 10 minutes before gently removing from pan.

Cool for an additional 10 minutes on a cooling rack.
To Make Frosting
In a mixing bowl, combine cream cheese, icing sugar and vanilla; beat with an electric mixer until smooth and creamy
Assembly
Before you start to decorate, take a pastry brush and dust off any crumbs on the cake.

Place the first cake on an 8 inch cardboard cake circle (for easy transport) if you plan to move it or place it on the surface you plan to serve it on.

Then add some cream cheese icing/frosting as filling (see photo). You don't want to use very much, as it's rich and you need to keep most of it to frost the cake. Then add the second cake and repeat. Add the third cake.

Crumb coat the cake and freeze for 10 minutes: Add a very thin layer of frosting (as shown) to the cake and smooth. Do NOT leave in the freezer any longer than 10 minutes.

*** You don't have to do this, but I do find it makes it easier to frost, especially if you want to avoid getting crumbs mixed in the icing!

Frost/Ice the Cake: Spread the remainder of the icing evenly on the cake (SEE VIDEO IN NOTES) 
Garnish/Decorations (optional):
Add chopped walnuts to the side of the cake (I did this by literally 'throwing them' at the side of the cake. Then add to top. * This is optional

Pat dry pineapple rings and cut in half. Make sure they are dried well.

Add 2 pineapple halves, pressed together to the top of the cake - you'll need 5 sets of 2.

Slice peeled carrot into circles.

Add a slice of carrot to each side of the pineapple.

Serve or refrigerate until ready to serve. * Can be made in advance and refrigerated for up to 4 days.
Notes
*Note: I use Wilton Cake release because it my cakes come out perfect every time. I really recommend it (affiliate link)
VIDEO: Icing the cake (CLICK ON BUTTON)
CLICK HERE FOR VIDEO: How to Frost/Ice Carrot Cake
*Walnut garnish not included in points, as it's optional
👪 Serving size
This cake is 16 servings because it's 3 layers. There is only a light layer of frosting between the layers because it doesn't need it, it's rich and moist on it's own. And one piece is totally satisfying. Plus, you can freeze the leftovers- I have done this many times!
Nutrition Facts
📋 Healthy & Light Carrot Cake Recipe
Amount Per Serving (1 slice)
Calories 255
Calories from Fat 45
% Daily Value*
Fat 5g8%
Cholesterol 34mg11%
Sodium 391mg17%
Potassium 332mg9%
Carbohydrates 47g16%
Protein 6g12%
Vitamin A 2925IU59%
Vitamin C 4mg5%
Calcium 85mg9%
Iron 0.7mg4%
* Percent Daily Values are based on a 2000 calorie diet.
Nutrition
Serving:
1
slice
|
Calories:
255
kcal
|
Carbohydrates:
47
g
|
Protein:
6
g
|
Fat:
5
g
|
Saturated Fat:
2
g
|
Cholesterol:
34
mg
|
Sodium:
391
mg
|
Potassium:
332
mg
|
Fiber:
2
g
|
Sugar:
27
g
|
Vitamin A:
2925
IU
|
Vitamin C:
4
mg
|
Calcium:
85
mg
|
Iron:
0.7
mg
Save
Saved!
This post is part of the Country Cook's Weekend Potluck!