If you love spaghetti but like me, you always make too much and end up with leftover spaghetti, you need these Leftover Spaghetti Noodle Recipes in your life! My Secret Ingredient Spaghetti Sauce is on regular rotation at our house (and one of the most popular recipes on the blog) so I always have excess noodles. And since I'm constantly looking for new ways to use up leftover spaghetti noodles, I imagine I'm not the only one...
I've created my own recipes to reinvent my leftover spaghetti and rounded up some more recipes from my fellow food bloggers. This round up of 12 easy leftover spaghetti recipes includes everything from fried leftover spaghetti to leftover spaghetti pie, leftover spaghetti salad, spaghetti casserole and more. If you're looking for leftover inspiration, look no further!
No one wants to be wasting food, but the same leftovers can get really boring. And once you run out of spaghetti sauce, the noodles are no longer nearly as inviting.
So finding new and delicious ways to use up leftovers is the key!
Fortunately, spaghetti is a great pantry staple, economical, and extremely versatile. And it's easy to use as the base for a great leftover meal.
In fact, leftover spaghetti recipes can even become the star of the show!
This Peanut Pasta Salad was born out of my need to use up leftover spaghetti noodles. But it's sooo good, it's taken on a life of its own! When my nephew recently came to town to visit, I told him I'd make him anything he wanted (maybe he saw something on Instagram he liked?)
And what did he choose out of my 400+ recipes? He chose THIS healthy Leftover Spicy Peanut Pasta Salad recipe because I'd made it when I was visiting my parents and he LOVED it that much!
📋 Spicy Peanut Pasta Salad Recipe
A little spicy, quick and full of veggies, this Spicy Vegan Peanut Pasta Salad with spicy peanut sauce is a delicious way to use up leftover spaghetti noodles. It's fast and easy to make and is perfect for dinner, lunch boxes and potlucks!
Check out this Spicy Peanut Pasta Salad Recipe!
Easy Thai Pork Noodles
This Easy Thai Pork Noodles Recipe is a simple and quick dinner that can be made in 30 minutes. It uses leftover spaghetti noodles, soy sauce, peanut butter and boneless pork (pork loin or tenderloin) and frozen broccoli. It's also WW friendly!
Check out this Easy Thai Pork Noodles recipe!
📋 Healthy Million Dollar Spaghetti Casserole Recipe
This healthier version of Million Dollar Spaghetti Casserole has all the creaminess of a million dollar casserole, minus the calories! It's easy to make, a great way to enjoy spaghetti in a different form and you can also use up leftover spaghetti noodles!
Check out this Healthy Million Dollar Spaghetti Casserole recipe!
Pasta Frittata with Sausage and Broccoli Rabe
Packed with broccoli rabe, bell peppers, sausage, and cheese, Pasta Frittata is a delicious way to use up leftover pasta.
Check out this Pasta Frittata recipe!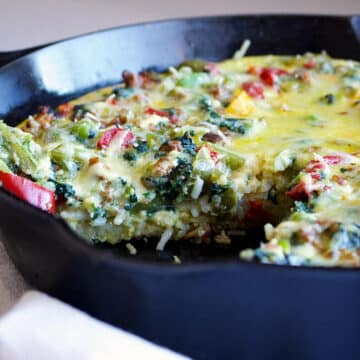 Fried Spaghetti with Eggs
Fried spaghetti with eggs is a great way to enjoy leftover spaghetti in a delicious meal that is great for breakfast, brunch, lunch, or dinner. This simple recipe results in crispy spaghetti, fried eggs, bold garlic flavor too.
Check out this Fried Spaghetti with Eggs recipe!
Leftover Spaghetti Pie
This spaghetti pie recipe pulls together all of the best aspects of this Italian classic - pasta - cheese, meat sauce, and more cheese.It's the perfect way to use up leftover spaghetti noodles!
Check out this Leftover Spaghetti Pie recipe!
Leftover Spaghetti in Edible Garlic Bread Bowls
What's more fun than eating your leftover spaghetti out of mini garlic bread bowls?! Plus, thanks to their small size you can eat them either as an appetizer, or fill up a few to eat as an entree!
Check out this Leftover Spaghetti Garlic Bread Bowl recipe!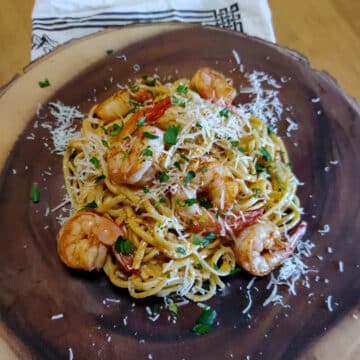 Bruschetta Chicken Pasta
This bruschetta chicken pasta recipe has plenty of fresh flavors. Enjoy garden fresh ripe tomatoes in a healthy family meal. This is one of those recipes that is delicious the first day when it is served warm, yet even better the next day once all the flavors have melded together.
Check out this Bruschetta Chicken Pasta recipe!
Chicken Spaghetti
Chicken spaghetti is the ultimate throw together meal with leftover spaghetti noodles and rotisserie chicken. This recipe is full of flavor and amazingly creamy.
Check out this Chicken Spaghetti recipe!
Garlic Olive Oil Pasta Recipe (Aglio e Olio)
Garlic Olive Oil Spaghetti is a great use for your leftover pasta! All you need is 3 ingredients and 15 minutes to make this super simple and super flavorful pasta recipe. This is a great side dish, or a simple lunch:
Check out this Garlic Olive Oil Pasta recipe!
Pasta a Frittata: Italian Fried Pasta
Fried pasta is not even a recipe; it is what Italians do when they have pasta leftover and don't want to cook anything. Fried spaghetti is perfect for a lazy day or a picnic. Find out how to make it crispy!
Check out this Fried Pasta Recipe!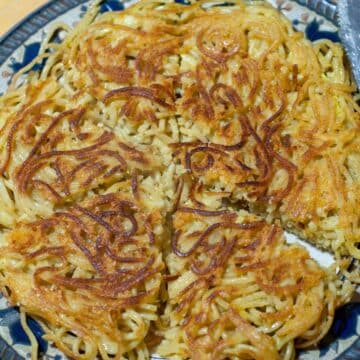 ❔Frequently Asked Questions
How long can spaghetti last in the fridge?
Spaghetti will last for 3-4 days in the fridge in a sealed container.
How long can spaghetti sit out?
Don't let spaghetti sit out for more than 2 hours before refrigerating it.
Can you freeze leftover spaghetti?
Leftover spaghetti can be frozen for up to 3 months in an airtight container or plastic freezer bag (make sure it's a "freezer bag" and not a "storage bag"). Freezing spaghetti noodles is a great way to avoid waste, as it only lasts a few days in the fridge.
How to reheat frozen spaghetti?

The best way to reheat frozen spaghetti is to defrost it in the fridge overnight, then add 2 teaspoons of water to it (per cup of spaghetti) and place the noodles in a microwave-safe dish. Microwave on full power for 30-45 seconds, then remove, stir, and return to microwave at 30-second intervals, as many times as needed, until it's heated through.

Alternatively, once your noodles are defrosted, you can put them in a colander/strainer and dip them into boiling water for approximately 30 seconds or until they are warmed up.
🦺FOOD SAFETY
Do not use the same utensils on cooked food, that previously touched raw meat
Wash hands after touching raw meat
Don't leave food sitting out at room temperature for extended periods
Never leave cooking food unattended
Use oils with high smoking point to avoid harmful compounds
Always have good ventilation when using a gas stove
See more guidelines at USDA.gov.
If you're looking for leftover spaghetti ideas and want to breathe new life into your leftover noodles, then you'll love these 12 easy leftover spaghetti noodle recipes!
⭐ REVIEWS
If you loved this post or any of these recipes, please leave a star rating!