When I was a kid, on many of our families' camping trips, while the others slept, you would often find my Uncle Garry and I out early on cool, dewy summer mornings, picking Saskatoon berries (aka Juneberries).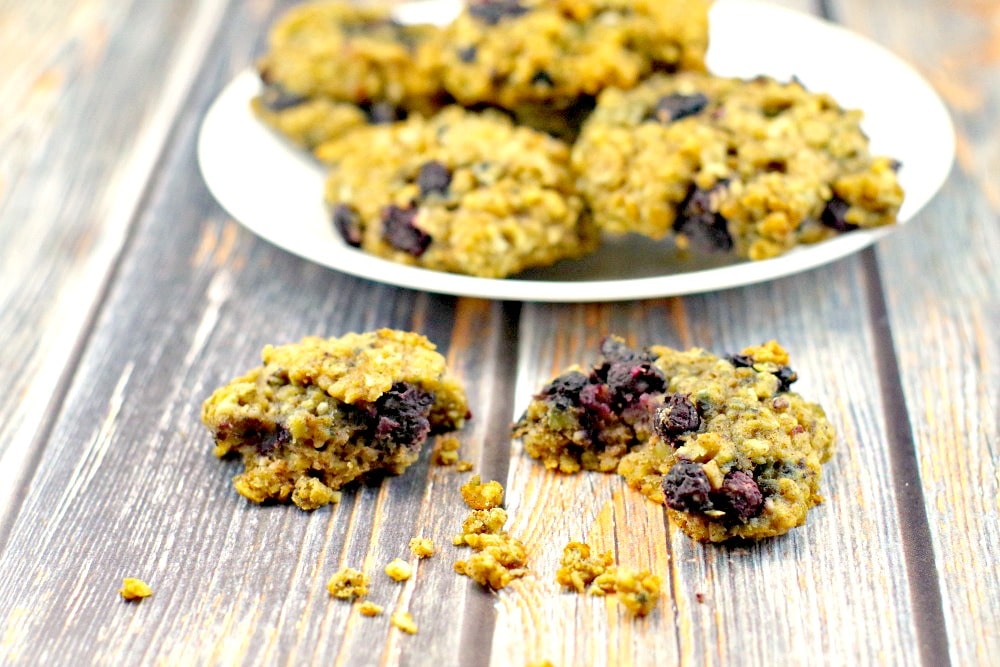 Funny, during all of those picking excursions, I never once worried about running into a bear.
Juneberry Cookies
Back then, Saskatoons were special – the kind of special that only comes once a year. There is just something so satisfying about foraging for your own food, then inhaling as much of it as you can along the way.
Photo courtesy of Canstockphoto.com
The taste of a Saskatoon berry is actually quite difficult to describe. How do you even do justice to something that embodies the essence of so many of your childhood memories; a food that encapsulates the innocence, complacency, freedom and adventures of being a kid?
With ice cream pails overflowing, we'd haul our score back to the campsite and whip up a Saskatoon berry pancake feast for the rest of the brood.
Saskatoon Berry Pancakes
It was inconsequential that I didn't even really like pancakes. Because when that purple… no, not quite purple, but more of a mulberry- eggplant colored, plump, succulent, warm, and partially burst berry met my taste buds, the party moved to directly to my mouth and even the substandard camping pancake mix was invited!
Thankfully and surprisingly, Uncle Garry and I never did meet a bear. The fact that I never once worried about it, only speaks to the bliss of ignorance in childhood and how we, as kids, ever so unwittingly relinquish the entire burden of our well-being to the adults in our presence. And when I look back, so much of the fondness I have for my childhood is by virtue of that comfort; that comfort I took for granted, the comfort in someone else always worrying about those details, details I never would have even thought to consider.
Juneberries are like Blueberries but BETTER!
Someone once described Saskatoon berries to me, "LIKE BLUEBERRIES, BUT BETTER." So simple, yet I cannot think of a better description.
But Saskatoon berries aren't just for picking and popping in your mouth, pancakes or pies! The nutty almond note in this cookie, enveloped in a sweet symphony of brown sugar, cinnamon, coconut and oaty goodness, makes these berries sing and elevates these soft oatmeal cookies to a point where they could share the stage with any Saskatoon berry pie. So, if you are looking for Saskatoon berry recipes, don't pass these Saskatoon berry cookies by!
Saskatoon Berry Cookies
And fortunately for you, there is no foraging required - these days you can buy Saskatoons all year round at the grocery store or farmers market. However, if you are feeling really ambitious, Saskatoon berry bushes still grow wild and there is a small window of ripeness (approximately 2-3 weeks) in the summer, depending on the weather. You just have to find them. Just make sure keep an eye out for bears!
Then get home and make these cookies - you'll be glad you did!
Saskatoon Berry (Juneberry) Oatmeal Cookies
Succulent Saskatoon berries elevate the coconut, brown sugar and cinnamon flavours in this delicious oatmeal cookie symphony with a nutty almond note
Ingredients
¾

cup

butter

¾

cup

brown sugar

¼

cup

white sugar

1

egg

1

tbsp

milk

1

tsp

almond extract

1 ¼

cup

flour

1

tsp

cinnamon

1

tsp

baking soda

¼

tsp

salt

2 ½

cups

rolled oats

1 ½

cups

Saskatoon berries

fresh or frozen and defrosted

¼

cup

medium unsweetened coconut
Instructions
Preheat oven to 350 degrees F. Line a cookie sheet with parchment paper or spray with non-stick cooking spray.

Using an electric mixer, combine butter, sugars, egg, milk and almond extract until light and fluffy.

Whisk together the flour, cinnamon, baking soda, and salt and add to the butter mixture.

Add the rolled oats and coconut, mix thoroughly and then very gently stir in the Saskatoon berries. Be careful not to break them -you don't want purple cookie dough!

Drop by spoonfuls on to parchment paper lined cookie sheet.

Bake at 350 degrees for 12 – 14 minutes. Cool for 3 minutes, then move to a cooling rack for an additional 3-5 minutes or until set.
Notes
*Note: I have found frozen Saskatoons at Calgary Co op
Nutrition Facts
Saskatoon Berry (Juneberry) Oatmeal Cookies
Amount Per Serving
Calories 155
Calories from Fat 63
% Daily Value*
Fat 7g11%
Cholesterol 22mg7%
Sodium 133mg6%
Potassium 62mg2%
Carbohydrates 21g7%
Protein 2g4%
Vitamin A 190IU4%
Vitamin C 0.9mg1%
Calcium 16mg2%
Iron 0.8mg4%
* Percent Daily Values are based on a 2000 calorie diet.
Nutrition
Calories:
155
kcal
|
Carbohydrates:
21
g
|
Protein:
2
g
|
Fat:
7
g
|
Saturated Fat:
4
g
|
Cholesterol:
22
mg
|
Sodium:
133
mg
|
Potassium:
62
mg
|
Fiber:
1
g
|
Sugar:
9
g
|
Vitamin A:
190
IU
|
Vitamin C:
0.9
mg
|
Calcium:
16
mg
|
Iron:
0.8
mg
Save
Saved!
More Saskatoon Berry Recipes
Healthy Saskatoon Berry Pancakes
Saskatoon Berry Loaf with Brown Butter Glaze
No Bake Saskatoon Berry Cheesecake in a Jar
Saskatoon Berry Pie Filling & Sauce
Saskatoon Berry Tiramisu Dessert Shooters
10 Best Saskatoon Berry Recipes
This recipe is part of The Country Cook Weekend Potluck!