When I first moved to Alberta in the early 1990's, I worked in a Chinese restaurant in Lethbridge (you can read more about my experience working at the Mandarin restaurant HERE.) One day I had a customer come into the restaurant and order ginger beef. When I asked how the meal was she said, "Well, it's not "Calgary Ginger Beef."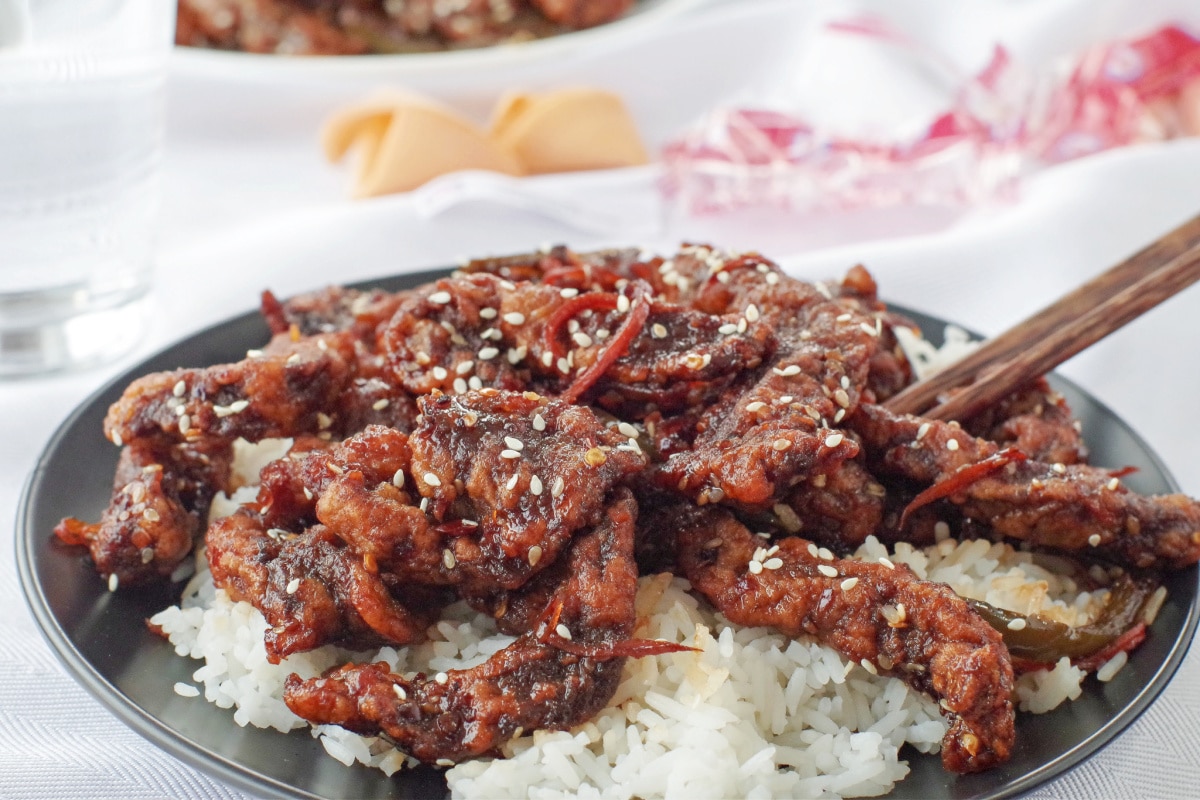 At the time, I simply wrote her off as a 'big city snob.' At that point I hadn't yet tried Calgary ginger beef and had no idea there was even a difference. However, that completely changed once I tried it. I was in LOVE and knew exactly what she meant! And this Calgary Ginger Beef Recipe is my copycat version (based on the Ginger Beef restaurant's recipe.)
Jump to:
Now I would be considered that snotty Calgarian. If I walked into a restaurant anywhere that served ginger beef, I would also be comparing it to Calgary ginger beef standards. And since I only lived in Lethbridge 1 year and have lived in Calgary for 27 years, I'm pretty familiar with Calgary ginger beef. I also consider myself a bit of an authority when it comes to the stuff (haha.) Geez, I only watched them make it a zillion times when I worked at the Mandarin. So what's the difference between Calgary ginger beef and Lethbridge ginger beef (or ginger beef from anywhere else) you might be wondering? Well, I'd say Calgary ginger beef is sweeter. It's actually the perfect balance of sweet and savoury.
🥘 Ingredients
Ginger beef is made up of beef of course and a batter and a sauce, with veggies. For this recipe, you'll need the following:
Beef:
Batter
eggs
water
corn starch
oil for deep frying
Vegetables
carrot
green bell pepper
olive oil
fresh ginger
garlic
Sauce
soy sauce
red Chinese vinegar
Chinese cooking wine or dry sherry
water
white granulated sugar
crushed chilies
plum sauce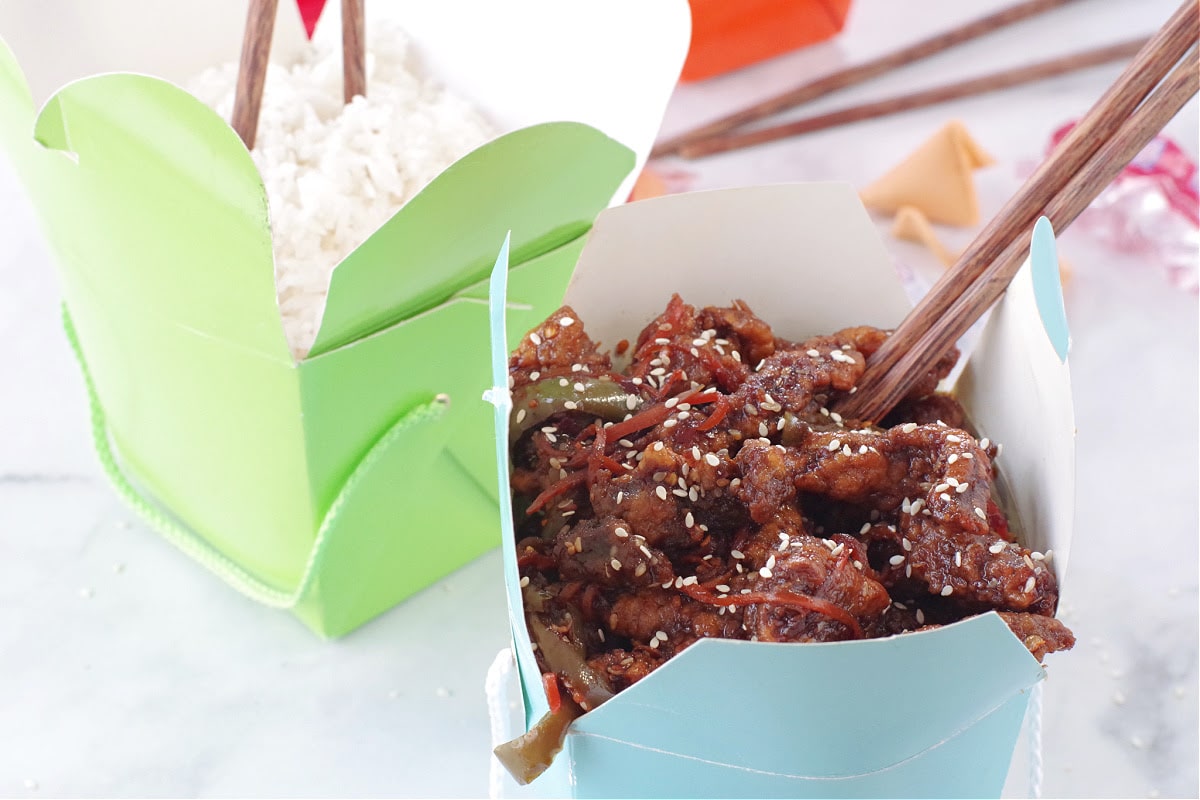 💭History of Calgary Ginger Beef
Calgary is the home of ginger beef; its where this westernized ginger beef story began. Because Peking-style food wasn't always so popular in Cowtown, as a way to make it more appealing to Westerners, back in the 1970's Chef Wong (from the Silver Inn in Calgary's Chinatown) started playing with a recipe from Northern China. Inspired by British pub grub, he deep-fried shredded beef and then simmered the crispy strips in a spicy chili sauce. He dubbed the dish "Deep fried shredded beef in chili sauce" and began serving it to customers. The name 'ginger beef' eventually caught on. You read more about the history of ginger beef HERE. In Calgary, there are a lot of Chinese restaurants that serve ginger beef, but my first ginger beef experience was from the original Ginger Beef restaurant in Brentwood and I have always ordered from there (or Ginger Beef Express); it's my favourite!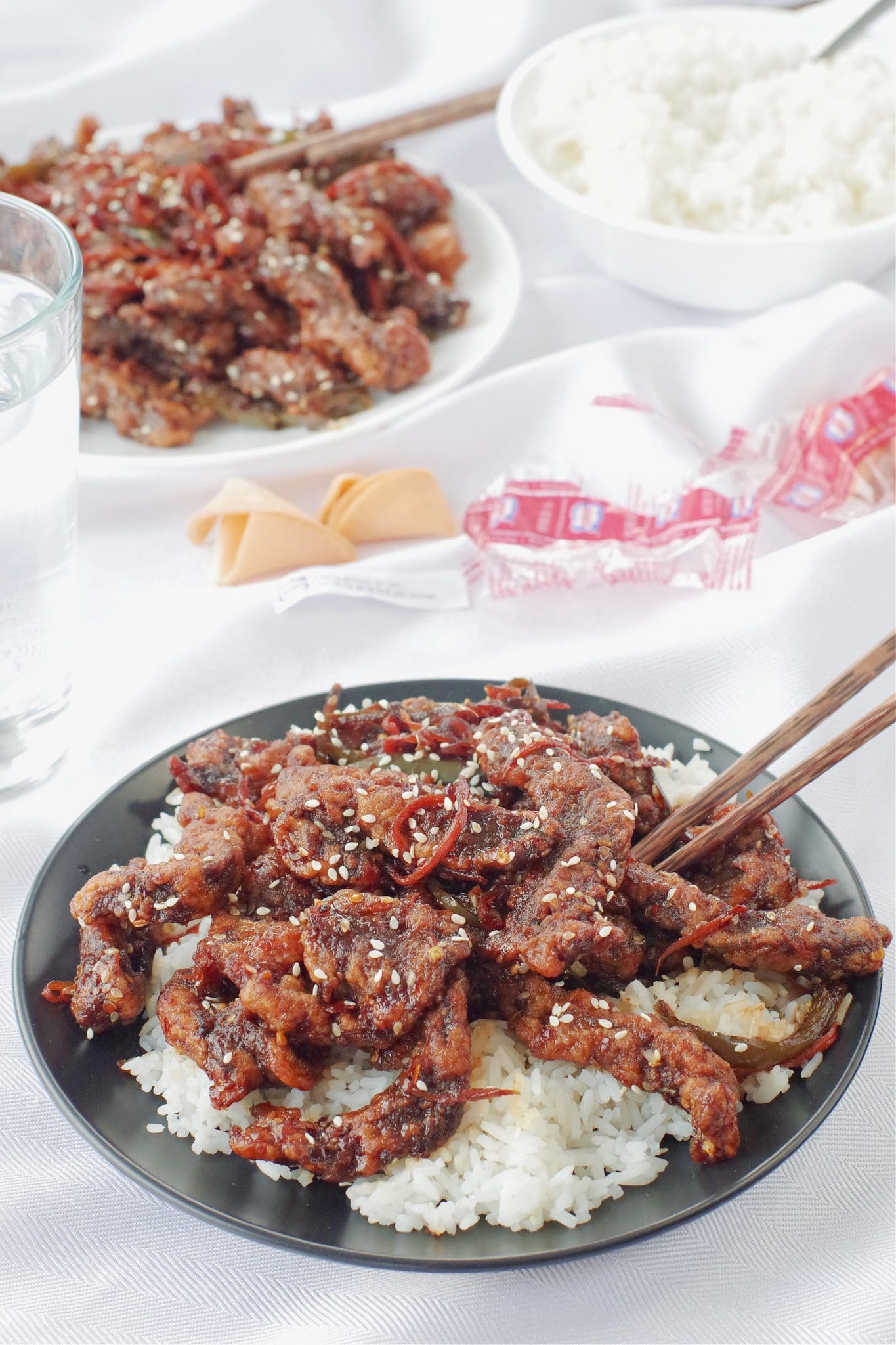 🥟Chinese New Year Dishes
If you're looking for Chinese New Year Dishes, although ginger beef may not be a symbolic Chinese New Year dish, it will make a great addition to your meal. But if you're looking for symbolic Lunar New Year dishes, you might also like my Chinese Potstickers (Dumplings) Chinese dumplings symbolize wealth because their shape is similar to ancient gold. However, this dumpling recipe is not a copycat. I was taught to make them by the cooks when I worked the Mandarin. However, the dipping sauce IS a copycat of my very favorite potsticker dipping sauce from, you guessed it, The Ginger Beef Restaurant!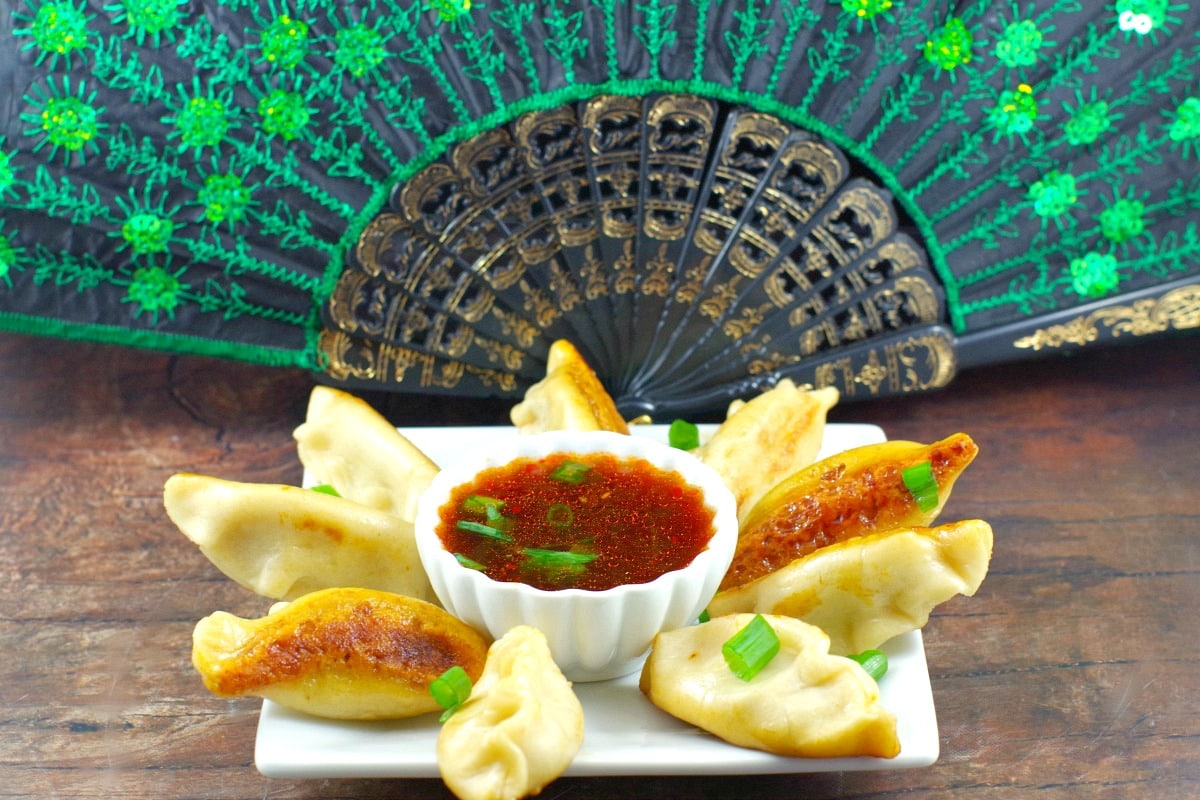 💭 How to get crispy ginger beef
I'm not sure how many people know this, but the way most restaurants get crispy ginger beef is by deep frying it twice! They prep a lot of deep-fried ginger beef in advance, keep it in the fridge, then when a customer orders it, they give it a quick 2nd deep fry, sautee it in some sauce and serve it. I'll be honest, by the time I did it once I was not doing it again. I'm not gonna lie, this recipe is a lot of work! Of course unlike a home kitchen, it's different in a restaurant where they have systems in place to manage that process.
It takes a lot to impress me at a restaurant so if I'm going to make a restaurant copycat recipe (you can see my other copycat recipes at the bottom of the recipe card), you know it's gotta be worth my time! I've said it before, but creating a copycat recipe is a hell of a lot more work than simply creating a recipe from scratch. Not to brag or anything, but I usually like my copycat recipes better than the original and so does my family. I have even had readers write and tell me they like my copycat version better than the restaurant's original recipe. My teenage son also said he prefers this ginger beef 'fake-out' version over the original take-out!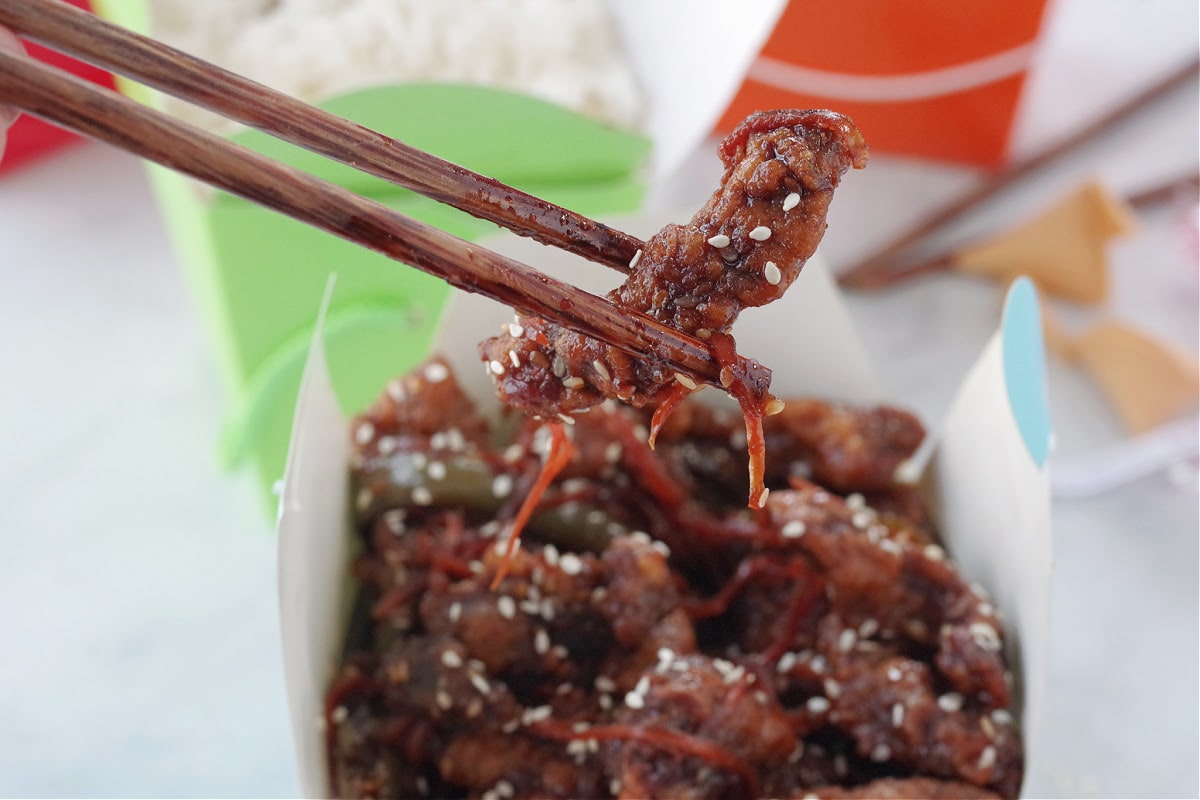 Since I still live in Calgary and can get my hands on Calgary ginger beef anytime I want, I obviously had other motives for committing to the amount of work that went into the development of this recipe. I guess it was a labor of love and a bit of a personal recipe creation challenge. But now it exists, just in case. Just in case I can't get my hands on Calgary Ginger beef because well, you just never know... One of my favorite restaurants, the Joshua Tree, closed down and I had to create a copycat of their Joshua Tree restaurant "Tree Burger" from memory. And this recipe is for all of you out there that perhaps used to live here and can't get your hands on it and miss Calgary Ginger Beef. Or those of you that tried it when you visited Calgary, loved it and would love to make it at home. I hope it you enjoy it!
⭐ REVIEWS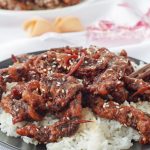 Print
📋 Calgary Ginger Beef Recipe
This Calgary Ginger Beef recipe is a copycat of Calgary's famous ginger beef from the Ginger Beef Restaurant. Deep-fried crispy ginger beef, in a delicious savoury, sweet and spicy sauce is the best way to enjoy ginger beef at home!
Ingredients
Beef:
2

pounds

flank steak or sirloin, approximately

sliced thinly against the grain
Batter
2

eggs

½

cup

water

1

cup

corn starch

2-3

cups

oil for deep frying
Vegetables
1

large carrot

finely julienned

½

green bell pepper

finely sliced

2

tbsp

cooking oil

* I use olive oil

2

tbsp

fresh ginger, minced

6

cloves

garlic, minced
Sauce
⅓

cup

soy sauce

3

tablespoons

red Chinese vinegar

2

tablespoons

Chinese cooking wine

or dry sherry

½

cup

water

⅓

cup

white granulated sugar

1

tablespoon

crushed chilies

¼

cup

plum sauce

*add more for additional sweetness
Instructions
Slice beef (against the grain- see VIDEO in notes for instructions on how to do this) into thin strips
Batter
Combine all batter ingredients and coat beef in batter.

Add oil to a deep frying pan and heat on medium. *NOTE: I prefer to use a deep fryer for safety, but for some reason, I couldn't get it to work with this recipe! Even when I sprayed the basket with Pam, the pieces still stuck.

Deep-fry coated beef, about 6 pieces at a time, until crispy, about seven to ten minutes.

Remove meat with a slotted spoon. Set meat aside on paper towel to drain. Repeat with remaining meat, frying in small batches of 6-8 pieces (depending on the size of your frying pan.)
Sauce
Add sauce ingredients (except plum sauce) in a bowl and whisk together. Set aside
Vegetables
Julienne carrots and thinly slice green peppers.

In a wok, over medium - low heat, stir fry garlic, carrots, green pepper, sesame seeds and half the ginger in oil for about 3 minutes.

Add sauce. Bring to boil for 1 to 2 minutes and cook until reduced for 5- 7 minutes on medium heat. Add plum sauce, whisk and cook for 1 additional minute.
Assembly
Add beef to sauce; stir to coat with sauce.

Sprinkle with additional sesame seeds and serve over white or basmati rice. Add additional plum sauce for extra sweetness, if desired.
Notes
🎥 Video:
 how to slice beef against the grain
My Amazon Recommendations (affiliate links)
Nutrition Facts
📋 Calgary Ginger Beef Recipe
Amount Per Serving
Calories 393
Calories from Fat 153
% Daily Value*
Fat 17g26%
Cholesterol 109mg36%
Sodium 676mg29%
Potassium 495mg14%
Carbohydrates 30g10%
Protein 27g54%
Vitamin A 1365IU27%
Vitamin C 7mg8%
Calcium 42mg4%
Iron 2mg11%
* Percent Daily Values are based on a 2000 calorie diet.
Nutrition
Calories:
393
kcal
|
Carbohydrates:
30
g
|
Protein:
27
g
|
Fat:
17
g
|
Saturated Fat:
3
g
|
Trans Fat:
1
g
|
Cholesterol:
109
mg
|
Sodium:
676
mg
|
Potassium:
495
mg
|
Fiber:
1
g
|
Sugar:
9
g
|
Vitamin A:
1365
IU
|
Vitamin C:
7
mg
|
Calcium:
42
mg
|
Iron:
2
mg
Save
Saved!
🍲 More Restaurant Copycat Recipes!