There's a new kid in town; an apple that goes by the name of Cosmic Crisp. And if you haven't yet heard about this apple, allow me to introduce you...
A cross between the 'Enterprise' and 'Honeycrisp', this sweet, large, juicy apple is remarkably firm, crisp and naturally slow to brown. So I've made them into this healthy Cosmic Caramel Apple Pie & Cheddar Bites recipe. They are a quick and healthy apple snack that's both sweet and savoury and makes a great dessert, breakfast or lunch bag snack! They are also Weight Watchers friendly @ 3 WW points on the blue plan.
This post is sponsored by Cosmic Crisp. All opinions are my own (see Disclosure policy)
These are no ordinary apples, my friends! And because Cosmic Crisp® Washington apples are crispier and sweeter than other varieties, as well as naturally slow to brown, they are the most ideal apple for raw apple snacks.
And you don't have to fret for even a second about sending them along in the lunch bag because, as I mentioned, they take forever to brown. If I was using any other variety of apple for this recipe, I'd have to prepare a lemon solution to soak it in to prevent browning, just so I could photograph it (trust me, I've been there!) A typical apple starts browning within 10 minutes or less, but not these guys!
Apple Pie with Cheddar Cheese
I added cheddar cheese to the healthy snack not only because cheddar cheese is a great source of protein, but also because apple pie with cheddar cheese is such a tasty pairing! It's no surprise this combo has been around for generations. Notice how the good stuff tends to stick around? But this apple pie and cheddar bite is not only a snack, it can be your dessert or breakfast (or even lunch or dinner haha.) Trust me, we ate them for pretty much every meal (and everything in between) at my house!

Health Apple Pie Bites
Do you ever want apple pie, but not the accompanying calories and fat? If you answered "YES!" then you're going to want to make these Healthy Apple Pie Bites! They are an easy sweet and savoury treat that is nutritious, yet tastes like apple pie! Baked mini whole wheat pitas are slathered in butter, cinnamon and sugar, topped with sliced Cosmic Crisp apples and cheddar cheese, drizzled with a caramel sundae sauce, then sprinkled with cinnamon sugar. I cut the apples and cheese into cosmic shapes like stars and moons to make this snack even more fun (if that's even possible.)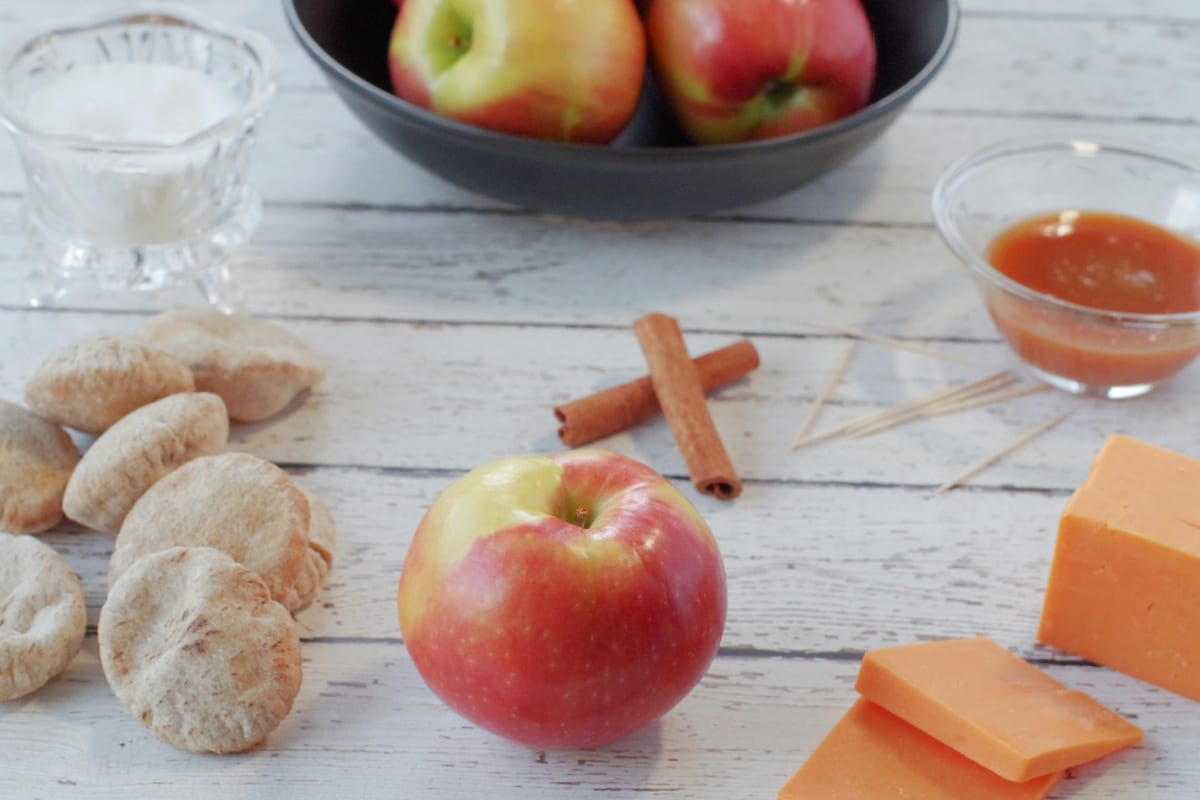 However, you don't even have to eat these apples as part of a recipe to enjoy them. If you've been following along with me for a while, you've heard me lament about my struggle with eating fruit. Well, Cosmic Crisps are on an entirely different playing field - I actually want to eat them straight up! However, Cosmic Crisp® apples aren't just for snacking, they are ideal for cooking and baking, due to their sweetness and crispy texture (be sure to check out my apple recipe ideas under the recipe card for more ways to cook with Cosmic Crisps!)
What's the best way to store Cosmic Crisp apples so they stay fresh?
Cosmic Crisp apples are best stored at 32 °F (0 °C) in your refrigerator's crisper. Place them in the crisper in a plastic bag with holes in it or cover the apples with a damp paper towel.
Healthy Apple Snacks
And if you're concerned about genetically modified food, you have no reason to worry! The Cosmic Crisp® was classically bred at Washington State University and is non-GMO. So, if you're looking for a healthy apple snack that tastes like apple pie (and who isn't?!) then give this a try! And for even more recipe ideas, be sure to visit Cosmiccrisp.com!
Where can I buy Cosmic Crisp apples in Canada?
Cosmic Crisp Washington State apples can now be found across Canada, at most major retailers
Happy Healthy Snacking!
Print
Cosmic Caramel Apple Pie & Cheddar Bites
Made with the new Cosmic Crisp apple that's remarkably firm, crisp and naturally slow to brown, these Cosmic Caramel Apple Pie & Cheddar Bites are a quick, easy, sweet and savoury, healthy apple pie bite! Mini whole wheat pitas are slathered in butter, cinnamon and sugar and baked for a few minutes then topped Cosmic Crisp apples and cheddar cheese and drizzled with a caramel sundae sauce. They make a great healthy snack, breakfast or dessert and are perfect for sending along in the lunch bag. And they are also Weight Watchers friendly at 3 WW points on the blue plan!
Instructions
Preheat oven to 350 degrees F /175 C and line a cookie sheet with parchment paper or spray with non-stick cooking spray.

Poke hole in each mini pita with toothpick and gently press air out. * Don't worry if they crack

Press fork around rim to look like pie, then flip over and do it on the other side (you need to press firm)

Spread melted butter on each side of each mini pita with a pastry brush, dividing evenly by all mini pitas.

Mix cinnamon and sugar together in a small bowl.

Sprinkle about ¼ teaspoon of cinnamon sugar on each side of the pita bread, reserving remaining cinnamon sugar for garnish.

Cook for 2 minutes, then flip, cook for an additional 2 minutes.

Wash apples and slice about ¼ inch thick.

Remove core with end of an apple corer or with a small round cutter.

Cut each apple slice in half.

Cut cheese into shapes with small round (cut round pieces in half for moon shapes) and star cutters , if desired. Try to get as many shapes out of one piece of cheese as you can. In most cases, I was able to get 2 shapes out of one small square. * Or you can simply cut in small square pieces.
Assembly
Place a cooked mini whole wheat pita on a flat surface, such as a cutting board.

Add 4 pieces of apple, overlapping and slightly twisting each piece, as shown.

Add 2-3 cheese shapes (or 1-2 squares of cheese).

Push a long toothpick through the cheese at the top of the apple pie bite, all the way down to through the mini pita.

Repeat steps for all 12 apple bites.
Garnish
Fill a small ziplock bag with caramel sundae sauce and cut off a small piece of the corner end (about 1/16 of an inch)

Drizzle caramel sundae sauce over apple bites in a quick, back and forth motion.

Sprinkle apple pie bites with additional cinnamon sugar.

Serve. * If not serving immediately, cover in plastic wrap or place in an airtight container and store in fridge for up to 24 hours.

**NOTE: I took this photo (below) with my phone 24 hours after making this recipe! They had been out for 3 hours while I was making them, then photographing, then I put them in the fridge for the remainder of the 24 hour period. The brown you see on the apple pieces is from the cinnamon. There is very small amount of browning around the core part of the apple pieces, but you can't see it because it's covered.
Notes
My Amazon Recommendations (affiliate links)
Nutrition Facts
Cosmic Caramel Apple Pie & Cheddar Bites
Amount Per Serving (1 bite)
Calories 57
Calories from Fat 18
% Daily Value*
Fat 2g3%
Cholesterol 4mg1%
Sodium 41mg2%
Potassium 49mg1%
Carbohydrates 11g4%
Protein 1g2%
Vitamin A 67IU1%
Vitamin C 1mg1%
Calcium 14mg1%
Iron 1mg6%
* Percent Daily Values are based on a 2000 calorie diet.
Nutrition
Serving:
1
bite
|
Calories:
57
kcal
|
Carbohydrates:
11
g
|
Protein:
1
g
|
Fat:
2
g
|
Saturated Fat:
1
g
|
Trans Fat:
1
g
|
Cholesterol:
4
mg
|
Sodium:
41
mg
|
Potassium:
49
mg
|
Fiber:
1
g
|
Sugar:
5
g
|
Vitamin A:
67
IU
|
Vitamin C:
1
mg
|
Calcium:
14
mg
|
Iron:
1
mg
Save
Saved!
More Apple Recipes to Make with Cosmic Crisp apples!
Award-Winning Toffee Apple Pie Cookies
Pork Chops with Apple-Sage Sauce
Caramel Apple Betty Dessert Shooters