One of the best things about summer is Saskatoon berries! And like summer, Saskatoon berry season is short so you'll want to take advantage of it and make as many Saskatoon berry recipes as possible! Fortunately, I've got another fabulous Saskatoon recipe for you.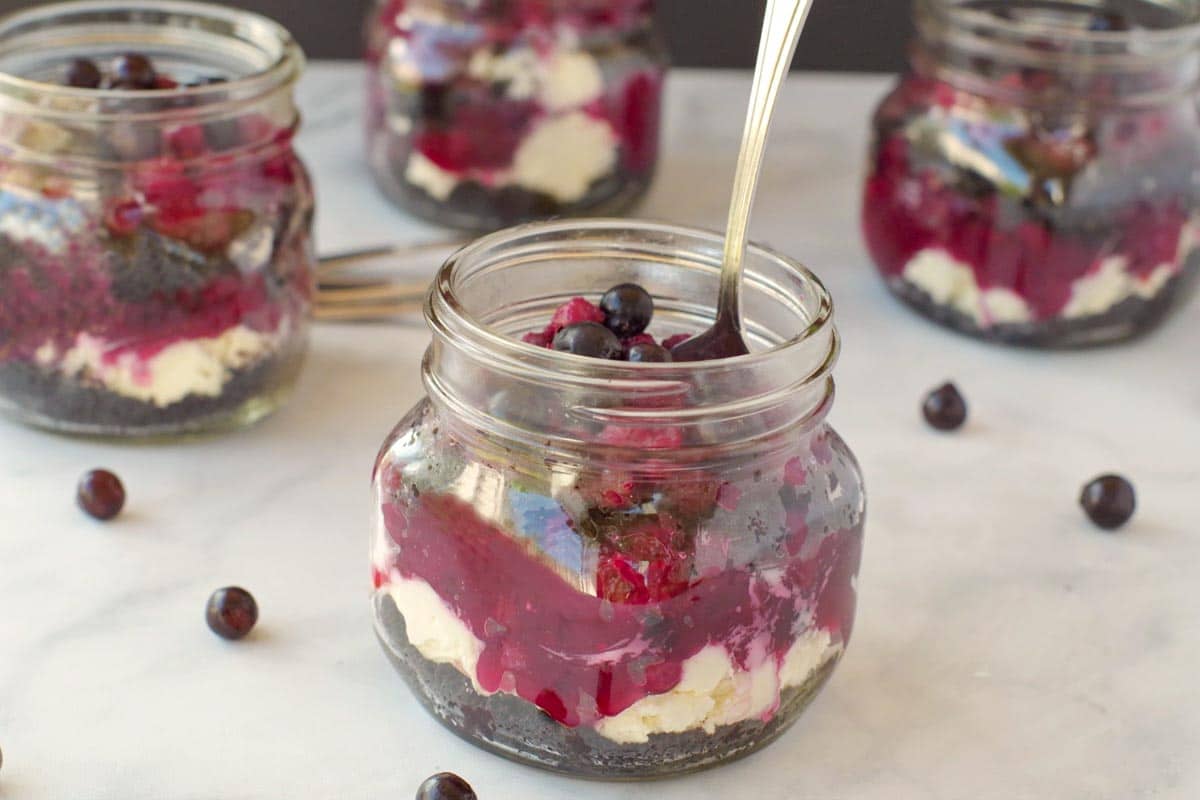 It's too hot to bake and I really wanted Saskatoon Berry Cheesecake, but I didn't want an entire cheesecake, nor did I want a bunch of leftovers. So I decided to make this indulgent No Bake Saskatoon Berry Cheesecake in a Jar!~ Layers of no bake white chocolate cream cheese, Oreo cookie crumb crust and Saskatoon berry sauce make this the ideal summer cheesecake!
Jump to:
Making cheesecake in individual jars was perfect for our family of 4. My daughter even put our names on them so we'd know whose was whose if we couldn't finish them. But they were hard not to finish because they were so tasty!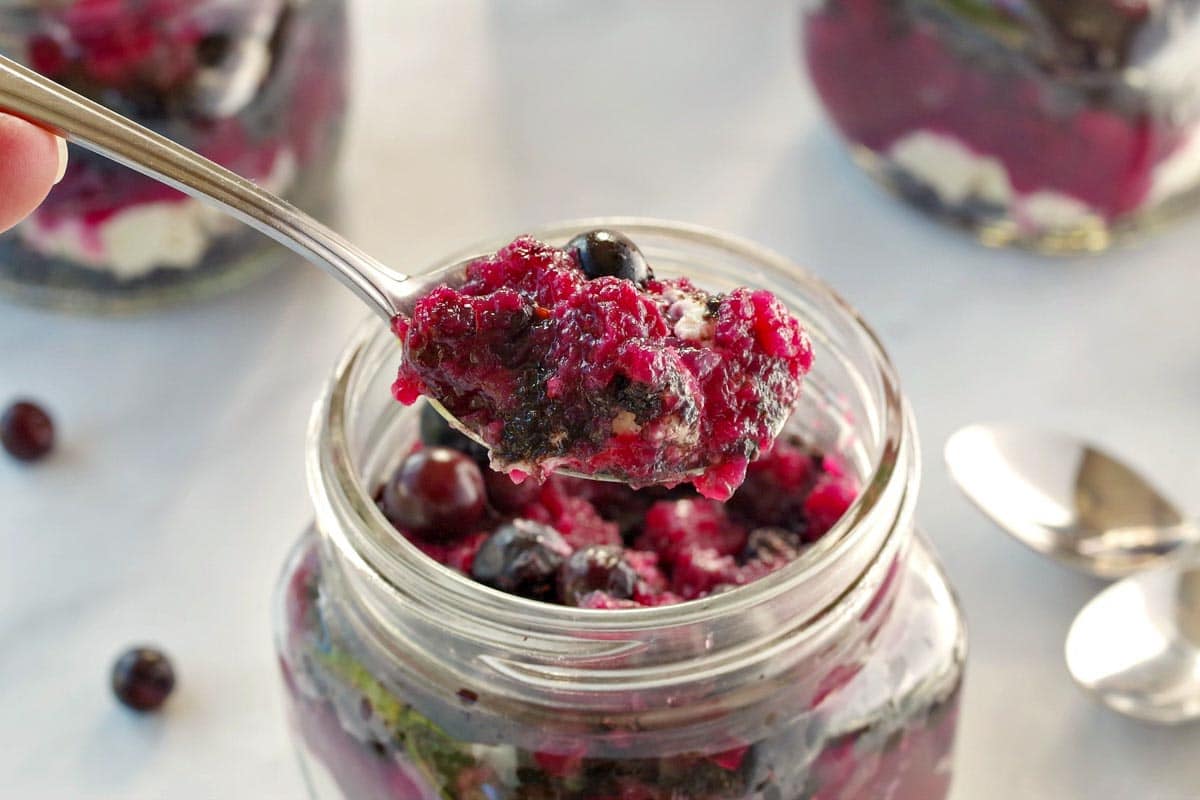 Now my daughter is hooked and wants to eat everything out of a mason jar! She even ate her macaroni and cheese out of a jar today. And I totally get that - eating out of a jar is fun! This made me realize that I need to make more recipes you can eat out of a jar. My Healthy Banana Foster Overnight Oats is currently the only other such recipe I have on the blog. But eating mason jar cheesecake is absolutely the best!
🥘 Ingredients
Saskatoon berries make such a great cheesecake because they have such a unique taste. They are a little more tart and nuttier than blueberries so they pair perfectly with white chocolate cream cheese and Oreo cookie crumbs. But I don't just put them straight up into the recipe- I use my cooked Saskatoon Berry Pie Filling & Sauce in this recipe and it gives it an incredible depth of flavor! It's a delicious sauce with a hint of almond and it also happens to be super versatile! It can be used a pie filling, tart filling, berry sauce/topping on pancakes, waffles, ice cream yogurt etc.., a perogy filling and more! I make a big batch and freeze it for future use.
white chocolate baking squares (*do not use white chocolate chips)
light cream cheese
white granulated sugar
margarine (or butter)
Oreo cookie crumbs (affiliate link)
👪 Servings
This recipe makes 4 large servings. You can half or double the recipe by clicking on the blue servings and the amounts will adjust accordingly.
Summer baking when it's hot is not fun, nor is having leftover cheesecake ideal when you're trying to stay on track. That's why no bake cheesecake in a jar is perfect - it's portioned out and you can make it as big or as small as you like. You can even use smaller jars and make more portions. Although, once you try this, you'll wish you had more!
No Bake Saskatoon Berry Cheesecake is the ultimate summer cheesecake! And Saskatoon berry season is short so if you can get your hands on some fresh berries, count yourself lucky. But if you can't, you can also buy them frozen at farmer's markets and some grocery stores. You can also make this Saskatoon Berry Filling in advance with fresh berries and/or use frozen Saskatoon berries to make it, so you can make it all year 'round. This filling also freezes well. So, if you have Saskatoon berries and you're looking for no bake desserts, then give this a try!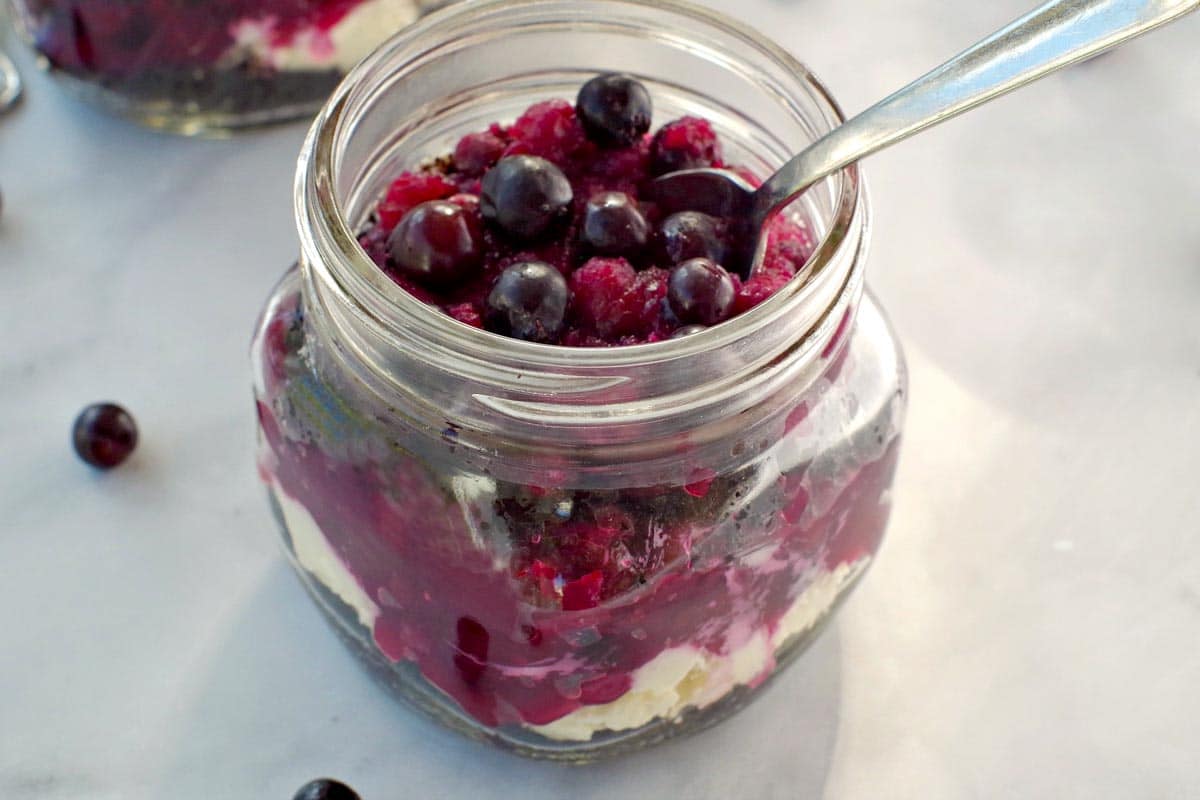 For more no bake cheesecakes, check out my No Bake Birthday Cake Cheesecake (with Oreo crust)
And my No Bake Light Red & White Chocolate Rhubarb Cheesecake!
⭐ REVIEWS
Did you make this recipe? Please RATE THE RECIPE below!
Please SUBSCRIBE (get my FREE E-cookbook) and be sure to FOLLOW ME on FACEBOOK, TWITTER, INSTAGRAM and PINTEREST!
📋 No Bake Saskatoon Berry Cheesecake in a Jar Recipe
This indulgent No Bake Saskatoon Berry Cheesecake in a jar, with layers of white chocolate cream cheese, Oreo cookie crust and Saskatoon berry sauce, requires no oven, is fun to eat out of a mason jar and is the ultimate summer cheesecake!
Ingredients
Crust
1

cup

Oreo cookie crumbs

* or substitute crushed chocolate graham wafers

2

tablespoon

melted butter or margarine

*measure 2 tbsp, then melt the butter or margarine
Instructions
Prepare Saskatoon Berry filling as per recipe (see NOTES) . Cool.

Melt white chocolate in microwave at ½ (50%) power for about 1 minute and 30 seconds

Beat cream cheese, white granulated sugar and melted white chocolate together.
Topping
Mix Oreo cookie crumbs and melted butter together
Assembly
Take ½ cup of Oreo cookie crumb mixture and add to the bottom each jar, dividing evenly by 4 jars.

Take ½ of the cream cheese mixture and add on top of the Oreo cookie crumb mixture, dividing evenly by 4 jars.

Add ½ cup of the Saskatoon berry filling to each jar on top of the cream cheese layer.

Repeat with remaining ½ of ingredients, in same order, dividing evenly by all 4 jars.
Topping
Top with fresh Saskatoon berries, if desired.
Notes
*NOTE: 
Recipe for Saskatoon Berry Pie Filling and Sauce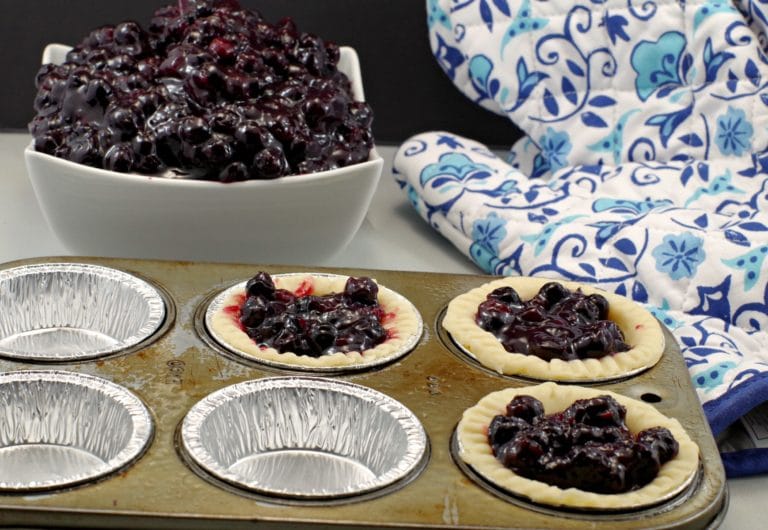 My Amazon Recommendations (affiliate links)
Save
Saved!
📋 More Saskatoon Berry Dessert Recipes!