I'm pretty picky about how I eat bananas so I always have too many overripe bananas. Therefore, I need a lot of banana recipes. That's why I created this Healthy Bananas Foster Overnight Oats.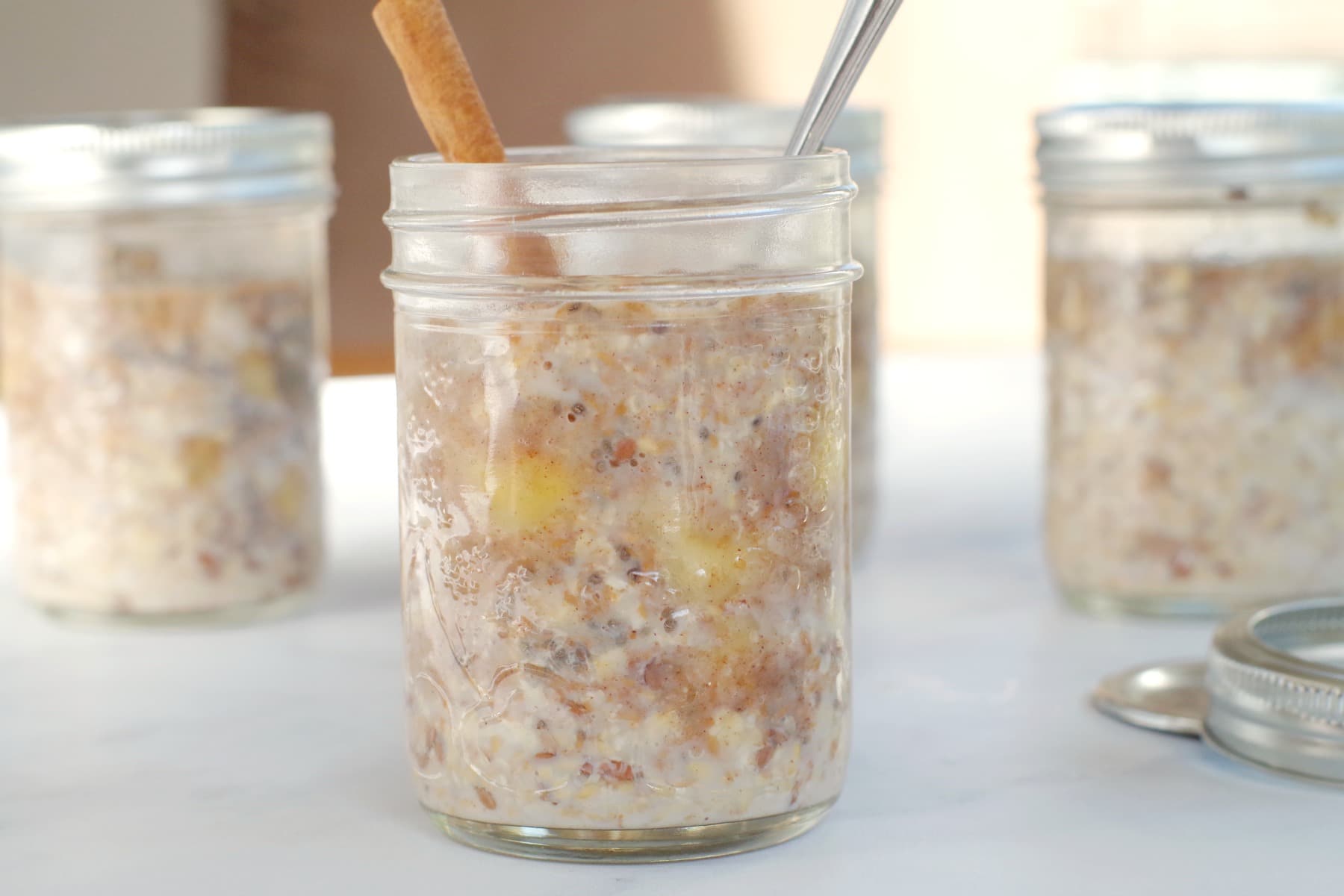 Whether you are a huge overnight oats fan or just looking to switch up your breakfast routine, this Weight Watchers Overnight Oats recipe makes a great easy and healthy breakfast or brunch @ only 5 WW points on the blue plan. My kids loved it and you'd never even know it's WW friendly (with no artificial sweeteners!)
Bananas Foster Recipe
I had the best Bananas Foster EVER in Vegas. We happened upon a little restaurant on the strip called Mon Ami Gabi. It was also one of the best dining experiences I've ever had and anytime I mention this restaurant to anyone who's been there, they wholeheartedly agree. If you've never been and get the opportunity, I would highly recommend it. I would love to get my hands on that Bananas Foster recipe! But I digress... Sometimes I get a serious craving for bananas foster and since I'm not dining on the strip in Vegas, I'm not willing to use 28 points to get that fix. However, now I can get it in a healthy breakfast in 5 little WW points!
Healthy Overnight Oats Recipe
This Healthy Overnight Oats recipe is not only healthy because oats are rich in fiber, vitamins and minerals, but because soaking oats helps the starches break down and reduces the natural phytic acid, which helps your body utilize the oats' nutrients much more efficiently. This also makes them easier to digest than cooked oats, which is especially helpful for people with gluten sensitivities. Overnight oats absorb the liquid during the night, softening them in the same way cooking softens them, without the work of actually cooking them and the damaging effects of heat. You can read more HERE.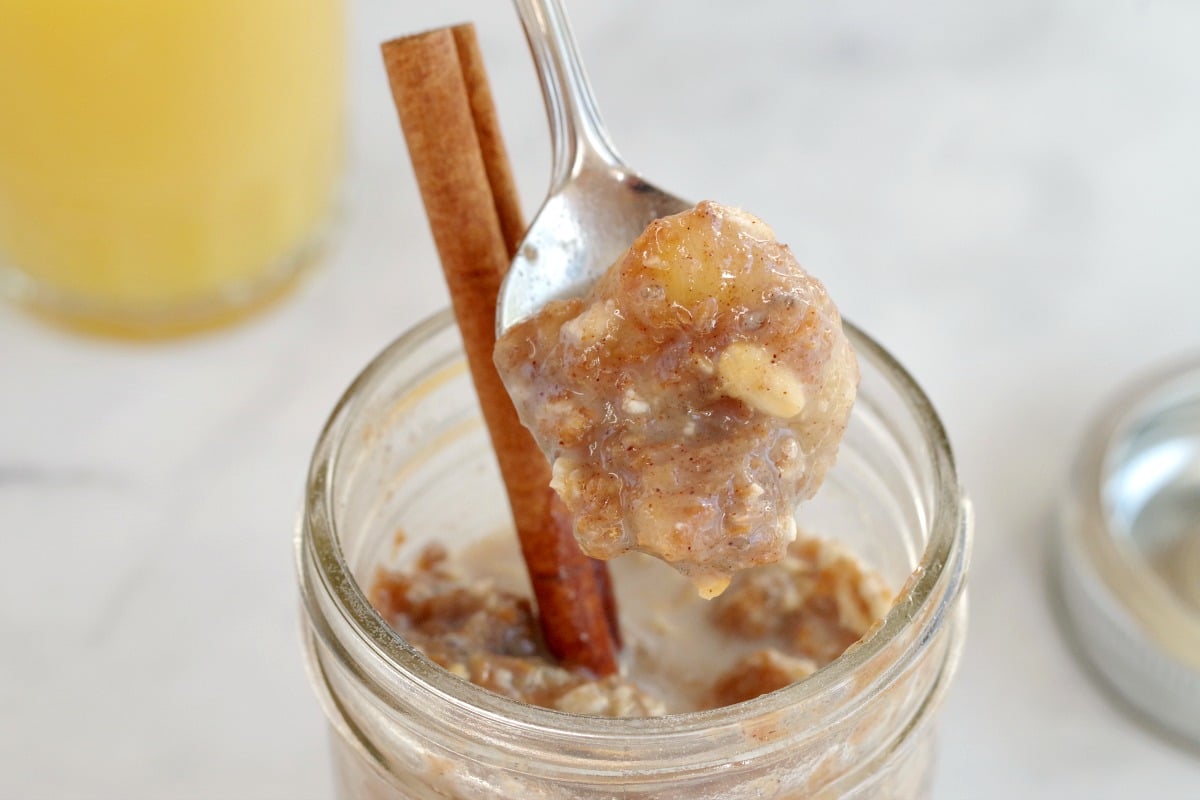 Banana Overnight Oats
Banana Overnight Oats are not only a great way to use up bananas, they are quick, easy and I always have the ingredients on hand (although you may need to stock up on some extracts - see below). They will take you about 10 minutes to throw together and eating out of a jar is a lot more fun than a boring ol' bowl. I simply put them in the same mason jars I use for making jam and it totally elevates the breakfast eating experience!

Weight Watchers (WW) Overnight Oats
These WW overnight oats are a pretty large portion and very filling at only 5 points on the blue plan. I like to use extracts in my weight watchers recipes because they provide a lot of flavor and very little calories. You can get them at any grocery store and they are inexpensive, easy to use and store. I don't like to use artificial sweeteners in my weight watchers recipes either, so I play on the natural sweetness from the fruit. Bananas have quite a bit of natural sugar (14 g per banana) so it wasn't even necessary to add sweetener to this recipe. However, if they are not quite sweet enough for you, you can add a little agave (see NOTES).
My Amazon Recommendations (affiliate links)
So if you're looking for Weight Watchers breakfast ideas, then give these Healthy Bananas Foster Overnight Oats a try!
Healthy Bananas Foster Overnight Oats - Weight Watchers Friendly
Get your Bananas Foster fix the healthy way with these Weight Watchers friendly Healthy Bananas Foster Overnight Oats! Easy to make and only 5 WW points on the blue plan!
Ingredients
1

cup

rolled oats, uncooked

old fashioned or steel cut **not quick

¼

tsp

caramel extract

½

tsp

cinnamon

2

tsp

chia seeds

2

cups

low-fat milk

3

ripe bananas

¼

tsp

rum extract

1

tsp

butter, unsalted

½

tsp

vanilla extract
Instructions
In each of 4 small glass jars, place ¼ cup of oats, ½ teaspoon of chia seeds and ½ cup of milk. Set aside.

In a small saucepan, heat the butter over medium heat. Add the bananas, caramel extract, vanilla extract and cinnamon to the butter and sauté for 2 to 3 minutes, or until the bananas start to break down.

Divide the cooked banana mixture evenly among the portions in the jars.

Cover and refrigerate overnight.

In the morning, enjoy cold right out of the fridge, or remove lids and warm in microwave for about 30 seconds.
Notes
*NOTE: I used the WW calculator on the app to calculate this recipe. If you are on another plan besides blue, you may get a higher WW points count if you use the nutritional information below to figure out the points. I would recommend you use the WW calculator. For some reason, this nutritional information was not giving me an accurate points count.
**NOTE: If it's not sweet enough for you, add a little agave to it (but add it to the banana mixture AFTER it's cooked). It will increase the WW point value slightly.
Nutrition Facts
Healthy Bananas Foster Overnight Oats - Weight Watchers Friendly
Amount Per Serving (1 jar)
Calories 215
Calories from Fat 27
% Daily Value*
Fat 3g5%
Cholesterol 2mg1%
Sodium 64mg3%
Potassium 581mg17%
Carbohydrates 41g14%
Protein 8g16%
Vitamin A 397IU8%
Vitamin C 8mg10%
Calcium 180mg18%
Iron 1mg6%
* Percent Daily Values are based on a 2000 calorie diet.
Nutrition
Serving:
1
jar
|
Calories:
215
kcal
|
Carbohydrates:
41
g
|
Protein:
8
g
|
Fat:
3
g
|
Saturated Fat:
1
g
|
Cholesterol:
2
mg
|
Sodium:
64
mg
|
Potassium:
581
mg
|
Fiber:
5
g
|
Sugar:
17
g
|
Vitamin A:
397
IU
|
Vitamin C:
8
mg
|
Calcium:
180
mg
|
Iron:
1
mg
Save
Saved!
More Healthy Banana Recipes!
Microwave Chocolate Banana Mug Cake
Banana Chocolate Chip and Pineapple Muffins