Just in time for Thanksgiving! This Skinny Pumpkin Cheesecake is a great pumpkin pie alternative. Cheesecake can be really heavy but this one isn't.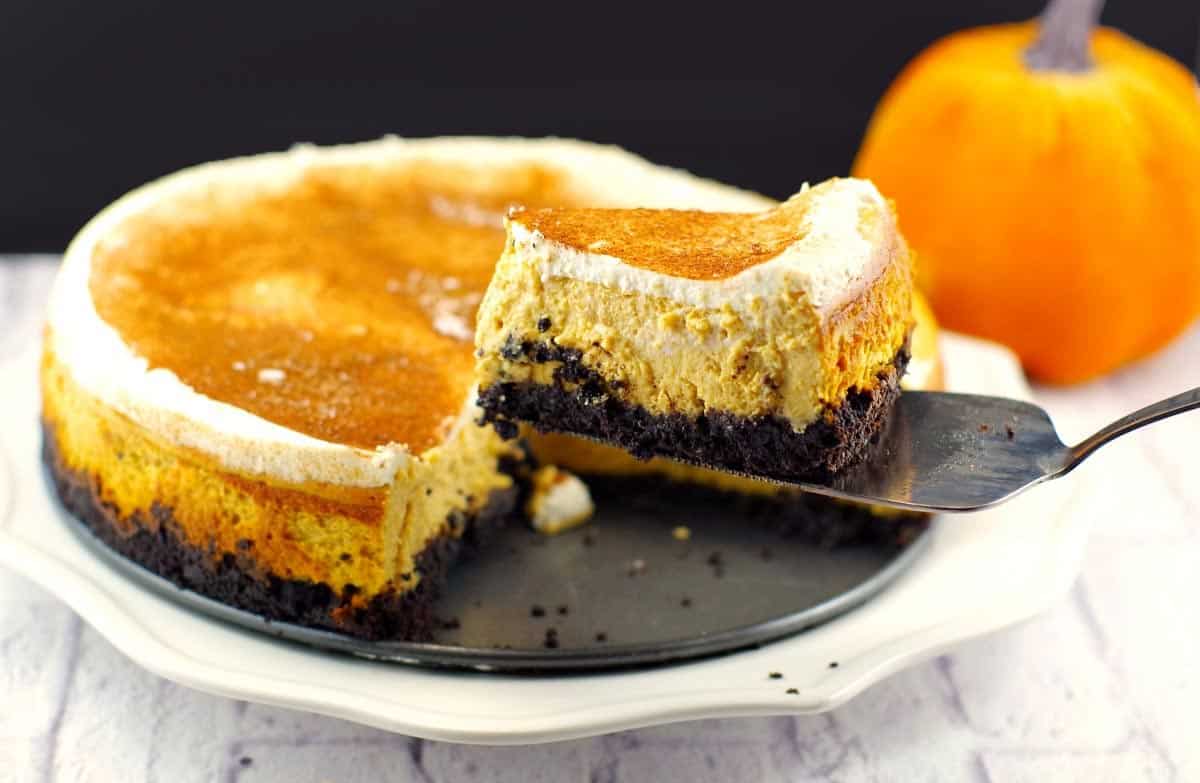 And it's easy to make. So if you are looking for Thanksgiving pumpkin desserts (something that's a little different) then give this healthy dessert a try. You will be amazed by how delicious this light pumpkin cheesecake recipe tastes @ only 10 WW points. It's the ideal Thanksgiving Cheesecake!
Jump to:
🎥 Video: Cheesecake Water Bath
Although cheesecake is not hard to make, if you have one bad experience, it can turn you off ever making it again. And because cheesecake is prone to cracking, I often use a water bath. But you don't even need to use a water bath with this recipe. It will crack a little, but the topping covers up any cracks, so it still looks great!
And it won't dry out. However, if you always use a water bath and prefer it to be on the safe side, then go for it! And lastly, if you want to learn how to make a water bath, then watch this video on how to make a water bath for cheesecake! I like her trick of using a bigger pan to protect the cheesecake, but you can also tinfoil.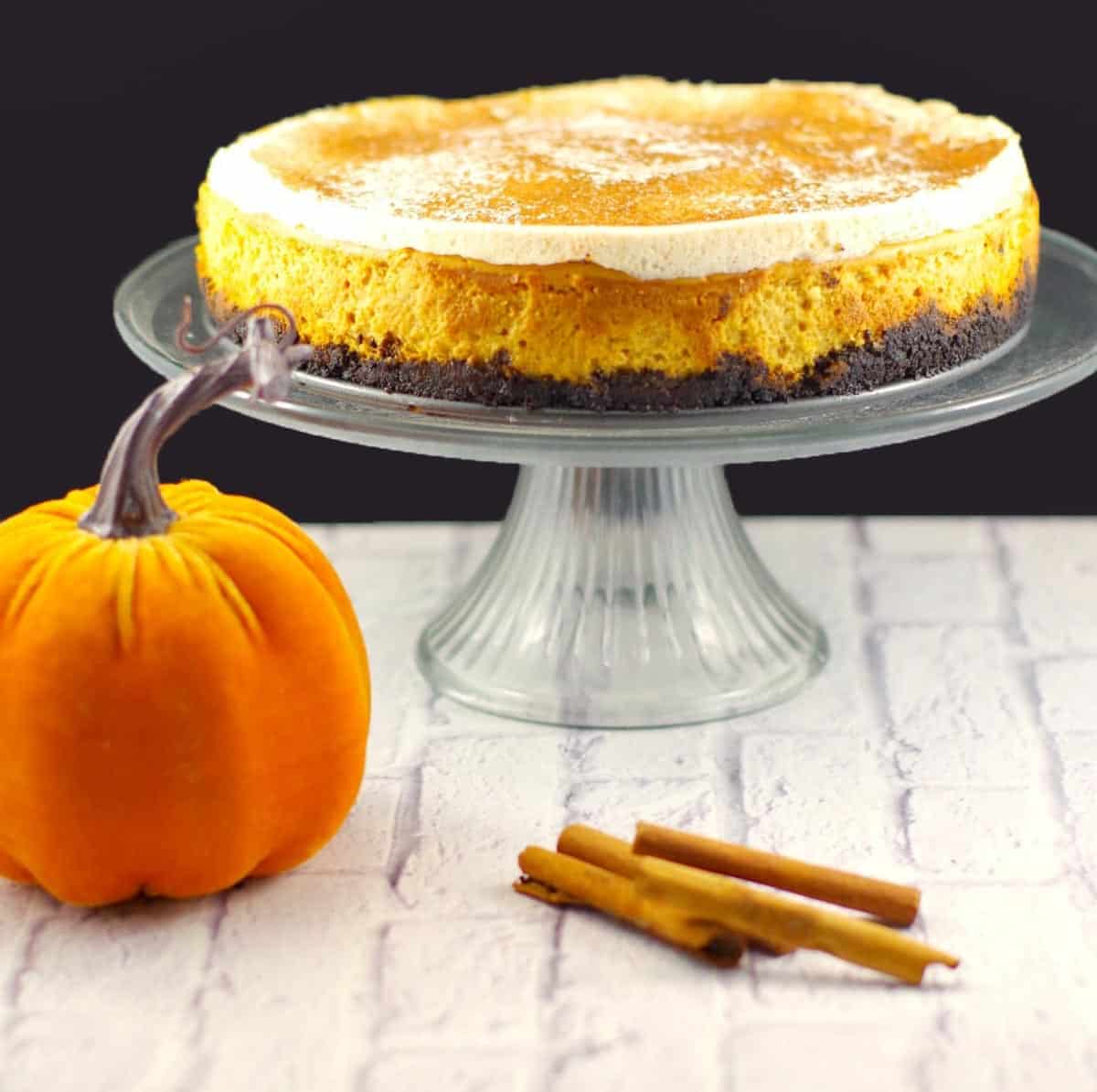 💧

Cheesecake Water Bath Leak

If you do find yourself with a water bath leak, don't despair- it does not necessarily mean your cheesecake is a write-off. Get it out of the bath ASAP and immediately switch to the water bath method above! Drain off any water from the springform pan, give it a shake and a giggle, and dry off the pan with a tea towel or paper towel. Continue cooking and hope for the best. *Rest assured -this has happened to me several times (before I started using the larger pan method) and my cheesecake was NEVER ruined.

This light pumpkin cheesecake has been my go-to cheesecake recipe for years. I once brought it to work and the recipe was requested by quite a few people afterwards. Then one coworker came back to me and said his wife made the cake, but it didn't taste like mine. I guess I had changed a few simple things (i.e. sprinkling the icing sugar and cinnamon on top) and hadn't included that in the recipe. Apparently, my changes had made all the difference. Live and learn. Now I always include MY changes in the recipes I share.
📖 Variations
Although this is a Chocolate Pumpkin Cheesecake, the pumpkin flavor is the star of the show! The chocolate Oreo cookie crust melds so perfectly with the pumpkin, it's hard to believe that this cheesecake originally had a gingersnap crust!
However, if that sounds tempting to you and you want to crush up ginger cookies and use them instead of the Oreo cookie crumbs, you are more than welcome to. Either way, give this Thanksgiving Cheesecake a go- you won't be disappointed!
You can also use canned pumpkin puree or make your own fresh pumpkin puree. Of course, fresh is the best!
💭
How to tell if cheesecake is done
It will still be barely jiggly when you shake/move it from side to side and the sides will have separated from the edges of the pan. But you will see it is puffed up a little around the center ** For this recipe, I advise you to check it after 35 minutes, as that's what the original recipe called for. Although, it always took 45 minutes for me.
Since the 'jiggly test" can be hard to judge, the guaranteed way to know cheesecake is ready to come out of the oven is by temperature; when the internal temperature reaches 150 degrees. (At higher temperatures, the texture will suffer.) If possible, insert the thermometer into the side of the cheesecake where it rises above the pan (otherwise, insert it into the center of the cake). I use this instant read thermometer- (affiliate link) it's great for everything food related!)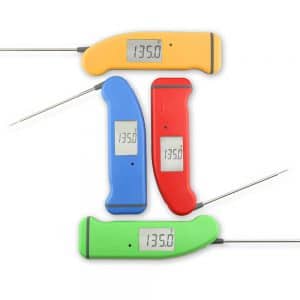 💭 Top Tip
Be careful when you are buying light cream cheese for this light pumpkin cheesecake, especially if you are following the Weight Watchers program, as the fat contents vary greatly between brands. I find most of the store/no-name brand fat content is substantially higher (almost the same as regular cream cheese) than the brand names. I generally stick to the brand names for light cream cheese.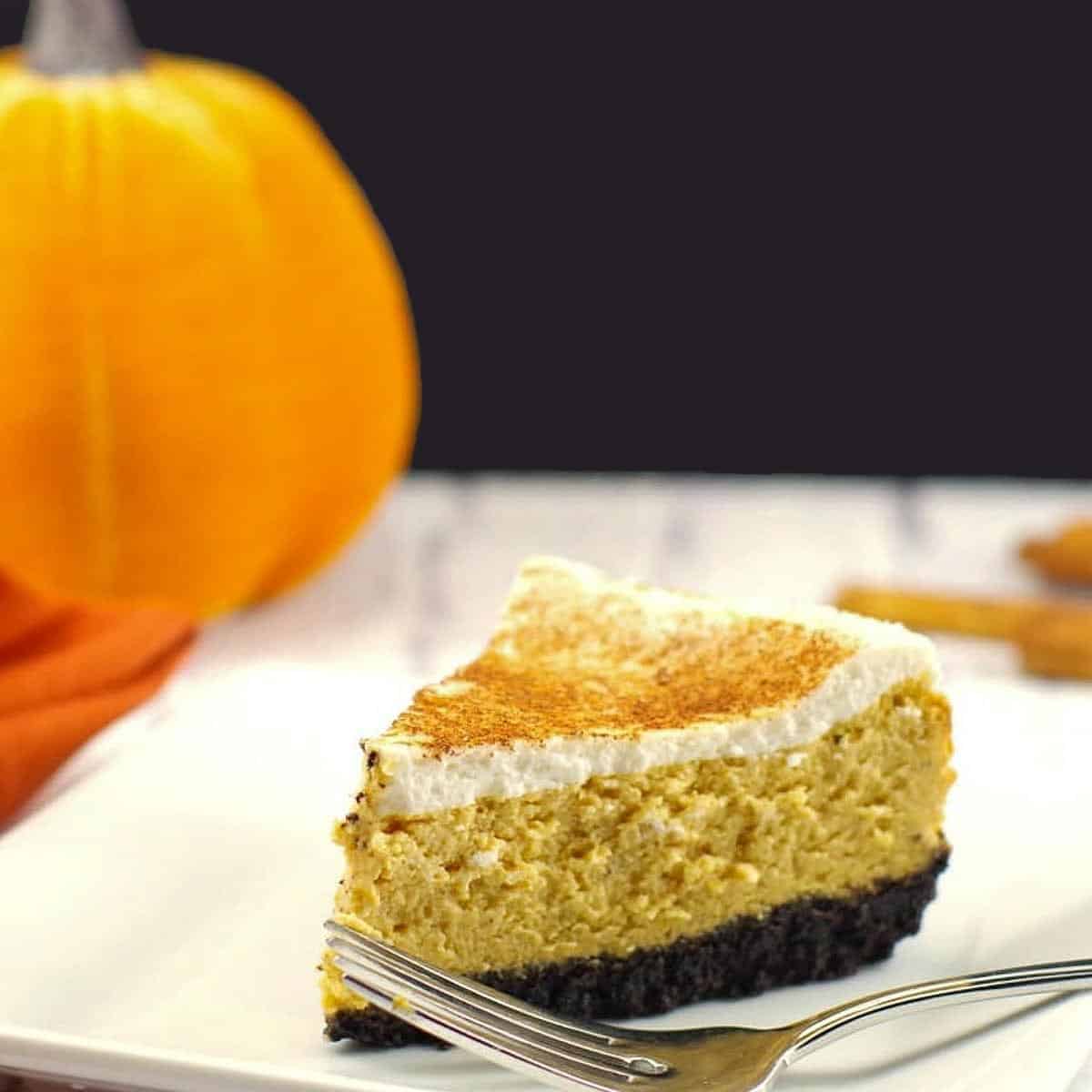 🌡️Storing
Make ahead and refrigeration
This healthy pumpkin cheesecake can be made a day or two in advance and you can store it in the fridge for up to 3 days.
Freezing
You can freeze cheesecakes, so if you plan to, you'll want to check out Taste of Home's guide on how to freeze cheesecakes. However, if you do freeze it and plan to serve it, I do not recommend you freeze it for longer than 2 months. It's best if you do NOT put the icing sugar and cinnamon mixture on until it's completely defrosted.
👪 Serving size
This Thanksgiving cheesecake is made in a 9-inch or 10-inch springform pan and serves 16. Although 16 pieces may seem like a lot, as you know, cheesecake is quite rich. 
🔢WW Points
This ww pumpkin cheesecake is 10 WW points. You can bring the points down further by using fat-free cream cheese. You can also use a sugar substitute if you prefer.
🍽 Equipment
You will need an electric mixer for this delicious pumpkin cheesecake recipe. I also recommend you use a springform pan (preferably 9 or 10-inch) for this recipe because it will make your life easier. However, if you don't have that type of pan and/or don't want to purchase one, you can make a cheesecake without it. You can read about how to make a cheesecake without a springform pan HERE.
So if you're looking for a pumpkin cheesecake recipe, pumpkin desserts for Thanksgiving, or healthy Thanksgiving dessert ideas, this is the one! It has fewer calories than regular cheesecake, but is packed with flavor!
And if you love pumpkin, try my Crustless Pumpkin Pie!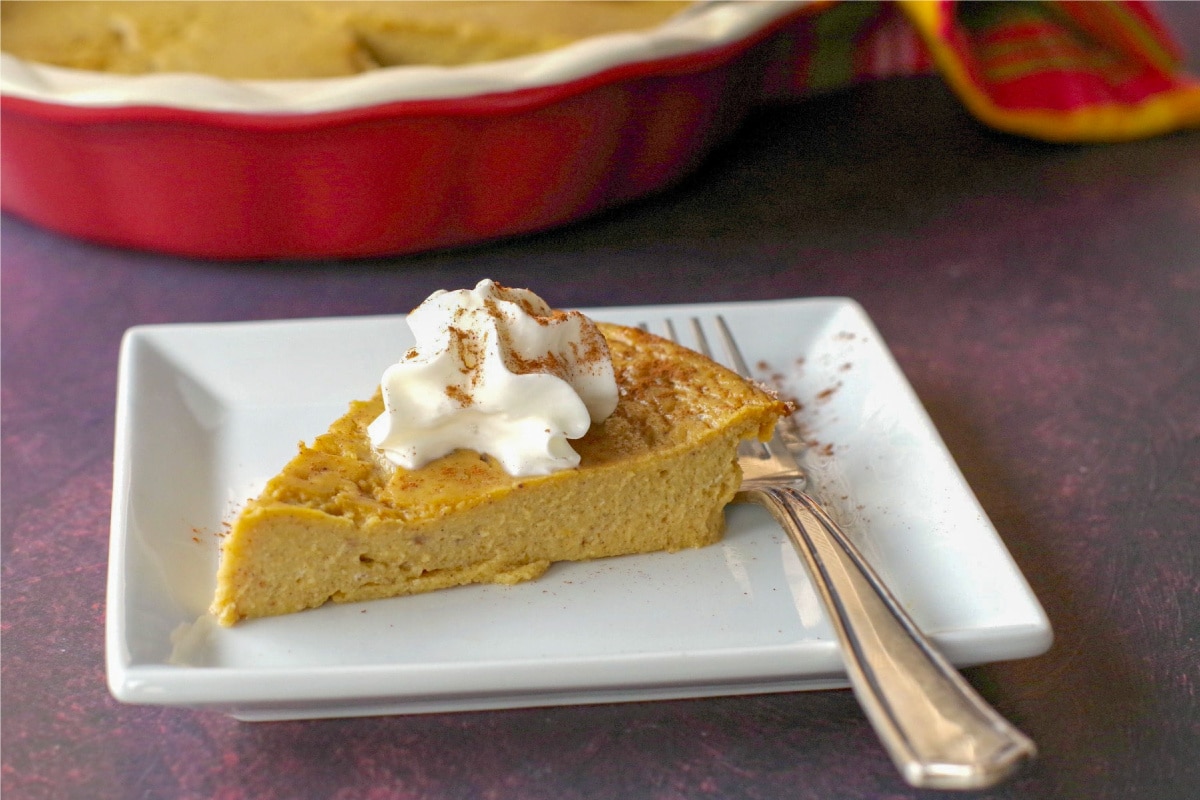 📋 Skinny Pumpkin Cheesecake (with Oreo Crust) recipe
A light and delicious low-fat pumpkin cheesecake made with pumpkin puree and a chocolatey Oreo crust. This skinny pumpkin cheesecake is Weight Watchers friendly and the ideal Thanksgiving Cheesecake and pumpkin pie alternative! 
Print
Pin
Rate
Ingredients
CRUST:
1 ½

cups

oreo cookie crumbs 

2

tablespoon

white granulated sugar

4

tablespoon

olive oil margarine
TOPPING:
2

cups

non-fat greek yogurt

6

tablespoon

white granulated sugar

1

teaspoon

vanilla
GARNISH: 
about 2 Tblsp each of cinnamon and icing sugar for sprinkling
Instructions
CRUST:
Preheat oven to 350 degrees F.Stir together all crust ingredients in medium sized mixing bowl. Spray a 9" or 10" springform pan with non stick cooking spray.

Press the mixture onto the sides and bottom of the pan.

Bake in a preheated 350 degrees F. oven for 10 minutes. Cool on a rack.
FILLING:
Cube the cheese and beat with electric mixer.

Beat in the sugars. Add the eggs and egg whites and best until mixture is smooth and fluffy.

Mix in the pumpkin, salt, flour and spices. Pour filling onto cooked crust.

Return to a 350 degrees F. oven and bake cheesecake for about 35 - 45 minutes or until puffed and set.  It will still be a little jiggly when you shake/move it from side to side and the sides will have separated from the edges of the pan. But you will see it is puffed up a little around the center ** I advise you check it after 35 minutes, as that's what the original recipe called for. Although, it always took 45 minutes for me.
TOPPING:
Mix together the topping ingredients. Set aside.

Remove cake from oven and spread the topping over the cheesecake. Return to oven and bake 10 minutes longer.

Cool on a rack.
GARNISH:
Sprinkle cinnamon and icing sugar over the top of the cake, to your liking (you can use a little more or less, depending on what you like)

Chill in fridge for 4 hours or overnight.
Notes
*See post contents for important recipe information and tips!
Nutrition Facts
📋 Skinny Pumpkin Cheesecake (with Oreo Crust) recipe
Amount Per Serving (1 piece)
Calories 244
Calories from Fat 81
% Daily Value*
Fat 9g14%
Cholesterol 37mg12%
Sodium 261mg11%
Potassium 166mg5%
Carbohydrates 34g11%
Protein 7g14%
Vitamin A 2695IU54%
Vitamin C 0.7mg1%
Calcium 86mg9%
Iron 0.5mg3%
* Percent Daily Values are based on a 2000 calorie diet.
Nutrition
Serving:
1
piece
|
Calories:
244
kcal
(12%)
|
Carbohydrates:
34
g
(11%)
|
Protein:
7
g
(14%)
|
Fat:
9
g
(14%)
|
Saturated Fat:
3
g
(19%)
|
Cholesterol:
37
mg
(12%)
|
Sodium:
261
mg
(11%)
|
Potassium:
166
mg
(5%)
|
Sugar:
28
g
(31%)
|
Vitamin A:
2695
IU
(54%)
|
Vitamin C:
0.7
mg
(1%)
|
Calcium:
86
mg
(9%)
|
Iron:
0.5
mg
(3%)
Did you make this recipe?
Please leave a star rating and review below!
🦃More Healthy Thanksgiving Recipes