It's become a tradition - something we do every year. We buy a pumpkin, cook it up, bag it and stock the freezer with it. Then my husband makes his amazing Healthy Pumpkin Soup (no cream)! But this year we almost didn't get a pumpkin...
I also followed him around the kitchen while he cooked this year, measuring ingredients, capturing the process and writing it all down because not only do I want my kids to have this recipe, but also future generations. And it's too good not to be shared with the rest of the world!
Weight Watchers Pumpkin Soup
Weight Watchers friendly @ only 5 WW points on the blue plan, per 1.5 cup serving (with BACON!) this is the best ever Weight Watchers Pumpkin Soup! And although it has no cream, it's rich and creamy. This is because all the ingredients are pureed once it's cooked, making it a super light and healthy and really WW friendly meal.
Best Pumpkin Soup Recipe Ever
I'm generally not fond of savory pumpkin things, but this pumpkin soup is an exception because it's unlike any pumpkin soup I'd ever had. I really is the best pumpkin soup recipe ever! It's that good! Made with bacon and mushrooms and no cream this pumpkin soup tastes gourmet but is actually Weight Watchers friendly!
Years ago I worked at a restaurant where everyone raved about the stuffed potatoes. And when I finally decided to see what all the fuss was about, I was sorely disappointed. In fact, I thought they were horrible! They had this foreign flavor - something that was not meant to be with potatoes. Nutmeg. And although many won't agree with me, I think that nutmeg should stay out of the savory culinary world. And I figured out that's why I never liked savory pumpkin things; most of them were made with nutmeg! My husband leaves the nutmeg out for me. Lucky me! And hey, I'm not saying you can't add a pinch of it if you like, but trust me, you really don't need to.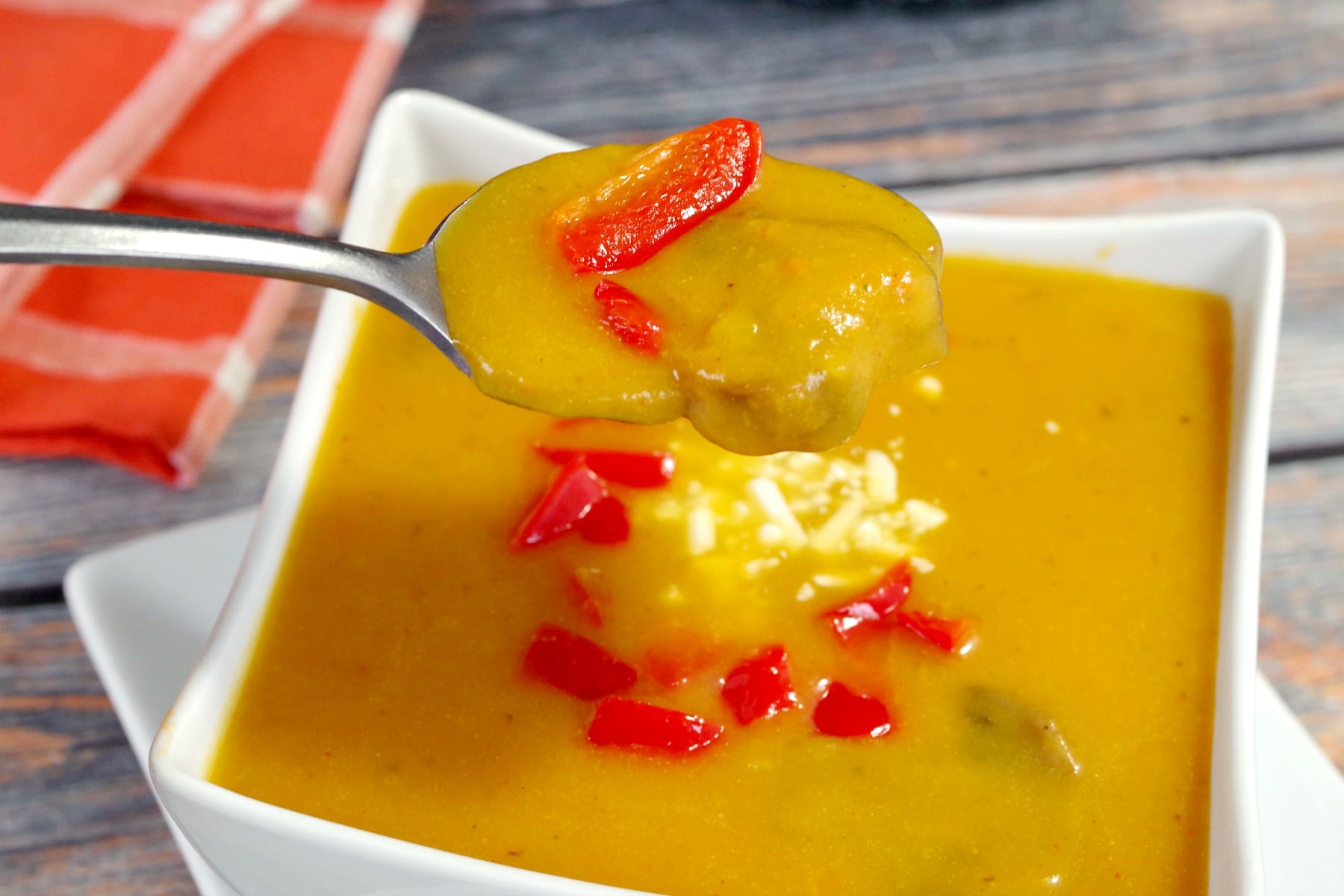 Gourmet pumpkin soup
I consider this a gourmet pumpkin soup because not only is it outstanding, it's pretty involved. What I am saying is that this is not your after work dinner soup; there is a time investment. But I guarantee you - your taste buds will be rewarded with amazing gourmet flavor.
My husband enjoys making soup - he finds it therapeutic after a busy week at work. And he is damn good at it! He learned a lot working as a cook, including some useful soup making tips from some talented chefs he had the opportunity to work with and learn from. And the taste of this soup is testimony to that.
Cooking a pumpkin
It's recommended you use special cooking pumpkins, generically labeled "sugar pumpkins" or "pie pumpkins," (specifically named Baby Pam, Autumn Gold, Ghost Rider, New England Pie Pumpkin, Lumina (which are white), Cinderella, and Fairy Tale) when cooking with pumpkin. You can read more about cooking pumpkins HERE.
However, I don't think this is necessary. We ALWAYS buy the exact same type of pumpkin as we would for carving jack o' lanterns (from the big bin outside the grocery store) and they always taste amazing! The key is that you puree it before you bag it or it's too stringy! And then you drain off as much water as you can. Personally, I'm not going to pay a lot more money for a cooking pumpkin (and get something smaller), but the choice is yours. You can also use canned pumpkin for this recipe, but it's not going to be nearly as good. See NOTES for video on how to cook a pumpkin.
The Great Pumpkin Shortage
And as I mentioned, we were lucky to get a pumpkin at all this year because there was a shortage! Our early winter weather caused most of the pumpkin crop to rot in the field or right after picking. Sadly, some weren't as lucky as us.
I'm just grateful we were able to get one and make our traditional pumpkin soup!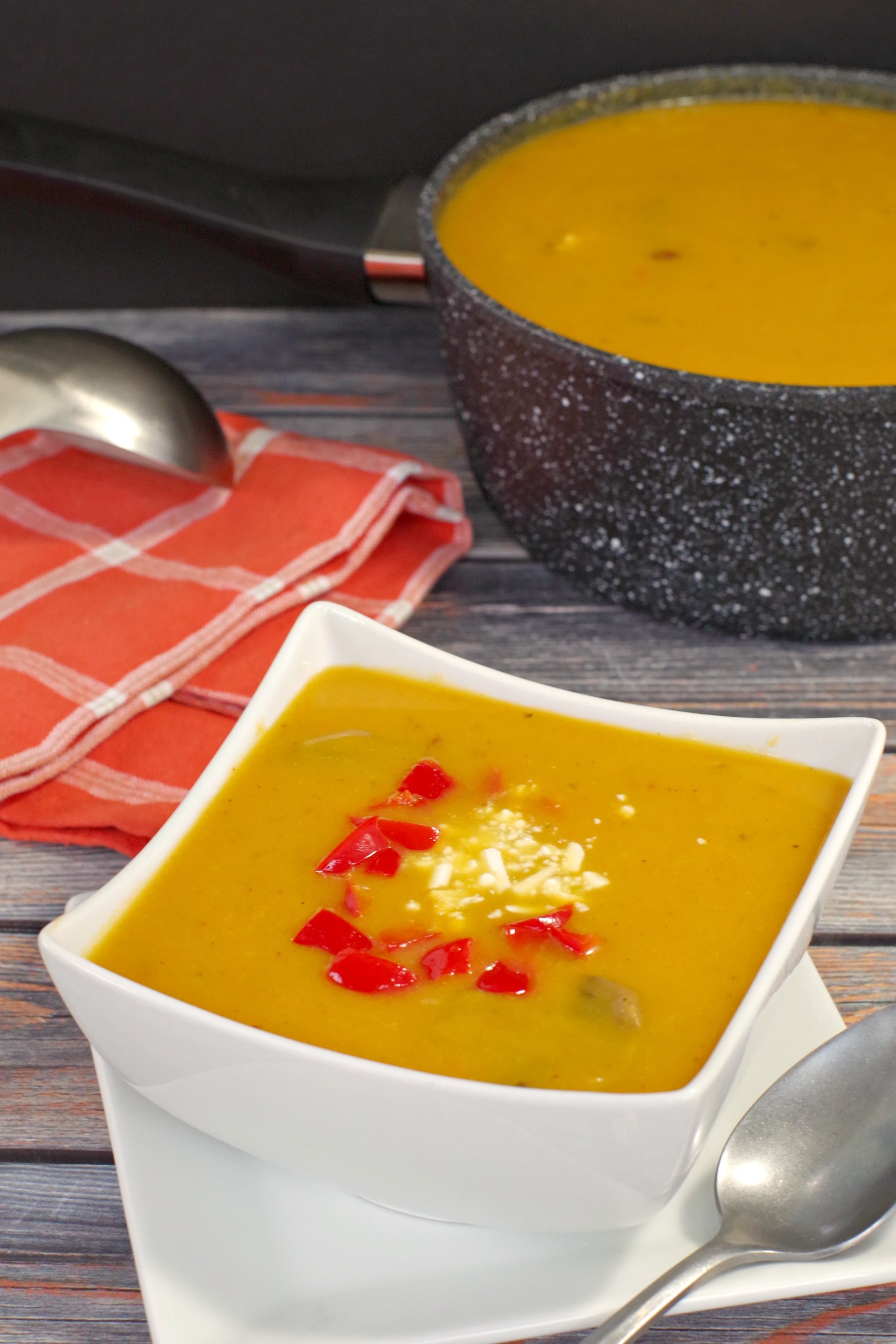 What to eat with pumpkin soup
Pumpkin soup is great with any kind of bun, bread, croutons, or crispy fried onion topping. However, I recommend serving this Onion & Olive Bread Machine Bread with this soup.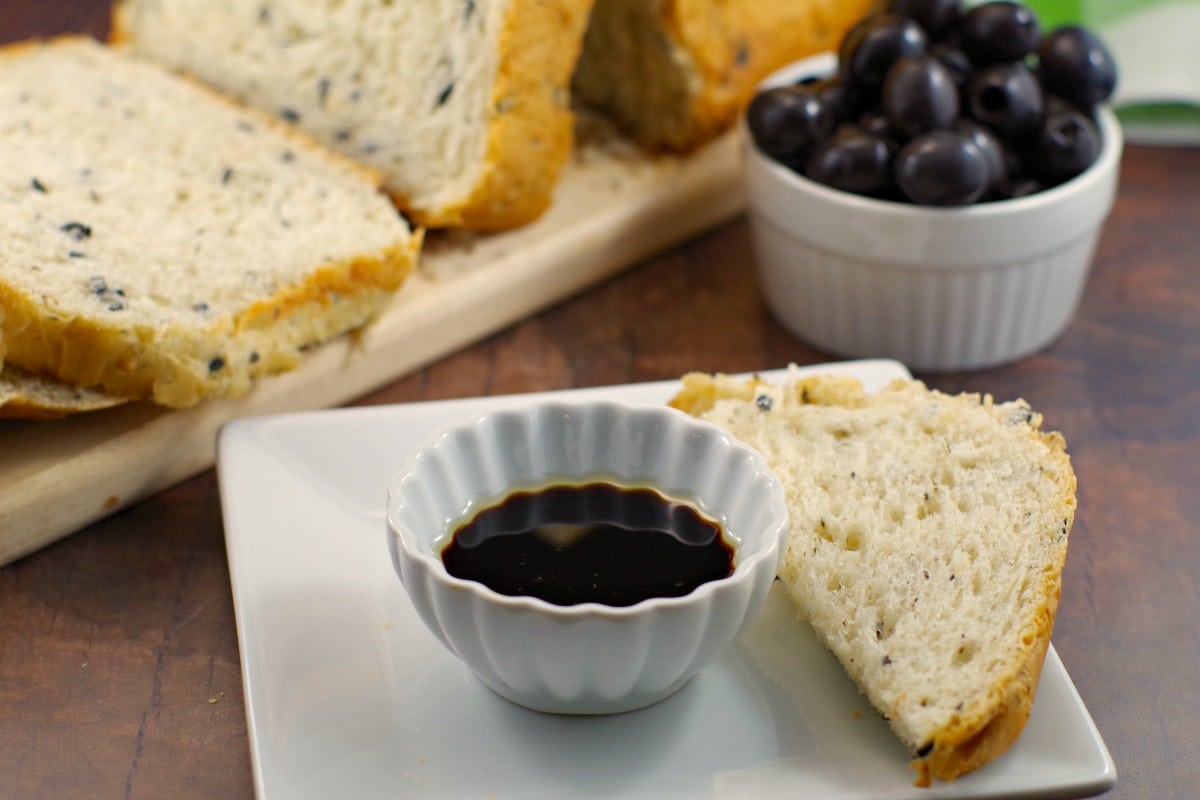 Healthy Pumpkin Soup (without cream)
This Healthy Pumpkin Soup is made without cream and is not only Weight Watchers friendly, although it takes time, it's easy to make and tastes gourmet. Although it can be eaten as a side, it's hearty enough for a meal!
And if you love pumpkin, try my Weight Watchers Crustless Pumpkin Pie! It's only 2 WW points on the blue plan.
My Amazon Recommendations (affiliate links)
Healthy Pumpkin Soup (no cream)
This Healthy Pumpkin Soup with bacon and mushrooms is made with no cream, tastes gourmet and is Weight Watchers friendly at only 5 WW points on the blue plan.
Equipment
6 quart pot

blender or food processor
Ingredients
6

oz

turkey bacon

* ½ -12 oz pkg

6

oz

bacon

* ½ -12 oz pkg

5

carrots

½

bunch

celery

3

cups

sliced mushrooms

3

cloves

garlic

8

cups

soup stock

¼

tsp

cumin

½

tsp

cajun seasoning

4

cups

pumpkin puree

1

onion

1

red pepper

½

tbsp

+ 1 tsp cajun seasoning (tsp added to mushrooms)

*black pepper or paprika can be substituted

¼

cup

+ 2 tbsp white wine

½

tbsp

olive oil

⅔

cup

-container of chicken or vegetable bouillon

½ a container approximately- add to taste

water to fill pot

nutmeg to taste (optional)
Garnish
red pepper, finely diced and sauteed

feta cheese, crumbled
Instructions
Chop bacon and fry turkey and regular bacon separately until crisp. Set aside.

Dice carrots, celery and onions. Mince garlic.

Sautee sliced mushrooms in bacon fat (optional) or in a little olive oil. Set aside.

In a large, 6 quart pot, carmelize onions with garlic and olive oil for 5 minutes.

Deglaze pot with 2 tbsp white wine (see NOTES on how to deglaze)

Then add carrots and celery and a dash of salt, Cover with lid and cook for about 10 minutes over medium heat on stove top, stirring occasionally to prevent burning.

Add soup stock to vegetables in pot and bring to a boil.

Add pumpkin and continue on rolling boil until vegetables are soft (and a fork can easily go through them). Add cumin and Cajun seasoning.

Add enough water to fill the pot to 2 inches below rim.

Puree mixture in blender or food processor. * You will have to do this in small batches

Return to pot, add mushrooms and bacon and add bouillon to taste (depending on how strong your stock is). * you may need to add more or less than the ⅔ cup
Garnish
Sautee red pepper if desired. Top soup with crumbled feta and red pepper and serve.

Freeze remaining soup, as required. It freezes well!
Notes
*NOTE: Video: How to cook a pumpkin
**NOTE: Video: How to deglaze a pan
Nutrition Facts
Healthy Pumpkin Soup (no cream)
Amount Per Serving (1.5 cups)
Calories 137
Calories from Fat 72
% Daily Value*
Fat 8g12%
Cholesterol 17mg6%
Sodium 841mg37%
Potassium 341mg10%
Carbohydrates 11g4%
Protein 6g12%
Vitamin A 13240IU265%
Vitamin C 14mg17%
Calcium 26mg3%
Iron 1mg6%
* Percent Daily Values are based on a 2000 calorie diet.
Nutrition
Serving:
1.5
cups
|
Calories:
137
kcal
|
Carbohydrates:
11
g
|
Protein:
6
g
|
Fat:
8
g
|
Saturated Fat:
2
g
|
Cholesterol:
17
mg
|
Sodium:
841
mg
|
Potassium:
341
mg
|
Fiber:
3
g
|
Sugar:
5
g
|
Vitamin A:
13240
IU
|
Vitamin C:
14
mg
|
Calcium:
26
mg
|
Iron:
1
mg
Save
Saved!
More Healthy and WW Friendly Soup Recipes!
Easy Italian Wedding Soup- in under 30 minutes!
Ukrainian Shortcut Borscht Soup with Beef