In my youth I worked in many restaurants and in the process, I ate a lot of restaurant food. I can't tell you just how many BAD Caesar salads I've eaten in my day, but there were a lot. And it certainly wasn't easy to find a good one.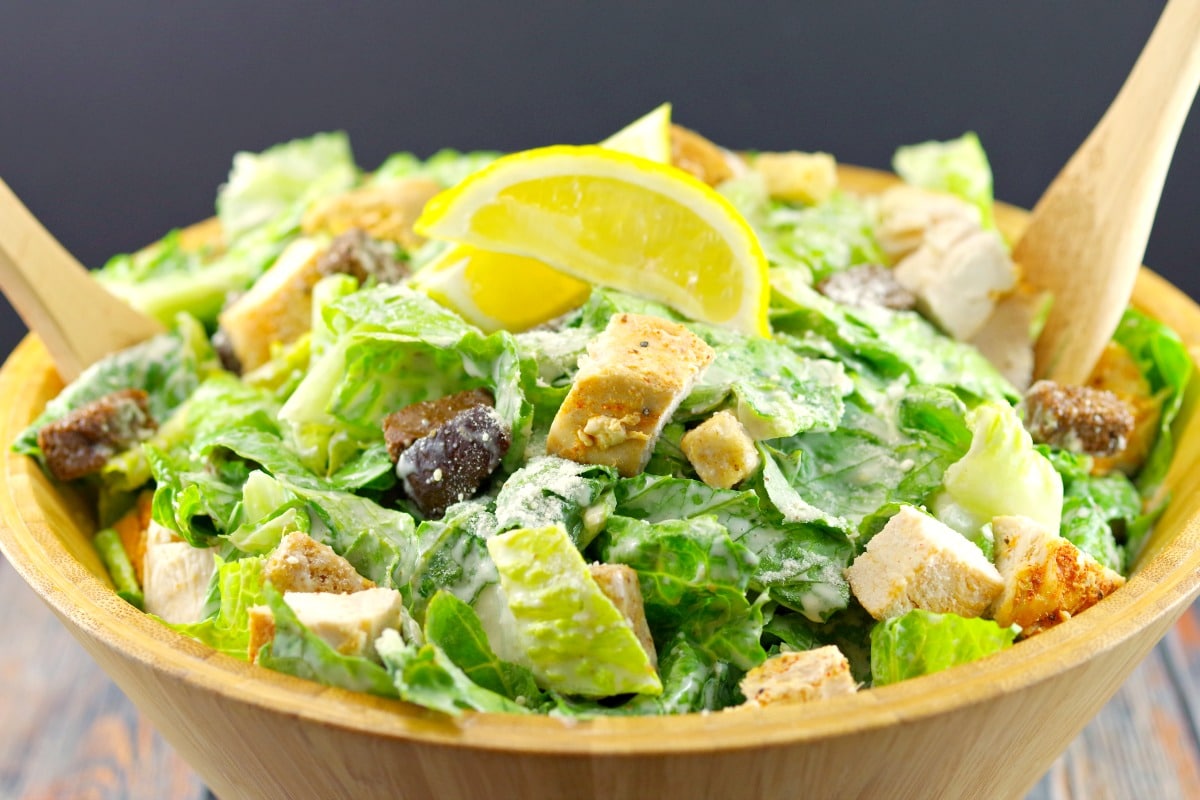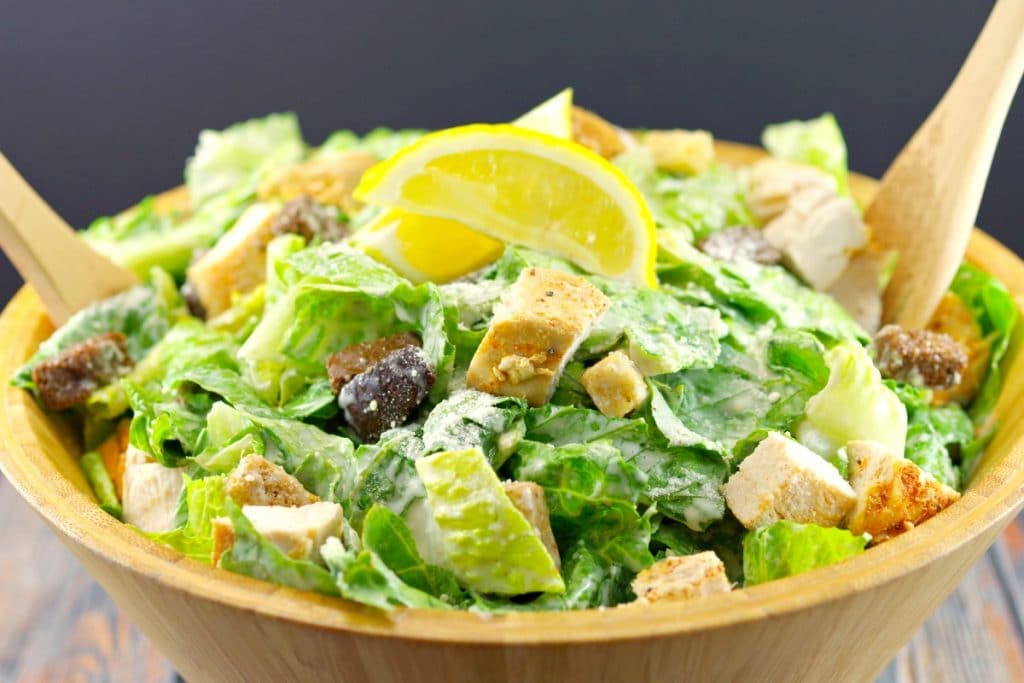 Then everything changed when my little brother got a job working at a now defunct restaurant called Clancy's, in Winnipeg in the early 1990's. That was how we discovered this amazing Caesar salad dressing recipe, which I use in this Grilled Chicken Caesar Salad.
However, my very first job was a "salad girl" at Bonanza. I was 14 years old.
I recall my parents having to sign some special form to say I could work; I had begged them. I wanted to have my own money and a real job so badly; not just the chump change I was earning from babysitting at the time.
Surprisingly, for a restaurant that had the biggest salad bar around at the time, (so big that they needed 2 'salad girls' stocking it during the dinner shift) Bonanza had one of the worst Caesar salads I ever tasted!
But they did have an amazing Monterey Chicken! There are very few restaurant recipes that I want to recreate, but that Monterey Chicken was definitely one of them! And now my mission to recreate it has been successful! I actually contacted a couple of people who worked there with me back in the 80's, and based on their memories and my own, I was finally about to pretty much nail it!
Grilled Chicken Caesar Salad Recipe
And although I personally never actually worked at Moxie's, I have eaten there a lot over the years and adore Moxie's Steak Salad with Clamato Dressing ! And I happen to think I've done a pretty darn good job of recreating it (in a healthy Weight Watchers Way, of course!) And my IHOP Grain & Nut Pancake Copycat recipe is also a delicious rendition of the original! However, this is not a copycat recipe; this Grilled Chicken Caesar Salad Recipe is the real deal! I'm soo lucky that I don't even have to try to recreate it because my brother got the actual recipe many years ago. It is tangy, creamy and oh so delicious!
Best Chicken Caesar Salad Recipe
But this Caesar salad dressing... it's THE BEST Chicken Caesar Salad Recipe!
My Mom started making this salad dressing back then and it has become a cherished family classic. If this Caesar salad is not served at a special meal or gathering in our family, it is very unusual. I moved away from Winnipeg many years ago, but I still serve this salad at every special meal I make. And whenever I bring it to a dinner or potluck I always get asked for the recipe.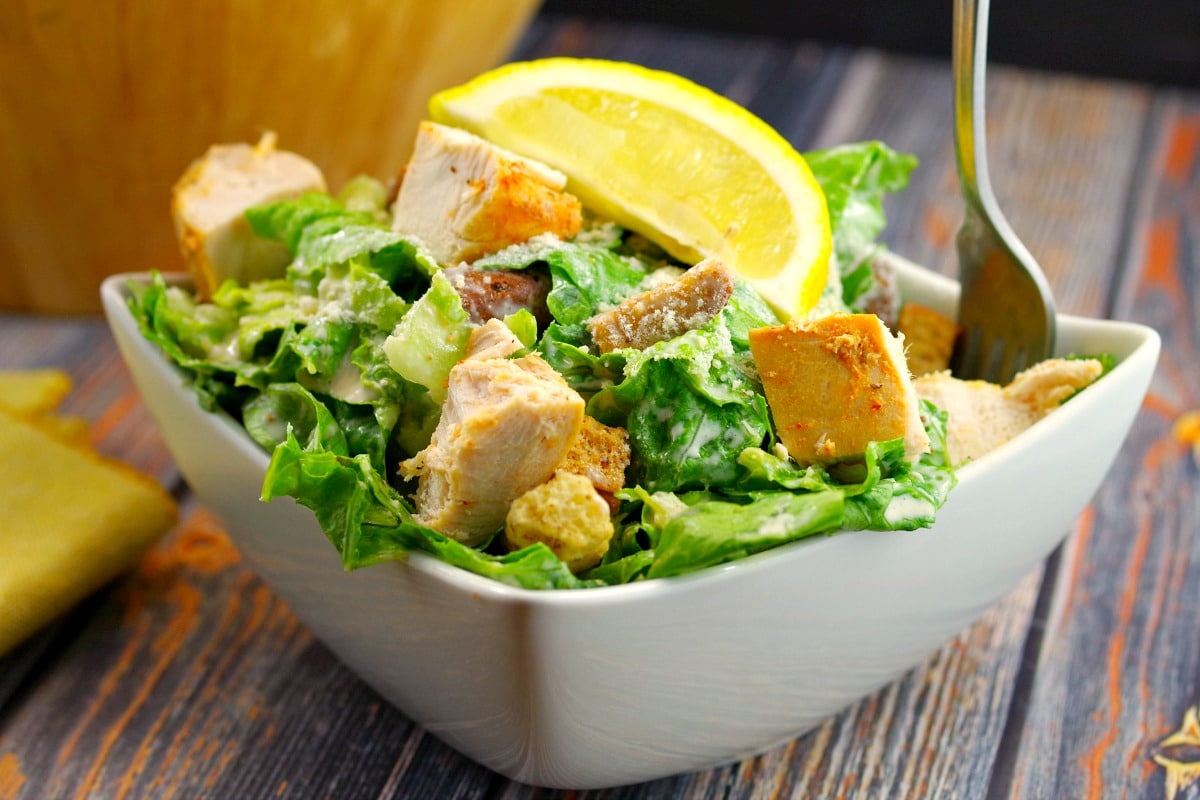 Chicken Caesar Salad Dressing
When I took that job at Bonanza at the age of 14 my parents told me I'd have plenty of time to work and instead, I should just enjoy being a kid. I wish I listened to them because I've been working ever since.
And by the age of 30 I was pretty much ready to retire. Several years later, I am still ready to retire, but that won't be for a while yet. Fortunately, I'm not working in the restaurant business, as I had my fill of that for a lifetime. And although my parents were right, one thing I have no regrets over is being introduced to Bonanza's Chicken Monterey. But I'm especially thankful that my brother did his own stint in restaurants and was able to score this amazing Chicken Caesar salad dressing recipe!
What to do with leftover Caesar Salad Dressing
I always end up with a little extra dressing (or make sure I do now that I created these) So if you have leftover Caesar salad dressing, then give these Caesar Twice Baked Potatoes a try! They are soooo tasty!
I loved this Caesar salad dressing recipe so much that it inspired me to create this Fried Caesar Chicken!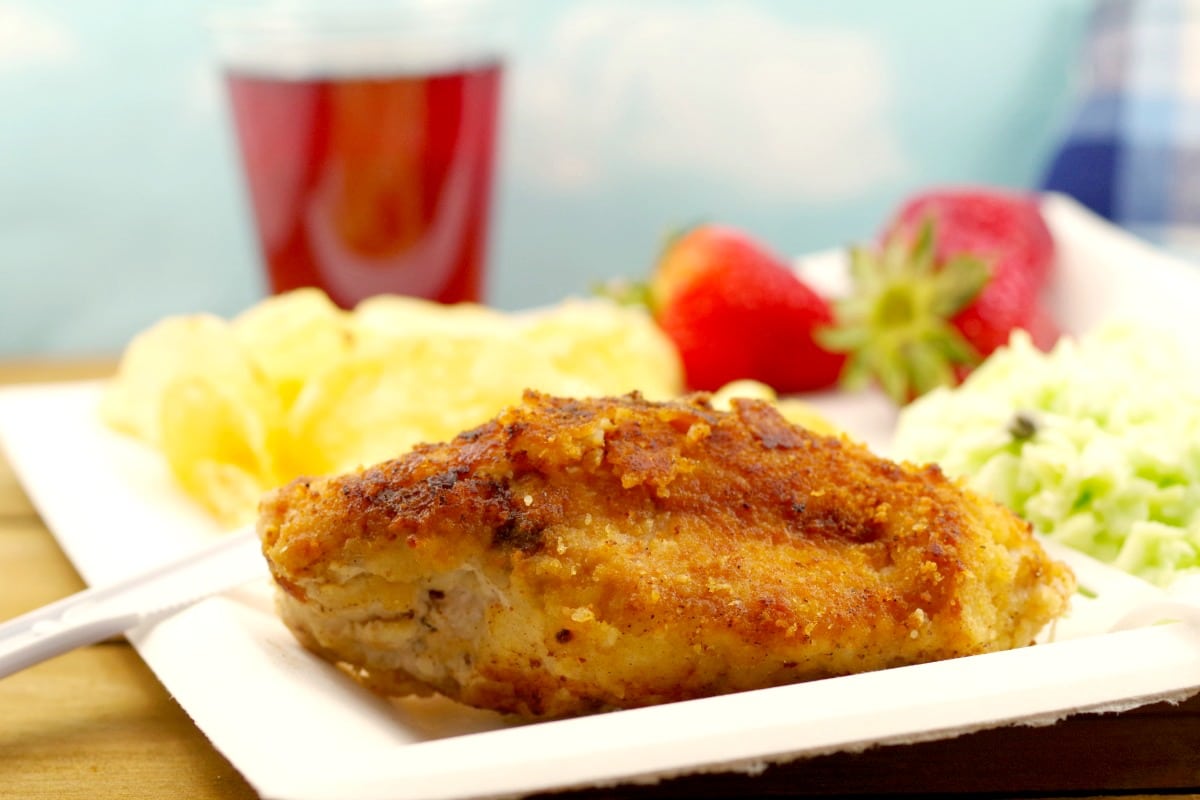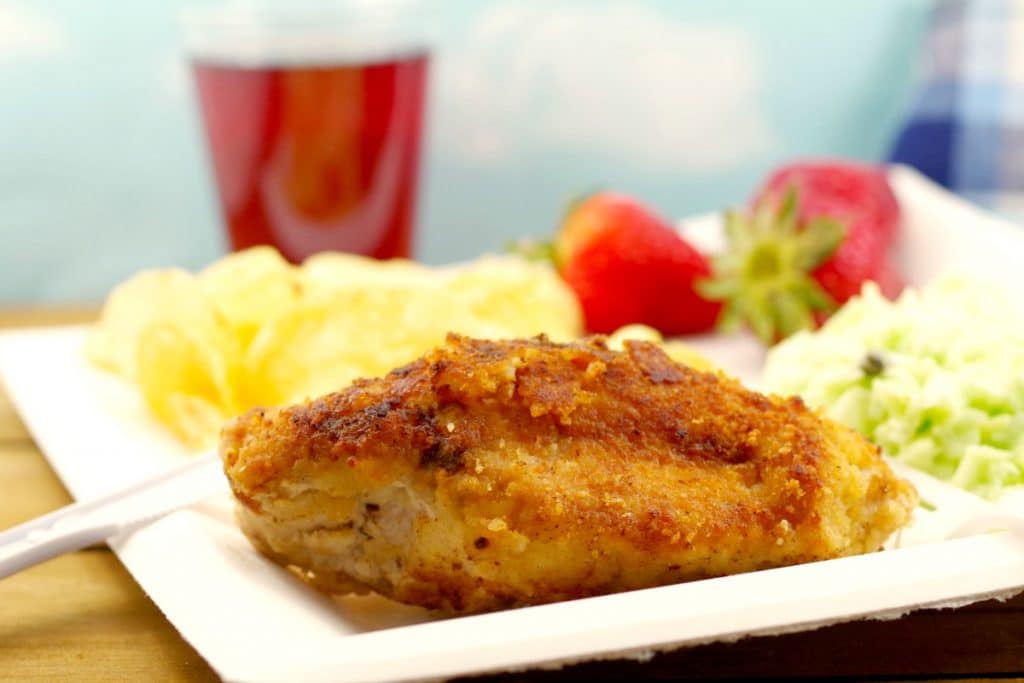 Print
Grilled Chicken Caesar Salad
This Grilled Chicken Caesar salad boasts the best Caesar salad dressing ever! And anyone that has tried it agrees. This recipe came from a restaurant (Clancy's) that no longer exists, but it has become a family favorite and always requested at dinners and potlucks!
Ingredients
4

chicken breasts

boneless and skinless
Garnish:
parmesan cheese for sprinkling

lemon wedges (optional)
Instructions
Generously sprinkle garlic powder and Cajun seasoning on both sides of chicken breast. Grill chicken breasts until cooked through and no longer pink in the middle

Wash and cut lettuce into bite sized pieces. Add croutons, parmeasan cheese and cooked chicken.
Caesar Salad Dressing
Add eggs, garlic, anchovies, wine vinegar, worcestershire and lemon juice to blender and mix until smooth. Then slowly add olive oil and blend for another minute or so, until combined

Mix dressing into lettuce mixture until combined. Sprinkle on a little more parmesan cheese and add lemon wedges, if desired
Notes
NOTES:
*This recipe uses raw eggs.
**If you are concerned about this, then use pasturized whole eggs or liquid eggs. **You can read more about egg saftety HERE and HERE
Nutrition Facts
Grilled Chicken Caesar Salad
Amount Per Serving
Calories 186
Calories from Fat 63
% Daily Value*
Fat 7g11%
Cholesterol 116mg39%
Sodium 246mg11%
Potassium 479mg14%
Carbohydrates 1g0%
Protein 26g52%
Vitamin A 425IU9%
Vitamin C 3.7mg4%
Calcium 64mg6%
Iron 0.9mg5%
* Percent Daily Values are based on a 2000 calorie diet.
Nutrition
Calories:
186
kcal
|
Carbohydrates:
1
g
|
Protein:
26
g
|
Fat:
7
g
|
Saturated Fat:
1
g
|
Cholesterol:
116
mg
|
Sodium:
246
mg
|
Potassium:
479
mg
|
Vitamin A:
425
IU
|
Vitamin C:
3.7
mg
|
Calcium:
64
mg
|
Iron:
0.9
mg
Save
Saved!
This recipe is part of The Country Cook's Weekend Potluck