I'll admit that I was a little horrified the first time my daughter told me that she had ice cream for breakfast.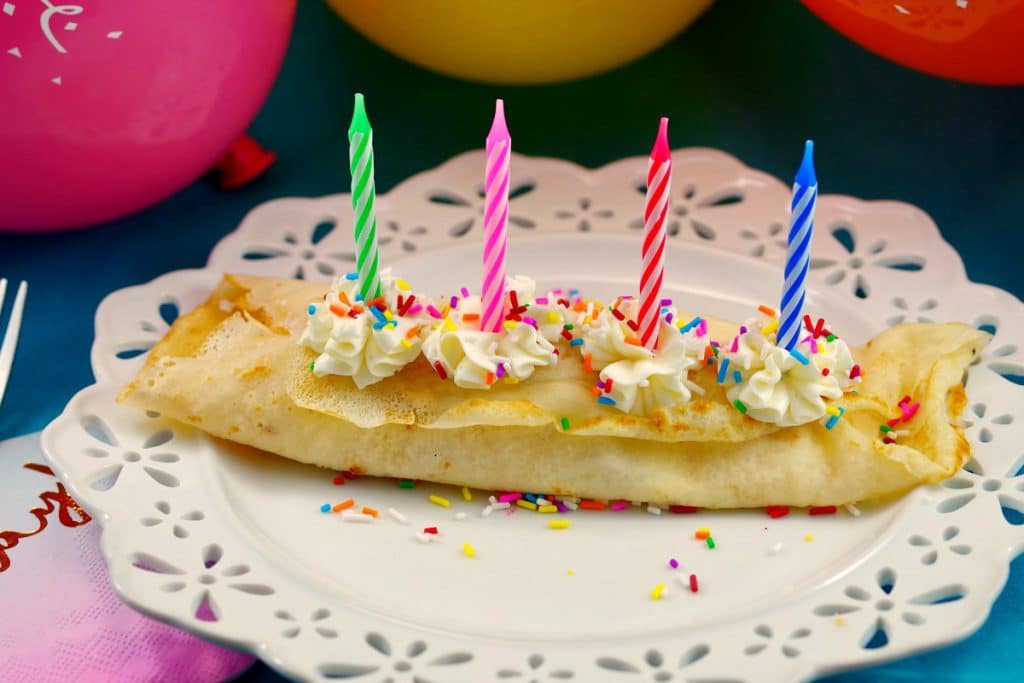 She had come home from a sleepover birthday party at a friend's house and when I asked what they had for breakfast she replied, "ice cream cake," a little too matter-of-factly, for my liking.
So I let her do the very same thing the morning after her 11th birthday party sleepover. I let her have these Birthday Cake Batter Crepes. And I even put ice cream into them because well, it was her birthday and life is short! AND given the occupation of the mother that let the kids have ice cream cake for breakfast, I felt pretty justified.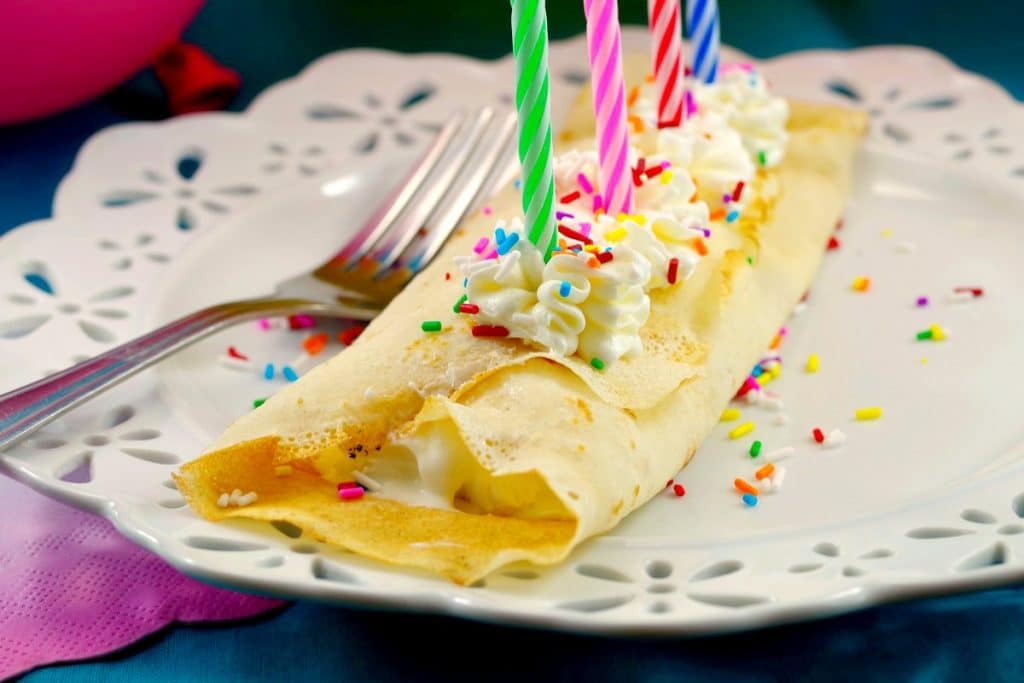 Sometimes you just gotta eat ice cream for breakfast, especially when it's your birthday!
Sweet crepes
Cake and ice cream are simply a match made in heaven. That's why I made cake batter flavored crepes, put ice cream inside them, covered them lots of sprinkles and even used whipped buttercream icing, instead of whipped cream. I figured if you are going to go for it, then go all the way!
Crepes fillings
Ice cream isn't your typical crepe filling, but it's the BEST filling for these cake batter crepes. And therefore, I use the best ice cream. Chapman's ice cream happens to be my favorite (this post is NOT sponsored by Chapman's) But if you can't get Chapman's (it's Canadian), then use a high quality, vanilla ice cream with natural ingredients.
As far as breakfast crepes go, ice cream filling is a dream come true- especially for a summer birthday breakfast!
Cooking Crepes
If you have never made a crepe before then WATCH THIS VIDEO! *The trick with making crepes is that you need to use a hot pan, and turn the pan (like you would for an omelette) and move the liquid until it spreads over the entire pan.
AND... if you're not sure how to fold a crepe then see my directions in the recipe or CLICK HERE to see variations.
Happy Birthday Breakfast
Given that the Mom that let the kids have ice cream cake for breakfast was a Dietitian, I really didn't feel too bad about my decision to feed my daughter and her friends ice cream for breakfast on her birthday. In fact, I felt pretty darn good about it!
I only wish I had this for my birthday when I was a kid! Whether or not the ice cream cake for breakfast story is even true is inconsequential because I was just looking for an excuse anyway. And since I tend to live vicariously through my kids...ice cream for breakfast it is.
Birthday Breakfast Crepes
So, if you really want to P-A-R-T-A-Y on your birthday and/or make your kids' birthday breakfast dreams come true, make them these Birthday Cake & Ice Cream Crepes. These Birthday Cake & Ice Cream Crepes are ideal for a kids' sleepover birthday party but they are really perfect for any birthday breakfast celebration!
And for even more birthday party fun food, try my No Bake Birthday Cake Cheesecake (with Oreo Crust)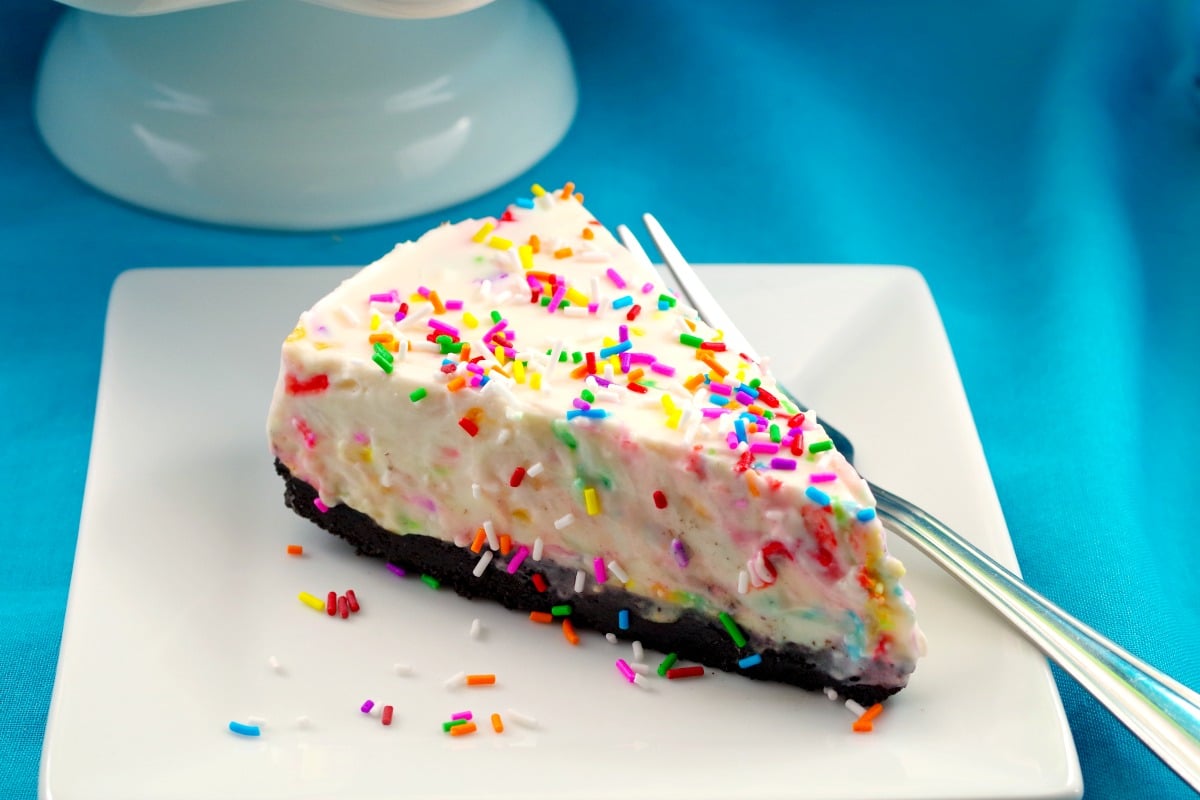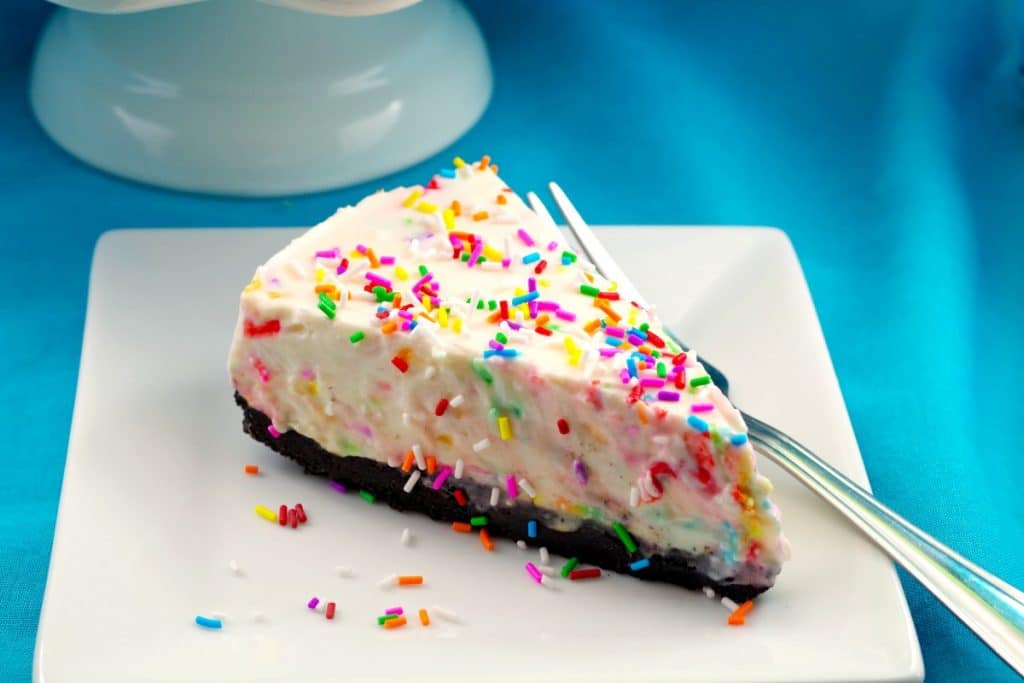 Print
Birthday Cake Batter & Ice Cream Crepes
These Birthday Cake Batter & Ice Cream Crepes taste like birthday cake, filled with ice cream and topped with whipped frosting and loads of rainbow sprinkles. They are the perfect birthday party sleepover breakfast for kids or birthday breakfast for anyone that really wants to PARTY on their birthday!
Ingredients
Filling:
5

cups

vanilla ice cream

*approximately, depending on how big your scoops are * I use Chapman's ice cream
Garnish
2.5

cups

whipped buttercream icing (pictured) or whipped cream

* I used Betty Crocker whipped vanilla buttercream

birthday candles
Instructions
Crepes (see video "how to cook a crepe" in NOTES)
Combine flours, egg whites, milk, orange juice, cake batter extract and oil in a blender or food processor. Blend until smooth. Allow crepe batter to rest for 5-10 minutes.

Spray an 8-inch nonstick skillet lightly with cooking spray. Heat over medium-high heat until hot. Remove skillet from heat and pour ¼ cup batter into skillet, tilting skillet in all directions to evenly cover with batter (see video in NOTES).

Cook until edges start to brown and batter sets in center ( about 30 seconds – 1 minute). Carefully lift edges of crepe and flip with spatula. Cook for another 30 seconds – 1 minute or until crepe is lightly browned.

Remove crepe to plate to cool. Repeat with remaining batter to make 10 crepes, stacking each between sheets of parchment or wax paper
Assembly
Lay crepe flat and prepare icing

Add 3 scoops of ice cream to the middle of the crepe

Pipe buttercream or whipped cream, add sprinkles, then add candles.
Notes
Nutrition Facts
Birthday Cake Batter & Ice Cream Crepes
Amount Per Serving
Calories 438
Calories from Fat 162
% Daily Value*
Fat 18g28%
Cholesterol 29mg10%
Sodium 179mg8%
Potassium 213mg6%
Carbohydrates 63g21%
Protein 5g10%
Vitamin A 290IU6%
Vitamin C 2.1mg3%
Calcium 95mg10%
Iron 0.6mg3%
* Percent Daily Values are based on a 2000 calorie diet.
VIDEO:How to cook a crepe
Nutrition
Calories:
438
kcal
|
Carbohydrates:
63
g
|
Protein:
5
g
|
Fat:
18
g
|
Saturated Fat:
7
g
|
Cholesterol:
29
mg
|
Sodium:
179
mg
|
Potassium:
213
mg
|
Fiber:
1
g
|
Sugar:
50
g
|
Vitamin A:
290
IU
|
Vitamin C:
2.1
mg
|
Calcium:
95
mg
|
Iron:
0.6
mg
Save
Saved!
This recipe is part ofThe Country Cook's Weekend Potluck!