Personally, I don't think butter has any business in my frosting. Don't get me wrong, I LOVE butter, but I love it in my cakes and other baked goods; just NOT in my frosting.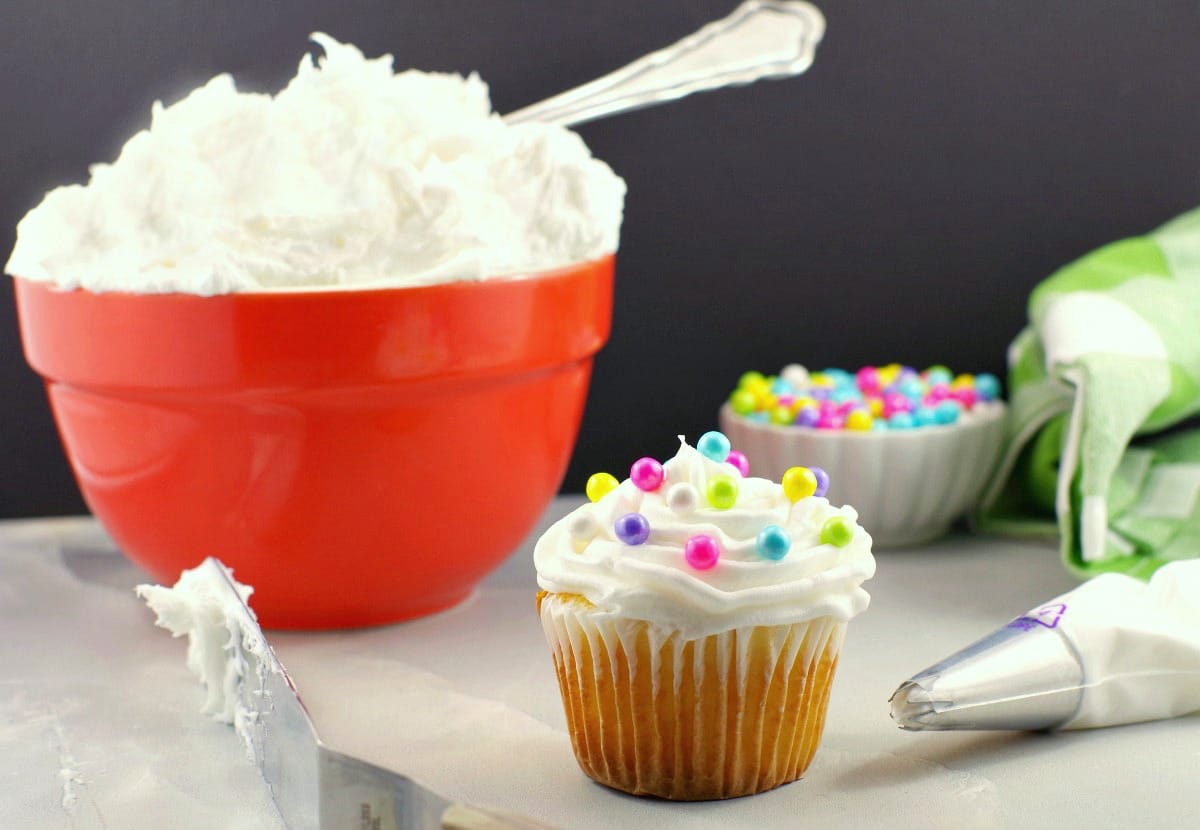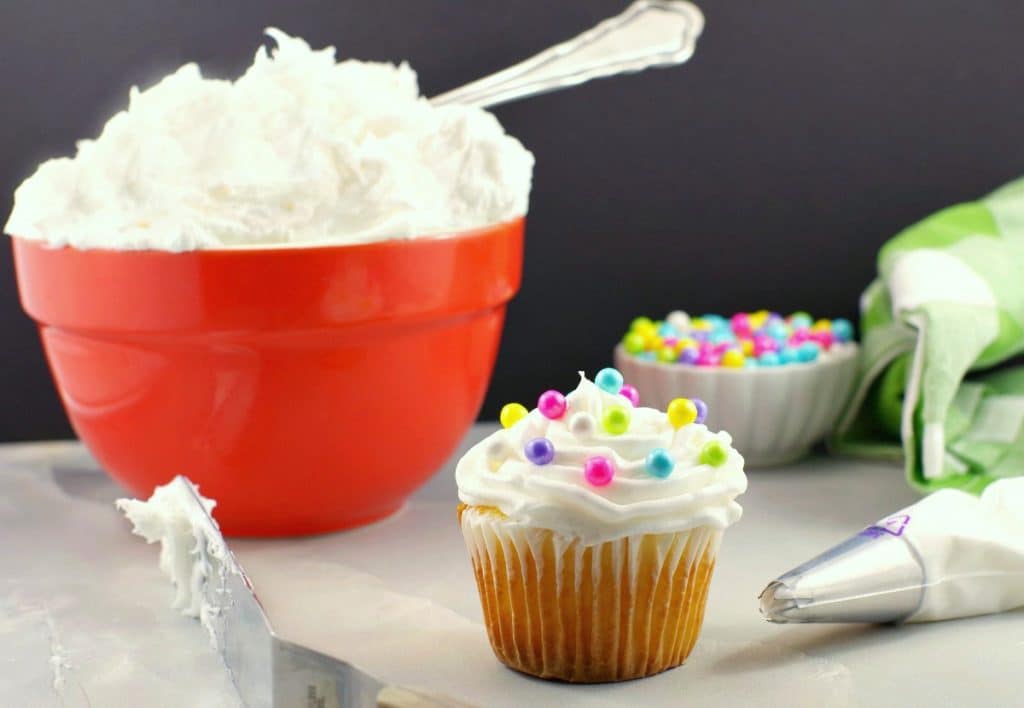 THIS POST CONTAINS SOME AFFILIATE LINKS (SEE DISCLOSURE POLICY)
That's why I love this Crisco based Whipped Cream Buttercream Frosting. It's made with shortening and no butter, making it the lightest, airiest and most delicious homemade icing you'll ever taste! As a kid, I always loved grocery store birthday cake frosting and I wasn't sure exactly why I preferred it over most homemade cake frosting.
Eventually I realized that it was because there was NO BUTTER in it! But when I started cake decorating I searched long and hard for a homemade shortening-based icing recipe I'd love and it was surprisingly hard to find. And then I discovered this icing and fell in love....
I am sharing this little gem with you today, not only because it's my FAVE icing in the world (and keep in mind that I'm super picky when it comes to frosting,) but because I can't seem to find it online anymore; it appears to have vanished off the face of the internet. And since I think that the world needs to know about this, I see it as my public duty to share it. Well, my duty as a food blogger (and cake decorator, die-hard cake lover and foodie) anyway...
Fluffy White Frosting
You will never get a clean and fluffy pure white frosting using butter. Butter will always give it that tinge of yellow and it will look off-white. The trick is also to use CLEAR WHITE VANILLA.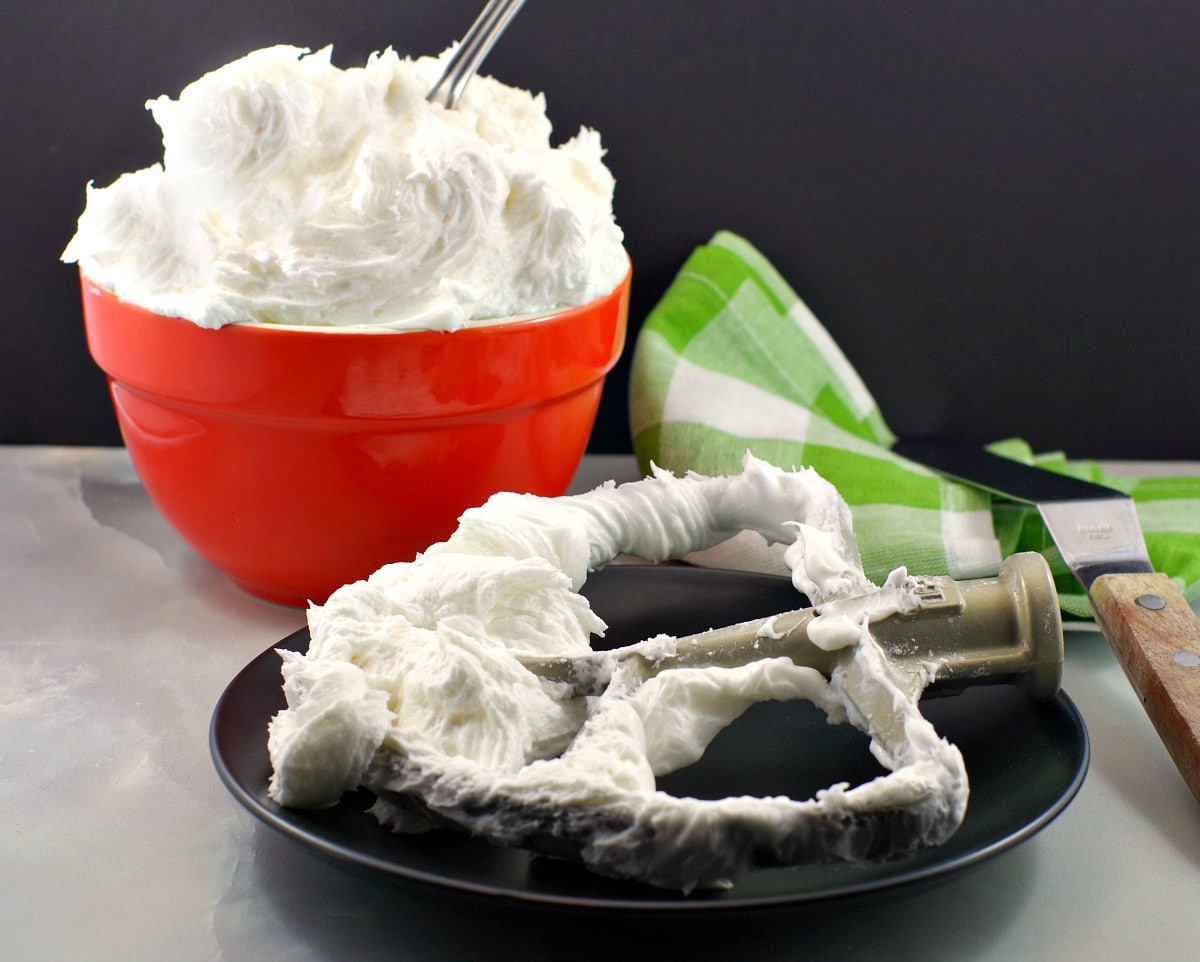 This shortening frosting is made in two parts so you have to be a little patient with the whipping time, but trust me, it's worth it! The end result is the lightest and most airy frosting you've ever had! The secret lies in all that whipping. And everyone agrees, it's not too sweet, as frosting can often be.
Therefore, you will need two mixers for this recipe. I use a stand mixer and a hand mixer. Although I have 2 stand mixers, it's a bit of a pain to get them both out. Plus, my hand mixer is powerful enough for the job (as most are nowadays)! If you need a good price on a mixer, check out my amazon link below.
Whipped cream frosting for cake decorating:
As a cake decorator, this was and still is my GO-TO frosting for cake decorating! Whipped cream frosting (using actual whipping cream ) just doesn't hold up in the heat, sun, or even at room temperature, but this little gem could bathe in the sun for hours without a melty blemish.
So, if you need a rock star frosting that won't let you down, then this is your recipe! And you don't have to refrigerate this icing. And cakes shouldn't be put in the fridge anyway, if you can help it; it dries them out. But this icing can not only sit on the counter for days, it can also be frozen on an iced cake. So, if you want to make it in advance, then go for it!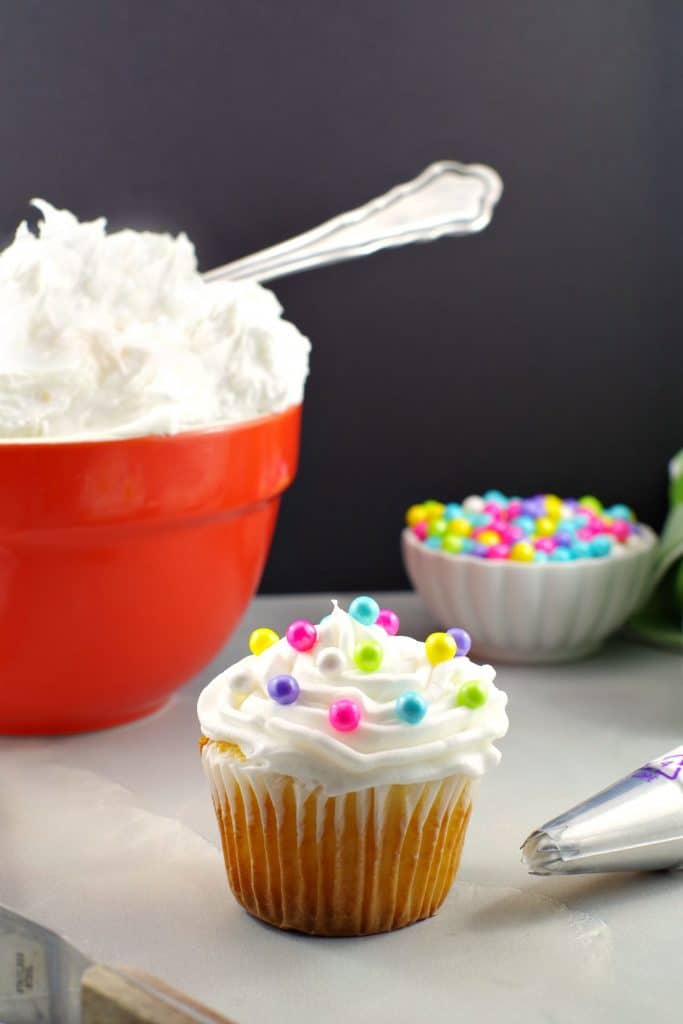 What I also love about this recipe is that it can be used as a crumb coat and you can add a little more meringue powder, based on whether you want a bit more crusting for decorating. And if you're looking for the perfect cake to serve it with, then check out my Secret Ingredient Vanilla Birthday Cake!
Chocolate Whipped Cream Buttercream
But here's my VERY FAVORITE PART - you can make it into a CHOCOLATE frosting too! All you do is replace one part icing sugar/powdered sugar for an equal amount of cocoa (see recipe NOTES for instructions) and voila! you have Chocolate Whipped Cream Buttercream! Because chocolate just makes everything better, right?
So, without further adieu.. here it is!
Print
Whipped Cream Buttercream Frosting
The lightest airiest and most delicious fluffy white frosting you will ever find! This shortening- based frosting/icing is very similar to grocery store frosting and everyone who has ever tried it loves it and agrees it's "not too sweet"! Bonus: you can also make it into CHOCOLATE frosting!
Instructions
Part one:
Add shortening to large bowl and gradually add powdered sugar. Beat about 5 minutes until mixture is very creamy and fluffy. Set this aside. * I use a stand mixer for this part.
Part two:
In a very clean bowl mix dry ingredients. Add boiling water and immediately beat with mixer on high speed. Beat until stiff peaks form, about 8 minutes. When mixture begins to get stiff add flavoring. * you can use a hand mixer for this part
Combine:
Combine both mixtures and beat together for another 8 minutes with stand mixer.

When finished, use a rubber spatula to down beat a little to remove some of the air bubbles. Frosting will be very light and creamy. Cover. ***DO NOT REFRIGERATE. Can be stored for up to 2 months at room temperature (I keep it in the pantry).
Notes
*Note: This will frost 1- 10 inch cake
**Note: The frosting may be kept at room temperature for 3 months. Whip with a spoon each time you use it to restore fluffiness.
***Note: Chocolate Whipped Cream buttercream: to make the chocolate variation, simply replace 1 cup of the icing/powdered sugar with 1 cup cocoa
Nutrition Facts
Whipped Cream Buttercream Frosting
Amount Per Serving
Calories 286
Calories from Fat 189
% Daily Value*
Fat 21g32%
Sodium 41mg2%
Carbohydrates 25g8%
* Percent Daily Values are based on a 2000 calorie diet.
Nutrition
Calories:
286
kcal
|
Carbohydrates:
25
g
|
Fat:
21
g
|
Saturated Fat:
5
g
|
Sodium:
41
mg
|
Sugar:
24
g
Save
Saved!
This recipe is part ofThe Country Cook Weekend Potluck!