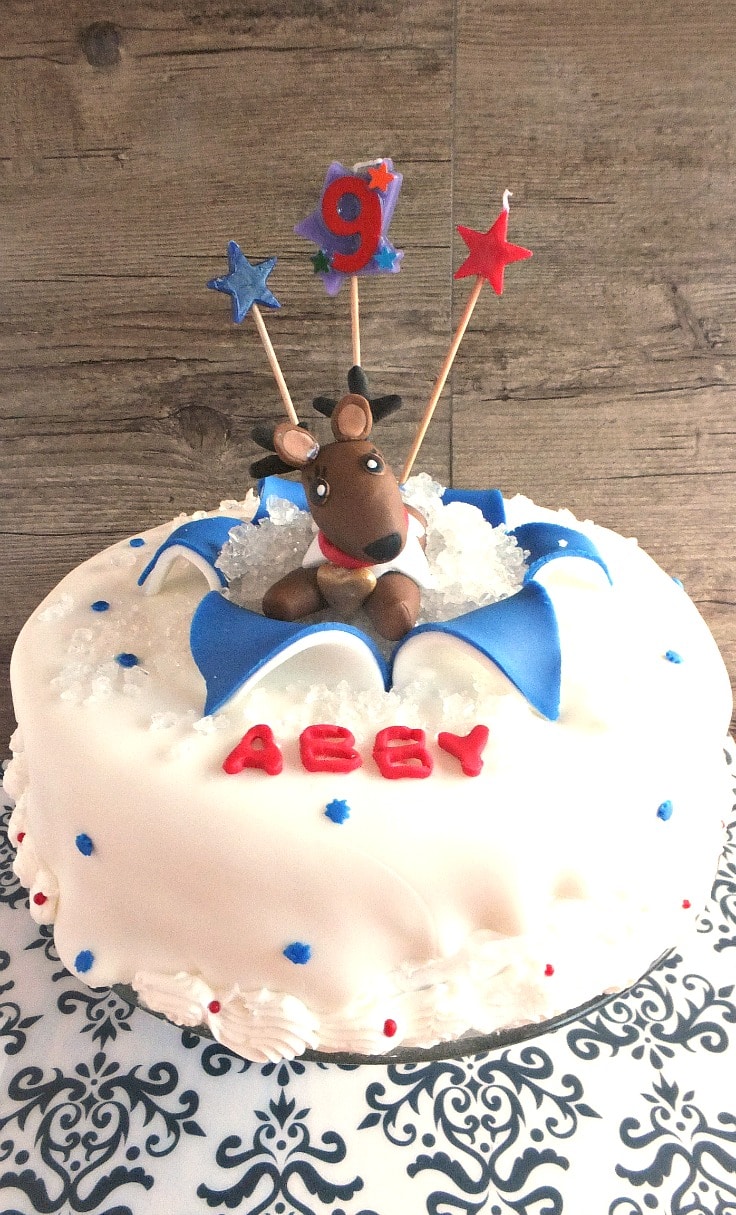 THIS POST CONTAINS SOME AFFILIATE LINKS (SEE DISCLOSURE POLICY)
I have no idea where the Mermaid Bakery is, but they sure know how to make great vanilla birthday cake. This birthday cake is a scratch cake recipe that is comparable to the texture and taste of a box mix (very light)….only better.  And the secret ingredient is…. 
Vanilla Birthday Cake
We're celebrating my daughter's 9th birthday this weekend and this is her birthday cake. It's a Vanilla Butter Cake recipe from the Mermaid Bakery paired with Whipped Cream Buttercream Frosting and  fondant accents (see recipes below) – a truly fabulous cake and icing combo! If you are looking for birthday cake ideas, look no further…
EMULSION is the secret ingredient!
I'd have to say that what I love most about this cake is the addition of the 'secret ingredient': Creme Bouquet emulsion.
If you haven't ventured into emulsions yet, I would highly recommend them! Emulsions give more depth of flavor, compared to using an extract, especially when they are baked in. "Princess Cake and Cookie Emulsion" (which is awesome in sugar cookies and frosting too)  is another one of my favorites.
I also like to mix it up and sneak them into my frosting once in a while,  for a change of pace. The Creme bouquet emulsion also pairs well with this icing recipe and the Old Fashioned sour cream chocolate fudge cake (future post or PM me for recipe) or any chocolate cake for that matter!
Christmas in July
My daughter wanted a "Christmas in July theme" because she wanted her elf pet ("Drummer") immortalized on the cake.  I love that she still embraces "the magic" of Christmas and I am well aware that it won't last long. In fact, the end of grade 3 basically signals the beginning of the end of this era of innocence. I'll be sad to see it go, so I am milking every moment…..We had an amazing bonding time making our "Drummers" out of fondant.

Making Edible Figures for Cakes:
We made Drummer by mixing fondant and a powder called gumtex together. It helps the fondant dry faster. For 1 pkg of the brown fondant (from the Wilton box of 4 fondant colors) , I would use about 1 Tblsp of gumtex. Alternatively, you can use gumpaste (or mix it 50/50 with fondant), but then you have to color it. And the gumpaste dries faster than I work, so I'm not a huge fan of gumpaste when working with figures.
TERRI'S TIP: Use shortening on your hands and on a non stick surface (such as a silicone sheet)  to prevent fondant from sticking.  
Exploding cake technique:
The technique I used here is the 'cake explosion'. There are several tutorials online. Just make sure you use wax paper or parchment paper under the first layer of fondant or it won't work – your fondant will stick to your icing/crumb coat underneath and it will not come out looking like this.
I also use Wilton's Whipped Cream Buttercream Frosting, which is my favorite buttercream icing (that actually has no butter in it). I am not a fan of butter in icing. I think butter belongs IN the cake, not on the outside of it. So, if you are a shortening based icing enthusiast, this is the icing for you! It's the lightest and fluffiest icing around.
Enjoy…
TERRI'S TIP: Wilton's "Cake Mate"is the product I use to keep my cakes from sticking to the pan (I cannot find it on Amazon) but it's available at Michaels Arts & Crafts and many other cake decorating stores. Shake well and apply generously. Use this if you want your cakes to come out of the pan looking flawless. 
Vanilla Butter Cake
This incredible secret ingredient vanilla birthday cake from the Mermaid Bakery is light and airy; a homemade cake with the texture of a store-bought cake!
Ingredients
1

cup

unsalted butter

2 sticks, softened

2

cups

white granulated sugar

4

large eggs

at room temperature

1

tbsp

white vinegar + enough milk to make 1 cup

at room temperature

2 3/4

cups

unbleached all-purpose flour

2 1/4

tsp

baking powder

3/4

tsp

salt
Instructions
Preheat oven to 350 degrees, put oven rack into center of oven.

Grease and flour pans (9X13, 3=8″, 2=9″, or 1=10″)

Cream butter and sugar together until fluffy, about 3 minutes. Add eggs one at a time, beating well after each.

Mix the Creme bouquet or Vanilla into the milk.

Mix the flour, baking powder and salt together in a separate bowl.

Add flour to butter/sugar/eggs in two parts, alternating with the milk mixture, beating well after each addition.

Divide batter into prepared pans. Bake 20 to 25 minutes, or until a cake tester inserted into the center of cake comes out clean.

Let cool in pans 10 minutes, then remove from pans and cool completely on wire rack.