I'm not really sure if  you could, in good conscience, call anything you get at the Calgary Stampede grounds, food. Yet, every year there is a list of new foods, one abomination of nourishment after another,  in the form of deep-fried treats, that make their way onto the midway and into the digestive tracts of many an eager Stampeder.
THIS POST CONTAINS SOME AFFILIATE LINKS (See Disclosure Policy)
There was a list of about 20 of these so-called foods this year,  but I spotted none of them and only the usual suspects in my travels around the packed food area on the very last day of Stampede. The Salted Caramel Deep Fried Coffee was the only newcomer I could find, so I decided to give them a try!
A full order has 12 for the insane price of $8.00. That's a lot to try,  so I had to opt for the iced cap combo to get a ½ order. But then I had to pay another $2.00 for a total of $10.00 because I wanted the salted caramel flavor, rather than the plain ones. Sigh.
Deep fried Coffee Carnival Eats
However, I  must say I was quite surprised that I didn't get laughed off the grounds when I requested the iced cap low-fat.  Yeah, I know, this isn't Starbucks, right? But I really wasn't interested in gaining another 5 lbs at that particular kiosk. However, the young gal was ever so tolerant of my finicky ways and said she could give me a light cream one. Hmmm.. I took her up on it anyway. I figured that was as close as I was going to get and fat makes everything taste better anyway. And oh that iced cap was good! I obviously do not drink enough high fat frozen beverages.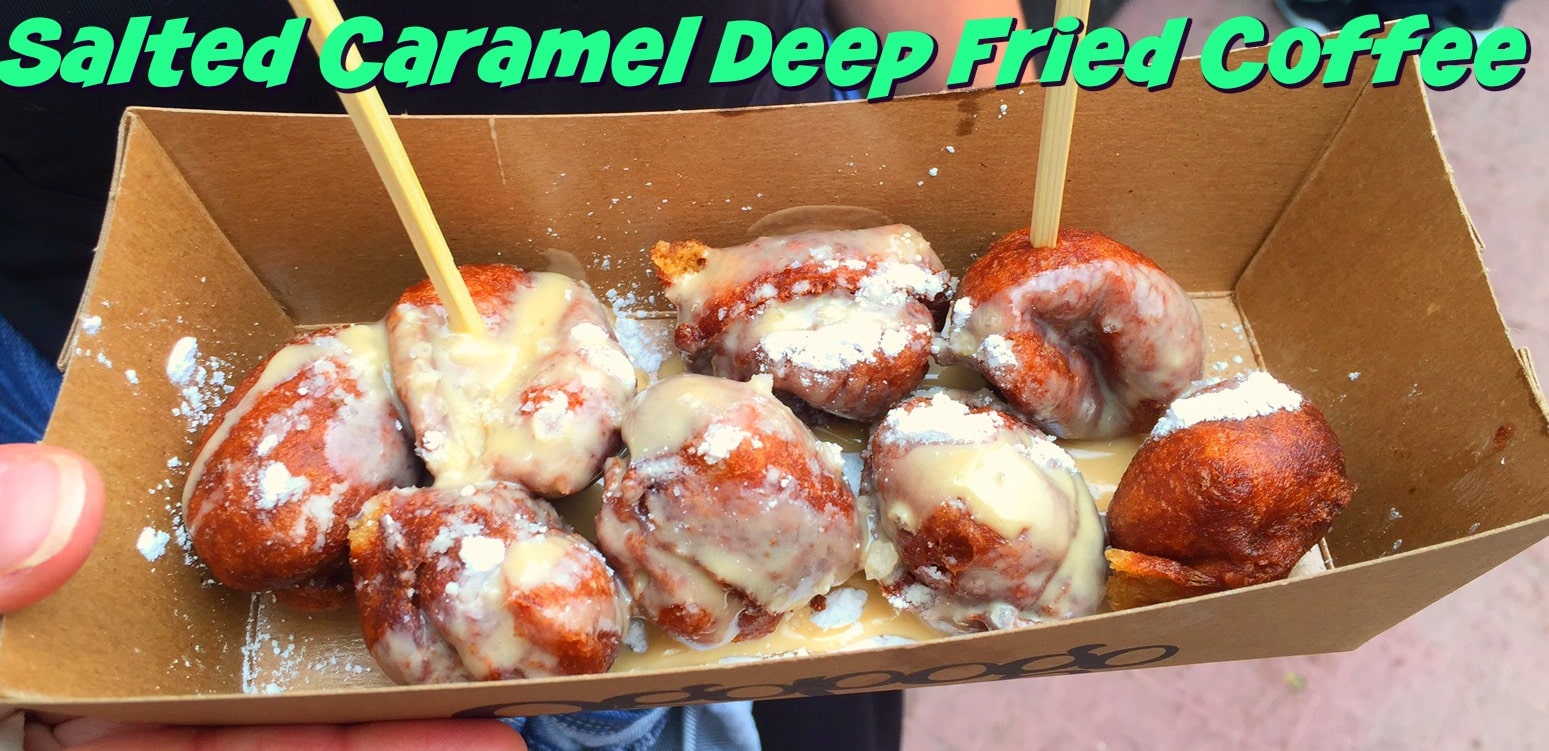 I also asked if I could share the deep-fried coffee treats with the kids (not being clear if they were actually espresso bombs that would send them into some kind of caffeine fueled frenzy ) but the guy behind the counter assured me,  "Yeah, no problem. It's just some coffee and cake mix."
Really?
That's not exactly the way they were described on the Stampede blog: "Fresh hot deep-fried coffee treats drizzled in caramel and Himalayan sea salt. Perfect for your salty sweet cravings! Five different flavors to get your morning fix."
Stampede Carnival Food
I'm not sure what I was expecting. It is fair food after all. And I typically don't eat this type of cuisine. But I imagined, at minimum,  they would taste like COFFEE! And well, they didn't. I could have easily been eating a timbit and not been able to tell the difference. Except that the timbit would have been a bit tastier.
The salted caramel part also left something to be desired. I have eaten and created a lot of salted caramel things in my day, as it has been a food trend that just won't roll over and die. However,  I have to admit, although I expected salted caramel would be so last year at least 2 years ago, I am glad that it isn't - I really like the stuff! Maybe it was just the Himalayan sea salt that threw me for a loop?
I didn't even end up finishing them.  And sadly, I couldn't even pawn the last ones off on my kids.
Pizza it is!
The kids decided on pizza. They hadn't seen the butter chicken poutine, which I'm sure they would have went for, given the chance. I really thought they'd be all over the mac and cheese or taco pizza, but nope, pepperoni pizza it was. I had a bite and I have to concede that it was pretty good for carnival pizza. Plus, pepperoni pizza is a relatively safe choice, while the other options aren't,  necessarily.  And I really don't need pukey kids in the middle of the night or anytime,  for that matter. So I was good with that decision.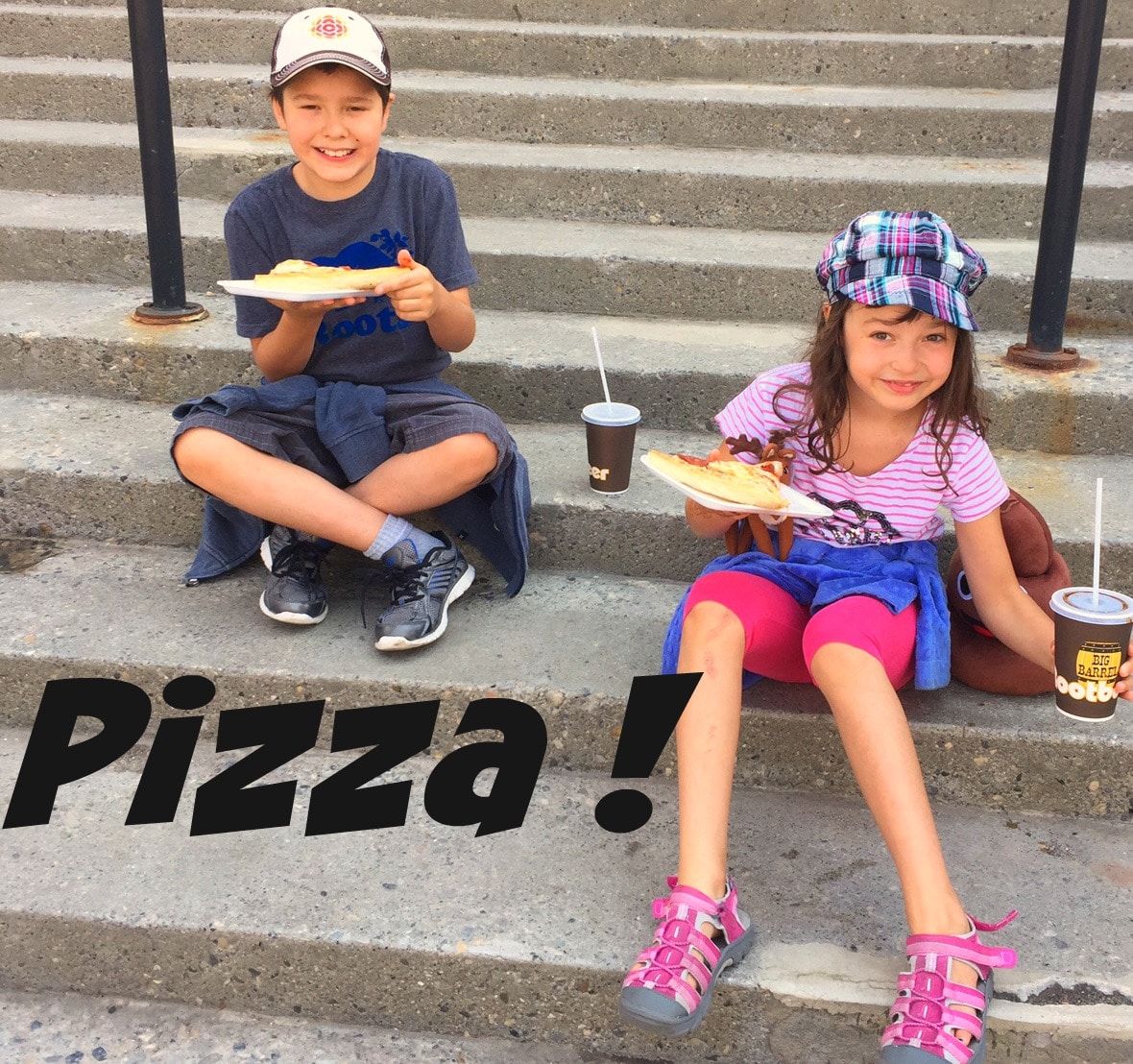 This was a completely unplanned visit on the very last day. We got down to the grounds with 2 minutes to spare in order to take advantage of the free admission that I heard about on Facebook the night before.  And who says Facebook isn't a reliable news source?!
When has there ever been free admission to Stampede on the last day?! I guess that numbers were so low this year, due to the lousy weather,  that they had to do something a little drastic to bring in the crowds. I'm just glad we were able to take advantage of the free gate admission part. The kids were pretty thrilled to go, as they hadn't been in about 4 years. And we were all happy to have a few hours without rain this week. It's been a long, wet week.
And... for the grand finale: Daddy wins his little girl a stuffy  at a game and she chooses the poop emoji:
Happy Summer Everyone!
If you're looking for great homemade carnival food, then check out my other Stampede carnival recipes:
Mini Ukrainian carnival style doughnuts