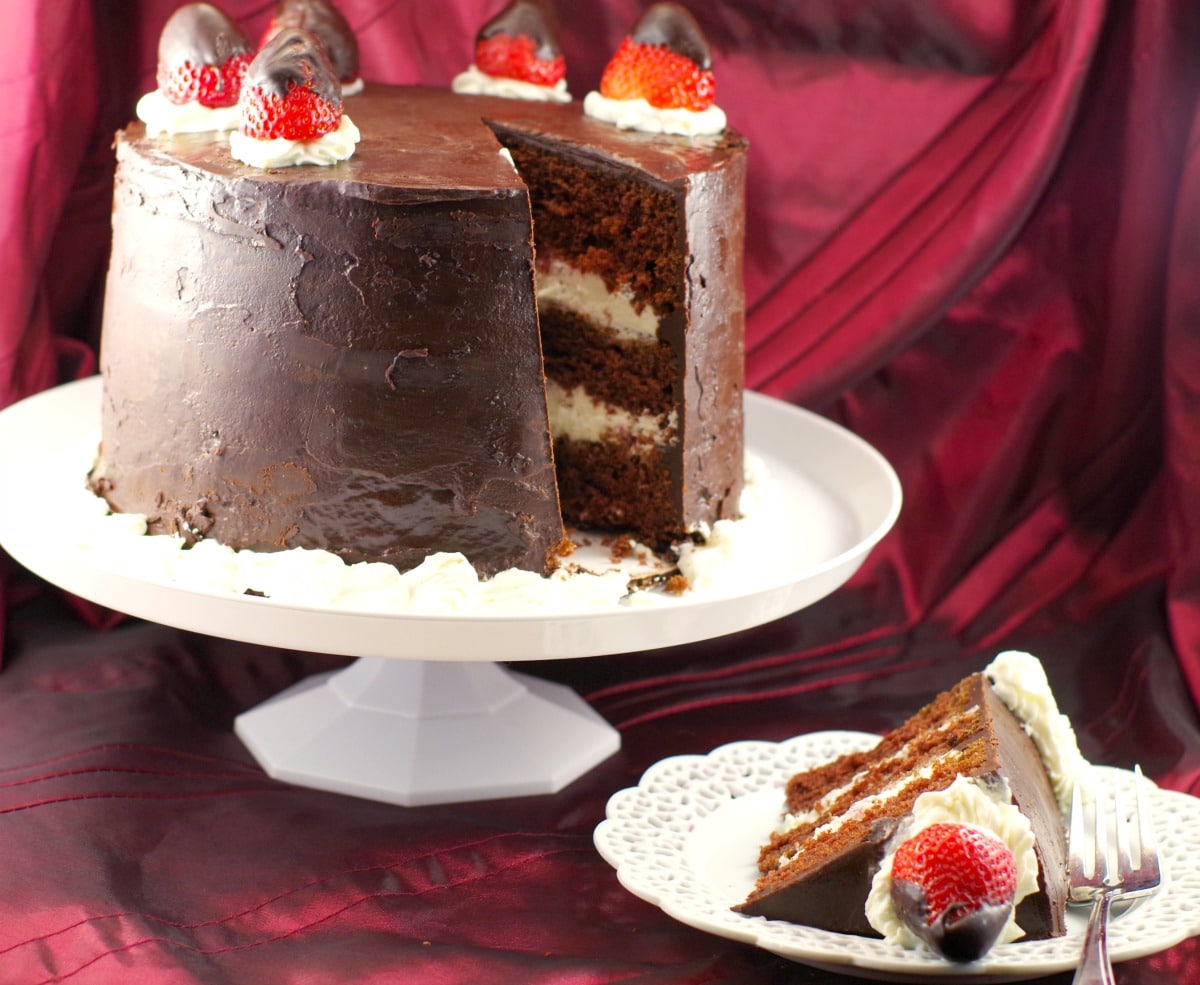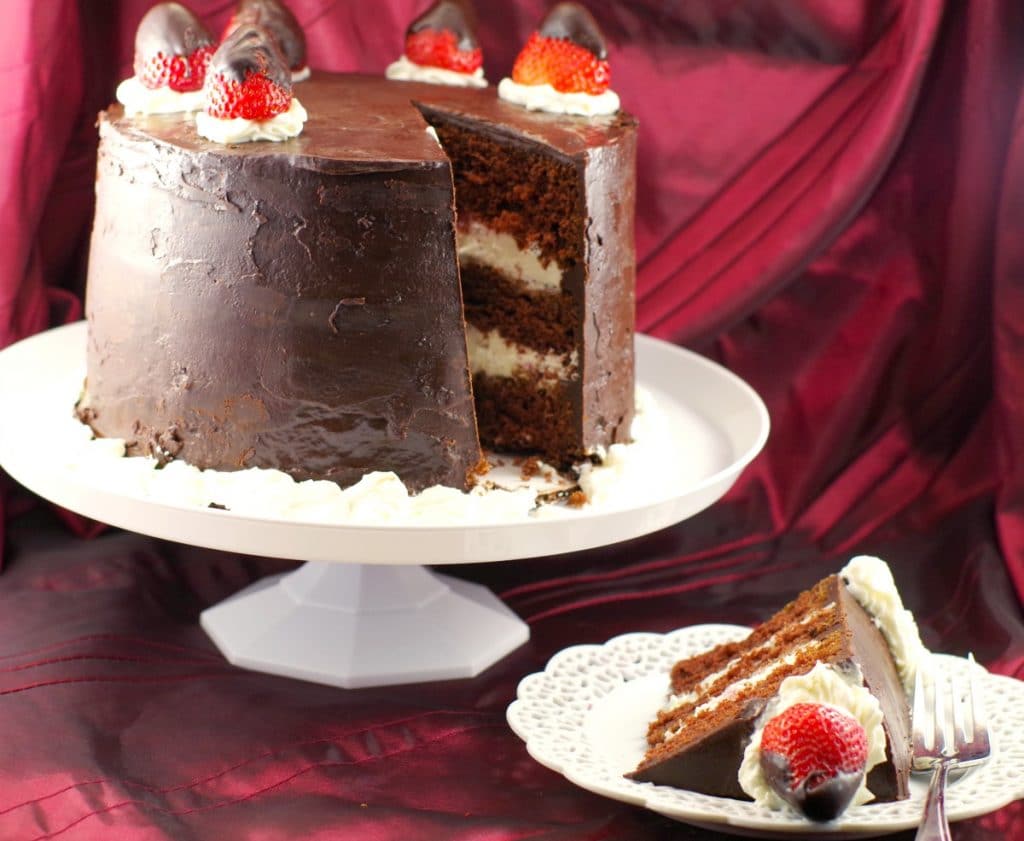 This post contains affiliate links (See Disclosure Policy)
I'm a little cake crazy – I LUV cake! I mean, who doesn't? What other food symbolizes celebration like cake does? Cake is there for every celebratory milestone from your baby shower, through your graduation and wedding all the way up to your golden anniversary. And let's not forget all those birthdays in between!
And I love to create cakes…
But I have to tell you guys, this cake is one of the best ones I have ever created. I don't want to toot my own horn or anything, but by this point, I KNOW A GREAT CAKE. And that's because I've been making and decorating cakes for over 15 years. And believe me, you will want to find any excuse to celebrate with this decadent and delectable Red Wine Strawberry Chocolate Fudge Cake cake! A whipped creamy mascarpone strawberry kirsch filling is sandwiched between luscious red wine fudgy chocolate cake, all encased in a rich red wine dark chocolate ganache with ganache dipped strawberries on top. And best yet, there is no fancy decorating required! If you are looking for birthday cake recipes for adults or a Valentine's day cake for your sweetheart, this cake is the ultimate!
I used to work at a place where you had to bring your own birthday cake in on your birthday. I thought that was a pretty awesome policy; you get what you like and it saves everyone else the hassle. So, one year when I was very much into elaborately decorated fondant character cakes,  I made this wine shaped cake. The entire thing is edible – the bottle was made out of fondant and painted with confectioners glaze to make it shiny. Then I made the "Mommy Juice" label and had it printed on a frosting sheet. "Mommy Juice" is what my BFF and I used to call wine when my kids were little so they would not keep asking to drink it and we could actually enjoy drinking it. This cake was special and it was tasty, but decorating this cake took me too many hours to count.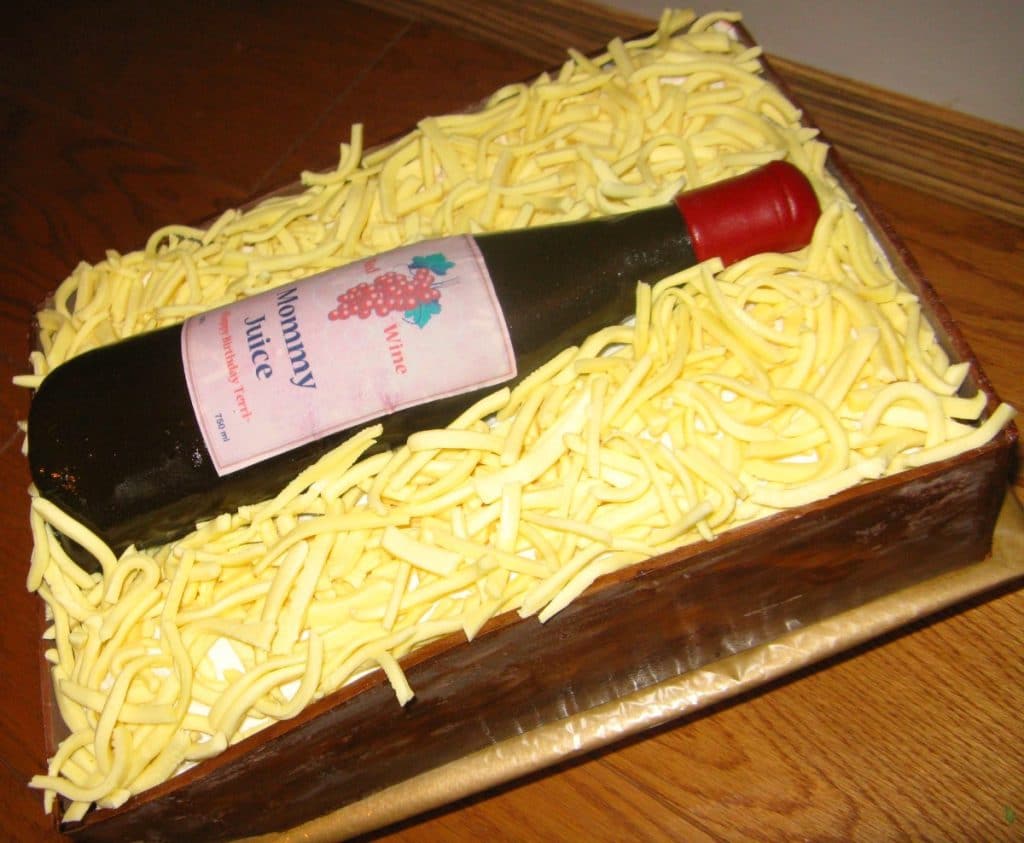 Then I started making my BFF the same types of character birthday cakes every year and it became a tradition.  Here are a couple of cakes from past birthdays:
I also did them for my husband and my kids. Every year. And sometimes I'd make 2 or 3 for each kid's birthday. One for their 'real birthday', one for the party and one for daycare. I made these 2 birthday cakes and these birthday cupcakes for my daughter's 4th birthday:
I-N-S-A-N-I-T-Y
Nowadays, I think that's waaay to much work, plus my focus has shifted to the inside of the cake.
So when I told my BFF that I wasn't going to do elaborately decorated cakes anymore and asked her if she wanted a chocolate red wine cake or butter tart cake for her birthday, it was no surprise when she picked the chocolate red wine cake.
And this, my friends, was the result!
It turned out amazing! So, if you are looking to make a red wine cake recipe with glaze and you are not a cake decorator, this is THE ONE! There is no fancy decorating required. You simply pour on the glaze, it begins to harden, making it easy to smooth with a spatula.
 
So why not celebrate your wine lover's birthday in style -without the elaborate decorating?! Because all those birthdays between the graduations, weddings and baby showers are also celebratory milestones and deserve a special cake too!
If you are looking for other birthday cake recipes for adults give these cakes a try:
TERRI'S AMAZON PICKS: