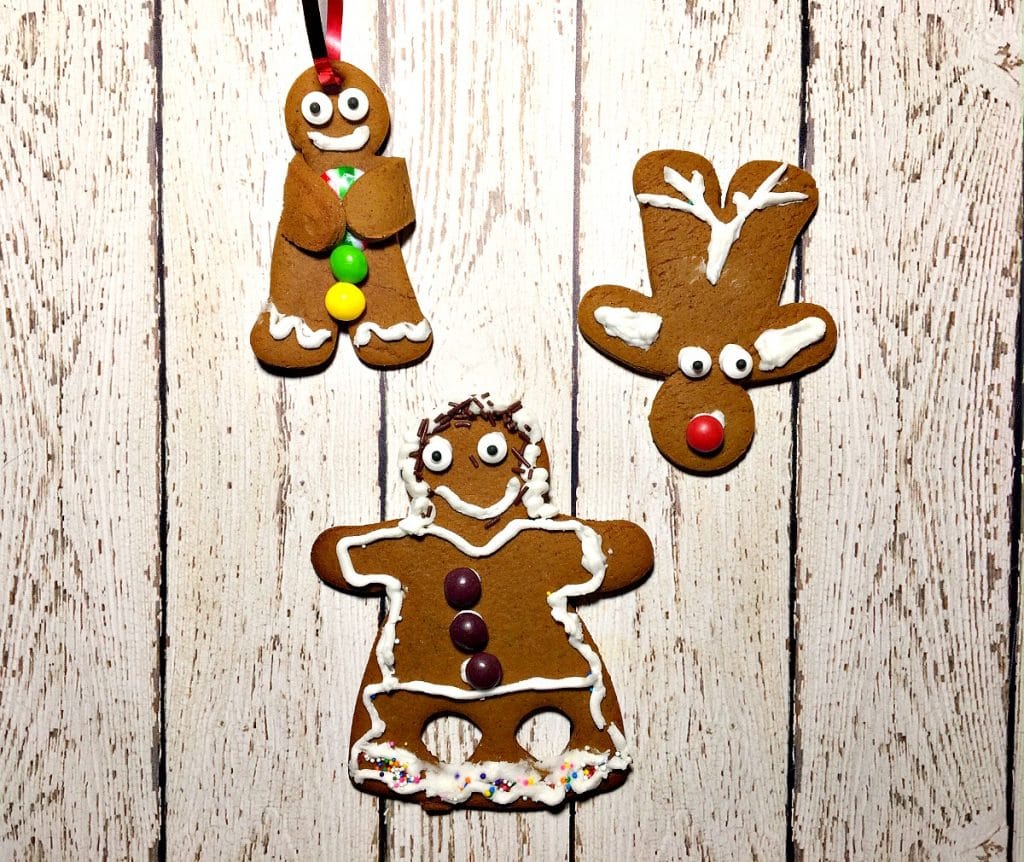 *This post contains some affiliate links (SEE DISCLOSURE POLICY)
I created this gingerbread cookie recipe, like so many other recipes, out of virtue of necessity. Every year, since my daughter was 5 years old, I have done a Christmas baking activity with her Sparks, Brownies and Girl Guides groups. Last year I committed to teaching her Girl Guides troop how to make gingerbread and quickly realized none of my recipes would work for time limit I had, nor could I find the right recipe online. I needed a simple gingerbread cookie recipe that was relatively strong, that the girls could mix up, roll, cut, bake and decorate from start to finish in less than 2 hours! And that meant NO CHILL time AND NO STOVE TOP cooking! So say HELLO to my No Chill Gingerbread Cookie recipe….
Who wants to wait around for cookie dough to chill anyway? Life is too short! Anyway, I had a few different decorating options for the girls to choose from, but what surprised me was the one that the majority of them picked…
Easy Gingerbread Cookies for kids
These easy gingerbread cookies don't look particularly perfect. Unlike most of the cookies you'll find online, they actually look REAL; like something kids could actually do! That's because they are – they were done by my 10 year old daughter and I think she did an amazing job!
And since I was doing this with 25 Girl Guides I needed something practical. I didn't have 25 – #16 tips and couplers to use. We used a ziploc bag with the end cut off to ice and sprinkles and candies to decorate.
And speaking of icing, this royal icing recipe is the one I recommend. I use it for my gingerbread houses. But to be honest, I actually didn't even use it with this recipe. I didn't have time to make it, so I bought vats of royal icing in the baking section of my local grocery store (Calgary Co op) and we used that. It worked great and saved time.
The first option was the dancing gingerbread girl and it was the one that I thought was THE COOLEST of the 3!
WATCH The Dancing Gingerbread Cookie Girl Video HERE
As well as a gingerbread reindeer and a hugging gingerbread man.
No Chill AND No Spread
I wasn't sure if this recipe would work because not chilling can cause your cookies to spread. If you want to learn more about that, you can read this excellent article: To chill or not to chill – that is the question! However, these cookies have no butter (shortening is used) and use more dry ingredients; a brilliant combination that works to prevent spreading. And although this mixture of ingredients makes them firmer and a little dryer, that's the texture we were going for – strong and sturdy gingerbread!
When you are decorating with kids, nothing is more heartbreaking than a broken, half decorated cookie. These cookies are TOUGH and that's exactly how you want them to be. A couple of the Girl Guides even dropped their cookies and they didn't break. And even when a girl broke her cookie, it was soo easy to glue back together with the royal icing. Royal icing is strong too! It's very important you use it to decorate these cookies (see my recipe link above). And most importantly, they still taste amazing! And that's what matters.
Gingerbread Methods
Dancing Gingerbread Girl
Roll the cookie dough out on a well-floured surface. Cut out a few gingerbread girls using a large gingerbread girl cookie cutter, then cut off the legs. Cut out two finger sized holes using the back of a pastry tip (see photo) Carefully place them on a cookie sheet and bake. Let cool and decorate as desired.
Rudolph the Gingerbread Man
Roll out, cut and bake the gingerbread men. Let cool. Using a ziploc bag with some white frosting, add a dot to where you want to put the nose and add a red candy. Add two dots for the eyes, then add candy eyes. Starting from between his eyes, pipe antlers up the legs of the gingerbread man (see photos).
Hugging Gingerbread Man
Roll the cookie dough out on a well-floured surface. Cut out a few gingerbread men using a large gingerbread man cookie cutter. Place them onto a cookie sheet. Place a peppermint candy on the gingerbread man's chest, then carefully fold his arms over the candy. Bake in the oven. Let cool and decorate as desired.
Traditional Gingerbread Men
With all these fun options, I was a little surprised that most of the Girl Guides chose the traditional gingerbread man! A few chose the hugging gingerbread man and the gingerbread reindeer, but no one chose the dancing gingerbread girl. I was a little disappointed because that's the one I was most excited to show them. But that's the thing with kids, you never really know what they will like. And that's why I always give them options!
But whatever gingerbread cookie you choose and no matter how many kids you are making this with, this is the perfect gingerbread cookie recipe for kids! And I can definitely see this recipe being super popular for impatient kids (which covers pretty much all kids in existence.)
So, if you have impatient kids or simply agree that life is too short to wait around for cookie dough to chill, then give this recipe a try!
If you like this recipe PIN IT for later!~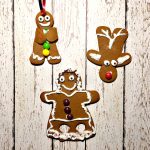 Print
No Chill Gingerbread Cookies
This gingerbread cookie recipe requires no chilling - just roll, cut and bake!
Instructions
Preheat oven to 350 degrees F

In a large bowl, blend together the flour, baking soda, salt, cinnamon and ginger.

In a separate microwave safe bowl, melt shortening (about 1 minute)

Whisk the sugar, molasses and egg into the melted shortening and continue to whisk until completely incorporated.

Mix the dry ingredients into the wet ingredients with a spoon until mixture is too stiff to continue using a spoon. Use hands to finish mixing.

Roll cookie dough out onto lightly floured surface to about 1/8 inch thickness.

Cut cookies into desired shapes, place on ungreased cookie sheets,

Decorate with royal icing and sprinkles! See notes for gingerbread variations, as shown in photos!
Notes
Nutrition Facts
No Chill Gingerbread Cookies
Amount Per Serving
Calories 132
Calories from Fat 36
% Daily Value*
Fat 4g6%
Cholesterol 6mg2%
Sodium 54mg2%
Potassium 159mg5%
Carbohydrates 21g7%
Protein 1g2%
Vitamin A 10IU0%
Calcium 27mg3%
Iron 1.1mg6%
* Percent Daily Values are based on a 2000 calorie diet.
Nutrition
Calories:
132
kcal
|
Carbohydrates:
21
g
|
Protein:
1
g
|
Fat:
4
g
|
Saturated Fat:
1
g
|
Cholesterol:
6
mg
|
Sodium:
54
mg
|
Potassium:
159
mg
|
Sugar:
11
g
|
Vitamin A:
10
IU
|
Calcium:
27
mg
|
Iron:
1.1
mg
This post is part of Tasty Tuesdays at Blogghetti!
AND