I cried while making my very first homemade gingerbread house. No, crying is an understatement. I blubbered. Serious snot and tears blubbering. I had been so excited - I had a recipe, a plan and lots of time on my hands! And as the walls caved in and all the hours of hard work were reduced to a pile of crumbs, I vowed I would never let that happen again.

That was 19 years ago. Since that day, I have learned a lot about what to do, but especially what NOT to do when it comes to making a large gingerbread house. And then in 2013, I made this baby you see in the photo above AND it did not crumble! If you want to learn how make a large gingerbread house, a gingerbread mansion, a gingerbread rowhouse (or gingerbread condo), with the best gingerbread house recipe, have it stay intact, how to fix and hide mistakes and still have that house look great, then read on.
Jump to:
Oh, and by the way, I still made tons of mistakes, like cutting the side walls in HALF when I wasn't supposed to, and it still held together. And this giant gingerbread house held together because of all the tips, tricks and secrets I have learned along the way (and a little determination) These are the tried and true secrets I will share with you today. Trust me, they work!
🥘 Ingredients
A great gingerbread house starts with a great gingerbread recipe and and an excellent, strong royal icing recipe! And your gingerbread house recipe needs to be sturdy, yet taste great! I recommend you use my recipes below. You can also use a wide variety of candies
Food Art is the Best Art: I have always been in awe of gingerbread houses, ever since I read Hansel and Gretel as a little tyke. Who am I kidding? Its food and things made out of food fascinate me. And then there's the things that are made out of food that look like other things. The idea that I could make an entire house out of food made me swoon!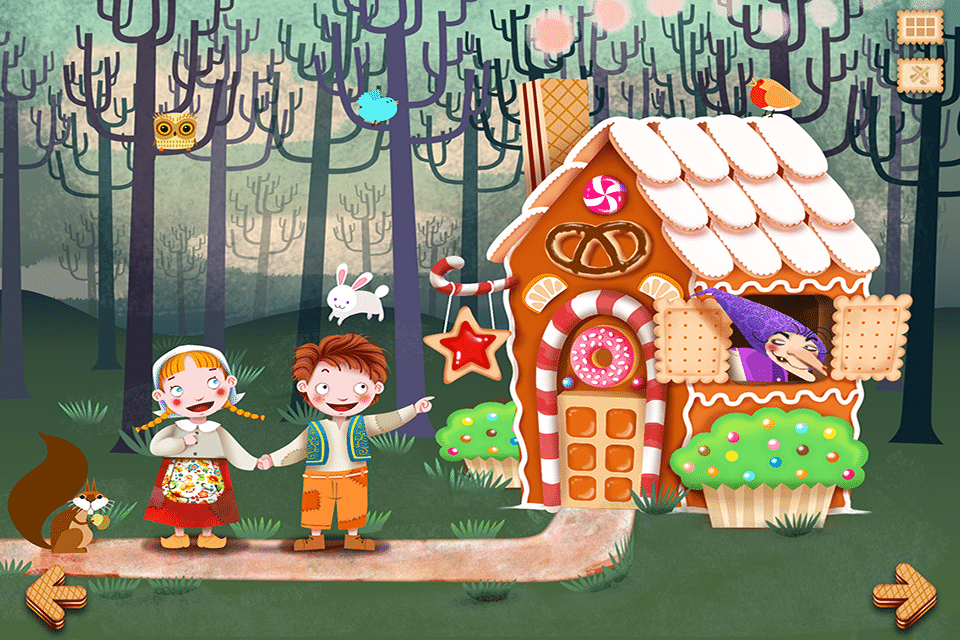 When I was younger, I tried making gingerbread houses out of kits, but they never really satisfied. There wasn't enough royal icing, decorations were scant and because of the subpar icing, it never held together properly. And it just didn't feel creative enough. I wanted to make my own. Making a homemade gingerbread house is just so much better!
🔪 Instructions
Start with a small gingerbread house structure. But to get practice with putting together a homemade gingerbread house, it's best to start with a small structure and master that before you move onto a big project. This birdhouse is my very first gingerbread house that held together:
Gingerbread Birdhouse (front) Gingerbread Birdhouse (back)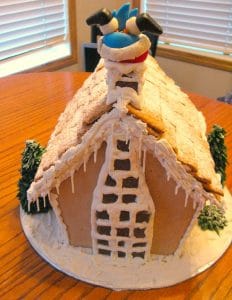 Then I made mini sized ones for the kids to put together and decorate.
Gingerbread Birdhouses with kids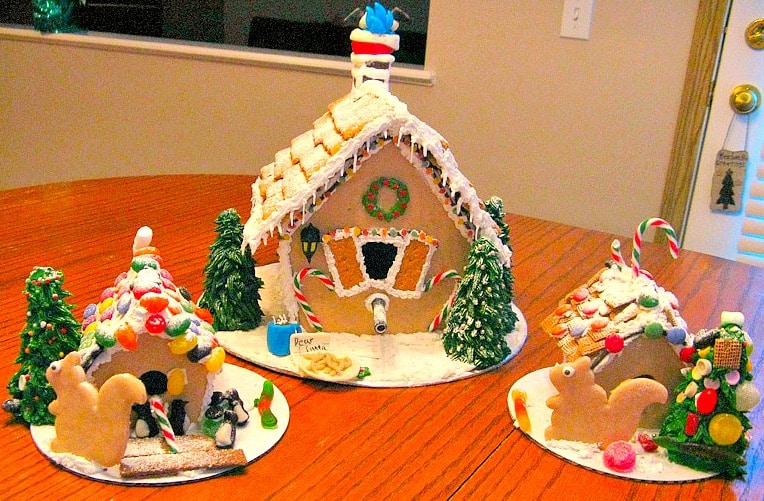 When you finally move on to a bigger project, just remember that it's just a lot of mini projects. I approached the row housing or "gingerbread condo," as we affectionately dubbed it, as 3 different houses, although they shared walls. Otherwise, it would have been too overwhelming.
💡

Gingerbread House Ideas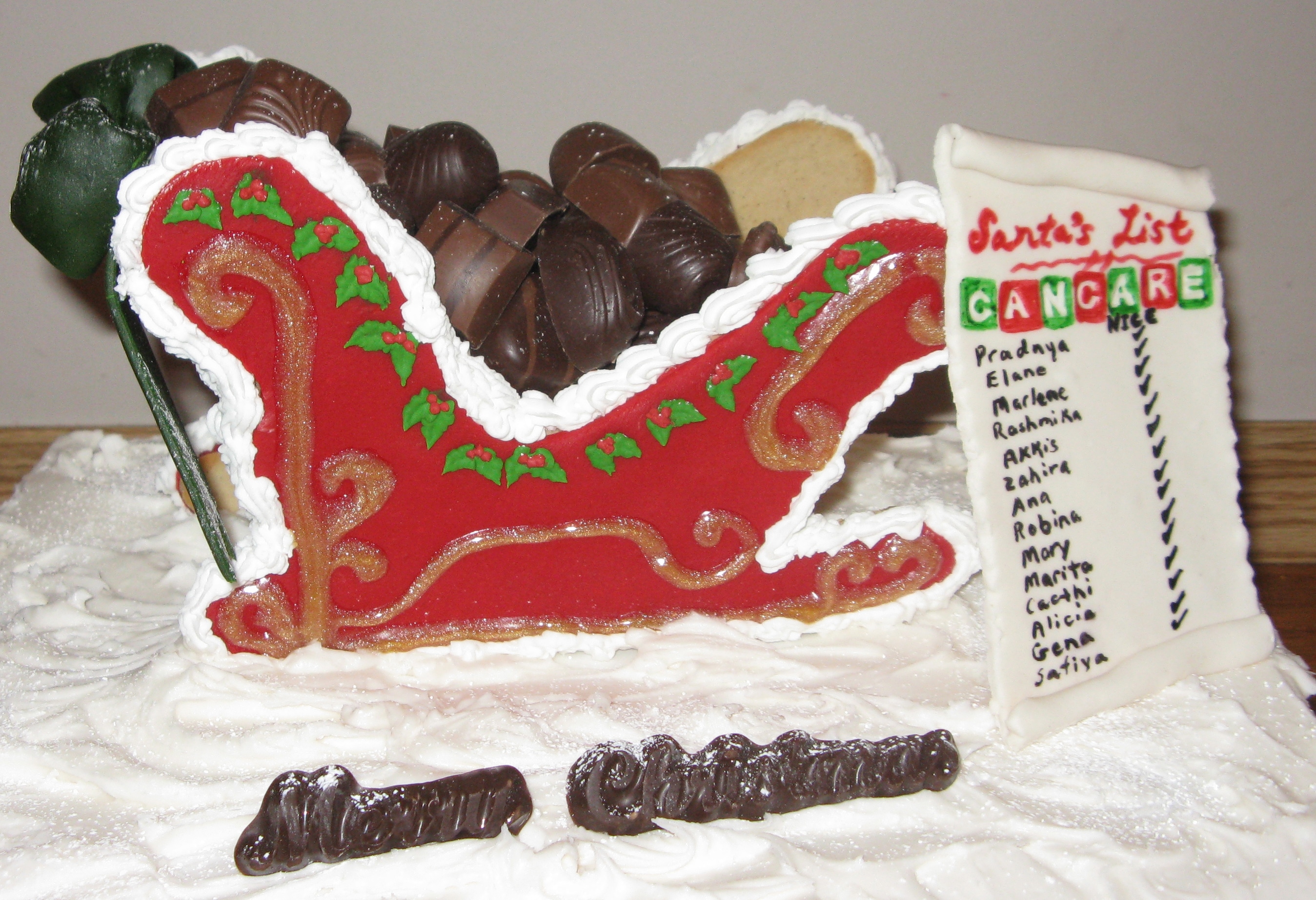 If you're looking for gingerbread house ideas, there are a lot of different ideas in books and online. But it doesn't have to be a house- I made this sleigh for my kids' daycare staff one year! And I also made an edible bowl out of gingerbread.
🏡

How to Decorate a Gingerbread House

The great thing is that you can take a simple structure and make it unique by the decorations you use. I used lots of different candies for this project. I looked at houses I liked and tried to figure out what they used and even emailed the decorator, in some cases, if I wasn't sure. Then I went to the candy store with my kids and had a blast picking out all the candies we wanted to use! Here are some Gingerbread House Ideas for decorations:
Roof shingles- Shreddies are the best, in my opinion -easiest to put on
Windows- You can use gelatin sheets or make your windows out of sugar (as I did when my gelatin windows fell off) Video: How to make edible sugar windows
Above bay windows- sliced almonds
Steps- chocolate wafer (i.e. Voortmans)
Walkway - broken multi-colored Necco wafers
Trees - inverted small ice cream cones with green icing
Shrubs - round green jelly candies
Light posts - old-fashioned candy canes, with jelly candies on top (decorated with royal icing)
***Feel free to email me if I missed anything and you want to find out what I used for any parts of this condo or my decorating techniques.
"Decorating is all about smoke and mirrors."
You will make mistakes- the key is to just learn how to fix them/cover them up!
I am a cake decorator and a big fan of cake decorator, Duff Goldman. I used to watch his show " Charm City Cakes" religiously and I can't tell you how many times I heard Duff say that. And he's right! There were so many episodes where you saw him (or the other cake decorators) make big mistakes, then watch how they fixed them or changed the original plan and improvised. Cake decorating and in this case, gingerbread house decorating, is an extremely forgiving art - you can cover up so many blunders! And even make it look like it was supposed to be that way.
Here is the gingerbread condo PRE Smoke and Mirrors (and before my original windows fell off):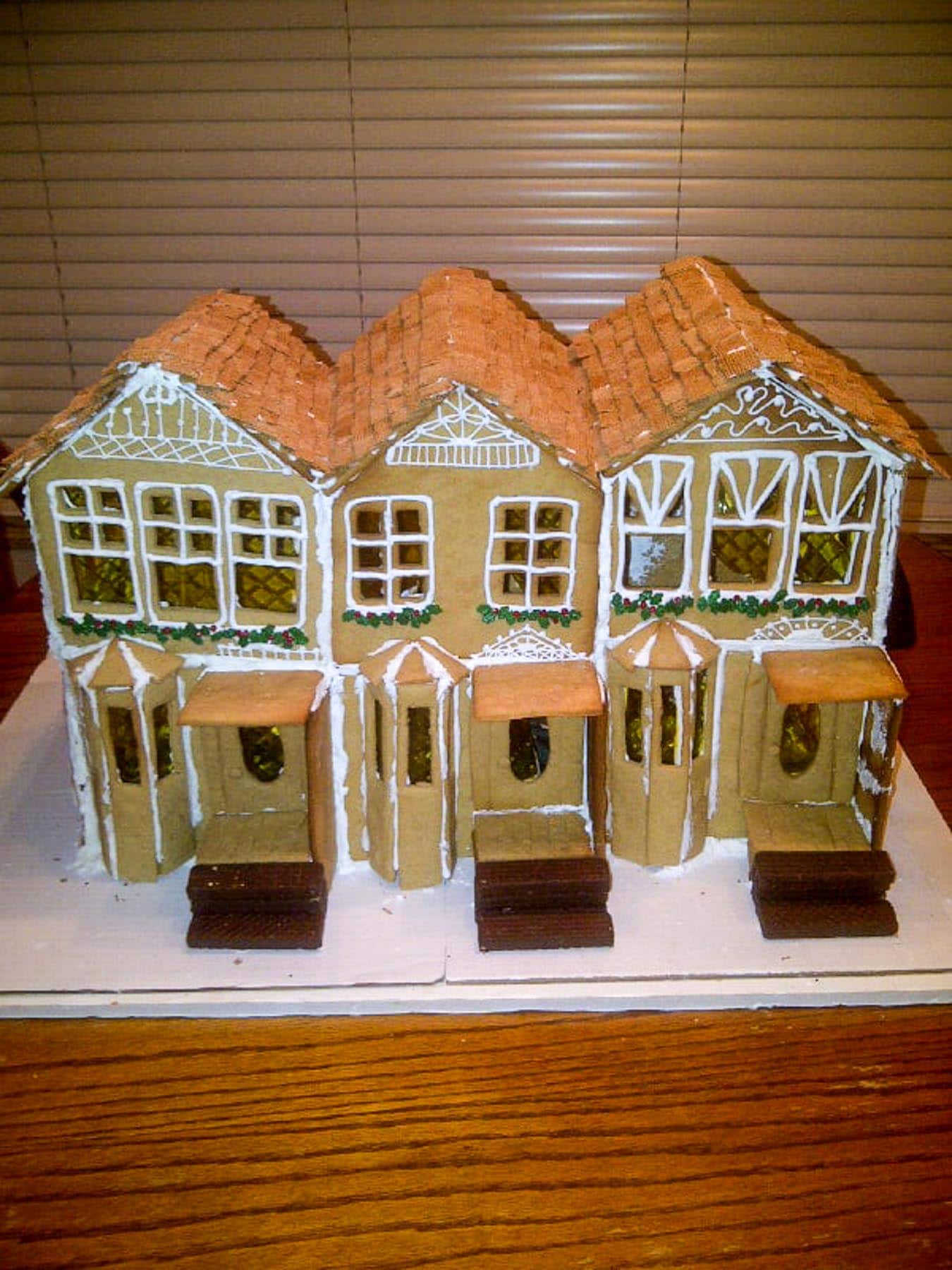 My windows are a great example of a major mistake. I originally used gelatin sheets, and tinted them with food coloring and alcohol (which evaporates) but they ended up shrinking and falling off, AFTER I had the roof on- DOH! So, I had to come up and a Plan B. I ended up making the windows out of melted candy then had to put them on from the outside. Icing "curtains" was the only way I could think to cover up my mistake so you wouldn't see the jagged edges of the candy windows.
🎥 Video
Video: How to make edible sugar windows
My plan did not look like this at all- the entire look of the windows was supposed to be completely different! I also burnt pieces of the porch and had to cover those up as well. You have to be willing to improvise as well and really want to make it work. It may not be what you originally envisioned in your head and that's okay. Plans change. A good cake decorator/gingerbread house decorator is just really good at covering up mistakes!
💭TOP 10 TIPS FOR BUILDING A LARGE GINGERBREAD HOUSE
1. It's all about Foundation- Recipes matter!
a) Use the strongest royal icing glue possible ( see recipe below)
b) Use a very strong and sturdy gingerbread house recipe ( see my fave recipe below)
2. Use a gingerbread template/pattern:
Use a gingerbread house template and read directions very carefully. I recommend: "Gingerbread: Things to Make and Bake" by Theresa Layman and Barbara Morgenroth . This is the book I used and the instructions are clear and well-written and the patterns are well done.
3. Use large cans (i.e. tomato juice), cereal boxes
You need to use these objects to hold the walls, roof and portions of the structure in place while it dries. The biggest mistake I made with my first house was assuming I didn't need to use anything to hold it up.
4. Do one section at a time and work in small sections
Make sure you have TIME, This took 4 days between mixing, cutting, baking, glueing, waiting and decorating. And work in small sections. But you don't have to do it all at once - you could do this over the course of 2-3 weeks - it doesn't matter.
5. Be patient.VERY patient.
Icing takes time to dry and you have to build a big structure in stages, with lots of drying time in between. If you rush it and try to add the roof before the foundation is completely dry, it won't stay together. You should be able to tug at the walls (not too roughly though) and have it NOT move.
6. Put lights in and your windows on BEFORE you put the roof on
My windows fell off inside the house so I had to put windows on from the outside. Then I had to remove a wall when it was partially dry to add the lights (I didn't think of this beforehand and my roof was already on (ugh)!
7. Use a larger decorating tip (i.e.#32) for putting the house together
A large tip covers more area (smaller tips are for careful/precise decorating on the outside). And don't be afraid to smear the icing with your finger to fill the gaps where the pieces attach.
8. Use LOTS of icing on the inside to hold it together (no one sees the inside)
This is another major mistake I made with my first house. I didn't use enough icing. Don't be afraid to smear it on thick and fill every gap (and fill it again)! It's hidden inside anyway!
9. Make your icing relatively thick (to start with):
But thin enough that it doesn't hurt your hand to squeeze through the pastry bag and tip. You can always thin it, but it's a harder to thicken.
10.Don't get frustrated if it breaks or you make mistakes.
You can glue it back together and cover up mistakes with icing and decorations. Remember: smoke and mirrors...
🌡️Storing a Gingerbread House
Freezing: If you dismantle it and eat it, you can store the pieces in the freezer, in an airtight container or Ziplock freezer bag, for up to 3 months.
Wrapping: If you want to keep a gingerbread house looking perfect throughout the holiday season, display it in a cool, dry place. Covering it at night with plastic wrap seals out moisture, dust, bugs, and other errant inedibles. Properly sealed and protected, you might be able to keep a gingerbread house looking good up to a year.
Display: If you are okay with making your house a non-edible creation, spray it with a clear lacquer, which is available at craft and hardware stores. You might need several coats for maximum protection. This will protect the house, but once the spray has been applied, do not eat the house or the decorations. You can read more about storing gingerbread HERE.
🍽️Eating a Gingerbread House
Eating your gingerbread house is the FUN part! But if you plan to eat you gingerbread house, here are some things you should consider.
Time well spent!
Building a large gingerbread house is a big project and it takes a lot of time. So, make sure you budget for it. This particular house took me 4 days. I happened to have a 4 day weekend and it was cold and miserable outside, so making a huge gingerbread house inside, was a great way to spend that time. It was also a great way to spend quality time with the kids (who were 6 and 8 at the time). They helped me with the entire project from picking out the candy to mixing the gingerbread dough. The kids were super proud of this gingerbread house and loved eating it in the end (well, some of it). Gingerbread houses symbolize Christmas, holidays, family and happy times! And they make your house smell amazing (especially this recipe)!
⭐ REVIEWS
Did you make this recipe? Please RATE THE RECIPE below!
Here's what others are saying: "Looks amazing! Recipes and hints are solid." ⭐⭐⭐⭐⭐
Please SUBSCRIBE (get my FREE E-cookbook) and be sure to FOLLOW ME on FACEBOOK, TWITTER, INSTAGRAM and PINTEREST!
📋 Gingerbread House Recipes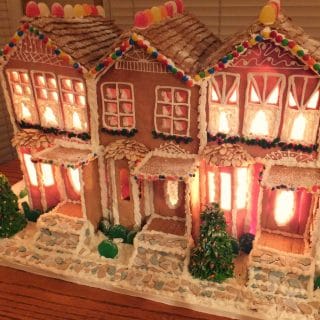 Best gingerbread house recipe (used for the large gingerbread house in this post)
This recipe for a gingerbread house is the best because it is not only sturdy and nearly unbreakable, it's really delicious (does not contain cloves or molasses)!
Print
Pin
Rate
Ingredients
6

cups

flour

1

tablespoon

cinnamon

1 ½

teaspoon

ginger

½

teaspoon

salt

1 ½

cups

light corn syrup

1 ¼

cups

packed light brown sugar

1

cup

margarine
Instructions
Preheat oven to 350 degrees F.

Mix the dry ingredients together in a large bowl and set aside.

In medium pot, over medium-low heat, mix light corn syrup, light brown sugar and margarine together, stirring constantly until all margarine is melted.

Stir the margarine mixture into the dry mixture and stir well. Mix with hands as dough becomes stiff. Chill the dough for about 10 – 15 minutes.

Roll the dough out to about ⅛ inch thickness on lightly floured surface and cut into desired shapes. * I would recommend using a pattern or template form a book

Bake for 12- 15 minutes or until golden brown. Check periodically for air bubbles during baking and poke them with a toothpick or cake tester during baking process.

When baking is done, allow house pieces to cool on pan for 5 minutes, then transfer to a large cooling rack. Make sure all pieces lie flat.
Did you make this recipe?
Please leave a star rating and review below!
📋Gingerbread House Royal Icing Recipe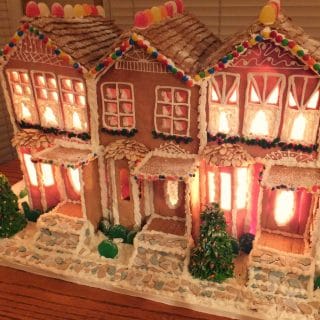 Royal Icing Recipe
This royal icing is THE BEST Royal Icing I have ever used for a gingerbread house! It is a strong "edible glue" but easy to work with.
Print
Pin
Rate
Ingredients
3

cups

icing sugar/confectioners' sugar/powdered sugar

sifted

2

tablespoon

meringue powder

6

tablespoon

warm water
Instructions
Combine the icing sugar and the meringue powder in a clean and grease-free mixing bowl. ***Do NOT use a plastic bowl. I recommend using stainless steel, washed with hot water and dried with a paper towel.

Add the water and beat until the icing forms peaks (about 8-10 minutes with a heavy-duty mixer, 10-12 minutes with a hand-held mixer). * I also recommend using a stand mixer, as it's a pain to use a hand held.

Keep the icing covered with a damp cloth while it is being used and store it in an airtight container (do NOT refrigerate it).

Before using again: beat again at low speed
Notes
Note: For successful icing, keep all utensils completely grease free.
My Amazon Recommendations (affiliate links)
Did you make this recipe?
Please leave a star rating and review below!
📋More Gingerbread Recipes!