As soon as the cool weather hits it's officially gingerbread season!

And gingerbread is not only the quintessential holiday dessert food, it's warm, cozy and just feels all Christmasy.
I added cookie butter filling to this Old-Fashioned Gingerbread Cake and OMG- it's a game changer.

I mixed the cookie butter in with whipped cream and blueberries, creating a filling that's nothing short of dreamy…. If you love gingerbread and you've never had it with cookie butter, then you need this cake in your life. Seriously – you won't be able to get enough. This gingerbread layer cake is the ultimate gingerbread lover's cake!
Gingerbread Cake
I have to admit that gingerbread has grown on me. As a kid, I found it a little too 'spicy'. Nor was it around our house much, or even at my Grandma's (and she was a serious baker). However, now that I make my own gingerbread stuff, it's an entirely different ball game. I love gingerbread!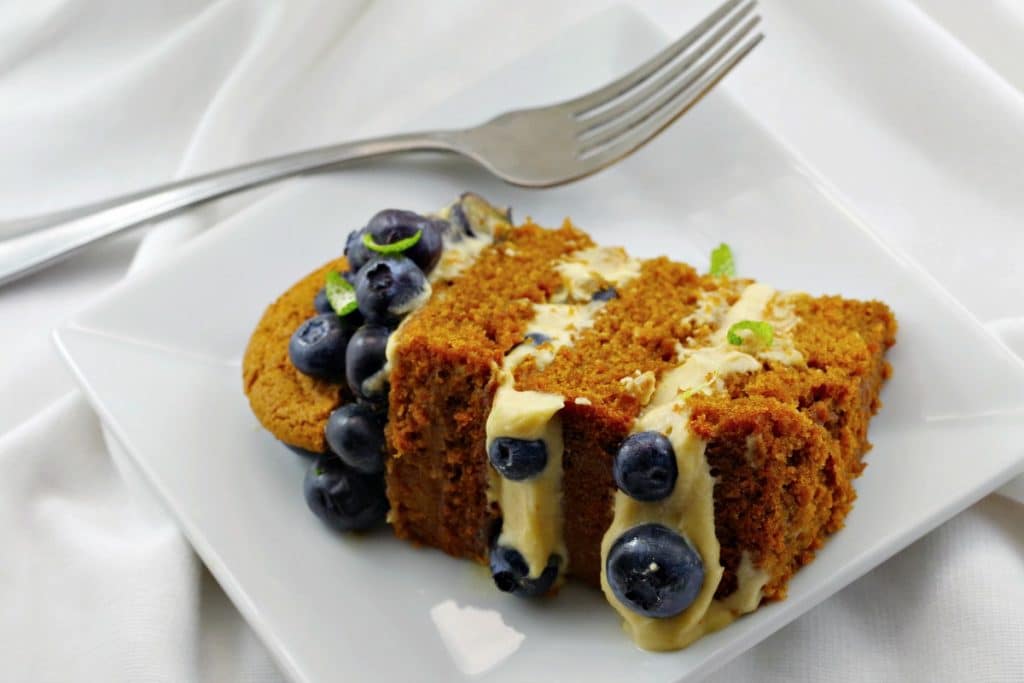 Cookie Butter Cake Filling
Many people have not even heard of cookie butter – just try asking where to find it at the grocery store. Cookie butter is a spread made from a ground-up European spice cookie called speculoos. Just as gingerbread cookies are a holiday tradition in North America, speculoos cookies are very popular all across Germany, Belgium and the Netherlands. Speculoos cookies taste similar to gingerbread, but a little less spicy. And cookie butter is much the same; it has a mild gingerbread taste.
Cookie butter is also known as Speculoos Cookie Butter and sometimes used interchangeably with Biscoff spread, but there are a few different brands. I find it near the peanut butter, almond butter and jam section in the grocery store. If you've never had it, cookie butter is a must try! And with this stellar combination of old-fashioned gingerbread cake, cookie butter whipped cream and blueberries, not to mention the gingerbread cookies, I can safely say that this is the best gingerbread cake recipe in the world!~
Crumb free Cake
I always get asked about how I get my cakes to come out of the pan so perfect and crumb-free. I have been making and decorating cakes a very long time and like to share any wisdom I have garnered along the way. Well, it's really no secret; it's a product called Wilton Cake Release that I learned about in my very first cake decorating course. I have used it ever since and have NEVER had my cake stick to the pan. Just make sure you are generous when using it and cover every bare inch of pan!
Although this gingerbread cake is the perfect show stopper for your next holiday dinner, it also makes a great birthday cake. I actually created it for my dear friend's birthday, as gingerbread is her favorite. So, for all those gingerbread fans out there, no matter what time of year it is, this is your cake – the ultimate gingerbread lover's cake!
If you're looking for additional gingerbread recipes, then check out my Gingerbread Lime Bars
And my Gingerbread Yule Log Cookies
And if you REALLY LOVE gingerbread, then check out my Gingerbread Board on Pinterest
Print
Old Fashioned Gingerbread Cake Blueberry Cookie Butter Filling
This old fashioned gingerbread cake is the ultimate gingerbread lover's cake. Layers of spicy gingerbread filled with cookie butter whipped cream, lime zest and fresh berries, then topped with more fresh blueberries and gingerbread cookies make this every gingerbread fan's dream cake!
Ingredients
Old Fashioned Gingerbread Layer Cake:
Blueberry Cookie Butter Filling:
2

tsp

lime zest, finely grated

6

tbsp

cookie butter

* Can substitute Biscoff spread

4

cups

whipping cream

4

tbsp

piping gel

2

pints

fresh blueberries
Garnish:
ginger snap cookies

Lime zest (grate larger piece for garnish)

* about 1-2 tbsp

blueberries
Instructions
Preheat the oven to 350F. Grease 3 -8-inch round cake pans. * I use cake release, as your cakes do not stick with this product.

Whisk together the oil, granulated white sugar, brown sugar, eggs, ginger and 2 teaspoons of lime zest.

In a separate bowl, sift the flour, baking powder, cinnamon, allspice, and nutmeg. Add this to the oil mixture and stir until blended (or use electric beaters or a stand mixer).

In another bowl, whisk the molasses, maple syrup, ginger beer (or ale), lime juice and baking soda (this will froth up). Add this to the batter and beat vigorously until smooth – the batter will be thin.

Pour the batter into the prepared pans and bake for about 30 minutes, until a cake tester or toothpick inserted in the center of the cake comes out clean. Cool the cakes for 30 minutes in their tins, then loosen and turn out to cool completely.
Filling:
Whip whipping cream to soft peaks, then add piping gel and whip to stiff peaks. Beat in cookie butter and stir in 2 tsp lime zest.
Assembly:
To assemble, place one cake layer on a platter and spread the top with a third of the cookie butter whipped cream. Dot the whipped cream with blueberries and place a second cake layer on top, pressing down gently. Spread another third of the whipped cream over this layer and dot with blueberries. Top this with the final cake layer,
Garnish/topping:
Spread the remaining whipped cream over top and garnish with the remaining blueberries. Add large grated lemon zest and cookies (as shown in photo) Chill the cake until ready to serve.
Notes
Makes 1 - 3 layer - 8 inch cake
Wilton cake release will prevent your cake from sticking to the pan!
Nutrition Facts
Old Fashioned Gingerbread Cake Blueberry Cookie Butter Filling
Amount Per Serving
Calories 547
Calories from Fat 306
% Daily Value*
Fat 34g52%
Cholesterol 112mg37%
Sodium 160mg7%
Potassium 365mg10%
Carbohydrates 55g18%
Protein 6g12%
Vitamin A 950IU19%
Vitamin C 6.8mg8%
Calcium 111mg11%
Iron 2mg11%
* Percent Daily Values are based on a 2000 calorie diet.
Nutrition
Calories:
547
kcal
|
Carbohydrates:
55
g
|
Protein:
6
g
|
Fat:
34
g
|
Saturated Fat:
22
g
|
Cholesterol:
112
mg
|
Sodium:
160
mg
|
Potassium:
365
mg
|
Fiber:
2
g
|
Sugar:
34
g
|
Vitamin A:
950
IU
|
Vitamin C:
6.8
mg
|
Calcium:
111
mg
|
Iron:
2
mg